"[Wenger's] claims served only to distract from the real injustice – that Arsenal could and should have won a tumultuous match [but for] two lame errors of judgment" – James Ducker
Comment & analysis round-up
Quote of the day: "We've all made a pact about not criticising officials, but for me it's about an understanding of the game. I've been shown it in isolation. McGeady ran 40 or 50 yards before the incident and skipped past a couple of tackles – a third tackle has come in and he went down before he anticipates the challenge and gets a sending off. If you put it into context of the week we've just had with the Eduardo sensation – if we hadn't had the week we've had in the media – I would suggest the referee would never have made it a sending off. It was right in front of me. I saw it and I know exactly how it happened. In my opinion, it's a lack of understanding of the game from an official who is a very honest guy, who gives his best the way the players give his best – but he made a wrong decision regarding Aiden McGeady." – Tony Mowbray.
Runner-up: "There are other points that for me are more urgent [than diving] – players who play only to make fouls and who are never punished. Who make repeated fouls, and are never punished. And who get out of the game without a yellow card. That for me is more anti-football than a player who did what Eduardo did." – Arsene Wenger.
Today's overview: Playing a masterstroke of misdirection, Arsene Wenger has managed to shift the conversation away from Eduardo's dive against Celtic by focusing attention onto a so-called bigger problem plaguing football – perpetual fouling by footballers.
As reported by James Lawton, "Wenger has stepped up the diving controversy which has engulfed his club by hinting that the Manchester United midfielder Darren Fletcher is guilty of a far greater crime than simulating a foul: deliberately and repeatedly making illegal challenges on other players." Yet, while most are happy to support Wenger's claims that United bullied the Gunners off the Old Trafford pitch, James Ducker refuses to let the North Londoners off the hook so easily. "The truth [is]… that such claims served only to distract from the real injustice — that Arsenal could and should have won a tumultuous match after producing a fine performance marred only, albeit irreparably, by two lame errors of judgment."
Taking a different approach, Sam Wallace empathises with Wenger's upset at the Eduardo episode. "It is a personal view that, in that infamous penalty incident against Celtic, Eduardo dived. He cheated. It is a pity that the referee did not see it at the time and book him, but once that moment had passed so life moves on. To pick Eduardo out now and punish him is – to borrow a Wengerism – opening a very 'dangerous door.'"
Taking a polar opposite position, Patrick Barclay becomes the latest scribe to suggest that Eduardo did not dive against Celtic. "I am not sure Eduardo dived… From some angles, it looked a dive. From others, it looked a softish penalty. It certainly made the fuss created on Celtic's behalf by the Scottish FA seem a lot less credible than Wenger's observations about a witch hunt."
Have Manchester United lost their creative spark?
Uninspired by Sir Alex's midfield, Richard Wiliams criticises the reigning champions for their lack of genius on the pitch. "United would look a more convincing proposition if they had a genuine playmaker patrolling the central areas, providing a base of continuity…. For all Rooney's marvelous efforts, his side lacked the spark of genius – a commodity United's supporters have come to take for granted."
Also happy to criticise Manchester United is Steven Howard. "On this sort of form, United will struggle to retain their title – and might even have some problems negotiating tricky Champions League trips to CSKA Moscow, Besiktas and Wolfsburg."
Despite winning at Bolton at the weekend, Liverpool-bashing is back on the menu this Monday.
Out from left-field, Tony Cascarino served up a tongue-lashing against Jamie Carragher. "Benitez seemed to point the finger for Liverpool's struggles at Steven Gerrard recently, but Jamie Carragher has been a problem. The defender is playing too deep, as if he is worried about his lack of pace and is stepping off attackers to compensate. He has got off to a slow start this season in every way."
Jamie Redknapp is equally critical of the Reds' coughing "five of the seven goals already conceded by Liverpool this season have come from set-pieces. How much longer can manager Rafa Benitez persist with zonal marking as he tries to end their title drought?"
Paying lip-service to Fabio Capello's latest England squad, Kevin McCarra notes how Don Fabio has found stability with David James being omitted from the party while Peter Crouch is the main addition to the set-up. For The Times, the main Three Lions story is the continued exclusion of Little Mickey. "It was widely expected that Owen would return to the squad once he had started scoring for Manchester United, after his summer move, but the 29-year-old remains some way behind Jermain Defoe in the pecking order for England."
Moving to Spain, Gabriele Marcotti reflects on Real Madrid's opening weekend win against Deportivo. "Integrating six high-priced stars into your starting XI is bound to take time. And finding a way to turn something as seemingly illogical as the 4-2-2-2 magic box into a rational system will likely take even longer. The good news for Madridistas is that there is genuine steel in the side and plenty of solutions off the bench, qualities that were missing in the previous galáctico experiment." For Pete Jensen though, the star of the show was Lassana Diarra. "Diarra is meant to be carrying the piano not playing it, but his goal was the most inspired moment of the night. He also played the pass for Raul's opener and ran the midfield alongside Xabi Alonso. Not bad for a player rejected in his time by both Arsène Wenger and Jose Mourinho."
Last minute deals and last minute lies cover the backpages as we enter the final stretch of the summer transfer window.
The Guardian report that "Middlesbrough striker Afonso Alves is to head to Doha for a medical as Qatari side Al-Sadd attempt to push through a deal for the Brazilian." Staying in the broadsheet we also learn of a four-way tussle for West Ham's Matthew Upson with Everton, Blackburn, Aston Villa and now Fiorentina all in the hunt for the centre-half. On Upson's future, Jason Burt adds that "West Ham United have rejected an £8 million bid from Fiorentina."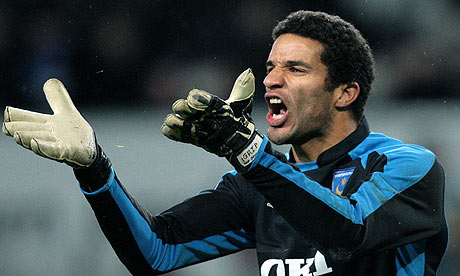 Staying with players in demand, Sam Wallace claims that Spurs and Sunderland are both in the market for Portsmouth keeper David James. The Daily Mail spice up the story writing "Harry Redknapp is going back to his old club Portsmouth with an £8m offer for David James and Niko Kranjcar." While the Mirror also get in on the act barking "Tottenham, Sunderland and Stoke are locked in a three-way battle to sign Portsmouth goalkeeper David James."
No sooner has Luka Modric broken his leg, that Gary Jacob details that "Harry Redknapp stepped up his interest in Martin Petrov." The Times' transfer guru also claims that Steve Bruce is confident of signing Michael Turner and that Rangers have made an approach to sign Arsenal's Jack Wilshere on loan.
Strikers are in demand.
According to Phil Shaw Hull are in the market for either Everton's Victor Anichebe and/or Sunderland's Fraizer Campbell as the Tigers look to add another forward to their squad. Wolves are also looking for extra fire-power, the Daily Mail printing that "Wolves are closing in on Rapid Vienna's Austria striker Stefan Maierhofer after tabling a £2m bid." While Alan Nixon reports that "Newcastle United's young striker Andy Carroll is primed for a shock exit before the window shuts – with Wolves and Bolton alerted to a possible sale."
TV addict Martin Kelner offers his musing on the BBC's new Football League Show. "The BBC has a slight scheduling problem with its Football League Show. It seems to be in the wrong place, following Match Of The Day late on a Saturday night, like the hors d'oeuvres arriving after the main meal. We tuck into the tasty sirloin steak of the Premier League and are then invited to loosen our belts, stub out the postprandial fag, and sample the prawn cocktail (I stopped dining out around the time Berni Inns ceased trading) of lower league football."
---
GAMBLING CAN BE ADDICTIVE, PLEASE PLAY RESPONSIBLY