Wenger wants Michu, Liverpool chase Henrikh Mkhitaryan & Everton set to announce Roberto Martinez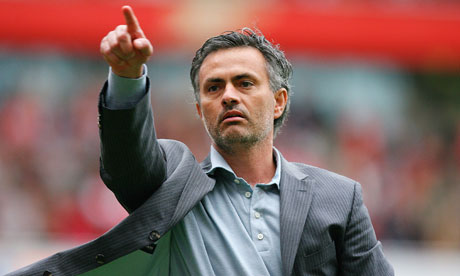 Comment & analysis round-up
Quote of the day: "I'm not happy – I am very happy. When you return to a place it is for some reason, not just because you have good results in the past or because the fans like you very much, it's also because as a human point of view you left something here. I think of myself not only as a Chelsea manager, because this is the first time in my career that I've arrived at a club that I already love. Of course, when I go to a club, I love the club and I wear the shirt with the crest and I give everything I have to do it, but this is the first time where I love it already. To be at the same time a Chelsea fan and a Chelsea manager is a new feeling for me and it's a fantastic feeling. I know the fans have a special feeling for me. I played against Chelsea with Inter and it was difficult because I was feeling it wasn't a normal situation for me. The people in the stands felt the same as me. I belong to them and they belong to me. To them I can say, 'I am one of you.'" – Jose Mourinho.
Runner-up: "I'm here to help and to help Messi to continue to be the best player in the world. I'm very happy to be a Barcelona player, it is a dream. I want to bring everything I can to "more than a club" as Barca is and i want to help barca continue to be the best club in the world." – Neymar.
Will Mourinho be a success second time round at the Bridge?
José Mourinho returns to a very different Chelsea from the one he left (Owen Gibson, Guardian) He is, as Smash Hits used to say, "Back! Back!! Back!!!". José Mourinho will have to go some to top his first arrival at Stamford Bridge. But whether or not he comes up with a soundbite to rival the endlessly quoted assertion that he was "a special one" when he first arrived, Mourinho mark II will be older, wiser and a touch greyer than the Champions League winner who swept into Stamford Bridge in the summer of 2004. Yet he retains more than enough of that cocksure confidence to ignore the first rule of every romance turned sour: never go back. When Roman Abramovich, now £1bn and 10 years into a lavish experiment that has changed English football forever, ruthlessly sacked Roberto Di Matteo last November many wondered where he could possibly turn next. Having expensively acquired and then sacked just about every type of manager going – from the World Cup winner to the European coaching aristocrat, from the much loved former player to the brightest young thing on the continent – his answer has been to start again at the top of the list.
Jose Mourinho's return to Chelsea is great news for the Premier League (Henry Winter, Daily Telegraph) It was the love affair that never ended. He left. They mourned, falling briefly into the arms of others, hot and cold. Now he is back. It's Jose Mourinho and Chelsea fans, it's Mills and Boon, and it's a special relationship that could spell trouble for others. Many will be cynical about Mourinho's return. Never go back, they say. Try saying that to Jupp Heynckes, who rescued Bayern Munich's season on his return as an interim and then led them to a historic treble during his third spell in charge. It can work. The Godfather Part II was the best of the series. Mourinho and Chelsea Mark II will need work, though. It will need money and patience. When Mourinho first blew into England like a hurricane in Armani, Chelsea had incredible financial muscle, almost unique in English football. Now there is Manchester City, who will be a revitalised force under Manuel Pellegrini and the pipeline of oil money. Manchester United have Wilfried Zaha and David Moyes will be given more funds to remould the team.
Wenger wants Michu
Wenger eyes summer move for prolific Michu to spearhead Arsenal's attack (Sami Mokbel, Daily Mail) Michu is emerging as a contender to become Arsenal's new attacking spearhead, despite Arsene Wenger's admission that he is interested in Wayne Rooney. The Gunners manager has put a new first-choice centre-forward at the top of his summer shopping list, with Gonzalo Higuain, Stevan Jovetic and Rooney all high on it. But Sportsmail can reveal a shock move for Swansea's prolific striker has been discussed by Wenger and his scouting team. The Spaniard enjoyed an excellent debut Premier League season, scoring 22 goals after his £2million move from Rayo Vallecano. His impressive displays at the start of last season prompted Arsenal into an extensive scouting mission on the 27-year-old. And Arsenal, who are also set to sign Michu's team-mate Ashley Williams, have a concrete interest in the striker.
Liverpool chase Henrikh Mkhitaryan
Liverpool's Henrikh Mkhitaryan swoop is ON – whether or not they sell Luis Suarez (David Maddock, Daily Mirror) Liverpool are ready to splash £20million on main summer transfer target Henrikh Mkhitaryan… regardless of whether Luis Suarez gets his transfer or not. The Anfield club are close to tying up a big money deal for Armenia international Mkhitaryan, despite his Ukrainian club Shaktar Donetsk's high asking price. Manager Brendan Rodgers will complete the deal for the attacking midfielder he has targeted for months with the blessing of his American owners, regardless of the uncertainty over the Suarez's future. Mkhitaryan is NOT seen as a direct replacement for Uruguay striker Suarez, and was identified as the main summer signing long before Real Madrid came calling with an offer that has turned Suarez's head.
Gerrard could miss start of new season
Gerrard in shoulder KO fear (Charlie Wyett, Sun) Steven Gerrard is in a race against time to be fit for next season and could miss England's crucial two World Cup qualifiers. The Liverpool captain had a shoulder operation before the end of the last campaign. But Three Lions boss Roy Hodgson From Back Page fears his skipper could struggle to make the home game with Moldova on September 6 and the massive clash away to Ukraine four days later. Gerrard, 33, who missed the recent friendlies with the Republic of Ireland and Brazil, went under the knife in a bid to be fit for his club's pre-season matches. He was expected to be sidelined for eight weeks but there is now a worry he may be out for longer than expected.
Everton set to announce Roberto Martinez
Everton to name Roberto Martinez as their new manager within the next 24 hours (David Maddock, Daily Mirror) Roberto Martinez will be unveiled as the new boss of Everton on Tuesday. The Spaniard has agreed terms in principle on a three-year contract after impressing the Toffees' chairman Bill Kenwright with his record and style of play at Wigan. Kenwright finally made the decision on Monday night and contacted his Wigan counterpart Dave Whelan to open negotiations over a package to release Martinez from his contract. So far, no deal has been reached on compensation – despite early evening claims from Whelan to the contrary. But we understand a figure of around £1.5million will be acceptable to both parties and allow the switch to be completed within 24 hours.
Navas to City all but done
City land Navas for Pellegrini as Manchester club agrees £22.9m deal for Spanish winger (John Edwards, Daily Mail) Manuel Pellegrini has been handed his first Manchester City signing after the club finally settled on a fee with Sevilla for winger Jesus Navas. Personal terms were agreed with the 27-year-old last Thursday and a statement on Sevilla's website on Monday read: 'Sevilla FC has accepted the English club's offer, taking into account the wishes of the player, who will have to pass a medical.' City had hoped to take advantage of Sevilla's financial woes to pay only half of the player's £25.5million buy-out clause.
Today's Gareth Bale to Real Madrid story
Real want Gareth (Antony Kastrinakis, Sun) Real Madrid last night warned Tottenham: We're coming to get Gareth Bale. President Florentino Perez publicly admitted for the first time the Spanish giants are interested in Bale and hinted they will make a bid in the next few weeks. He told Spanish TV programme Punto Pelota: "Bale is one of Europe's great players and Real Madrid always likes great players. "We have to improve our squad but we have to do it with tranquillity — and we'll do that in the next weeks."
Brilliant Bayern
Bayern Munich's new breed make their own history with a famous treble (Rafa Honigstein, Guardian) After the treble, the deluge. An estimated 10,000 supporters braved the monsoon-like downpour and chilly temperatures to celebrate Bayern's all-conquering season in Munich on Sunday. The star of the Marienplatz balcony show was the departing coach Jupp Heynckes, who came trophy-in-hand, and with a well-rehearsed line on his lips. "Twenty-three years ago, the older ones among you might remember, I made a somewhat cocky promise to deliver the European Cup," said the 68-year-old, in reference to a vow during the championship celebrations at the very same place in 1990. "I would like to make good on that promise: here is the European Cup." Cue wild cheers from the crowd and cries of "Jupp, Jupp, Jupp". Heynckes made that face that he's been putting on for a week now, a half-smile, stuck between immense pride and embarrassment.
---
GAMBLING CAN BE ADDICTIVE, PLEASE PLAY RESPONSIBLY