Wenger lines up Vieira, Matuidi & De Rossi as Tony Cascarino asks "Are Arsenal a selling club now?"
Comment & analysis round-up
Quote of the day: "Seriously getting p***** off now… Why can't anything be simple. It's so frustrating hanging round doing jack s***. Do I wanna go Hull City NO. Do I wanna go Stoke NO. Do I wanna go Sunderland YES so stop f****** around, Levy. Sunderland are not the problem in the slightest." – Darren Bent on his Twitter page.
Runner-up: "I've said before that our valuation could well be different from other clubs. It's obviously different to Sir Alex's valuation but, to us, these players are invaluable. We feel we have done good deals on every player we have bought." – Mark Hughes.
Today's overview: Arsenal continue to hog the column inches with Vieira, Matuidi and De Rossi lined up to fill the holding role in the Gunners midfield. Manchester United are linked with Franck Ribery as the pundits worry about Sir Alex Ferguson's midfield and attack. And, there is no shortage of transfer gossip.
Tony Cascarino weighs into the debate on Arsenal and urges Wenger to splash the cash. "Are Arsenal a selling club now, both because they need the money and because they're no longer the kind of outfit that ambitious players want to stay with for long? Has their reputation been dented and will Europe's best talents increasingly choose to go to other clubs? Will the lack of success prompt Cesc Fabregas to look for a way out, accelerating their slide on the pitch and the decline of their appeal off it? Unless Wenger pulls off a couple of masterstrokes I see this Arsenal side picking up about the same number of points in the Barclays Premier League as last season, or maybe just a few more. And with Manchester City transformed and Everton without the injury problems that beset them last time, that might not be enough for fourth place. And that would provoke a crisis that Wenger surely would not survive."
Yesterday's shock news that Patrick Vieira is set for a return to Arsenal is confirmed today. Jeremy Wilson: "Arsene Wenger is expected to hold talks imminently with Patrick Vieira about the intriguing possibility of the club's former captain returning to Arsenal. Although no deal has yet been agreed, it is understood that Wenger is open-minded about the idea of offering Vieira a heavily performance-related one-year contract as he attempts to bring added experience to the Arsenal squad."
According to the Daily Mail, Vieira will be joined at the Emirates by Blaise Matuidi. But, The Independent pull Arsenal's main target out of left field: Roma's Daniele De Rossi. "Arsene Wenger's preferred midfield target this summer is the Roma and Italy midfielder Daniele De Rossi, and despite the Italian club's reluctance to sell Arsenal have not given up hope that Roma's perilous financial position could force a sale."
Steven Howard questions whether the return of Vieira is such good news. "Vieira now spends more time on the treatment table than the pitch. His pace – or what there was of it – has gone, while his confidence has also taken an enormous hit. In three years at Inter Milan, he has played just 51 league games. On the few occasions he has appeared in the Champions League, the main talking point has been about how this once-great competitor has regressed. And how right Wenger was once again. Now he wants to bring him back? After four years of trying to replace him, he has come to the conclusion the only player who can take his place is the man himself? Even though he's shot and wouldn't last five minutes in the Premier League? Wenger may be desperate to find a holding midfield player but he can't be THIS desperate."
Tim Rich wonders how Manchester United's midfield will shape up next season. "If you want to judge the hole torn from Manchester United by his departure, consider what might be Ferguson's midfield when their Premier League campaign opens on 16 August against Birmingham. Valencia and Nani patrol the flanks while Anderson and Michael Carrick anchor the midfield with the former driving forward to support Dimitar Berbatov and Wayne Rooney – whom Ferguson has insisted throughout United's pre-season will be used more centrally. Each of these four midfielders cost around £16-17m and the oldest, Carrick, has just turned 28. It is a young, talented and versatile combination and, if they repeat their statistics from last season, they will score eight goals between them. The most prolific was Carrick with four and he is the most defensively minded of the quartet."
Forget the midfield, Oliver Kay questions why Wayne Rooney and Michael Owen haven't played together in pre-season yet. "It is unwise to try to deduce much of anything meaningful from pre-season matches, whether with regard to performance or team selection, but to judge from his reluctance to play Rooney and Owen together, with the pair taking turns to operate alongside or behind Dimitar Berbatov, Ferguson's confidence in an all-English strike partnership must either be minimal or so great that he feels they have no need to work on it."
The main thread of transfer gossip concerns Darren Bent's tweeting. The Times add to the never ending Xabi Alonso to Real Madrid transfer story, claiming "Rafael Benítez, the Liverpool manager, is determined not to let Alonso leave for less than £30 million and as the 48-hour deadline Real were set passed, negotiations remained at an impasse."
The Sun suggest Alonso will finally move on Monday and that Liverpool have been knocked back in their bid for Hull's Michael Turner. Sam Wallace in The Independent suggests Alberto Aquilani is Benitez's main target.
According to The Sun, Bayern Munich should brace themselves for a bid for Franck Ribery from Manchester United. "Manchester United are set to launch a £35million bid for Franck Ribery. But the Premier League champions will wait two weeks before weighing in so that a clause in Ribery's Bayern Munich contract is active. The French winger is due a loyalty bonus on August 14, after which he is expected to request a transfer. Bayern have fended off interest from Real Madrid whose arrogance and lack of respect infuriated the German giants. But Ribery has indicated he would be willing to move to Old Trafford and wants to quit Germany."
The Sun also add that West Ham have swooped for "Swiss Under-19" ace Fabio Daprela, Mark Viduka is set for Portsmouth and "Egyptian midfield man Ahmed Al-Muhammadi has joined Sunderland on a two-day trial."
Further gossip in the The Daily Mail informs us that Gianfranco Zola wants to sign Eidur Gudjhonsen, Dean Ashton's days as a Hammer are numbered and Danny Murphy has agreed a new deal at Craven Cottage.
And, Manchester City are not giving up on Joleon Lescott. Graham Chase: "Manchester City are expected to return with a third offer in excess of £20 million for Joleon Lescott, despite Everton's insistence that the defender is not for sale." The Independent add that Spurs have not given up on Klaas-Jan Huntelaar.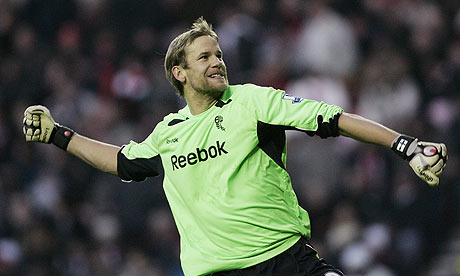 The Guardian have small talk with Bolton keeper Jussi Jaaskelainen. As well as being a modern day Niall Quinn you're also the longest-serving foreign player at one English club. What's the secret? I've been happy with my family life; that's the main thing. My three boys were all born in Bolton and have grown up here. The other thing is the football side: at first we were up and down but then we established ourselves in the Premier League and even got into Europe. So there have always been new challenges. The season before last we struggled against relegation but last year we finished 13th, so now we want to build on it.
David Conn analyses the release of all documents related to the Hillsbrough disaster. "As Sheffield Wednesday Football Club is not a public body, it will not be covered by the Home Office commitment and so the club will have to consent separately if it is to release its own files. This is, then, a landmark moment, but there is still a long way to go before the Hillsborough families will discover, after more than 20 years, the full truth about what happened to their loved ones, and how those responsible for their safety behaved in the disaster's aftermath."
Owen Gibson looks ahead to ESPN's coverage of Premier League football and asks if they will do better than Setanta. "For the woman overseeing the introduction of iconic American sports channel ESPN to the UK market, the close season has had a manic edge to rival that of the busiest Premier League managers. Ever since seizing the rights to 46 live Premier League matches for an estimated £90m in the wake of the collapse of Setanta, Lynne Frank, managing director for Europe, the Middle East and Africa, has been operating on fast forward. In six weeks flat, she has effectively built a channel from scratch."
---
GAMBLING CAN BE ADDICTIVE, PLEASE PLAY RESPONSIBLY