Welbeck stalls on new Man United deal, Adidas ditch Liverpool & "The nightmare recurs for Jose Mourinho's Real Madrid" (Sid Lowe)
Comment & analysis round-up
Quote of the day: "I am very proud of what I have made out of this. Three years ago I was in Denmark's second division. Nobody knew my name. When I first came here nobody could pronounce it. It has been fantastic to this point and right now is not the time to relax about it, but to keep pushing on, to get better and to get the best for yourself and the club. It is the first time I have played three games in a row and that is what I want, to play as much as possible, but I don't need a definition of my position. I am doing everything I can to help David. I enjoy working with him. He's a great lad. He is happy, intelligent, always with a good attitude and we have to push each other. We have to see the glass half full, not half empty, at this point and we have to push each other in the right direction. It has been very good for both of us. Every time we play the last guy to wish the keeper good luck is the other keeper. We have a very good relationship. He [De Gea] has extraordinary attributes, extremely explosive and powerful. He is only 21. His potential is massive and there is no doubt he will be United's best goalkeeper at some point. My job is to make sure it is not until I have retired. Which is 10 years away." – Anders Lindegaard.
Runner-up: "Certain managers will discriminate. These archaic figures think if they had a gay footballer there would be all kinds of shenanigans in the dressing room." – Joey Barton on the lack of gay professional footballers.
Wayne Rooney: "Pepe. What an idiot."
Guti responds: "I laugh at Rooney. There are plenty of saints – in heaven. If he wants to be a saint, he should set an example. Making mistakes is human."
Today's overview: It's a real mixed bag this Thursday morning with a whole host of topics on the back pages.
Concerning Manchester United there is news that Danny Welbeck is stalling over a new deal and all the papers feature Anders Lindegaard's pronouncements (see quote of the day).
Chelsea also rack up a few headlines with The Sun claiming some dodgy dealings over the future of Stamford Bridge and AVB is taking his players on holiday.
Liverpool also come under attack from Adidas, Blackburn's woes are revealed, David Beckham is set to stay in LA and Chris Coleman will be unveiled as Wales boss today.
Sid Lowe has a report in El Clasico in The Guardian and both Martin Hardy and Jim White write about Darlington's extraordinary survival.
Danny Welbeck: Sami Mokbel has an "exclusive" in the Daily Mail. "Manchester United have been angered by Danny Welbeck's wage demands, so talks over a long-term contract are now in deadlock. Welbeck, 21, has emerged as an important member of Sir Alex Ferguson's plans, scoring eight goals for the Barclays Premier League champions this season. United are keen to reward the England striker, who earns £15,000 per week, with a new deal. Sportsmail exclusively revealed last year how Welbeck had begun negotiating with the club over a treble-your-money contract worth £45,000-£50,000 a week."
Kevin McCarra concentrates on the goalkeeping situation at United. "De Gea seems to be treated as a long-term investment who is also meant to hold down his place in the line-up at the moment. Nothing will come easy to him or, indeed, to Lindegaard. Each could bemoan circumstances in the back four that see the centre-half and captain Nemanja Vidic lost to injury for the season just when Rio Ferdinand, as he ages, needs the aid of the Serb more than ever. These taxing circumstances could be the making of De Gea. Or Lindegaard."
Chelsea: Dan King reveals in the lead in The Sun: "The Sun today exposes share dealings that raise serious questions for Chelsea FC.  Our shock investigation proves that people connected to owner Roman Abramovich — and leading club officials — bought shares at the exact time the club was trying to steamroller through plans to quit Stamford Bridge against the wishes of some fans. Blues chairman Bruce Buck insisted he did not know who had bought the shares but SunSport can reveal the names of individuals who, just before a vote crucial to the club's future, paid thousands of pounds for stakes in the company that owns the pitch and stands at the Bridge."
Neil Ashton has another exclusive on the Blues. "Andre Villas-Boas will take his flagging Chelsea players on a five-day trip to Majorca next week designed to boost team morale. Villas-Boas has been given permission by his bosses at Stamford Bridge to take the players on a mid-season team-bonding trip to the same destination favoured by legendary Derby, Leeds and Nottingham Forest manager Brian Clough, who referred to the Spanish island as his 'branch office'. The Portuguese is keen to shield his squad ahead of next weekend's powderkeg FA Cup fourth-round tie against neighbours QPR."
Liverpool's new kit deal: The Sun: Liverpool have struck a six-year £25million deal with Warrior Sports as the official kit supplier. The American company, who replace adidas, will produce home, away and third kits from June 1.
David Maddock in The Mirror brings a different slant on things. "Liverpool have been branded a failure by kit suppliers Adidas in a bitter war of words. The club have announced a new £25million deal with a rival firm, but only after Adidas chief executive Herbert Hainer revealed his company had refused to renew their agreement because the money Liverpool demanded did not match their performance on the pitch. 'We thought what Liverpool were asking and what they were delivering was not in the right balance,' he said. 'There was a gap between their performance on the field and what the numbers should be. It all depends on the success and the effort and the popularity, the exposure on TV and revenue you can generate by merchandising. This all has to be brought in line between what you offer and what you get. We thought what Liverpool were asking was not… right, then we said we will not do it – that's the end of the story.'"
Blackburn: Ian Herbert & David Fernhead reveal "how Blackburn have collapsed into chaos. "A sense of how the club has collapsed into chaos has been provided by financier Ian Battersby, one of the few people with links to the club to have been granted an audience with Anuradha Desai, the matriarch of the Rao family who control Venky's. Battersby's detailed account to The Independent of his trip to the family base at Pune, 70 miles south-east of Mumbai, reveals that Desai was convinced that an annual working capital injection of £3m to £5m would be enough to run Rovers, while enhancing the Venky's chicken processing brand in the west. 'They thought the initial down-payment [£23m] to buy the club was essentially 'job done',' Battersby said. 'With an annual working capital injection of £3m to £5m alongside astute player trading, they [thought] they could get on and expand their brand." The £10m demand from Barclays relates to an agreement reached when the club was taken over in 2010, that specific capital sums would be invested at certain times, which still does not appear to have happened. Though Barclays have said they cannot gamble on extending credit, they are also understood to have advised Rovers that cashing in on Samba could transmit the message that the club are a selling outfit, thus causing a reduction in the value of other assets – including players.'"
Papiss Demba Cisse: Amy Lawrence gets all excited about Newcastle's new number 9. "Despite Freiburg's position at the foot of the Bundesliga , Cissé has scored nine times in 15 domestic appearances this season. Since arriving in Germany from Metz for £1.3m in 2009, the Dakar born centre-forward has registered 37 goals in 65 games, with last year's league haul of 22 making him the Bundesliga's second top scorer behind Bayern Munich's Mario Gomez. After a deceptively low-key beginning to a career that started in Senegal and later transported him to France's unfashionable Ligue 2, Cissé's name was finally up in lights."
Transfer gossip: David Beckham has agreed a new two-year deal to stay in America with LA Galaxy. (Sun)
Nigel De Jong is set to be sold by Manchester City at the end of the season. (Sun)
Kia Joorabchian is due to travel to France today for talks over Carlos Tévez's £30 million-plus transfer to Paris St-Germain. (Telegraph)
Chris Coleman in as Wales boss: Charles Sale reports that "The first casualty of Chris Coleman's reign as Wales manager is expected to be national-team assistant coach Raymond Verheijen. The Dutchman, whose contract expires at the end of the month, upset the FA of Wales' top brass when, just a fortnight after the death of former boss Gary Speed, he tweeted a comment that was interpreted as putting his name forward for the vacant job. Verheijen, who has coached Manchester City, Holland, Russia and South Korea and is popular with the players, explained later he was replying to a journalist's question."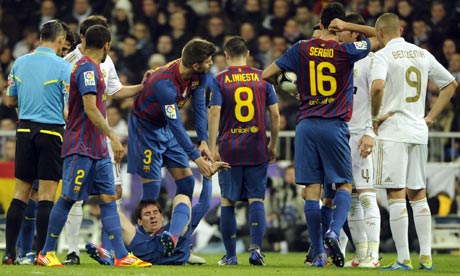 El Clasico: Sid Lowe reports from the Bernabeu in The Guardian. "The nightmare recurs for José Mourinho's Real Madrid. There was a familiar feeling here: defeat, impotence. The match finished 2-1 to Barcelona but it was about more than the result, secured with goals from the defenders Carles Puyol and Eric Abidal; it was about the feeling this game left, the palpable difference between these two sides. Mourinho tried something different and it still did not work. Yet another formula, yet another failure. When the whistle went at full-time it was met with timid whistles from the Madrid fans. They could muster little more. Nor, ultimately, could their side. Again."
Darlington's lifeline: Martin Hardy: "The clock in Darlington yesterday had reached the 13th hour when two men came flying around the corner of the Northern Echo Arena in a silver Peugeot 308. "We've got the money!" the pair shouted as they jumped out of their car and ran to the main entrance. As at the time, observers still need to reassure themselves that this did actually happen. With hindsight – and it was a day for repeated double takes, such were its extraordinary events – both doors should really have been locked and the dynamic duo made to jump out of the windows. At this point they could have been the Duke brothers exiting the General Lee, or Batman and Robin emerging from the Batmobile."
Jim White adds: "The truth is, Darlington might be a wholly unfeasible financial entity, but to its followers it simply has to exist. Take a fan called Lee Davidson, who breached the terms of a restraining order keeping him away from the club's matches in order to attend the New Year's game with Gateshead. It was, he told the magistrate hearing his case this week, possibly the last time he would ever see his team play. Never mind a potential prison sentence, he simply had to be there. That is what you call dedication. The challenge now for the fans is this: in order for the club to survive, everyone has to accept its limitations. The self-destructive ambition of Reynolds, who was convinced that he could rocket the club up the leagues simply by building a stadium was, at the time, lauded among the supporters, who admired a man who shared their more absurdist dreams."
---
GAMBLING CAN BE ADDICTIVE, PLEASE PLAY RESPONSIBLY