"Wayne Rooney is the world-class player who United own and, however many millions they throw at Kaka or Fernando Torres or any of the rest of that small world-class elite, City can only covet" – Matt Dickinson
Comment & analysis round-up
Quote of the day: "[On Wenger's comments that Villa played 'a very long ball game'] If that's what he saw tonight, that is a ridiculous statement… He's made a few ridiculous statements in his time here and that's probably as good as any. That's only an annoyance at the end of it all. Anybody who saw the game wouldn't take that viewpoint. Ashley Young didn't have time to play long balls when he was taking that left-back [Gael Clichy] to the cleaners. It's an ­appalling insult." – Martin O'Neill.
Runner-up: "Rooney is English and we all know they find it difficult to adapt to another type of competition other than the Premier League." – Real Madrid's general director, Jorge Valdano.
Today's overview: Obviously there is only one place to start this Thursday, after United beat City in a terrific match in the Carling Cup semi-final.
Blown away by the entertainment, Kevin McCarra admitted "there was almost too much to absorb last night… While City showed commendable persistence, United created sustained havoc… This was not just a matter of traditional, local rivalry. United will strive to dent the confidence of opponents with the financial means, if not yet the squad, to challenge them on the domestic and even European front one day."
The venom United have to keep City down was also observed by Oliver Kay. "Manchester City's designs on parading a trophy around this divided city for the first time since 1976, not to mention their much-publicised desire for world domination, are back on the drawing board after Wayne Rooney's late, late goal settled another extraordinary derby last night. And, for that, they can blame United's unyielding desire to put the long-suffering neighbours back in their place."
Looking at what separates United from City, Matt Dickinson reduces the argument to one man. "Wayne Rooney is the difference between Manchester United and their ambitious neighbours… Rooney is the difference between knowing you are a big club, and aspiring to be one. He is the world-class player who United own — and, however many millions they throw at Kaká or Fernando Torres or any of the rest of that small world-class elite, City can only covet."
For Martin Samuel, the gap between United and City is much larger than just one player. "Manchester City are closing all the time, but it will be a long time before they assemble a group with this resolve. Even in times of trouble, United have unique reserves of character, a mental strength that is unsurpassed in the modern game."
Henry Winter also gave his individual shout-outs. "Fletcher conjured up images of Bryan Robson in his barnstorming pomp, constantly raiding into the box, trailing havoc in his wake. Above all, this was Rooney demonstrating why he is fast maturing into the best all-round striker in the world, leading the line with deftness of touch, muscularity of movement and an eagle eye for goal. His decisive header, deep into injury time, echoed Frank Stapleton or Joe Jordan."
City won their plaudits though at Old Trafford, and Daniel Taylor appreciated the effort of the Citizens. "For the second time this season a stoppage-time goal gave United the upper hand in this divided city. City's supporters must feel like tweaking the old Gary Lineker quote: football is a game played by 22 men over 90 minutes and at the end Manchester United win in time added on… Mancini's men played with spirit and togetherness. They lost but that does not mean they played badly. Losing does not always equate to performing poorly. They deserve more than to be patronised as 'plucky' or 'brave.'"
Earning special praise for City was Carlos Tevez. Jim White commented "Tevez was loved at Old Trafford for his effort. And it had clearly not diminished in the transfer: here, eschewing the snood he has been wearing through the cold snap, he preferred to stay warm on a shrill Mancunian night by characteristically threatening to run his legs into stumps." Sam Wallace added "every one of the Argentine's touches were booed but, were it not for Rooney's late goal, Old Trafford would this morning be examining the wisdom of letting Tevez walk out."
James Ducker wonders if the rise of City could spurn Sir Alex into pushing back his retirement. "Ferguson's insistence that he will not manage beyond 70 appears to have waned slightly in recent months, which makes you wonder whether he thinks he has the stomach for what could prove to be one of his biggest fights yet, especially because the United manager's room for manoeuvre in the transfer market may end up being constrained by the club's financial predicament."
The one downside for United though came about when Craig Bellamy was struck by a missile early in the second half. The Sun confirm that "Manchester United face an FA probe after Craig Bellamy was hit on the head as coins and bottles were thrown from the crowd last night. The FA are sure to study the stadium's CCTV footage to try to discover the identity of the fans responsible.  Anyone identified is certain to be banned from Old Trafford for life."
Turning to Wednesday night's action in the Premier League, Chelsea stole the headlines by beating Birmingham to reclaim top spot in the division.
Commenting on a successful night for the Blues, Dominic Fifield noted "Chelsea were a blur of subtle passing as they advanced into the attacking third and, when pressed, they used the long ball expertly to switch play."
Gazing into his crystal ball, Matt Hughes believes Chelsea will go on to strengthen their position at the top of the league. "Carlo Ancelotti's side returned to the top of the Barclays Premier League with a victory as comfortable as it was predictable and they are likely to have stretched their lead to four points by the time Arsenal meet Manchester United on Sunday. The fact that United came close to exhaustion as a result of a little local difficulty last night was a bonus for them."
The rumour mill linking Rafa Benitez to Juventus continues to spin.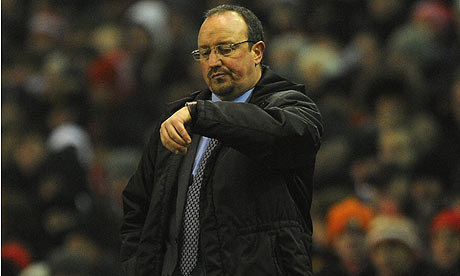 According to Andy Hunter, "Juventus are close to replacing the manager, Ciro Ferrara, with a short-term appointment as they attempt to pave the way for Rafael Benítez to join in the summer… Juventus are believed to have lined up their former defender Claudio Gentile as a stop-gap appointment until the end of the season."
Ian Hebert added that "the intrigue surrounding Juventus' interest in Rafael Benitez deepened last night with sources in Italy suggesting that the Turin side have seen the Liverpool manager's contract and have drawn up a new one with a €3m (£2.6m) salary, which they believe might be enough to attract him."
We end with the transfers.
The Times' Window Watch today claims that Spurs have gazumped West Ham for forward Eidur Gudjohnsen as the Hammers turn to James Beattie, Portsmouth have signed Quincy Owusu-Abeyie on loan, Everton and Blackburn have been linked with Barcelona's Jeffren Suarez, while Manchester United's Anderson is being targetted by Vasco da Gama on loan.
On the Anderson story, Neil Custis farts "Anderson will be fined £80,000 and sold by Manchester United after going AWOL in Brazil. SunSport revealed on Tuesday that Anderson, 21, went missing after being axed from the squad for Saturday's Hull clash."
According to Rory Smith, "Yossi Benayoun… is not likely to leave Anfield in the near future after Liverpool dismissed speculation linking the Israeli with a £7 million move to Dynamo Moscow." Also staying put (for now), the Daily Mail report "Tottenham have turned down a bid of £8million from Birmingham for their unsettled Russia striker Roman Pavlyuchenko… [although] Robbie Keane could be heading out of Spurs to West Ham," while the Mirror claim "Spurs are willing to accept £8m cash up front for the out-of-favour forward, plus a number of add-ons, increasing the potential fee to £12-13m."
Manchester City are ready to splash the cash, Ian Herbert linking the Citizens with Middlesbrough's £5m-rated England Under-21 winger Adam Johnson. Over in the Daily Mail it is added that "Manchester City are signing Colombia goalkeeper David Gonzalez Giraldo and weighing up an approach for Sampdoria's £20m-rated striker Antonio Cassano."
The Trotters continue to try sign players as the transfer window draws to a close, David Kent announcing "Bolton are ready to pip Blackburn to the signing of Portsmouth's on loan striker Aruna Dindane." The Sun also trumpet that "Owen Coyle is set to make his third signing as Bolton boss today by winning the race for Arsenal youngster Jack Wilshere."
---
GAMBLING CAN BE ADDICTIVE, PLEASE PLAY RESPONSIBLY