War vets slam Sunderland's Di Canio appointment, Chelsea end Man United's double dream & Barcelona eye Swans Vorm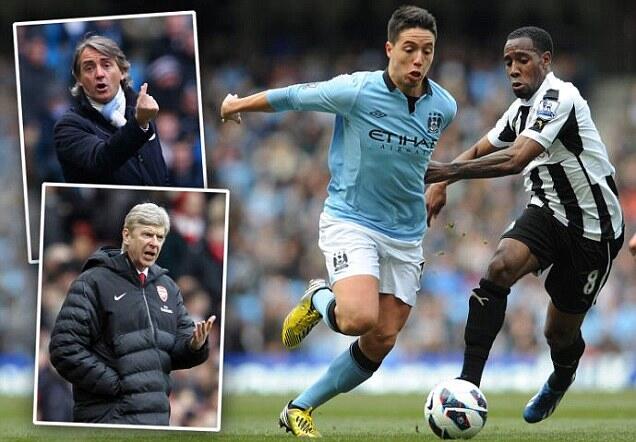 Comment & analysis round-up
Quote of the day: "I am aware that I have not had a good season. There are many reasons for this. But when Mancini said that I'm training at 50 per cent, this is not true. Arsene Wenger is the greatest coach I have worked with. He is the one who understands me the most, he made me realise my potential. I am grateful to him for the role he played in my career. I only regret not having more discussions with him when I left. I do not have other regrets. I do not regret joining Manchester City. I want to play and perform, and my departure from Arsenal is purely for sporting reasons. When you compare Arsenal and City, it's not the same. With City I'm playing in a better team, I won the title, and Arsenal fight to qualify for the Champions League. I didn't leave for money… Arsene told me that if Cesc would leave, I would stay. But Kroenke could not ignore the transfer fee." – Samir Nasri.
Runner-up: "We're in the top four with a game in hand. We're in the semi-finals of the FA Cup and the quarter finals of the Europa League. It's a great season. It could be even better. My priority is the top four and trying to win the next game, in the Europa League. This win was very important for everyone here. The priority for us is to finish in the top four, we know that, but at a top side you have to win every competition." – Rafa Benitez.
The Di Canio Fascism Fiasco Continues
Sunderland should have anticipated the furore that would follow the appointment of Paolo Di Canio as manager (Henry Winter, Telegraph) In making his impassioned defence on Monday, Paolo Di Canio demanded that those debating his political views should remember "we are not in the Houses of Parliament, we are in a football club". Sometimes, Paolo, it is hard to differentiate. In the Premier League, it is always question time, often tribal and invariably intensely scrutinised. Nuance has long left the building in an era when public perceptions of individuals are synthesised into 140 characters.
Fascism? Cheating? Human rights abuse? Clubs care only about results (James Lawton, Independent) Miliband has made an extremely important statement. It is that if a football club surrenders its old place at the heart of a community, if it becomes not much more than a tool of some outside investor, it is hardly entitled to a loyalty that stretches beyond the next match, the next result. Di Canio says that he is a fascist but not a racist, something which is not the easiest claim to sustain in the normal course of events, but it is a vital qualification in a game in which racism is now just about the only sin which everyone agrees has to be treated with zero tolerance.
War veterans boycott 'fascist' football boss Paolo Di Canio (Robin Perrie, Sun) Thousand of furious Sunderland fans turned on their club yesterday for handing the manager's job to self-proclaimed fascist Paolo Di Canio. Lifelong supporters vowed to boycott matches while Facebook groups set up to protest the appointment racked up more than 2,000 likes in a few hours. Hundreds more signed an online petition demanding the Italian be axed before he has taken charge of a single game. Fan Rob Johnson summed up their fury when he said: "Words can hardly express how sickened and ashamed I am by the appointment of Di Canio. Lest we forget, during World War II 267 people were killed and over 1,000 wounded in Sunderland by Nazi bombers. Di Canio is the ideological bedfellow of these murderers."
This is another kick in the teeth for British bosses (Ian Wright, Sun) Sunderland left me surprised and a bit disappointed with their choice of Martin O'Neill's successor. I have nothing against Paolo Di Canio, he was excellent at Swindon and I love his passion. He is clearly a character and the game always needs those. But he has only been a manager for 95 games and never managed above League One.
Nasri Gets Nasty
Samir gets Nasty (Vic Holly, Sun) Samir Nasri last night launched an astonishing attack on Roberto Mancini — which could spell the end of his Manchester City career. The unsettled star taunted Mancini after the City chief admitted he was so frustrated with the French ace he wanted to punch him. Nasri said: "If he wants to hit me then he should hit me."
Chelsea 1 – Man United 0
Fab four find rhythm to raise Chelsea above cautious Manchester United (Barney Ronay, Guardian) If there seems a paradox in Chelsea's victory – a victory for flair over blue-collar toil, but also for the inanity of billionaire football's fractured fantasy-spending – then this is just part of the crooked beauty of the game.
Rafa's out of control (Steven Howard, Sun) Blues fans were still scratching their heads and asking: What the hell's going on? And fearing that this was the long weekend where they waved goodbye to 11 seasons of continuous Champions League football. Rafa Benitez is presumably doing what the boss wants rather than going off on a tangent. That, you would have thought, is focusing on qualifying for the Champions League — because that is what Blues owner Roman Abramovich not only demands but lives for. Why then would he have rested six of his best players for the league game at Southampton on Saturday? So strange you are led to believe his priorities lie elsewhere. Yesterday Ba, Eden Hazard, Juan Mata, Ramires and David Luiz were back in. Surely, three points at St Mary's was of far greater significance than a cup competition?
Ba on target in Cup replay as stunning Cech save sees Blues book last-four date against City (Matt Barlow, Mail) Victory keeps Chelsea on course for a 70-game season. They move on to their next test, at home to Rubin Kazan in the first leg of their Europa League quarter-final on Thursday, and they tightened their grip on the FA Cup.
Are you sure Rafa? Interim boss Benitez insists Chelsea are having 'a great season' (John Cross, Mirror) Rafa Benitez risked the wrath of Chelsea fans again by declaring: "We are having a great season." Benitez made the claim after Chelsea reached the FA Cup semi final thanks to Demba Ba's wonder strike and an incredible match winning save by Petr Cech. It keeps Chelsea on course for two trophies as they are still in the Europa League but fed-up fans have long since seen their title hopes disappear, they are out of the Champions League and face a nervous race for a top four place.
Flying Dutchman RvP has run out of steam as United's Double dream is over (John Cross, Mirror) Van Persie has gone off the boil at the business end of the season. United will still walk the title but Doubles and Trebles are what earns a team the right to be called great. Within the space of a few weeks, the Treble has disappeared – just at a time when van Persie has stopped scoring. His heroics earlier in the season may have left him tired and jaded. But he's stayed fit – he just can't score.
What does this mean for Manchester United? (Dominic Fifield, Guardian) Most clubs would accept a league championship as more than enough consolation for what might feel like a month of irrelevant fixtures at the tail-end of a long campaign. But United will be frustrated. They will look at the substitute Robin van Persie's late misses and wonder if the forward has run out of steam late on. How Rio Ferdinand, too, would have loved to have emerged from the boos to celebrate progress to Wembley. That was not to be.
Warnock Quits, Who'se Next For Leeds?
War is over (Sun) Leeds chief exec Shaun Harvey confirmed that development squad manager Neil Redfearn will take over as caretaker boss until the end of the season. Ex-Reading boss Brian McDermott and former Blackburn chief Michael Appleton are early favourites for the full-time post.
Manager Neil Warnock leaves Leeds United (Glenn Moore, Independent) Academy manager Neil Redfearn has taken temporary charge while the owners ponder a new manager. Owen Coyle, Gus Poyet and Brian McDermott are among those under consideration.
Barcelona Go Shopping In Swansea
Michel Vorm is Barca target (Star) Swansea goalkeeper Michel Vorm is a shock summer target for Barcelona. The Spanish giants are eyeing the 29-year-old Dutchman as a potential replacement for Victor Valdes.
---
GAMBLING CAN BE ADDICTIVE, PLEASE PLAY RESPONSIBLY