Villa, Henry, Buffon, Silva and Diarra all turned down Man City, but Eastlands could soon be Drogs house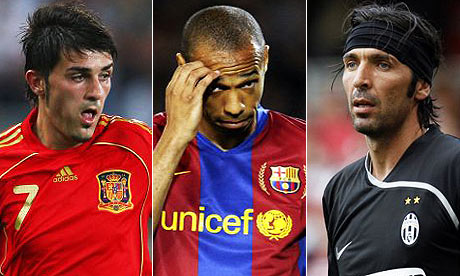 Comment & analysis round-up
Quote of the day: "With five minutes to go it was looking like the most embarrassing night of my life in football. I didn't think we were going to pull it off. I couldn't see where a goal was coming from. I was just praying we could nick one from somewhere. I brought in lads who haven't been playing much lately but Burnley were better than us. After the first half hour I was comfortable but we conceded a poor goal from a free-kick and it became difficult. We've got a group of players who are not physically or mentally strong enough. Ben [Alnwick] had a difficult night but he is the only keeper I've got and he will be playing at Old Trafford on Saturday. This is a football club that has been put together by I don't know who and I don't know how. It is a mish-mash of players. It is scary." – Harry Redknapp.
Runner-up: "My hopes now rest with God. Apart from him, nobody can help me. I see Arsenal as my team of the future. Everything now depends on Zenit. If they want to sell me, they can do it very quickly. My intentions to leave the club have not changed since the summe. It is obvious that in these times of crisis, no one will offer such a big amount. Zenit have to think realistically. I believe that Arsenal's offer is much closer to my real value in the transfer market at the moment." – Andrei Arshavin.
Today's overview: A schism appears in the papers today, with Manchester City's transfer policy becoming every more cloudy and directionless. Some hacks seem content to poke fun at the Citizens claiming that not only has Kaka turned them down but also numerous other superstars. Yet at the same time, rumours linking Drogba with a move to Eastlands are picking up pace.
On the one hand Manchester City's megabucks seem to have less pulling power with every passing day. Daniel Taylor announces "the full extent of City's ­difficulties in the transfer window were revealed last night when it emerged that the club had also tried and failed to sign David Villa, Gianluigi Buffon and Thierry Henry before their aborted £91m world-record bid for Kaka." Keeping on the same theme, Ian Herbert offers a different set of names whom City have missed out on claiming that "[David] Villa and [David] Silva, for whom Valencia were demanding a combined price of €135m (£128m), and Diarra, whose representatives were seeking a £6m cut for themselves as part of any deal" were all ones which got away.
But the Henry deal may still be alive, Oliver Kay reporting "City have taken the first steps in an audacious attempt to bring Thierry Henry back to the Barclays Premier League at the end of the season." And Kay is backed up by Ian Herbert, who also spouts the news that "Mark Hughes, and executive chairman, Garry Cook, would both like Henry at Eastlands." Mark Ogden is left wondering if "marquee players will only sign for a marquee manager" outside Sparky's reach.
Others choose to laugh at City for their failings this Thursday. Michael Henderson bullishly writes "after a week of buffoonery unparalleled in the history of football, they have finally achieved the international recognition they craved for so long. Manchester's little-regarded other team is now a laughing-stock throughout the world!" While more specifically, Garry Cook is taken to town by Marina Hyde for he behaviour in the failed Kaka bid. "Of all the poses Garry Cook should now choose to adopt, that of a gentleman ambushed by cowardly vulgarians is easily the most preposterous."
Even their latest capture of Nigel de Jong is slated, Steve Brenner writing "City's pursuit of the 24-year-old has made them a laughing stock as De Jong had a clause in his Hamburg contract stating he would be available for just £2.3m this summer. So if the Eastlands mob had waited four months they could have bagged him for a staggering £16.7m less!"
But, surprise surprise, City's name is lit up in lights by the tabloids as they are linked with a swoop for Chelsea's Didier Drogba. For Shaun Custis, "City are targeting Chelsea's unsettled £15million-rated striker Didier Drogba. And that could trigger a stunning transfer window swap deal taking Robinho to Stamford Bridge." The premise of the Robinho-Drogba swap deal is undermined though Martin Lipman who notes "FIFA rules preclude a player turning out for more than two clubs in a 12-month period unless they can cite "just sporting reason" for leaving their second club. Robinho has played for Real Madrid and City." Neil Ashton claims City "have told Chelsea to name their price" for Drogba.
In other transfer news, the Daily Mail link Fulham with City's 20-year-old forward Felipe Caicedo, Martin Blackburn claims that "Sam Allardyce is checking on Barcelona striker Eidur Gudjohnsen", while the Daily Mail report that Fulham, West Ham and Middlesbrough are said to be in a three way battle to sign Crystal Palace midfielder Ben Watson.
The Times have followed up with their top 50 rising stars why publishing the 25 omissions which readers most complained about. "Alexandre Pato, AC Milan The biggest consensus was that the 19-year-old Brazil striker was the most glaring omission. He scored the winner against Fiorentina on Saturday and his coach, Carlo Ancelotti, believes he will develop into a superstar." Mike Breton also produces a list of hot talent, picking out the 10 top young gungs in the Championship.
Once again the relationship between the global financial slowdown and sport is a main focus for the papers. Kevin Eason looks at the news that AIG are ending their sponsorship with Manchester United saying "the question for British sport is who will be the next to go with the financial sector." Staying with sponsors, Paul Kelso pays lip service to the fact that "Chelsea and Samsung are in the early stages of negotiations over an extension of the £55 million shirt-sponsorship deal that expires at the end of the 2009-10 season."
Owen Gibson writes how the Premier League are set for another round of clampdowns on pirate internet sites. "Premier League lawyers want the culture secretary, Andy Burnham, and the business secretary, Lord Mandelson, to crack down on copyright infringement by making internet service providers responsible for the actions of their subscribers, and appoint an "IP tsar" to coordinate action across government."
Finally, Owen Gibson writes a superb article on how sport and sport broadcasters are looking to ride out the economic downturn. "ESPN, the US sports giant owned by Disney, is looking to build broadband portals in each sport that allow it to exploit its rights across hundreds of countries in different ways. It has spent the past two years buying up the likes of Cricinfo, Scrum.com and Racing-Live and integrating them with more than 40 tele­vision channels around the world."
---
GAMBLING CAN BE ADDICTIVE, PLEASE PLAY RESPONSIBLY