Vidic & Anderson heading for Manchester United exits, Manchester City play cricket & Chelsea's Ashley Cole is reported to have cheated on wife Cheryl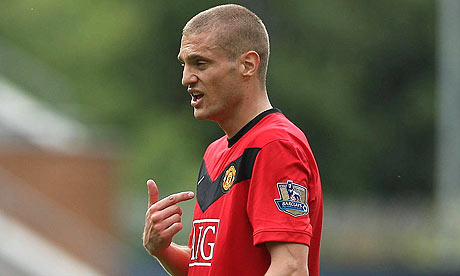 Comment & analysis round-up
Quote of the day: "It's a difficult one because [Nemanja Vidic] feels he needs to do a lot of training. He has been training for the last 10 days but he still does not feel he is ready to take part in games. That's something we just have to be patient with and that's what we are doing at the moment… Of course we want [Vidic] to stay. He's a great player, one of the best centre-backs in the world. Of course we want to keep him." – Sir Alex Ferguson.
Runner-up: "I think it would probably be something that might be quite exciting, but you should be judged on where you are at the end of 38 games. The play-offs work well in the Championship, with the excitement generated by it, but to finish fourth would still mean that you have a qualifier for the Champions League — so you haven't qualified for the Champions League, all you've done is qualify for the qualifier… I'm probably slightly in favour, but I could easily be swayed in the argument that we already play 38 games in a season so why play another three or four games at the end when everybody's knackered and nobody wants any more games? Where are you going to fit it in with all the international games? We're struggling to fit it in now, so I don't know how you'd do it." – David Moyes.
Today's overview: So Nemanja Vidic has withdrawn himself from Manchester United's Champions League match with AC Milan on Tuesday night and a player who, for months now, has been widely reported as nearing the Old Trafford exit door, is again reported to be on his way out of the club.
Spreading the old news with the new twist, Daniel Taylor coughs "Sir Alex Ferguson's increasingly precarious relationship with Nemanja Vidic has deteriorated even further after the unsettled defender pulled out of Manchester United's Champions League match against Milan. United will have to face the seven-times European Cup winners without their reigning player of the year and, despite his natural reluctance to question his players in public, Ferguson could barely disguise his irritation as he explained why the Serb had withdrawn from the travelling party."
While Vidic is a player who Sir Alex would like to keep, James Ducker reveals how Anderson appears to be a player Fergie is looking to shift. "Another notable absentee on the flight to Italy was Anderson, the midfield player whose own future at United is appearing increasingly uncertain. The Brazilian has been frozen out by Ferguson, this being the sixth successive squad that the 21-year-old has been omitted from since he was fined a week's wages for skipping training and returning to his homeland three weeks ago."
Matt Lawton tempts the evil eye by portraying the Rossoneri as a team ready for a beating. "This is a Milan side showing all the symptoms of a disease that has spread through Italian football in the past two or three years. Sparked by financial difficulties and falling crowds, there has been a lack of ambition that is so far removed from the periods of dominance Italian football has enjoyed. They have allowed the superstars of Serie A to leave for Spain, just as they have let great teams like Milan's slip into a gradual decline."
Looking at the tactical battles involved in the AC Milan-Manchester United tie, Henry Winter rams home the point that David Beckham is a peripheral figure in the wider context. "Beckham against his side for the first time is a good plotline, although probably not the key story of Tuesday evening's drama. That could be Rooney versus Alessandro Nesta, Darren Fletcher versus Andrea Pirlo, even Patrice Evra against Pato."
While Beckham is likely to only be a sideshow in the Champions League tie, Chris McGarth takes time out to applaud Goldenballs' footballing career. "The fact is that Beckham, having long been outstripped by his reputation, has now found a contiguity between his image in the game, and his role in a match. Yes, his defection to Hollywood at first seemed an admission that his waning powers could only sustain his marquee billing in a less exacting environment. And much the same sadly holds true of these cameos at Milan, whose promising young manager has more than one ageing ego on his hands already. But nobody could mistake the ardour behind Beckham's longevity. For all the distractions in his life, here is a bloke who just loves to play."
However Martin Samuel refuses to reduce Beckham to just a footnote, arguing that the match against United is vitally important to Milan's number 32. "The match with Manchester United throws Beckham the player into sharp focus. All eyes will be on him tonight, including those of Fabio Capello, the England manager scrutinising his effectiveness against the best opposition. If Beckham comes up short, as happened the last time he was the centre of attention in Milan, it will reignite the debate around his inclusion in England's World Cup squad, and his place on the plane is not yet guaranteed… The fact is, foreign football anoraks aside, we do not see much of Beckham these days."
The idea that the last Champions League spot from the Premier League could be decided by a play-off is again touted in the fourth estate, as the proposal appears to be gaining greater traction.
Tracing the latest developments, Owen Gibson reports how "Uefa yesterday gave the green light to embryonic Premier League proposals to introduce a play-off system for the fourth Champions League spot in a bid to extend the possibility of qualification beyond the usual suspects."
Matt Dickinson explains why he supports the play-off proposal. "In potentially giving smaller clubs a chance to steal one of the places of the big boys — a rare chance for the poor to take from the rich — the proposal seems on the surface to be exactly the sort of meritocratic step we should all be applauding… Backers of the play-off proposal are certainly right to be looking at Champions League qualification as a way to target inequality in our own league."
Slowly slowly football, with all its financial and social problems, is moving itself into a mainstream political issue which is being debated in the highest levels of government. And while governmental regulation of the beautiful game is still a way off, once again this Tuesday members of Parliament are voicing their opinion on what football needs to do to improve itself.
Owen Gibson announces that "the government is to exert fresh pressure on football authorities to overhaul the way the game is governed, pushing for a clear plan of action on issues such as debt, financial management and supporter representation at board level… The sports minister, Gerry Sutcliffe, has called for "tougher regulation" from the Premier League, Football Association and Football League… One option gaining support is the idea of an independent Football Regulatory Authority."
The worlds of football and cricket merge together this Tuesday as The Times break the news that "a leading English football club are looking to buy a stake in one of two new cricket teams that will compete in next year's Indian Premier League, according to the tournament's ringmaster."
Speculating over which Premier League club is looking to expand their portfolio, Nick Hoult chugs "with Liverpool and Arsenal's long-term ownership uncertain, Manchester City would be favourites to make a move. Their Gulf-based owners have the financial strength and it is no secret in India that a bid for one of the franchises would originate from Abu Dhabi, but a club official last night rejected suggestions [Lalit Modi, the commissioner of the IPL,] was referring to them."
The Sun's John Etheridge however claims to know which Premier League is preparing to enter into the world of cricket. "Manchester City are considering a dramatic move into cricket by buying an Indian Premier League team. The club's mega-rich owners believe their Abu Dhabi base is perfect for a new team as the IPL continues its global expansion."
Onto the ridiculous notion of transfer gossip at a time when no deals can be done.
The Daily Mail's Ashley Gray reports how, despite never getting a game at Spurs, Pavlyuchenko is being forced to stay in north London. "Harry Redknapp is refusing to let his unhappy Tottenham striker Roman Pavlyuchenko join Lokomotiv Moscow. The Russians had hoped to clinch the signing of the 28-year-old for £10.5million this week after positive talks with White Hart Lane chairman Daniel Levy." Staying in the Mail we learn "Derby County are in talks to try and sign either the Arsenal forward Gilles Sunu or the Everton striker James Vaughan on loan."
Although we have been told that there is no money at Upton Park, Alan Nixon today farts "West Ham are making a sensational move for Paraguay wonder boy Juan Iturbe – with a £2 million offer for the attacking sensation. Hammers supremo David Sullivan is masterminding the move for the 16-year-old who plays for Cerro Porteno and is due to come to London for talks in the near future."
Flipping to the managerial-merry-go-round, James Nursey trumpets "QPR are ready to pay £1.5million compensation to Crystal Palace for Neil Warnock as Lakshmi Mittal prepares to increase his stake in Rangers… Controversial Loftus Road chairman Flavio Briatore has been offered a way out of the troubled club by co-owner Mittal, who is willing to buy his 30 per cent stake. And Mittal's son-in-law Amit Bhatia, Rangers' current vice-chairman, is on standby to take a greater role in the running of the club."
We end with the daily dose of smut, and today Ashley Cole officially replaces John Terry as the biggest love-rat at Chelsea as The Sun claim that the left-back cheated on his pin-up wife Cheryl.
Andrew Parker dishes the dirt. "Ashley Cole cheated on wife Cheryl with a blonde after sending her sex texts. The secretary told how Cole, 29, sneaked her into Chelsea's team hotel before Premier League matches… We can reveal married Cole, 29, twice sneaked the pretty secretary into the team hotel for sex before away games… The secretary, a single girl aged 30, said Cole was in "absolute terror" of being caught cheating by pop star wife Cheryl – just months after hairdresser Aimee Walton, 22, told how she had sex with him."
---
GAMBLING CAN BE ADDICTIVE, PLEASE PLAY RESPONSIBLY