"United will again be the team to beat, but they should beware a flash of blue in their rear-view mirror – if not from City then certainly from Chelsea" – Oliver Kay
Comment & analysis round-up
Quote of the day: "The dialogue has not taken place with Manchester City and Everton in the way that it is said to be. If it was, the dialogue would come to me. There has been no contact with me. I'm the person here who makes the decisions. I'm in control of Everton Football Club. There has not been one call. It's disappointing. We have got a player who we really value and we want to keep. We think the world of him and he can play two positions. We don't want to lose him. Yet he is being continually put in a position like he is at this moment in time. The way it has been handled is disgusting and all it has done is disrupted our club." – David Moyes.
Runner-up: "You can throw a blanket over ourselves, Liverpool and Chelsea. I think it will be between the three of us and there is not a lot to choose between us. What might decide it is that one club gets a couple of injuries or a bit of bad luck. We do have more experience of winning the title but that does not make such a difference, given the kind of competition we are entering into." – Sir Alex Ferguson.
Today's overview: With the Premier League returning this Saturday, all eyes are on England's top flight with the hacks boldly publishing their final pre-season premonitions.
On the race for the title, Andy Hunter manages to describe this year's challenge in negatives. "Title predictions are peculiar this year given the leading contenders are judged not on how they have improved but how much they have weakened."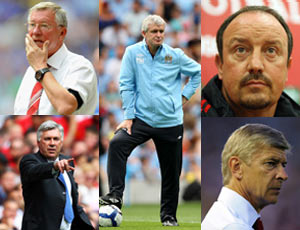 Terry Venables boldly predicts how the final league table will look come May 2010, with Chelsea El Tel's mooted champions while Birmingham, Portsmouth and Hull are his picks for the drop. In a supplementary article in which Venables explains his choices, the perma-tanned former England manager spouts "there is one crucial difference which I believe will send the title back to West London. While United sold their talisman to Real Madrid, Chelsea have managed to keep hold of theirs."
Oliver Kay boldly lays down his predictions in The Times. "Predictions are not easy, but expect big strides forward from City, Sunderland and Tottenham. As for the title, United will again be the team to beat, but they should beware a flash of blue in their rear-view mirror — if not from City then certainly from Chelsea." Following suit, Patrick Barclay talks up Chelsea for champions. "While both of the North Western giants will be weakened by the loss of key players — Cristiano Ronaldo at Old Trafford, Xabi Alonso at Anfield — Chelsea have retained not only John Terry but those the captain wants alongside him."
In a separate article, Patrick Barclay sings the praises of Arsene Wenger, beginning with a rhetorical question. "Has there ever been a manager like Arsene Wenger, one so brave he backs his principles against a mountain of doubt and rather more than a molehill of evidence?" Barclay is joined by James Lawton in his Wenger love-in, the Independent scribe boasting that "[Wenger is] at the cutting edge of what still might just make big-time football worthwhile."
With the recession still very much alive in Britain, Kevin Eason reports on the various season-ticket sales of Premier League clubs. "Manchester United, the champions, are one of only three clubs to have raised prices but its season tickets have still sold out. A dozen clubs have increased season ticket sales while four — thought to be Aston Villa, Bolton Wanderers, Portsmouth and West Ham United — are understood to have seen sales fall."
Staying on the recession bandwagon, James Moore and Nick Clark join forces to scarily announce that half of all the Premier League clubs rely on wealthy backers for survival.
The hype around Manchester City is at fever-pitch, Roque Santa Cruz adding to the excitement by talking up City's hopes to the Guardian's Daniel Taylor. Martin Samuel claims that "for all the summer transfer activity, Robinho remains the most compelling character in Hughes's team… while Robinho did not completely take the game by storm last season, nor did he receive sufficient credit for his total of 15 goals in 40 appearances. After all, most foreign players take a year to adapt to English football."
Ratcheting up the pressure on the Citizens, Mark Ogden notes how Mark Hughes is one of the favourites to be the first sacking of the season in the Premier League. However, taking a step backwards, Rick Broadbent notes that "to paraphrase Spike Milligan, all City fans ask is the chance to prove that money can't make them happy."
Newbies Burnley are featured by Stuart James, and the forecast is grim. "Few expect Burnley to be anywhere other than in the bottom three come May."
Looking to inject some humour into the pre-season excitement, Des Kelly rips into Tottenham's David Bentley for his drink-driving accident. "Well done, David Bentley, you started the new season as you ended the last, as an expensive car crash, which is what happens when individuals are permitted to drive a vehicle with a top speed higher than their IQ. To be fair to Tottenham's £15million flop, hitting a post was an improvement. Usually, he just hits the bench."
The new season has done little to quell the transfer rumours, with Everton taking centre-stage this Saturday.
Amid all the finger-pointing and bad-blood flowing between Goodison Park and Eastlands over Joleon Lescott's non-move, Everton fans will no-doubt be excited by Andy Hunter's disclosure that the Toffees hope "to conclude a season-long loan deal for the Valencia midfielder Ever Banega this weekend."
Repeating a rumour which surfaced on Friday, Tony Barrett further announces how Everton are closing in on Newcastle's £6m-rated centre-half Steven Taylor. And the blue half of Merseyside continue to be linked with new recruits in the Daily Mail, as the Toffees are said to be battling for Hoffenheim defender Isaac Vorsah with Wolves also trailing Spartak Moscow winger Vladimir Bystrov.
In a classic piece of nonsense tabloid guff, The Sun's Antony Kastrinakis first barks that "Chelsea are ready to make a £42million bid for Atletico Madrid superstar Sergio Aguero," only to barf seconds later that "Atletico are likely to turn down the offer and tell Chelsea they must match the £50m get-out clause."
In the best of the rest, The Sun invent the story that "Liverpool have made a cheeky enquiry about Aston Villa's young star James Milner," The Guardian announce that "Roy Hodgson has confirmed that Fulham are closing in on a deal to sign Damien Duff but denied that Brede Hangeland will be moving to Arsenal," the Daily Mail link Bordeaux with a move for Bolton striker Johan Elmander, while Derek McGregor claims that "Hull have slapped in a £3million bid for Celtic right-back Andreas Hinkel."
Lastly, the Mirror today crow that "Notts County have made the first big-money signing of the Sven-Goran Eriksson era by reportedly smashing their transfer record to sign Manchester City goalkeeper Kasper Schmeichel."
---
GAMBLING CAN BE ADDICTIVE, PLEASE PLAY RESPONSIBLY