TWD8: Past-it Patrick Vieira returns for £130k-a-week, Operation Cesc, Campbell set for Arsenal return & Manchester United – Real Madrid's Feeder Club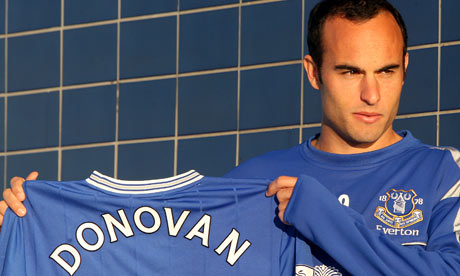 Comment & analysis round-up
Quote of the day: "I set myself an objective – I want to go to the World Cup,the important thing for me is to go to Manchester City and to show the coach [Roberto Mancini] I'm the same player as when he was in charge of Inter." – Patrick Vieira.
Runner-up: "Off the field I've learnt a lot about myself in the last few years with everything that's gone on and I've learnt a lot about David [Beckham], he's a very humble, good human being. Unfortunately I didn't give him a chance to show that. I had an idea of what he was like before he got here and that was unfair on my part. On the field he's a fantastic soccer player and, for me, very suited to the way I play. I like to make runs and with someone like that who can pass the ball, it's a very good combination. David is just so famous around the world, so sometimes you have expectations or ideas of what people are and you don't give them a chance. I learnt a lot about myself in that way and David is just a good person and a good team-mate." – Landon Donovan.
Today's overview: The return of ex-Arsenal legend Patrick Vieira to English football focuses minds this morning with a load of pundits writing off the former World Cup winner with France in 1998. Elsewhere there is no shortage of gossip and previews of the Premier League this weekend and the Africa Cup of Nations which starts on Sunday.
Patrick Vieira's return to English football with free-spending Manchester City gives the hacks something to chew on. Shaun Custis reveals that the former Arsenal legend "has been offered a staggering £10million to play for Manchester City over the next 18 months. The French star, 33, is finalising his move from Inter Milan to Eastlands. But the £130,000-a-week pay package has stunned his Italian club."
Paolo Bandini believes Vieira's signing could be just as useful off the pitch as on it. "Experience, and above all experience of winning, can often prove telling in a league campaign, though Vieira will not be content merely to provide a positive influence from the bench. He expects to start, and Mancini has once fallen out with the player – Vieira refusing his handshake after being substituted during a game in 2008. But if Manchester City are going to continue to progress, these are the sorts of hurdles Mancini will have to overcome."
Sam Wallace is not quite so positive, arguing "Vieira cannot step back to his glory days." "It would be a shame to see Vieira given the run-around by the likes of Keith Andrews on Monday, but that is the risk if he returns. In his day, Vieira was part of some of the Premier League's most exciting moments, not to mention that engrossing Highbury tunnel ruck with Roy Keane in 2005. Keane was the madman that day with his comical rant ('I'll see you out there, shouting yer mouth off, you. Every week, you, making out you're a nice guy'). Watch the clip now and it feels like it belongs to a different era. Rather like Vieira."
Matt Lawton also questions if Vieira is a spent force. "So why, when Vieira can no longer secure a place in Jose Mourinho's Inter Milan side, does Roberto Mancini want the now 33-year-old Vieira at Manchester City?
It's a strange move for a club with the money to buy players in the ascendancy rather than in decline. It's hardly a declaration of intent and something that will turn City into a side capable of mounting a serious challenge for the Barclays Premier League title. It's stranger too when the last few months would suggest City need to add strength in defence more than in midfield." Â 
Daniel Taylor takes a step back to look at City's dealings. "The arrival of such a high-profile player is the first major piece of business since the transfer window opened and nobody will be surprised that it is City who have made the opening move. Mancini is not planning the kind of wholesale changes that typified Mark Hughes's time in charge, but he now regards strengthening the team's defence as a priority and has identified another of his former players from San Siro, the Colombian Iván Córdoba as a possible target." Not so say The Times, who claim City "are on the verge if signing" Argentine full back Cristian Ansaldi who plays his club football for Rubin Kazan.
Steven Howard in The Sun warns Manchester United that the balance of power is shifting City's way. "it is the clearest sign of City's money-no-object mentality that they can even consider paying Vieira £140,000 a week for a half- season holding operation. In comparison, United grow increasingly powerless at a time when they have lost three of their last six home games in three different competitions culminating in the FA Cup disaster against Leeds. In the longer term, neither Ronaldo nor Tevez have been replaced with players of even vaguely similar quality. It will be the same when Paul Scholes and Ryan Giggs follow Gary Neville into retirement while an enormous question mark still hovers over Rio Ferdinand. Meanwhile, Nemanja Vidic could well be the latest Old Trafford star to follow David Beckham, Gabriel Heinze, Ruud van Nistelrooy and Ronaldo to Real Madrid. Now that WOULD be a banner for City fans to raise at the Carling Cup semi-final first leg at Eastlands on January 19. United – Madrid's Feeder Club."
With Wayne Rooney set to take over as captain at Manchester United next season and following the news that Gary Neville is to retire, Oliver Kay looks at how the sun is setting on the "Golden Generation." "If an analogy were to be made with vintage cars, Giggs has managed to keep his engine ticking over and drives as smoothly as he ever has, whereas Neville and Scholes, on the rare occasions that they are called upon these days, often find themselves spluttering and choking their way on to the road." Chris Wheeler puts the skids on this talk by claiming that G Nev is in fact mulling over a new one-year deal at Old Trafford.
Andy Cole in his column in The Independent tries to imagine what Sir Alex Ferguson would have been like after the shock FA Cup defeat to Leeds. "I've been in the Manchester United dressing room after surprising defeats and it's not pretty. I can only imagine it was similarly loud and uncomfortable – and possibly even terrifying – for the players who had to face the wrath of Sir Alex Ferguson after Sunday's shock 1-0 FA Cup loss to Leeds United at Old Trafford. Sir Alex is the greatest manager of all time, and you don't achieve what he's achieved by being a shrinking violet. No doubt you will have heard about 'the hairdryer', the shouting, his ferocity when he feels let down. It's all true."
Birmingham look like being the other busy Premier League side in the January transfer window. Peter Lansley reports: "Alex McLeish is refusing to risk Birmingham City's financial future but is willing to make Kenwyne Jones the club's highest earner if he can lure him from Sunderland. Steve Bruce's club, in turn, are in negotiations to sign Kevin Kurányi, the Germany forward." Sunderland are also closing in on Younes Kaboul, as the Pompey exodus begins and Blackburn, West Ham and Spurs are tracking Eidur Gudjohnsen.
Matt Scott points out that Arsenal are in fact the club with money to burn. "Arsène Wenger is in a position of relative luxury, since the terms of his club's loans demand he spends the bulk of the money he raises in transfers. All transfer revenues are held in a special account created during negotiations with lenders over the refinancing of the club's £260m stadium loan and a minimum of 70% of this must either be retained or spent on transfers and contract renewals. Although the account's millions are at Wenger's disposal, the banks do hold a charge over it as security on the stadium." Wenger may need this money, to keep Real Madrid from Cesc Fabregas, dubbed "Operation Cesc" in Spain. Also on Arsenal, chief executive Ivan Gazidis has a chin wag with Oliver Kay in The Times.
Despite having all this money, Arsenal are set to swoop for former defender Sol Campbell according to an "exclusive" in the Daily Mirror. "Sol Campbell is set for a remarkable comeback with Arsenal. Gunners boss Arsene Wenger will offer Campbell a short term deal until the end of the season – as long as he can offload Philippe Senderos. Campbell has been training with Arsenal since quitting Notts County after his summer move to the League Two club turned sour. Wenger has been hugely impressed with the former England defender and is ready to do something he has done before – re-sign a former player."
With the Maxi Rodriguez deal all but done, Liverpool are now preparing to snatch Marouane Chamakh from under the noses of Arsenal and the Mail claim the Reds are confident of snatching the Bordeaux hitman. The Sun also claim that Rafa Benitez is chasing Reading keeper Adam Federici. 
Ewan Murray looks at the big transfer story in Scotland and asks, should Rangers cash in on Kris Boyd? "Rangers and their supporters face an anxious 23 days. If a bid for Boyd is forthcoming – and it is almost certainly will – that conundrum involving the league title, a player who wants at least to see out the season and monetary worries must somehow be worked out. Those Rangers fans who have claimed season tickets will not be renewed if Boyd is allowed to leave should divert their attention to the previous, and not current, board regime at the club when seeking an explanation as to why every pound is a prisoner. Similarly, they should not get bogged down in the territory where one player is deemed more meaningful than the club itself. Boyd, though, is highly important to Rangers both in terms of points and pounds. The coming three weeks will tell which counts over the other at Ibrox."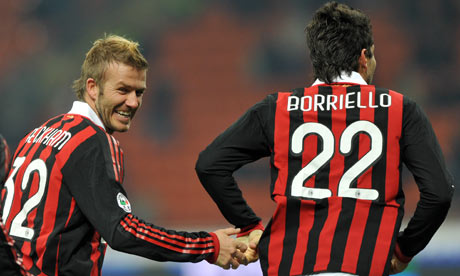 David Beckham's return to AC Milan is hailed by Richard Williams. "England's manager has already made it clear that as long as Beckham is fit he will be on the plane in June. On Wednesday Capello watched an impressively athletic and mature player who is unlikely to start matches in South Africa and might not be the player whom you would ask to make the tackle that would save your life but who, along with his experience and his technical gifts, now commands a versatility that could prove extremely valuable."
Looking ahead to Spurs' clash with Liverpool on Sunday, Tottenham manager Harry Redknapp discusses Peter Crouch. "I should probably thank Rafa Benitez for making Peter Crouch the player he is today. We play Liverpool on Sunday and Crouchie's time with the club put him on a different level… Typical of this his first hat-trick for Liverpool against Arsenal – one from a header, one from his right foot and one from his left. It showed what an all-round player he had become. At the time a lot of people thought it was a strange signing by Liverpool because he was a bit of an unsung player. But now supporters appreciate his talent. I'm sure he and Fernando Torres would have made a great partnership up front. But when Rafa signed Torres, Crouchie decided to move on and join me back at Portsmouth. But if you ask him, he would be the first to admit that playing in front of the Kop at Anfield is a massive part of his career."
Also previewing Premier League football this weekend is Graham Poll who gets all giddy with excitement over record breaking 24-year-old referee Michael Oliver. "I know what it's like to be the youngest referee. You have to trust your management style to control a game and the high-profile players that come with it. He's refereed four Premier League teams in cup ties already this season, so this is a natural progression.
Managers are likely to have more issues with his age than players because they will use it against him if he makes a call they disagree with. He'll need confidence and a thick skin, as well as support from people around him. From what I've seen, I believe he will cope."
With shocking winter weather affecting Blighty, John Ley reports that Arsenal will make an early decision after agreeing to pay the costs of the Bolton fans who travelled to the postponed game on Wednesday. "Although all 10 Premier League games scheduled for the weekend were due to go ahead, several were still in danger of falling to the weather, particularly as more snow is expected in London and other areas. The Premier League will be concerned if more games go, as in a World Cup year the season has to end on May 9. With Arsenal, Manchester United and Chelsea still in the Champions League and Everton, Liverpool and Fulham in the Europa League, free dates are running out."
With the Africa Cup of Nations looming, Andy Hunter looks at the different expectations on Manchester City duo Kolo Toure and Emmanuel Adebayor. "The tournament in Angola represents far more, of course, than the aspirations, or otherwise, of the Manchester City pair. With the World Cup on African soil for the first time this summer there is more widespread interest in the 2010 Africa Cup of Nations than in previous editions. And for a nation that is recovering from civil war and is still blighted by fighting in the oil-rich enclave of Cabinda, where seven matches will be held, the scrutiny promises to be relentless." Both the Daily Mail and The Independent have in-depth guides to the 27th edition of the Africa Cup of Nations.
---
GAMBLING CAN BE ADDICTIVE, PLEASE PLAY RESPONSIBLY