Tuesday's Transfers: Manchesters United & City fight over Milner, Barca target Arsenal's Clichy & Spurs eye Craig Bellamy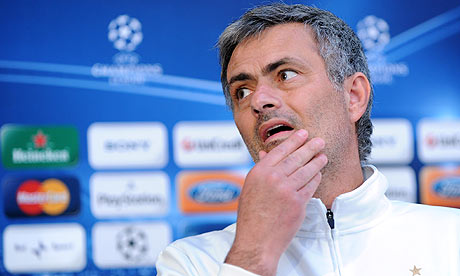 Comment & analysis round-up
Quote of the day: "If that had happened to me I would have tried to use it to build team spirit. Of course a bus journey is uncomfortable but [Dennis] Bergkamp would certainly prefer to go by bus than by plane. We went to Moscow against a team that hadn't played in the week, on a plastic pitch and we played… We'll see where he [Messi] plays. He can play on the right, the left, as the frontman, behind Zlatan Ibrahimovic. He's a great player who requires a lot of attention but it's not in my culture to man-mark. It won't be one against Messi and ten against ten, it will be 11 against 11." – Jose Mourinho.
Runner-up: "I'm not afraid of nobody. We respect Barcelona a lot because they are one of the best teams in Europe at the moment, but we are not afraid… I have a good feeling. It's my first semi-final and we have to respect them a lot, but we will go for it and we have to do that. Then next week we go to Barcelona and play the second game, but first we have this match and we want to be the boss in our stadium." – Wesley Sneijder.
Today's overview: It's a mixed bag this Tuesday with articles downplaying Liverpool's thrashing of West, big transfer stories involving Milner, Clichy and Berbatov, while ENgland's defensive problems are thumbed over.
Bittersweet Victory: Liverpool may have cruised to three points against West Ham, but few are getting carried away with the impact of the three points on the Reds.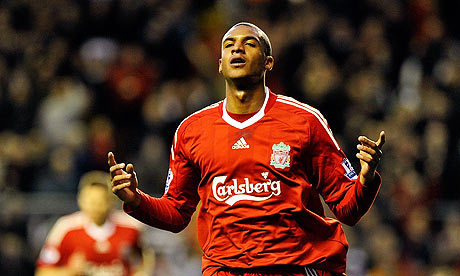 Summing up the consensus opinion Andy Hunter wrote "a crowd of 37,697 was Liverpool's lowest in the league since December 2004 and a reflection of their diminishing prospects of a top-four finish. But they could not have wished for a more comfortable ride to take them within five points of Spurs, or better preparation for Thursday's Europa League semi-final against Atlético Madrid, than this triumph without breaking sweat… [Gianfranco Zola] is expected to part company with West Ham at the end of the season."
Also tempering celebrations on Merseyside was Tony Barrett. "The problem for West Ham was that they did not fight for their lives. Rather, they allowed Liverpool to dictate proceedings to such an extent that their glaring defensive deficiencies were always going to cost them dearly. With no apparent guard to protect West Ham's protruding glass jaw it was all Liverpool could do to keep on hitting them hard again and again."
Turning to West Ham, Ian Herbert fears for the Hammers' survival hopes and Matthew Upson's international standing. "Iain Dowie's Hull, three points behind West Ham with a game in hand, will have taken great heart from the parlous state of Zola's defence here, with Matthew Upson's performance surely a source of anxiety to the watching Franco Baldini. Taken individually, there was an element of luck about both of the goals which came from free-kicks slung across West Ham's area. But there was no coincidence about the needlessly conceded set plays and the failure to deal with any of them."
John Edwards is positive that Zola will be fired this summer. "Gianfranco Zola will be sacked at the end of West Ham's increasingly desperate bid to avoid relegation from the Barclays Premier League… West Ham want former England coach Steve McClaren to take over but will have to stay up to stand any chance of landing him after the way his reputation has been restored at FC Twente."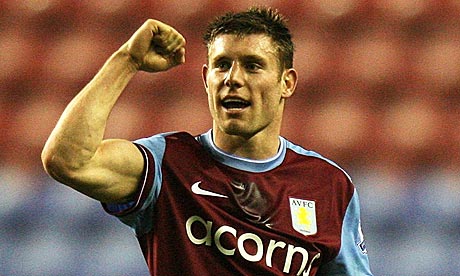 Mulling Milner: After going head-to-head last weekend on the pitch, the Manchester rivals now find themselves fighting over the same player this summer.
Stuart James reports "Aston Villa face a major battle to keep hold of James Milner after Manchester City identified the midfielder as one of their summer transfer targets… There has been speculation that Manchester United are monitoring Milner's position but City's interest is known to be stronger and promises to pose a major threat to any hopes their neighbours might have of signing the former Leeds United trainee… Villa would be likely to demand double the £12m they paid Newcastle United for Milner two years ago and the player could also expect to double his £45,000-a-week wages at Eastlands."
Chasing Clichy: Staying with potentially high profile transfers, David Hytner announces "Barcelona are weighing up a move for the Arsenal left-back Gaël Clichy after missing out on his signature last summer. It is thought that if the Catalan club were to offer in the region of £10m Arsenal would be prepared to do business."
World Cup: Who will be England's centre-halves in South Africa?
According to Dominic Fifield "Michael Dawson is in contention to make England's World Cup squad after impressing Fabio Capello with his contribution to Tottenham's victories over Arsenal and Chelsea… Capello's instinct is to include King in his plans but that may be stifled by Ferdinand's fitness problems. King has been capped 19 times, though not at all since 2007, and has consistently impressed the national manager when he has featured for Spurs."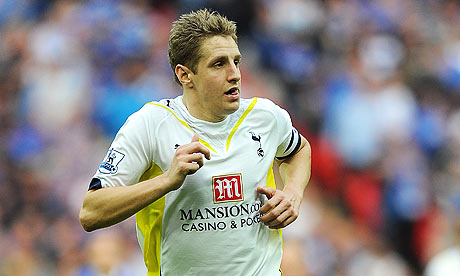 Also casting his eye on England's defensive selection headaches was Kevin McCarra. "The England manager is not the sort to harbour regrets, but taking the captaincy from John Terry seems to have been an element in the decline of a centre-half who was vulnerable and out of control when Chelsea lost at Tottenham on Saturday. Ferdinand can no longer be counted on to stay fit. Brown is yet to return and a comeback by Ashley Cole is also awaited. Joleon Lescott is running out of time to recover before the end of Manchester City's campaign. Capello, as a precautionary measure, will have to weigh up alternatives, such as the forceful if uncapped Michael Dawson at Tottenham, and it will be a relief that Phil Jagielka, who could slot in at full-back or centre-half, is turning out regularly for Everton once more."
Opening up the conversation slightly was James Ducker. "[Rio] Ferdinand is considered part of England's "holy trinity" along with Wayne Rooney and Steven Gerrard by Capello, but with misgivings over his defensive alternatives — Joleon Lescott and Matthew Upson, the City and West Ham United defenders respectively — the Italian must hope [John] Terry rediscovers the air of authority that has been sorely lacking in recent months."
With England's defence portrayed as being wobbly, Matt Dickinson sours the mood further by explaining how Ashley Cole could also be a liability at left back. "Dumped by Cheryl since he damaged his ankle, will he be ridiculed by opposition supporters? What songs will they have prepared by way of welcoming him back? Worst of all, will he be jeered by England fans when he runs out at Wembley as has happened in the past? You might think that Cole has more important things to concern himself with than public opinion, particularly given how little regard he has previously shown for it. Yet the truth is that Cole is an insecure soul who has disguised it well beneath the cockiness and the arrogant strut."
Level-Playing Field: The idea that the Premier League is a level-playing field this season is discussed by Matt Hughes, who believes money is a key factor in the equation. "The reasons for this instability are largely economic and in the circumstances it is impressive that United and Chelsea have been able to keep the other challengers at arm's length. Both clubs have been reducing investment in their playing squads for several years despite having obvious flaws at a time when others, such as Manchester City and Tottenham Hotspur, have been spending heavily and as a result pose more of a threat."
Loving Barcelona: Like a kid in a candy store, James Lawton comes across all too excited for Barcelona's match with Inter tonight as he lauds the best team in the world. "It doesn't matter who you support routinely, surely this is an occasion when the call of partisanship is less demanding than the one which asks only for recognition that at least one club in a too frequently benighted world of sport has achieved a degree of working perfection. This is the day when the name and the meaning of Barça should thunder into every corner of the football planet… Barcelona's feat has been to create and maintain a team not just out of superb idealism and respect for football and its followers but also with a hard nose for the realities of winning and losing. Who really, when you think about it, wouldn't wear their colours at least for a day?"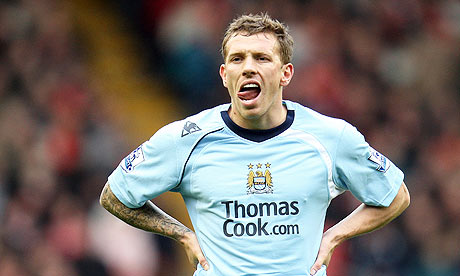 Transfer Talk: Ian Herbert in the Independent barks "Craig Bellamy's future at Manchester City beyond the summer is in doubt with Roberto Mancini yet to convince the player that he and his training methods can take the club to the next level." Ian Ladyman takes the Bellamy story and runs with it adding "with Tottenham manager Harry Redknapp definitely interested in Bellamy and his former City manager Hughes an enduring fan, Bellamy is likely to have some options this summer, even if he would have to take a pay cut on his £90,000-a-week wages."
The Daily Mail spin the lies in one article as it is reported that "Manchester Untied are chasing Newcastle wonderkid Haris Vuckic. The 17-year-old Slovenian midfielder, who has made just three first team appearances for Chris Hughton, almost joined the Barclays Premier League champions a year ago and also had a trial with AC Milan before moving to Tyneside from NK Domzale… Hughton is planning a summer bid for Everton defender Joseph Yobo and could use former England Under 21 captain Steven Taylor as part of a deal for the 29-year-old Nigeria international."
Elsewhere the Daily Mail report "Reading midfielder Gylfi Sigurdsson, 20, is a target for PSV Eindhoven," while separately reporting that "German giants Bayern Munich are lining up a surprise summer bid for West Ham striker Carlton Cole."
The big news in The Sun is that "Dimitar Berbatov could end his Manchester United hell this summer – with AC Milan planning a £20million bid."
The Mirror add that "Blackburn boss Sam Allardyce hopes to clinch a £5million deal for Polish striker Robert Lewandowski quickly," while Alan Nixon chugs "Birmingham boss Alex McLeish will ask mentor Sir Alex Ferguson to let him have Ben Foster on loan next season."
Replacing Fergie: We end with Shaun Custis's daft piece in The Sun that spews "Manchester United have begun the search for their next manager after Alex Ferguson told the board: 'One more season and I'm out.'… Barca boss Pep Guardiola is one of those who will be on United's radar along with the likes of England boss Fabio Capello, Guus Hiddink, Martin O'Neill and Arsene Wenger."
---
GAMBLING CAN BE ADDICTIVE, PLEASE PLAY RESPONSIBLY