Transfer Window Day Three: Inter Milan target Steven Gerrard for £40m, Man United want £20m Hulk & Emile Heskey is targetted by Liverpool and Chelsea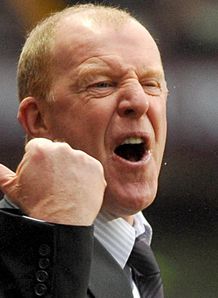 Comment & analysis round-up
Quote of the day: "We had two games in hand and with two more points we would have been 14th. If we had won one of those two games we would have been 12th, the highest position the club would have reached for two or three years. We have scored the most goals from set-pieces in the Premier League and had one of the best away records. The problem was that the club is one of the lowest spending. I thought we were brilliant against Tottenham and against Manchester City. I find it galling to be criticised in that way, given the style of play that brought Bolton success in recent years. That involved big players up front and a very direct style. The football club is in a lot better state now than it was when I arrived. They seem to think it was tantamount to taking over at Real Madrid and then it not going too well. That place was in a huge mess and most people didn't realise it." – Gary Megson.
Runner-up: "I don't want to talk about individual players or names, but we are not trying for Ruud van Nistelrooy, so that will be very difficult to bring him in! We are working hard on getting some players in, and have had some good talks but my priority now is talking about good things with my players. And we are not trying to sell Ryan Babel either. Today we were thinking about using him but I wanted to play players who are focused. He has to work harder to get in the team and play if he wants to go to the World Cup. He will have a chance and work hard for Liverpool." – Rafa Benitez.
Today's overview: It's day three of the transfer window and, while most Premier League managers continue to preach warnings that they have no money to spend, the Sunday tabloids are typically more than happy to ignore those facts and shovel a shed-load of lies on the public.
Arguably the biggest porky of the day comes from Steve Morgan in the Daily Star, who expects us to believe that "Inter Milan boss Jose Mourinho is trying to engineer a shock £40million swoop for Liverpool skipper Steven Gerrard."
While the specifics of Gerrard-to-Inter may be in doubt, Paul Wilson does encourage readers though to consider Stevie G's next career move. "Gerrard has a dilemma of Shakespearean complexity. He longs to win a title, but would a title with another club do, or does it have to be with Liverpool? The latter might never happen, the former might not feel the same (and still might never happen). What is a loyal, one-club player to do when titles are two-horse races? Would it be letting the side down to seek a move from Merseyside, or are Liverpool letting Gerrard down by failing to mount a proper challenge?"
The News of the World is exploding with questionable transfer stories including that Manchester City are set to sign Rubin Kazan's £6million-rated defender Cristian Ansaldi, that Liverpool are set to snub a move for Ruud Van Nistelrooy in the hope of luring Emile Heskey back to Anfield (although the Daily Star's Steve Millar claims the Merseysiders actually want John Carew), Hull are said to be homing in on 20-year-old American Freddy Adu, while their headline piece sees Aiden McGee crash with news that "Manchester United are weighing up a £20 million bid for Brazilian striker Hulk."
In an article so water-tight that nobody at the NOTW was prepared to put their name on it, all doubt is removed when reading that "David James has played his last game for crisis club Portsmouth and will reunite with Harry Redknapp at Tottenham this week."
In one of the harder articles to swallow, Aiden McGee farts "Manchester City and Chelsea have made Torres their number one target [for the summer] but would have to splash out more than £140m in transfer fees and wages to land the Spanish superstar. Not only has Torres' value eclipsed the £80m Real Madrid paid for Cristiano Ronaldo, he can anticipate a salary offer of around £15m a year given the current inflated levels for the most wanted players."
The lead transfer story in the Mail on Sunday sees Mark Ryan scribble that Chelsea want Aston Villa striker Emile Heskey while Manchester City are chasing Inter Milan veteran Patrick Vieira in the January sales.
There are plenty more transfer stories that have a whiff of definite potential in across the red-tops.
Graeme Bryce claims that Birmingham's top transfer targets are Celtic's Aiden McGeady and Rangers' Steven Davis, although that is challenged in the Mirror on Sunday who claim "Alex McLeish has put Wigan's Colombian forward Hugo Rodallega on his wish list of potential January signings." Elsewhere, Luke Nicoli links Wigan with a £3m move for Leicester striker Matty Fryatt, while Aidan McGee suggests that Eidur Gudjohnsen could move to Blackburn.
Transfer fees are also applicable to managers, with Chris Bascombe claiming that "Bolton will be hit with a £4m compensation claim to make Owen Coyle their new manager… Coyle has long been the fans' favourite to take over at The Reebok, and Bolton realise they have to splash out to get their number one target." But Bolton could be forced to cough up even more dosh according to Paul Smith, who muddies the waters by farting "Burnley are poised to report Bolton to the Premier League for tapping-up Owen Coyle…Under Premier League rules, it's illegal to approach a rival top- flight manager during the season unless the two clubs reach an amicable agreement and suitable compensation is agreed."
Yet the biggest purchase of the day, as reported by the Mirror on Sunday's Paul Smith, is that "David Sullivan and David Gold are on the brink of gaining control at West Ham after the club's Icelandic owners agreed to sell a 50% stake in the Premier League side. The £50million deal is still subject to formal ratification but a 50-page legal document was dispatched to Sullivan and Gold by the club's lawyers in the last 48 hours. The former Birmingham owners could take control of the Upton Park club inside the next seven days."
Dave Kidd splashes in The People with news that "Roy Hodgson is being lined up to succeed Fabio Capello as England manager. People Sport can reveal that the Fulham manager would agree to nothing longer than a one-year rolling contract when the Cottagers offered him improved terms last week – and that's because he's in the frame to take over from Capello in the England hot-seat after the World Cup."
Changing tracks, Paul Wilson focuses attention on the upcoming African Cup of Nations and the favourites for the competition, the Ivory Coast. "The Elephants' biggest strength is their strike force, with Chelsea's Salomon Kalou, Portsmouth's Aruna Dindane and Marseille's Bakari Koné competing to partner Didier Drogba. The midfield includes Barcelona's Yaya Touré and Sevilla's Didier Zokora, while a defence featuring Emmanuel Eboué and Kolo Touré has been generally solid, though it was barely tested as the Ivorians cantered through the qualifiers. Goalkeeper Boubacar Barry, who plays for Lokeren in Belgium, is the perceived weak link of the side, though the biggest hurdle facing the Elephants may be psychological – fresh in the memory is their humiliation two years ago, when they arrived at the tournament in Ghana as heavily fancied favourites but were trounced 4-1 by Egypt, the eventual winners, in the semi-final."
Staying with the premier African tournament, the Observer today publishes two articles from of the continent's best players – Portsmouth's Nigerian legend Nwankwo Kanu and Mali's Real Madrid superstar Mahamadou Diarra.
We finish off with a round-up from Saturday's FA Cup third round, where question marks are levelled against the so-called magic of the cup.
Chris Moore observed that grounds up-and-down the country were empty on Saturday. "Wigan mascot Stripey and Hull City counterpart Roary could take their pick of the best seats at the DW Stadium for an FA Cup third-round tie that attracted only 5,335 fans despite being an all-Premier League affair. And it was not only at Wigan that the magic of the Cup was in desperately short supply… The wintry weather was a major reason for the low crowds around the country, with many fans not even arriving at games as snow and ice made travelling hazardous." Similarly, The Sunday Times commented "it is traditionally seen as the most romantic round of the FA Cup but whether it was the cold, the failure of some clubs to discount ticket prices or the decision by many clubs to field weakened sides for other more important battles, attendances were down on average numbers for league fixtures this season."
With no real shocks to speak of, Liverpool take yet another bashing after only collecting a draw with Championship strugglers Reading in the third round.
For Duncan Castles, "on this form, they'll struggle to remain in the Premier League's top half, never mind its top four," while Duncan White was left complaining "Liverpool have developed a real gift for making things difficult for themselves this season and if they are to salvage anything this campaign it will be in spite of themselves."
---