Transfer Window Day Six: Liverpool turn to Chamakh, Spurs target keepers and Veluso & Arsenal are again linked with Cole & Gignac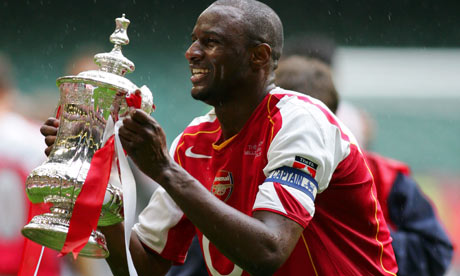 Comment & analysis round-up
Quote of the day: "I believe [Patrick Vieira] would still be very effective in the Premier League because he has been injury-free for three or four months now and that is what he needed." – Arsene Wenger.
Runner-up: "He gets a few little niggles and hasn't got a classically fit footballer's body, where you know he's an athlete who can go on and on. He might look like he has that body but he hasn't. He always needed a long time to recover after games, longer than some of the older lads. When Patrick joined Juventus from Arsenal, the Premier League and Serie A were like chalk and cheese and, at that stage of his career, it suited him. I know myself that since I finished back in 2002 the game is twice as fast and ridiculously different to when I played. It's 4½ years since he left Arsenal, he's 33 and if you are asking, 'Can he play at the top level', then I wouldn't think he'd play every week." – Lee Dixon.
Today's overview: After reading today's backpages the split between the rich and the poor in the Premier League becomes that much more crystalised, with Manchester City swimming in an endless ocean of cash, while rivals United and Liverpool are suffocating under the burden of debt.
The loopy world of Manchester City's finances is brought into focus by David Conn, who reveals "Sheikh Mansour bin Zayed al-Nahyan has invested £395m in Manchester City since buying the club in August 2008."
With that as his starting point, David Conn then goes on to contrast the polar financial positions of Manchester's two leading clubs. "Mansour has made an enormous financial investment in City, while the Glazers, since they bought United in their bitterly contested takeover, have given the club not one penny to spend. Quite the opposite; their ownership has drained the club of huge sums of money. In only three years up to 30 June 2008, the closing date of their most recent published accounts, United became liable to pay a staggering £263m in interest alone. Despite that, the capital lump sum which United owe to banks and hedge funds has actually snowballed by £159m, from £540m in 2005, to £699m in 2008."
Yet, for all of Manchester City's wealth, the Guardian announce that the Citizens have failed to sign Juan Sebastián Verón from Estudiantes after the Argentine reportedly turned down a £7m transfer bid. That though hasn't stopped City's transfer search from continuing, with Danny Fullbrook found farting that "City, plus [Manchester] United, Arsenal and Chelsea are also being linked with the Borussia Dortmund's £20m-rated Serbian Neven Subotic, with United lining up the 21-year-old centre-back as a potential replacement for Nemanja Vidic, who has been linked with a move to Spain."
Liverpool fans dreaming of an overhaul of their squad during the winter transfer window will be left deflated by Andy Hunter this Wednesday, the scribe detailing that "Benítez will have to rely on the £1.5m capture of Maxi Rodríguez and possibly one loan signing to revitalise Liverpool's squad during this transfer window even if the club succeed in raising more than £16m through player sales…
Insiders claim the constraints have not been imposed on Benítez by the club's owners, Tom Hicks and George Gillett. Executives believe players bought in the January transfer window are habitually overpriced and the club would rather save the income from sales to build a war chest for the summer."
On this last point, of whether Liverpool's transfer policy is being controlled by the debt-laden owners, Tony Barrett commented "should Liverpool go a third transfer window without making any significant investment in their squad it will serve only to reinforce Benítez's recent assertion that the club's priority has shifted from trophy gathering to debt reduction."
Simply happy to sidestep the issue of Liverpool's finances, the Daily Mail focus on gossip-mongering by shouting "Olympiakos have been rebuffed over an inquiry for Liverpool midfielder Yossi Benayoun but will return with an offer for his team-mate Albert Riera… [while] Bordeaux striker Marouane Chamakh's representatives held talks with Liverpool yesterday over signing a pre-contract agreement."
Onto the pie-in-the-sky transfers.
The Star's David Woods, in an article on how Arsenal's fringe midfielder Fran Merida is set the quit the club for Atletico Madrid this summer, goes on to spew the poppy-cock that "David Moyes could come back in for the Swiss international [Philippe Senderos] to ease his defensive crisis. If he does leave in the transfer window there is an outside chance Wenger could sign Sol Campbell, who is training with his old club, as short-term cover." Staying in The Star, Jeremy Cross notes that Hull duo Kevin Kilbane (a target for Wolves) and Jan Vennegoor of ­Hesselink (a target for Boro) are up for sale, with the Tigers committed to bringing Freddy Adu to the KC Stadium.
Despite repeated calls from Harry Redknapp that Spurs will not be signing this winter, David Hytner scribbles that the Lilywhites chairman Daniel Levy has ruled out any move for Pompey keeper David James, with attention now shifting onto Championship keeper's Joe Lewis (Peterbrough), Keiren Westwood (Coventry) and Scott Loach (Watford). Keeping with Spurs, Gary Jacob reports in The Times that "Tottenham Hotspur have renewed their interest in Miguel Veloso… Barcelona are also interested in the 23-year-old."
Lower league talents are also being targetted by the other Premier League big-boys, The Sun publishing that Arsenal are battling Manchester United for Cardiff City's 17-year-old centre-half Adam Matthews.
Lies are seemingly peddled by Mark Irwin in The Sun, with the hack barfing the unbelievable rumour that "Arsene Wenger will launch a £9million bid for West Ham hitman Carlton Cole if Nicklas Bendtner fails a Friday fitness test." Red-top rivals, The Mirror, counter that story with their own pack of lies, tooting "Wenger has identified Toulouse striker Andre-Pierre Gignac as his top target as there are doubts over West Ham's Carlton Cole because of his poor injury record while Wolfsburg's £25million-rated Edin Dzeko is too expensive."
Injecting some common sense into the Arsenal-for-strikers story, Sam Wallace makes the salient point that "having scored more goals than any other team in the division this season, it has been hard to argue recently with Wenger's assertion that he does not need to buy a striker when the goals are coming from all over his team. In fact, only Tottenham Hotspur have had more individual goalscorers than Arsenal this season."
The Mirror continue to give the skinny on Portsmouth's fire-sale, as "Younes Kaboul is on the verge of a £5million switch to French giants Lyon… [and] Kevin-Prince Boateng is being courted by German side Borussia Dortmund." And, wrapping up the rest of the transfer speculation, Birmingham are linked with a move for £10m-rated Aiden McGeady, Marlon Harewood could be set for a surprise cut-price move back to West Ham from Aston Villa,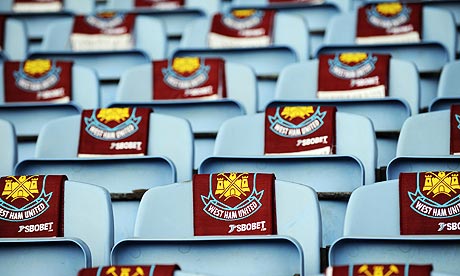 The battle for ownership of West Ham has taken another twist with Matt Scott going all cloak and dagger claiming that "an unidentified North American" is now in the running for a buy-out. "The cash-rich investor, who has other sports interests, has completed due diligence on the club but is as yet undecided over whether to make a formal approach."
So much for Sven Goran Eriksson's 5-year plan for Notts County. The Guardian forecast doom and gloom by publicising that "Sven-Goran Eriksson will leave Notts County if the League Two club fail to attract investment of at least £25m, according to the executive chairman, Peter Trembling."
Finally, we sink our teeth into Jonathan Wilson's excellent essay discussing whether television is holding back the evolution of football. "There is a sense that Real Madrid are a side bought not for how they will play together, but how they will look in the next advertisment. That may be a sad reflection of a world increasingly driven by financial demands, but there is a positive: so long as the richest clubs are playing the football of the individual, smaller clubs playing the football of the team still have a chance."
---
GAMBLING CAN BE ADDICTIVE, PLEASE PLAY RESPONSIBLY