Transfer Window Day Five: Manchester City target Vieria, Cordoba, Ansaldi & Moses, 3 out & 2 in at Liverpool, while United lock horns with Real Madrid over Vidic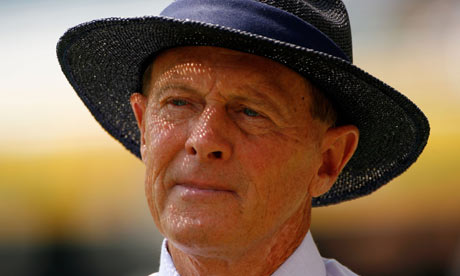 Comment & analysis round-up
Quote of the day: "Michael [Owen] is struggling with his scoring and obviously wants to get back in the England team for the World Cup finals in South Africa. So I wrote to him a while back urging him to give it [Feng Shui] a go. If he is not interested, fine, I've not a problem with that. I am only trying to help and if it helps him find his scoring boots again, then great. Everyone has won. He hasn't replied yet. But if he does, I will put him in touch with some experts in Feng Shui and see where that takes him. People who don't know anything about it say it is rubbish. But all I can say is it worked for me and that is the only thing that mattered." – Geoffrey Boycott.
Runner-up: "Senior Burnley Football Club officials have, on Monday evening, held detailed talks with first team manager Owen Coyle over his future at Turf Moor. As a result of these talks over Coyle's future with his current employers, both parties have decided to take a further 24 hours to digest the information shared before making any further announcement. There will be no further comment during this time from Burnley Football Club or Owen Coyle." – a statement from Burnley.
Today's overview: We finally appear to have some real transfer activity on day five of the transfer window, but it's managers, not players, who are on the move.
Louise Taylor confidently penned "Owen Coyle is poised to be confirmed as the new manager of Bolton Wanderers in the next 48 hours. The Scot agreed to move from Burnley to the Reebok Stadium… Barring a dramatic about-face on Coyle's part, the switch should be finalised shortly." In a supplementary article Taylor goes on to explain why the Trotters have pursued Coyle so single-mindedly. "Coyle has been targeted by Bolton Wanderers for philosophical as much as practical reasons. It is hoped that, apart from helping the team avoid relegation, his attractive brand of football will prove crowd-pleasing."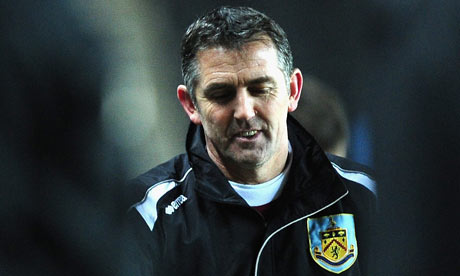 Commenting on Coyle's apparent imminent move, Sam Wallace wrote "there will be many who accuse Coyle of disloyalty for leaving Burnley, one of the Premier League's most likeable new teams of recent years, and joining Bolton Wanderers who are a bigger club than Burnley – but not by much. Coyle, however, is just taking the manager's pragmatic attitude towards survival: when your stock is high, you have to move on."
So who will replace Coyle at Burnley?
According to Martin Blackburn "ex-Peterborough boss Darren Ferguson is tipped to replace [Coyle] and was at Burnley's FA Cup win over MK Dons on Saturday," while the Daily Mail claim "Manchester United assistant manager Mike Phelan is on the shortlist of candidates to replace Owen Coyle at Burnley." Graham Chase offers a third way tooting "Burnley have also been impressed with the work of Paulo Sousa, the Swansea City manager, and Ian Holloway, of Blackpool, as they mull over their options."
Elsewhere, David Kent reports that hard to swallow news that "Crystal Palace manager Neil Warnock has emerged as a shock contender to take over at Sheffield Wednesday, despite his seven-and-a-half year spell as manager of their bitter city rivals Sheffield United." Yet the most jaw-dropping manager on the move story comes from John Cross who bleats "Mark Hughes has been offered a quick return to management – as boss of Turkey."
With the world at their feet with a seemingly limitless oodles of cash Manchester City appear ready to strike in the transfer market, but showing little imagination newbee coach Roberto Mancini is being touted as returning to his old Inter Milan team as the source of fresh faces.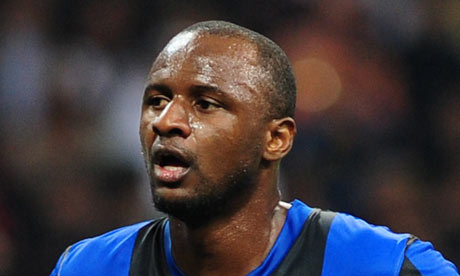 According to Daniel Taylor, "the emphasis at City is to bring in new defenders, with [Patrick] Vieira's 33-year-old team-mate Iván Córdoba among the targets, but Mancini has also identified a player who represented Arsenal more than 400 times before moving to Juventus for £13.7m four and a half years ago… The proposal at City is to sign [Vieira] initially on loan until the end of the season, and paying him £150,000 a week."
Vieria isn't the only player said to be heading to Eastlands, Simon Jones scribbles "Mancini is expected to sign Argentinian left back Cristian Ansaldi from Russian champions Rubin Kazan… for around £6million." James Mariner adds "Manchester City are the latest club linked with Crystal Palace forward Victor Moses. Roberto Mancini joins a growing list of admirers of the 19-year-old, with Everton, Liverpool, Birmingham, Tottenham and Barcelona all linked to the England under-19 international."
From the blue half of Manchester to the red.
Daniel Taylor tempts the gods by skating around the issue that Manchester United may be in crisis. "There can be no doubt that United's supporters have authentic reasons to contemplate the future with more trepidation than has been the norm… It is not just a question of the artillery being downgraded now Old Trafford is no longer bedazzled by Cristiano Ronaldo. It is an issue of whether this is a team in decline, and whether the money is there to prevent the downward trajectory. The only logical conclusion is that yes it is, and no there is not."
Similarly, loudmouth Ian Wright jumps on the convenient United-bashing bandwagon to cough "Manchester United are more vulnerable now than they have been for years… United are not the team they have been in the last few years. They have not recovered from the blow of losing Cristiano Ronaldo and have been decimated by defensive injuries all season. Too many of Fergie's recent big-name signings have failed to deliver at the highest level while United stalwarts Gary Neville, Paul Scholes and even Ryan Giggs are all approaching the end of their careers." So what tactical solution does Wrighty promulgate for United to reverse there fortunes? "I believe United have to buy their way out of trouble." (Genius!)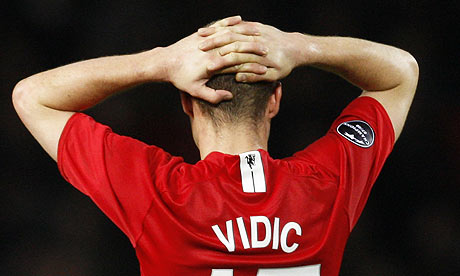 With United wobbling, The Times' Matt Dickinson delivers his report that "Ferguson fears that the Serbia centre half is using the stand-off to engineer a move to Real Madrid… There have been growing signals from within Old Trafford that a parting of the ways is beginning to look inevitable… United would look for at least £25 million for the 28-year-old, with players such as Simon Kjaer, of Palermo, and Bruno Alves, of Porto, likely to figure as possible replacements." In a supplementary article Dickinson goes for Vidic's jugular by starting a smear campaign against the Serb. "His head has been turned and repeated demands for a new contract, even though he was given a big pay rise in November 2007, have begun to sound less like negotiating positions and more like ultimatums."
The Sun go overboard with a long list of transfer rumours this Tuesday.
Phil Thomas raises Liverpudlian hopes by writing the Reds "hope to complete a deal to bring Argentine ace Maxi Rodriguez to Anfield in the next 48 hours," while Thomas also announces "Andrea Dossena's Anfield nightmare is over after he finally joined Napoli in a £4million move last night." David Maddock adds "[Andriy] Voronin is poised to complete a near £1.5m switch to Dynamo Moscow," while Oliver Kay chimes "Liverpool entered the race to sign Marouane Chamakh last night."
Staying in The Sun, a couple of no-name pieces link Fulham with a a loan deal for Roma ace Stefano Okaka, while Gianfranco Zola is reported to have inquired about Stoke defender Robert Huth. Lastly Janine Self suggests that Celtic may have more money than sense claiming the Bhoys "are ready to add fresh firepower to their title bid with a move for Dave Kitson."
From the frivolous to the prudent.
A revealing article from Dominic Fifield on the future of Franck Ribery at Bayern Munich shows how the German powerhouse are looking to reassert their financial prudence in these difficult financial times. "Christian Nerlinger, admitted the Bundesliga club are seeking to cut their wage bill significantly after recruiting heavily last summer… [Bayern] have already offloaded four players in this transfer window and are now intent upon reducing the salaries of their remaining playing staff."
Onto the rest of the transfer lies, where the Mirror seems to have been inundated with difficult to believe rumours.
Supported by precisely zero quotes, John Cross peddles the unbelievable story that "Arsenal teenager Jack Wilshere, 18, would like to go to boyhood heroes West Ham, while Burnley and Portsmouth are also keen to snap him up in January." Next the red-top reports "Stoke have slapped a staggering £20million price tag on Ryan Shawcross in a bid to scare off the Premier League predators," before Martin Lipman writes the never-gonna-happen tale that "Sampdroia striker Giampaolo Pazzini was today linked with a £22million move to Chelsea – but only if he is immediately loaned back to the Serie A club."
The Independent also get in on the transfer scene, Sam Wallace announcing "Birmingham City yesterday kicked off the January transfer sales with an £8m bid for Liverpool's Dutch winger Ryan Babel… McLeish hopes to sign the Sporting Gijon midfielder Miguel Michel and has also expressed an interest in Charles N'Zogbia at Wigan."
Finally, have Notts County been caught telling porkies?
The fate of the League Two-ers is up in the air Matt Scott reveals "that the club have been served with a second winding-up petition by the taxman… A petition was served by HM Revenue & Customs on 27 November. That was just 15 days after County's executive chairman, Peter Trembling, said the club had "resolved the dispute" with HMRC over a six-figure tax debt that had been the subject of a previous petition due to be heard in court on 18 November."
---
GAMBLING CAN BE ADDICTIVE, PLEASE PLAY RESPONSIBLY