Transfer Lies: West Ham want Bilic and Becks, Liverpool & Man City want Mourinho & Juve want Mancini while Manchester United target £40m David Villa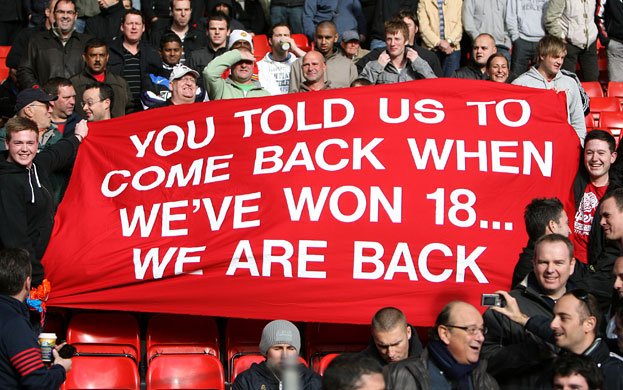 Comment & analysis round-up
Quote of the day: "There's a hatred there [with Liverpool]. I've always looked on this as the biggest derby of the season, even though that has changed, with Manchester City having thrown down the gauntlet in a different way." – Sir Alex Ferguson.
Runner-up: "David [Beckham] keeps on showing he still has so much to offer and if he's available then we want to be bidding. It's not only a case of what he can do on the pitch but what he does off it – he'd be a sensational ambassador for his home-town club. He's a local boy like the two owners and this could appeal to him. It's not fanciful as he has so much to offer. His arrival would be massive." – David Gold.
Today's overview: As is the case every Sunday the tabloids go into overdrive spewing transfer lies that have little to no chance of ever happening.
We begin with the managerial-merry-go-round, as West Ham are reported to want to sack Gianfranco Zola with Slaven Bilic and Steve McClaren on the short-list of wanted replacements. Next, in an article worth next-to-nothing, Chris Bascombe farts "Jose Mourinho will only consider becoming the next Liverpool manager if Tom Hicks and George Gillett are stripped of power," while a slightly meatier
Special One story appears in the Express – "Manchester City will ask Jose Mourinho to name his price in the summer in a bid to tempt him back into English football."
Flipping to the Mirror, their headline story revolves around news that "Roberto Mancini has emerged as a ­front-runner to become coach of Juventus." A supplementary article in the Mirror muddies the story as Paul Smith lists Mancini's shopping list for City this summer. "Mancini is looking for the kind of £200million player investment that City's Abu Dhabi owners lavished on Hughes so that he can bring in his own men – regardless of whether the Blues finish in the top four. Inter duo Mario Balotelli and ­Maicon, Daniele de Rossi of Roma and Real Madrid's free-scoring Gonzalo ­Higuain top his wish-list."
Staying with boardroom transfers, Aiden McGee barks "Peter Kenyon will take a new job at Galatasaray if steel magnate Adnan Ozturk wins the presidential elections at the Turkish club next week."
After the ridiculous story last week that P Diddy was interested in buying Crystal Palace, the Mail on Sunday scribble that "former Crystal Palace chairman Ron Noades will try to buy the club back in the summer."
What happened to West Ham and Liverpool being completely cash-strapped?
The News of the World report that West Ham want to bring David Beckham to Upton Park, and quickly follow that up by announcing "Liverpool are planning a £50million spending spree to knock Manchester United off their perch next season… Riera will be sold for £8m, with CSKA Moscow trying to secure a deal this week. Benayoun has wanted out since the start of the season and will raise another £9m." The Mail on Sunday have a slightly different list of Liverpool sales this summer, yabbering that "Liverpool are looking to sell squad players like Albert Riera, Ryan Babel and Alberto Aquilani this summer to raise £30m, which will then be invested in top-line talent."
Next, we asked to swallow reports that the Reds' are targetting Lile playmaker Eden Hazard for £20million, while more palatable for Merseysiders is news that "Javier Mascherano is ready to hand Liverpool another huge contract boost by agreeing a £19million deal."
Switching to the Blue half of Liverpool, Andy Dunn details that Joseph Yobo, Yakubu and James Vaughan could all leave Everton this summer. On the incomings to Goodison we learn that the Toffees and Aston Villa both want Wolves forward Kevin Doyle.
Chelsea are ready to open chequebook with Aiden McGee claiming that the Blues "are set to beat Manchester City to the £30million summer signing of Brazilian wonderkid Neymar." Rumours also point to Arsenal splashing the cash with news that AZ Alkmaar goalkeeper Sergio Romero is an £8million target for the Gunners, while over in the People the Gunners are said to be chewing over Bayern Munich's £15million interest in striker Nicklas Bendtner while "Wenger is keeping tabs on Wigan's midfield dynamo James McCarthy."
The People also come crashing in with news that "Manchester United are planning a pre-World Cup move for Valencia hitman David Villa… It's believed that the 28-year-old, who will costs £40million, will finally leave Valencia this season." The Star also report the story, although they claim Villa will cost just £35million.
Spurs are never too far away from never-gonna-happen transfer nonsense, and today is no different with the People linking the Lilywhites with Burnley's Chris Eagles, while the red-top also shouts that "Robbie Keane insists he will head back to Tottenham this summer and ignore the clamour for him to sign permanently at Celtic." Over in the Mirror Steve Sammers swoops in to shout "Tottenham are set to make a £7.5million move for England goalkeeper Robert Green."
Perhaps the touted expenditure has something to do with Martin Hardy's report that "Premier League clubs are each set for a £60million windfall under the terms of a new overseas TV agreement. Chief executive Richard Scudamore has landed a bumper £1.2BILLION deal to kick in at the beginning of next season. It doubles the existing deal and will see £400m split between the clubs for the next three years."
Proving no-one knows what they are talking about.
John Cross proudly shouts "Robin van Persie is set to give Arsenal's title charge a huge fitness boost. Dutch striker van Persie will return to training with Arsenal this week and Arsene Wenger says he could be back in a month." No so, according to the Mail on Sunday, who bleat "Arsene Wenger hopes there is a 'little chance' that striker Robin van Persie will return to action for Arsenal before the end of the season."
Moving away from the transfer guff, we move to the opinion pieces where pompous twat Piers Morgan doesn't disappoint as he employs stereotypes to bash Roman Abramovich. "After the game, we're told that you, Roman, held a two-hour meeting with the players in which you hurled abuse at them, demanding answers as to why they had failed, yet again, to win the Champions League that you so crave. 'SEEMPLES!' as your Muscovite pal, Alexander the Meerkat, would say. It's your fault. You let your ego infect your brain and allowed the greatest manager Chelsea have ever had, to slip away. A man whose haughty arrogance, love of the high life, fashion style, outrageous talent and handsome looks perfectly personified the Chelsea image from the Peter Osgood and Alan Hudson era. Only with a harder edge… Thanks Roman, you pea-brained billionaire chump."
Staying with Chelsea, Duncan Castles tempers rumours of major changes at the Bridge this summer. "Barring a disastrous end to this campaign, Ancelotti will survive, yet the word from Russia is that there is to be no radical overhaul of the squad… There may be spending on a Franck Ribery or a Sergio Aguero, but only if the prices come down… More worrying for Chelsea fans is the belief that several young signings are ready to establish themselves in the first team. Nemanja Matic, Daniel Sturridge, Gael Kakuta, Fabio Borini, Jeffrey Bruma, Ryan Bertrand, Miroslav Stoch and Patrick van Aanholt are to be a grand part of Chelsea's Champions League future. No wonder Ancelotti is rubbing that temple."
Are Arsenal now the front-runners for the Premier League?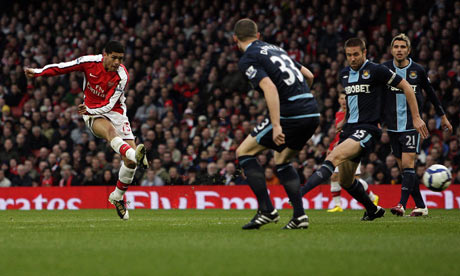 Steve Tongue appeared to enjoy writing "playing Imperial Commander to Chelsea's Kauto Star and Manchester United's Denman, Arsenal last night confounded the notion of a two-horse race by hitting the front of the Premier League chase." Joining in the chorus was Oliver Brown, writing "once disregarded as a work in progress, Arsenal cannot seem to stop making progress towards the dream-like goal of a first championship in six years."
Paul Hayward calls Arsenals "The Improbables." "Arsenal's season has been one long recovery. Reduced to 10 men by half-time they beat West Ham 2-0. Tailed off in the title race last autumn they were back on top of the Premier League for the solstice. The last Arsenal side to win the Premier League were The Invincibles. This one will go down as The Improbables if they march in from the wilderness they were in November to be champions in May."
Lastly, Henry Winter looks to build up today's Manchester United-Liverpool game by analysising each side's main striker. "For the neutral, today should be a celebration of two thoroughbred centre-forwards, Nando v Wazza, men of substance as human beings as well as strikers. For all the fame, Rooney remains remarkably down to earth. Torres and Rooney are the genuine articles, individuals who play for the love of the game rather than the lure of the lucre."
---
GAMBLING CAN BE ADDICTIVE, PLEASE PLAY RESPONSIBLY