Transfer Lies: Mourinho set to snub Liverpool for Manchester United dream, Arsenal track Cole, Morimoto & Boatang, Birmingham eye Carew & Sunderland track Spurs' Bentley & O'Hara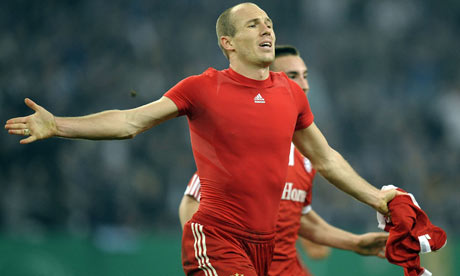 Comment & analysis round-up
Quote of the day: "This Manchester United team is not invincible. If the press want to see them as favourites then that suits us because all the pressure will be on them. I have watched them on television many times recently and their team is certainly not as powerful as it was in the last two years. Rooney has been phenomenal this season. But at the moment he seems to be their only solution: What about if he doesn't function? He has become the star of the side since the sale of Ronaldo last summer but we will be prepared to stop him. They are almost a one-man team so our defenders will give him 180 minutes of non-stop distraction." – Arjen Robben.
Runner-up: "Gardner's tackle on Fabregas was a bad one – one more. He was caught just below the knee and if that is not a foul then I don't know what a foul is. Am I suggesting there were a lot of bad tackles? Don't try and start drawing me in to make this another controversy. Leave me alone, for f***'s sake. Yes, I am saying it was another bad tackle that one of my players has suffered. Will Cesc be fit for our Champions League game against Barcelona on Wednesday? I don't know. He will have to go in for treatment on Sunday and we will have to see how bad the injury is. This result is disappointing and a big blow to our title hopes." – Arsene Wenger.
Today's overview: It's Sunday, and it's the tabloids turn to take centre-stage and shovel dozens of transfer lies onto an always hungry and gullible public.
Managerial-merry-go-round: The News of the World are the chief culprits with a seemingly endless list of never-gonna-happen stories, kicking off with Chris Bascombe tale of Liverpool's Operation Jose. "At some point during the next six weeks, Liverpool will hold one of the most important board meetings in their history. Item one on the agenda will be 'Operation Jose'. If, as
expected, Rafa Benitez leaves this summer, Liverpool officials know who their players want leading them next season… Rijkaard is at Galatasaray and would surely leave Turkey for the chance to lead The Kop… Should Liverpool wish to return to their British tradition of management, the man of the moment is Fulham's Roy Hodgson."
The Mourinho-watch continues in the Star, where Paul Hetherington splutters "Mourinho aims to stay at Inter Milan next season and snub an immediate return to the Premier League. The ex-Chelsea boss has been strongly linked with Manchester City and Liverpool… It's clear that the one job in England Mourinho couldn't turn down would be at Manchester United – as we reported a fortnight ago."
Staying with the managerial-merry-go-round, Greg Gobere farts that Gianfranco Zola may be kept on at Upton Park after Glenn Hoddle and Graeme Souness both turned the job down. The Mail on Sunday though doubt whether Zola will be kept on at West Ham, blabbing "Gianfranco Zola was considering quitting as West Ham manager last night… Glenn Hoddle, David O'Leary and Graeme Souness have been considered for that role, but Birmingham boss Alex McLeish is the man co-chairmen David Sullivan and David Gold want in the summer if West Ham are still in the top flight."
Mark Issacs pens another list of names linked with the West Ham hot-seat. "Mark Hughes, Slaven Bilic and Glenn Hoddle have all been linked with the manager's post at Upton Park, but it remains to be seen if the club will promote Zola's assistant Steve Clarke to take charge for the final six games.  It is also believed [Terry] Venables would jump at the chance to step into a fire-fighting role."
The People storm in with the unbelievable story that "Ipswich manager Roy Keane and sacked Celtic boss Tony Mowbray are set for an amazing job swap. Keane, who ended his successful playing career at Parkhead four years ago, is wanted by the Glasgow giants as Mowbray's replacement. And that would leave the way clear for Mowbray, who was captain, coach and caretaker boss of the Tractor Boys, to succeed him."
Consolidation: Manchester United continue to work on their policy of consolidation this weekend. According to Neil Ashton the club are in a stand-off with Jonny Evans with the club offering £40,000 a week to stay at Old Trafford, but the Irishman wants £60,000. Darren Fletcher's talks, though, are more straight-forward with the Scot ready to pen a new £80,000 a week deal in the summer.
Also adopting the same policy, the Daily Express reveal that "Hull have received a boost with the news promising midfielder Tom Cairney has signed a new three-year deal with the club."
Transfer Lies: Reeling off the NOTW's transfer guff, Arsenal are linked with £12million-rated Carlton Cole as well as Catania's Japanese forward Takayuki Morimoto, Thierry Henry is still being linked with the New York Red Bulls, Sunderland are eying a £10million twin swoop for Spurs pair David Bentley and Jamie O'Hara, Kenwyne Jones is again linked with Liverpool and Javier Saviola is a target for Spurs.
But the NOTW aren't done there!
Hamburg defender Jerome Boateng and Stuttgart's Alexander Hleb are said to be in Manchester City's sights, Fulham are linked with Yves Desmarets, Hull's Geovanni is reportedly in talks with AEK Athens, while Liverpool's move for Standard Liege striker Milan Jovanovic has stalled.
The Mirror on Sunday also have no problem shovelling transfer crap this weekend, beginning with news that "Tottenham and Chelsea are competing for the new rising star of African football. Nigerian striker Sani ­Emmanuel has had trials at Chelsea who were impressed by the 17 year-old." Staying with Spurs, we also learn that "Eidur Gudjohnsen has revealed an agreement is in place to keep him at Tottenham next season with a view to clinching a permanent move."
In the Mirror's other lies, Arsenal are reported as also wanting Hamburg's Jerome Boateng, Birmingham could pounce on John Carew, Yaya Toure is loosely linked with Manchester City, and Wigan want Espanyol forward Jose Callejon.
According to the Telegraph, "Portsmouth have taken a significant step towards securing their financial future after receiving offers in excess of £10 million for their players. Telegraph Sport understands that CSKA Moscow have bid £4.5 million for Nadir Belhadj, the Algerian international left-back, while Sevilla have offered £5 million for German midfielder Kevin-Prince Boateng, among several other smaller bids… It has also been reported that Wolves want to sign Tommy Smith and Aaron Mokoena for a combined £1.5 million."
Three Lions: In international news, the News of the World expects their readers to swallow the nonsense that "Newcastle striker Andy Carroll is on stand-by for the World Cup after impressing Fabio Capello." Also stirring the Three Lions pot, the Mirror spew "troubled Chelsea star Ashley Cole offered to resign from international football after he hit rock bottom following injury and the breakdown of his marriage."
Liverpool: Simon Mullock details the latest behind the scenes activities to get new investment into Liverpool. "Chief executive Christian Purslow has met Liverpool's top players to assure them that the club is not going into meltdown… He announced he has an offer in place from the Rhone Group which will see the New York-based investment company take a 40 per cent stake of the club for £100m. The company will make a further £25m available for new players."
Champions League: It's a massive week in the Champions League, and hacks across the paper divide try to inject some interesting comment ahead of Bayern's meeting with Manchester United and Arsenal's mouthwatering tie with Barcelona.
Doubting whether the Wenger Boys can progress, Gary Lineker calls Arsenal "Barcelona wannabees." "Wenger's side are Barcelona wannabes, who are not quite as good as the real thing in any department. They are a fantastic side and their style of football has to be applauded. But whatever Arsenal can do, Barcelona do better. Arsenal pass and move like a dream, but not quite as fluidly as a Barca team masterminded by Xavi and Andres Iniesta in midfield. Arsenal have wonderful technicians, including Cesc Fabregas. But is there anyone in the world who can keep the ball under control at speed like Lionel Messi?"
Steve Tongue encourages Arsenal to try and man-mark Messi. "If there is one player Arsenal would like to apply pressure to, it is Barcelona's little genius Lionel Messi, currently in the purplest velvet patch of form. From being a player who could occasionally be frozen out of a game when stationed out on the right wing, he has recently been reinvented as a deep-lying centre-forward running at defences to terrifying effect. The temptation must be to man-mark him, especially with an excellent candidate available in Alex Song, yet Wenger insists he has never done that at Arsenal and does not like the idea."
The threat of Leo Messi also focuses Duncan White's pre-amatch analysis. "To mitigate the damage Messi can do I suspect Arsène Wenger will take the high risk, but high reward, approach of trying to pin Barcelona back. In opposition to Hiddink he will want his team to retain possession and to take Barcelona on, getting Clichy to pin Messi back by getting forward himself. The flaw in this system is that with William Gallas out injured, either Mikaël Silvestre or Sol Campbell will start alongside Thomas Vermaelen in the centre of defence. Neither player is good when players accelerate down the channels to either side of them, so Messi must not be allowed to isolate them."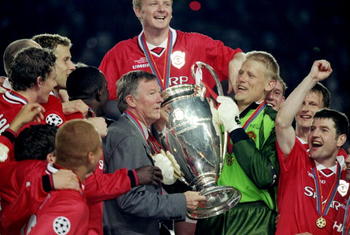 Turning to United-Bayern, Kevin Garside looks at the attacking qualities of both sides. "United are essentially contenders in any game in which Rooney features. He plays like the buzz saw from hell, tearing at defences no longer with a jagged edge but a refined, lacerating hostility. Ranged against him on Tuesday are the reconstituted Arjen Robben and the Real Madrid wannabe Franck Ribery. Their presence offers a dynamic counterpoint to the Rooney show… [Yet] Ribery sends an unsubtle message to his team-mates that Bayern are not good enough for him, and by extension are deficient in elite company."
Premier League: We end with a brief round-up of the commentary following Saturday's action in England's top flight.
The Telegraph take a moment's pause to celebrate the meaning of Frank Lampard's four-goal haul against Aston Villa. "With his four goals against Aston Villa he reached a total of 151, becoming the third highest scorer in the history of the club, surpassing Peter Osgood and Roy Bentley. He has been a remorselessly successful player in the blue shirt: with this haul, 21 so far, he has now scored 20 goals or more for a sixth consecutive season… Chelsea now have a full week to rest while their title rivals compete in the Champions League. They resume, pumped full of confidence, at Old Trafford on Saturday in what is the decisive game in the title race."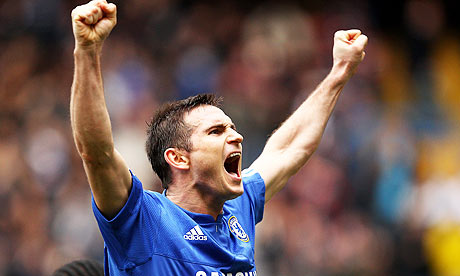 Keeping focus on the Blues, Amy Lawrence believes that Chelsea are back to their best. "The more football they have played since the crushing week in which Chelsea slipped out of the Champions League and dropped points at Blackburn, the more that looks like an aberration they are well and truly over. Twelve goals in their last two games puts paid to the notion that a European exit might dent their appetite for the domestic challenge."
Yet, for Jonathon Northcroft, Manchester United again showed why the title may be returning to Old Trafford. "No Wayne Roney, not at their best, none of their own players able to score until the last 21 minutes. And yet their victory was more handsome than Robert Pattinson. This is why Manchester United win championships. Sir Alex Ferguson's side knocked off a difficult assignment as if they already knew the answers to the test and, of course, they did."
Anna Kessel flagged up a tough Saturday for Arsenal. "At the final whistle Arsène Wenger's face said it all. For the second time in three seasons a 90th-minute goal at St Andrew's has lost Arsenal two vital points and possibly the title. Wenger will surely curse the day Birmingham City ever returned to the Premier League after Alex McLeish's side once again inflicted an enormous dent in the Londoners' ambitions, bringing a run of seven consecutive wins in the league to an abrupt halt."
---