Tottenham's Bale draws Ronaldo comparisons, Liverpool fans attacked in Zenit, Man United's De Gea & Rio praised, City eye Lamela
Comment & analysis round-up
Quote of the day: "John Terry has to work to get back. Gary Cahill and Branislav Ivanovic are doing really well together. During the week he had another setback with his knee. Then he was fine again and had no reaction in the next training session. But we have to manage the situation. He has to train more with the team, then he will have more options to play. It's a vicious circle. If he cannot play he cannot improve his match fitness." – Rafa Benitez.
Runner-up: "Gareth is going through a great period at the moment. you have to recognise that. He is scoring lots of great goals for the team. This is his best scoring season for Tottenham. You can see the player is enjoying his football and getting a buzz out of it… We saw a great game decided on a moment of magic from Ronaldo. Players of this dimension step up to help the team reach their objectives. Gareth does work on them at the end of each session if he is up to it but he doesn't spend as much time on free-kicks as you might think." – Andre Villas-Boas.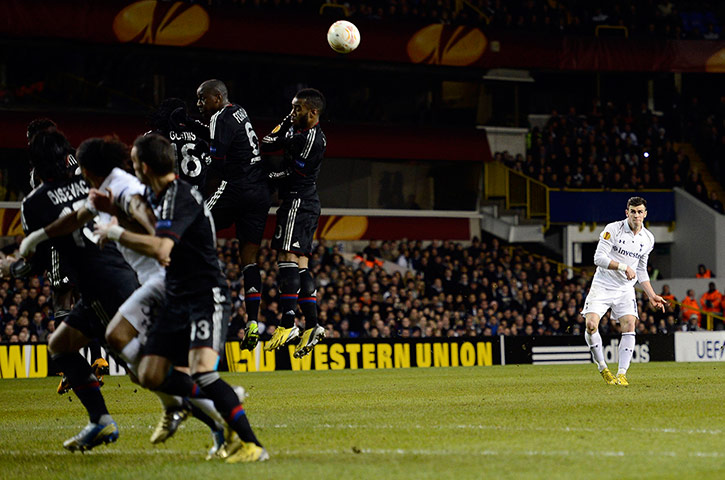 Tottenham 2 – Lyon 1
A new Ronaldo – Gareth Bale hits greater heights with stunning double (Jack Pitts-Brooke, Independent) At some point soon, maybe even this month, Gareth Bale's remarkable run of form will end. He will fail to win a game single-handedly, not rescuing his teammates with comic-book brilliance and timing. He will leave jaws un-dropped and hearts in chests. He may even see someone else score for Spurs. But against Lyon, as for the last few games, Bale was the only man that mattered, the only game in town. For the fourth consecutive match he was Tottenham's only goal-scorer, scoring the fifth and sixth wonderful decisive goals of this astonishing run. And, of those four games, this was his best performance yet.
Gareth Bale's stunning free-kicks give Tottenham narrow win over Lyon (James Riach, Guardian) The superlatives are beginning to run out for a player who has been in scintillating form this year. Without Bale Spurs are a competent side but there is no doubt they would have struggled to emerge triumphant had he not been on the pitch. His 35-yard strike in first-half injury time was a remarkable effort but it was swiftly cancelled out by an equally fine goal from the Lyon left-back, Samuel Umtiti, shortly after half-time.
Bale's last-gasp wonder strike sparks touchline brawl (Sami Mokbel, Mail) Tensions between the camps grew throughout Thursday's clash, but Spurs assistant manager Stefan Freund's decision to celebrate Bale's winner directly in front of the Lyon bench sparked an unsavoury confrontation. Knowing he had the Lyon staff rattled, former Germany midfielder Freund continued to sarcastically applaud the late strike causing tensions to increase further. His antics particularly upset Lyon coach Bruno Genesio, who had to be restrained by his colleagues and Spurs keeper Hugo Lloris, who only left Lyon in the summer.
Zenit St Petersburg 2 – Liverpool 0
Reds on brink of Euro exit as Suarez blows chances (Dominic King, Mail) Liverpool used to carry an air of invincibility in Europe but in St Petersburg, the fallibilities of this squad emerged again to consign them to a 2-0 defeat that leaves their hopes of Europa League glory looking improbable. The Liverpool of old would, in all likelihood, have emerged from the first leg of this last-32 tie holding a handsome advantage. This Liverpool should have done after creating six glorious chances, four of which were carelessly spurned by Luis Suarez.
Bren flops are frozen out (Star) Liverpool's frailties were cruelly exposed yet again last night when they were caught cold for the second time in four days… The much-talked about threat of racism failed to materialise, although there were unconfirmed reports of isolated monkey chants.
Scousers Attacked By Zenit Fans
It was ****ing terrifying! Liverpool fans attacked by Russian thugs wearing boxing gloves (Dave Wood, Mail) Liverpool fans spoke of their terror after being targeted by Russian hooligans armed with knuckle dusters and boxing gloves. Seven supporters were attacked by a 40-strong group of hooligans as they left a bar in the city on Wednesday night… Greg Adams, said: 'About 70 charged through the metro, some in boxing gloves, knuckle dusters. Few lads got filled in, then we got spotted.' And Sasha Lockheart added: 'One of my friends, had both his teeth knocked out at half time, came back blood all over him.'
Racism In English Football
Youth football coach's year of racist abuse from players' parents (Luke Traynor, Mirror) The black coach of a junior football team has revealed how he suffered year-long racial abuse from parents. Marcel Gray said he was even branded a paedophile because he wanted black players in the all-white under-sevens team. His ordeal began when he picked an Asian boy. Marcel, 47, said: "One parent said they didn't want P**** in the team because they put bombs on their women and children." The dad-of-three, who claimed he was attacked by a gang while out jogging, kept a diary of all the abuse, including touchline taunts of "black b******".
Rooney Bashed, De Gea Praised
Where does Rooney go when you need him? (Steven Howard, Sun) Wayne Rooney requires another 61 goals to surpass Bobby Charlton's league tally at Manchester United. And just another 17 to eclipse Charlton's standing as England's leading marksman. Few doubt that he will achieve both targets. And yet there is still something strangely disappointing and unrequited about his overall career for both club and country. The way he rarely produces on the big occasion… Rooney has 27 goals in 71 Champions League games. In the Madrid team alone, Ronaldo has 45 in 87 and Karim Benzema 29 in 49. Even Kaka, the barely used Brazilian midfielder, has 28 in 77.
David de Gea looking the part in Manchester United's glove department (Daniel Taylor, Guardian) The key, of course, is consistency. De Gea will almost certainly slip back again at some point and the scrutiny will not let up, as it never does at a club of United's size.
David De Gea in demand after heroics in Madrid (Ian Herbert, Independent) Manchester United's players have demanded that their young goalkeeper David de Gea be given time and patience to succeed at their club, after the 22-year-old's huge role in securing a draw at the Bernabeu left Spain salivating over the idea of him returning to La Liga. Michael Carrick, Phil Jones and Ryan Giggs all insisted that De Gea was coping with the high level of scrutiny that comes with being a Manchester United goalkeeper, with Giggs observing after the 1-1 draw against Real Madrid that he was being persecuted in a way that a young player in another position would not be.
Did David de Gea come of age in Madrid? (Ian Herbert, Independent) De Gea needed a big display on a big occasion to provide a catalyst for a United career which he seemed to be losing a grip of after his surrender of a high ball at White Hart Lance last month threw away two points with it.
Rio For England
Come clean! Why Roy Hodgson needs to reveal his real reasons for England snubbing Rio Ferdinand (Robbie Savage, Mirror) Roy Hodgson is a decent man and an exceptional coach, but it's time for him to stop playing games over Rio Ferdinand. Whatever the "footballing reasons" for leaving Ferdinand out of the England squad for the past year may be, Hodgson needs to spell them out – because it's beginning to make him look silly. Ferdinand's performance for Manchester United in the Bernabeu against Real Madrid on Wednesday night was vintage Rio, pure class. And based on his displays for United over the past few months, I would even stick my neck out and say Ferdinand is good enough to play at the next World Cup in Brazil – which is only 16 months away.
Giggs slams Ferdinand snub (David Woods, Star) Giggs reckons Ferdinand's England snub has not affected him at all, saying: "I don't think it has. We're just happy that he's playing so well for United. England's loss is our gain. The rest of the stuff we're not too bothered about as long as he keeps putting in performances like that."
Transfer Lies
City plan raid on Roma for winger Lamela and centre back Marquinhos (Mail) Manchester City are monitoring Roma's Argentine winger Erik Lamela. Manager Roberto Mancini and his scouts have watched Roma frequently as they monitor young Brazilian centre back Marquinhos who is also wanted by Barcelona.
West Ham plan summer move for Southampton striker Lambert (Mirror) West Ham are set to follow up their initial approach for Rickie Lambert with a summer bid… The Hammers are big admirers of the marksman whose 11 goals this season make him the highest scoring Englishman in the top flight. Lambert is also out of contract at the end of next season.
---
GAMBLING CAN BE ADDICTIVE, PLEASE PLAY RESPONSIBLY