"Torres' time was nice while it lasted. But £35m for a 26-year-old who has had barely a handful of decent games all season and was overshadowed at the World Cup finals last year is a good deal" – Sam Wallace
Comment & analysis round-up
Quote of the day: "Fernando Torres tonight submitted a written transfer request, which has been rejected by Liverpool. Fernando is under long-term contract and the club expect him to honour the commitment he made to Liverpool FC and its supporters when he signed the agreement." – Liverpool FC.
Runner-up: "Blackpool are such a cheap-skate club. I don't even think this is about money. It's because Charlie took them to a tribunal over the bonus they owed him. This is their pay-back. They are saying 'you won't make anything out of this, we have got you under contract'. Liverpool's offer is THIRTEEN times what Blackpool paid for Charles. And they are turning it down? They have been more than compensated for him already. Mr Oyston has got to realise it is somebody's life and future that he is dealing with here. I think it is petty. This should be a time for common sense to prevail." – Charlie Adam's dad.
Tapping-up quote of the day: "Stekelenburg is the keeper who is at the top of our wanted list. We talk a lot among ourselves about who should replace Van der Sar. Alex Ferguson has spoken about Stekelenburg with Edwin." – Rene Meulensteen, United's first team coach.
Dreaded vote of confidence: "We have a major board meeting every two or three months and Avram's name did not come up in that meeting, and I think that speaks volumes. He is our man. Will Avram be manager for the rest of the season? That is his job. Avram's job is to keep West Ham in the Premier League. That is what his whole life and endeavours will be focused on achieving. Is Robbie Keane a possible signing? Yes. All players that are available from top-quality clubs, we are looking at those players, and Robbie Keane is a player we greatly admire. He is clearly available and quality players rarely are. We see him as a potential acquisition. But nobody can leave. I'm careful when I say 'never' but we would fight off any club pursuing our players." – David Gold.
Today's overview: Fernando, Fernando, Fernando.
Fans of clubs outside Liverpool and Chelsea can skip much of today's column inches as the mooted transfer of the Spaniard to Stamford Bridge takes on a new life of it's own. After several sources try and summerise the facts behind Torres bid, others cite broken promises and a lack of spending as the reasons why El Nino wants out of Anfield.
There is naturally a raft of opinion over the pros and cons of the deal for all sides. Terry Venables is cock-a-hoop for the Blues, painting Torres as the saviour of the Bridge. David Maddock and Sam Wallace then opt to argue that Scousers should be happy for their star player to leave, while it's left to Mark Lawrenson and Alan Smith to poo-poo the deal.
In other news it's patently clear that few in Fleet Street have ever seen Alex Oxlade-Chamberlain play as hacks try and talk up the youngster against of today's FA Cup match with Manchester United. Youngsters are also in vogue with Lee Dixon who urges caution over over-hyping Jack Wilshere.
The Sky sexism saga still rumbles on too. Karren Brady's weekly diary in The Sun is surprisingly quiet on the incident, while Des Kelly appears to mock those who believe sexism will now be run out of football as he cites Soccer AM's Soccerette as reinforcing such stereotypes.
Finally we end with the usual transfer round-up.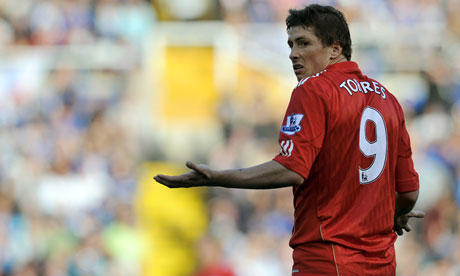 Oh Fernando: News spread like wildfire on Friday that Fernando Torres submitted a transfer request to Liverpool in an effort to complete a deal to move to Chelsea. Today the papers go bananas over the story.
The Sun's Rob Beasley, fully equipped with the word EXCLUSIVE slapped over his piece, barked "Liverpool last night turned down a stunning transfer request from Fernando Torres. The Anfield outfit also threatened to report Chelsea to the Premier League for allegedly 'tapping up' the Spanish striker… Yesterday's high drama also saw: (1) Liverpool snub a new offer of £42.5m plus hitman Daniel Sturridge; (2) Torres tell Liverpool that he wants a transfer – only for the club to reject his request; (3) Kop sources admit a £50m cash offer may change their mind; (4) Hitman Luis Suarez join the Reds for £23m from Dutch outfit Ajax."
Going a step further was David Maddock and Martin Lipton in the Mirror. "Fernando Torres is on the verge of a record-breaking £60million move to Chelsea last night after he told Liverpool he wants to go… Liverpool fans were stunned by the developments yesterday, but even among Torres' most ardent supporters, there is a feeling that a player who no longer has his heart in Anfield should be allowed to go."
Jason Burt looked at the wider timing and implications of the whole Torres saga. "There were two questions raised by Chelsea's decision to bid for Fernando Torres. The first was why had Chelsea waited until so close to the end of the January transfer window before making their move? The answer was simple: it wasn't until now that they had been given sufficient encouragement to table an offer. The other question was this — why push for a deal now and not wait until the summer when Liverpool might be more willing to sell? The answer to that was also simple: Roman Abramovich sees Torres as the striker who can win Chelsea the Champions League this season, and that is the competition which he wants above all other and which would rescue the club's campaign. And Torres wants that trophy also."
Mark Fleming added that should Torres move to Chelsea, "it would also be by far the most stunning transfer of the eight years that Abramovich has been ruling the roost in SW6. At 26, Torres is in his prime and would be eligible to play in the Champions League. His first game for his new club could potentially be when Liverpool visit Stamford Bridge next weekend."
Why Fernando: But why does Torres suddenly want out of Anfield. Fleet Street is naturally full of suggestions.
In a stinging one-liner from Antony Kastrinakis we learn, "a source close to the Spain striker insisted Torres did not do this for financial reasons – but because he feels Liverpool cannot match his ambition."
A similar, unsubstantiated line is trotted out by Matt Barlow in the Daily Mail. "The Spaniard feels promises made last summer have already been broken. He agreed to stay at Anfield after the exit of Rafa Benitez and amid interest from Chelsea and Manchester City in June under assurances from Roy Hodgson that the team would be rebuilt. It has not unfolded the way he envisaged, with Hodgson sacked, few quality signings made and the team again struggling to qualify for next season's Champions League. Dalglish's arrival as temporary manager has lifted Torres's form but may prove too little too late."
Completely ignoring the fact that Liverpool REJECTED Chelsea's bid for Torres, Simon Mullock wastes his energies explaining why Liverpool want to sell their Spanish striker. "Selling Torres now would strip Liverpool of their top striker for the rest of the season. But this campaign is already a write-off, as far as winning trophies or qualifying for the Champions League. And at least his departure would give Dalglish – or the next manager – a £40million-plus kitty that would enable the rebuilding to begin."
Good Torres, Bad Torres: Cock-eyed Terry Venables happy avoids Torres' poor form over the last six months to argue "a fee of £50m is not a gamble, it is virtually a guarantee. Torres is THE player who can haul Chelsea out of their current sub-standard predicament and restore their status and gravitas as a powerful and ambitious club. He would knit them together to make them great and successful once more… Selling Torres would not be a disaster, provided Kenny Dalglish was given the money and more on top to bring in new players to improve his squad."
Looking at the sale from Liverpool's perspective, David Maddock argues that the Scousers won't be unhappy if El Nino goes to the Bridge. "There has been a feeling all season that Torres has been angling to get away and his form has been, frankly, poor, with many already expressing the opinion that the club should cash in… To lose a player of that stature will undoubtedly be a bitter blow for Liverpool, but it is one the club has suffered before and emerged all the stronger for. Indeed, current boss Kenny Dalglish is living proof that this famous old club is far bigger than any player."
Sam Wallace was also at pains to explain to Scousers why they should support Torres' sale. "Torres has demonstrated this season that he has little appetite for helping Liverpool extricate themselves from the mess that they find themselves in. The appointment of Kenny Dalglish as manager has embarrassed him into a slightly improved level of effort but that is relative to his woefully lacklustre performances under Roy Hodgson… Torres' time was nice while it lasted. But £35m for a 26-year-old who has had barely a handful of decent games all season and was overshadowed at the World Cup finals last year is a good deal – however painful it might feel to Liverpool today."
Mark Lawrenson then piped up with what feels like a more reasoned summary of most Reds' fans opinions. "Selling Torres to Chelsea at this stage would mean Liverpool are effectively raising the white flag. And knowing Kenny as I do, he would go berserk. There's no way he would give up Torres without a fight… Liverpool are now seventh place in the Premier League – so why would you sell your best striker? It doesn't make sense for Liverpool either in football or financial terms.Maybe in the summer Liverpool can think again if they can get £40m or £50m for him, have Suarez settled in and then sign a good replacement. But to sell Torres and replace him with a player lacking Premier League experience would be madness."
Alan Smith struggles to understand why Torres would want to move to the Pensioners. "I'm surprised that Torres would fancy a move to Stamford Bridge where a small, ageing squad need major surgery to stay abreast of Europe's finest.On top of that, he would be joining a set-up where the all-powerful owner cannot resist meddling in football matters, so undermining his manager in the process. Indeed, you would not blame Carlo Ancelotti for leaving next summer after his assistant, Ray Wilkins, was unceremoniously dumped.I don't know. Maybe Torres has received assurances that Ancelotti will stay. In addition, maybe Chelsea have convinced Torres that reinforcements are on their way. If so, great. But imagine if those assurances aren't in place. The words 'frying pan' and 'fire' spring to mind."
Alex Oxlade-Chamberlain: The big, romantic FA Cup tie today sees Manchester United head to Southampton, which for many hacks is a match that is reduced to see how the famed teenager Alex Oxlade-Chamberlain performs against the biggest boys in the land. No pressure then!
Matt Parker, who has clearly never seen Chamberlain play, guffed "there will be a full house and millions more watching on TV, so this will be a chance for him to show what he can do… Chamberlain is wanted by a host of clubs including United, Manchester City and Liverpool – although Arsenal looks his most likely destination. Spanish giants Barcelona and Real Madrid have also joined the chase, with both clubs making firm enquiries."
The Star show an equal lack of knowledge over Alex Oxlade-Chamberlain's skill set as the red-top is reduced to writing lame lines like "if he sees enough of the winger when Manchester United tackle Saints today, Ferguson is ready to follow up with a formal bid."
The Independent's Glenn Moore actually appears to have done slightly more research on Southampton to reveal that the Saints are far from a team who rely on their hyped-up youngsters. "The irony is that Southampton's new wealth has led to the acquisition of a string of experienced pros, from Rickie Lambert and Jose Fonte to Radhi Jaidi and long-term loanee Richard Chaplow, plus the Brazilian striker Guilherme do Prado whose signing is rumoured to have precipitated previous manager Alan Pardew's departure. As a consequence the youngsters, Oxlade-Chamberlain and Lallana aside, have been pushed out, though Oscar Gobern (20) has featured recently and Aaron Martin (21) played in the third-round victory over Blackpool."
Jack Wilshere: Lee Dixon reacts with caution following Fabio Capello's praise-laden comments made on Friday regarding Arsenal's starlet. "I think Jack Wilshere is a fabulous player but at his tender age I think Fabio Capello should be more cautious before he starts eulogising about him too much, particularly bearing in mind he has had a few off-the-pitch problems recently. Some players, like Cesc Fabregas for instance, can handle the attention and praise when it comes their way when they are still very young, but for others it can go to their heads. The fact that Jack has been in a bit of trouble already in his career means that maybe the England manager should think twice before he starts building him up as the next big thing."
Sky, Sexism & New Attacks: And still the story, fuelled by the blood-sucking tabloids, rumbles on for Messrs Gray and Keys.
All eyes naturally focused on Karren Brady's weekly column in The Sun, but sadly the West Ham director offered few juicy quotes as tried stayed relative schtum on the whole sexism fiasco. "Wednesday, January 26: The headlines are following me like a hungry dog.Richard Keys has handed in his resignation from Sky TV in the wake of yesterday's sacking of Andy Gray. Keys says he tried to get in touch with me to say sorry and while I accept those apologies I certainly don't feel at fault for not speaking to him. I'm tough enough to withstand a few nasty references. The battle against sexism has to be fought and there will always be unfortunate victims. In the past these generally have been women. Now, maybe, it's the men's turn."
The Sun then mischievously go about trying to widen the sexism scandal to include Jaime Redknapp. "Louise Glass, 38, said she was in tears after seeing the Sky Sports anchorman quiz her footballer ex Jamie Redknapp about bedding her. She is now consulting lawyers… The mum, who lives in a Dorset village, dated Redknapp when he was playing for Bournemouth."
Also widening the sexism finger-pointing was Des Kelly, who appears to call out cult TV show Soccer AM for questionable behaviour. "The fact that two football presenters were removed from their jobs is being heralded as a cataclysmic event that will guarantee extraordinary cultural change for generations to come. Yes, that's right people. From now on, football won't be sexist any more. I'm sure it's a topic the 'Soccerette' will address with due solemnity on Sky's Soccer AM show. Once she's wiggled towards the camera in shorts and peeled off her tight T-shirt, that is."
Closing today's discussion on sexism in football is the Guardian's shrill Secret Footballer. "Let me tell you something, football pundits are universally despised by players and not just because at some point in the past they would have been on the receiving end of criticism themselves… While I found the whole episode with Gray and Richard Keys at Molineux cringeworthy, inside the world of football nobody is particularly bothered. Don't interpret that as evidence that players are condoning Gray and Keys for their behaviour. It's more a case that most of my team-mates would have no interest in listening to anything pundits say in the first place."
The Transfers: With just days to go until the the transfer window slams shut, rumours are abound this Saturday.
Spurs have reportedly tabled a £25m bid for Newcastle striker Andy Carroll according to The Sun, while Britain's best selling rag also delivers the fresh news that West ham want Robbie Keane.
The Mirror say Liverpool have had an improved £6.5m bid for Charlie Adam rejected, while Harry Redknapp has bid £8m for Scott Parker with Robbie Keane available as an alternative option to make the deal happen.
The Daily Mail claim that Shay Given is happy to be loaned to a Championship side so long as he plays football, David Luiz's transfer to Chelsea is virtually dead, ending with news that Giovani dos Santos may be sold by Spurs to Dnipro Dnipropetrovsk.
Lastly, in an eyebrow-raising gazumping West Brom have signed Carlos Vela on loan from Arsenal.
… And Finally: Some prattish Manchester United fan who has had a mega Red Devils tattoo put on his back is featured in The Sun.
Best football betting tips & free bet offers
Click here for more Premier League betting tips
---