"Topenham" & Alan Hansen explains why "there is no loyalty in football anywhere now"
Comment & analysis round-up
Quote of the day: "Who knows what we can achieve? I'm not saying we'll finish in the top four, but we have good quality and we'll give it a go. It could be open this year. Manchester City will certainly be pushing to be a top-four team, and there's no reason we can't push. We've won two away games already this year. If our home form stands up, we'll be right up there." – Harry Redknapp.
Runner-up: "Manchester City can confirm that agreement has been reached with Everton for the transfer of Joleon Lescott. The move is subject to the player agreeing personal terms and passing a medical." – a statement on the Manchester City website.
Today's overview: While Spurs are getting all the headlines after their comeback at West Ham, Chelsea are sitting pretty in second spot as focus starts to shift onto the Blues' title challenge.
An open thread in the Guardian poses, "Spurs are top again after their best start to a season in nearly 50 years – but can they break into the top four? With Birmingham at home as their next league fixture, four wins out of four looks a reasonable bet. But then comes the visit of Manchester United, followed by a trip to Stamford Bridge. Perhaps only then will we be able to properly evaluate how far Spurs have come."
Staying with Spurs, Matt Hughes tries to temper North London expectations by putting their start to the season in perspective. "Bill Nicholson's team won their first 11 matches that season, a feat that is likely to be beyond Spurs this year, particularly because they face Manchester United and Chelsea in two of their next three matches."
The tabloids are happy to over-hype Spurs. According to the Express, "not since the halcyon days of Bill Nicholson's Double-winners nearly half a century ago have Tottenham started a league campaign with such victorious brio. Three wins on the bounce, top of the Premier League, nine goals scored and an adventurous, attack-minded approach which suggests Spurs can challenge for the fabled top four."
But while Spurs are dreaming of over-reaching this season, Chelsea are sat breathing down the Lilywhites' neck with an also perfect start to the new year.
Sam Wallace praises Didier Drogba's performance at Fulham on Sunday. "This was the old warhorse at his very best, sweeping aside a defence, winning a game, all on his own."
More cautiously, Oliver Kay talks up the Blues in the The Times. "With the league campaign barely a week old, this is no time to be jumping to conclusions about any team's prospects, good or bad, but there is something about Chelsea's manner that will inspire confidence among their supporters and at least trepidation among their rivals." In a similar fashion, Rob Kelly discuss how Chelsea are "functional, efficient, impressive but essentially a bit dull."
Talking in grandiose stereotypes, Henry Winter talks up the achievements of Burnley manager Owen Coyle. "Coyle has proved a perfect fit with the club… Coyle's team are also a band of brothers, a unity seen in last week's famous victory over Manchester United… Small of size, Coyle's squad is big of heart. As the champions discovered, Burnley's resilience and stamina are formidable."
Unlike Coyle, not every manager is praised this Monday.
On Martin O'Neill, Sam Wallace observes that "O'Neill is facing up to the reality that his success may just have given the Villa fans something dangerous. More dangerous than queuing one place in front of Joey Barton in a late-night kebab shop. More dangerous than failure. He has given them hope." Elsewhere, Martin Kelner takes time out to poke fun at Blackburn boss Sam Allardyce. "Big Sam is not a man who invites sympathy. In fact, seeing Sam hard done by is one of the great sights on Match of the Day. As schadenfreude goes, it is up there with seeing Peter Mandelson covered in green custard."
Heading over to Spain, Gabriele Marcotti investigates how it is that David Villa remains a Valencia player. "Like a highly educated PhD in a specialised field, Villa found himself chasing a very limited number of jobs, while facing very stiff competition. Simply put, he is overqualified in a shrinking job market, which is why he is stuck with employers well below his station."
Who is sick of the transfer window?
Patrick Barclay rants against the current system in place, and importantly the time-frame in which business can be done. "For it to stretch into the season is an insult to the fans, who have a right to know who is in the squad when they renew their season tickets and buy their replica shirts with favourites' names on the back, and an unnecessary disturbance to players obliged to go for preseason training and tours knowing their clubs want to trade them or are resigned to their going."
Delving into transfer specifics, Alan Hansen delivers his critique of the Joleon Lescott saga. "There is no loyalty in football anywhere now. The issue is not restricted to Lescott. It is easy for me to talk about loyalty having spent 14 years at Liverpool, but if somebody had offered to more than double my money when I was 26, then I would have taken it."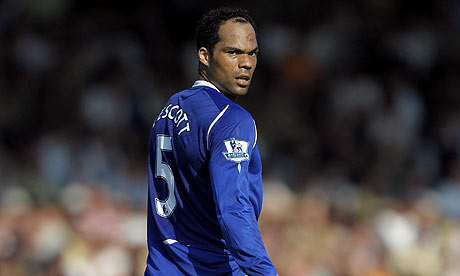 Martin Samuel notes how Everton have been down this road before. "There are similarities between the route the transfer of Joleon Lescott from Everton to Manchester City is taking and the departure of Wayne Rooney to Manchester United in 2004… They got the cash; Rooney the blame… Lescott will become a [similar] figure of hate at Goodison, while Everton make a huge profit yet emerge as a club of high principle, undone by a greedy player and a predatory, unprincipled rival, whose actions will be reported to the Premier League."
With Lescott now gone from Goodison, Neil Johnston notes "Moyes will move quickly to use the money from Joleon Lescott's expected sale to Manchester City to bring in an experienced defender before the transfer window closes next week." Not entirely true, according to John Edwards at the Daily Mail, who coughs "David Moyes wasted no time dipping into his £23million windfall for Joleon Lescott last night, lining up a £10m deal for Russia winger Diniyar Bilyaletdinov."
Over in The Sun, Phil Thomas is also found spending Everton's money. "[Moyes] has also targeted Stoke's Ryan Shawcross, Arsenal's Philippe Senderos and Newcastle's Steven Taylor to replace Lescott." According to Alan Nixon, "Moyes will now use the money to fund a £9m move for Stoke defender Ryan Shawcross."
In the rest of the gossip, The Sun rpeort that "Gianfranco Zola is close to agreeing a loan deal for Eidur Gudjohnsen," and the red-top also spouts that "Wigan have agreed to pay £4million for Crystal Palace star Victor Moses," Alan Nixon links Steven Taylor with a move to Aston Villa, while John Cross swoops in with the news that "Manchester City boss Mark Hughes has made his most surprising move of the summer – to try and snap up Brazilian left back Sylvinho on a free transfer."
---
GAMBLING CAN BE ADDICTIVE, PLEASE PLAY RESPONSIBLY