"To attempt to fix a game in the Premier League with the kind of spotlight that is on football now would be a daunting task simply because of the level of scrutiny." – Alan Hansen
Comment & analysis round-up
Quote of the day: "I know Ashley as a person and he's fine. I don't see anything wrong with him. He's a good person, he works hard at his football. He just wants to achieve things really. He's moved on from Arsenal but you can't say if he's greedy or not. Anyone could say you're greedy if you go to work somewhere else. And if you ask your manager for a promotion, are you greedy then? You can't say who is greedy or not greedy. You don't actually know a person until you sit down and talk to them and maybe until you've known them for years. It's hard for fans, though, because they know only what they read in the papers and see on the pitch. But if you actually had a chat with Ashley or went to dinner with him then you'd find he was a completely different person [from his image]. When I was in Arsenal's youth team, Ashley helped me along the whole time, he got me through. He's a great inspiration and one of the best left-backs in the world. I'll always look after him for the way he looked after me." – Justin Hoyte.
Runner-up: "Perhaps I am behind in the betting [to be the next Argentina national coach] but I am without doubt the No1 in the hearts of Argentinians. I couldn't ask for anything better. I would be in seventh heaven. I feel as if I am capable and I'm convinced that I could do the job. – Diego Maradona.
Today's overview: Their is a mixed bag of issues up for discussion this Saturday as we look forward to a return of domestic football.
Following the news that the Norwich versus Derby match is being investigated for match-fixing allegations, Alan Hansen argues that match-fixing in the Premier League would be virtually impossible ("the greatest problem you would face would be getting the half a dozen footballers involved to keep their mouths shut"). James Lawton counters, saying that match-fixing is a real danger to our football and that the FA are culpable for reacting too slowly to the issue. With the final say, Neil Warnock recalls how match-fixing was prevalent in the 60s.
With reports suggesting David Beckham could be off to train with AC Milan, Susy Campanale wonders if Becks can provide an alternative to Andrea Pirlo. Goldenballs is also referenced by The Times' Simon Barnes, who compiles a list of ten athletes who changed our view of sport – "The former England captain's achievement is the global trivialisation of a local triviality."
On the topic of racism, Jasper Gerard sat down with former Stoke and Wolves defender George Berry to recall what football was like in the 70s and early 80s. Berry: "I wasn't as skilful as John Barnes so I had to head the bananas thrown at me… It was scary."
Moving onto Tottenham, Jason Burt chronicles how the unbalanced Spurs squad was put together over the past few years. And staying with the Lillywhites, Paul Jiggins reveals that the Tottenham squad are unhappy with the dietary restrictions in place at the club – "The basement boys feel their manager's strict diet regime has left them feeling lacklustre during matches."
In other news, Terry Venables uses his weekly Sun column to compare "Wazza to Gazza," Micah Richards tells Daniel Taylor about life at Eastlands and signing Robinho ("he's the sort of player you would usually only pick for City in a computer game"), David Lacey believes Fabio Capello evokes memories of Sir Alf Ramsey, and Barney Ronay investigates the depth of Rio Ferdinand's wisdom.
Lastly, Hull are featured this Saturday. From his "War Room," Hull's Phil Brown tells Louise Taylor (Guardian) of his plans to keep the bandwagon rolling, while Jonathan Wilson reviews the starts made by the three promoted Championship sides to draw some conclusions about promotion to the Premier League.
Following the news that the Norwich versus Derby match is being investigated for match-fixing allegations, according to the Telegraph's Alan Hansen, match-fixing in the Premier League would be virtually impossible. "To attempt to fix a game in the Premier League with the kind of spotlight that is on football now would be a daunting task simply because of the level of scrutiny. Even without the replays and the television coverage, the greatest problem in fixing a game of football is that you would need to recruit a minimum of five or six players to do it. Not only would it be difficult to organise; the greatest problem you would face would be getting the half a dozen footballers involved to keep their mouths shut."
Keeping on the same theme, James Lawton (Independent) argues that match-fixing is a real danger to our football and that the FA are culpable for reacting too slowly. "Three days after the fears surfaced, the FA had still to contact the affected clubs at the centre of reports of huge surges of betting on the obscure game. That is too long, by precisely three days, because we are not talking about the possibility of some passing impropriety. We are discussing the protection of the foundation stone of English football – the trust without which the whole vastly profitable circus falls apart… The truth is that English football has never been so vulnerable to subversion by the rampant force of sky-rocketing profit. The more its popularity rises across the world, and the longer it stands out as a national game largely untouched by recurring match-fixing rumours, the juicier a target it becomes."
In the Independent, Neil Warnock recalls how match-fixing was prevalent in the 60s. "I was amazed by the match-fixing allegations involving a match in our league, Norwich v Derby. You want to know the game is clean. I still remember the shock in Sheffield when three Wednesday players, Peter Swan, David "Bronco" Layne and Tony Kay were found guilty of match-fixing in 1964. They bet against their own team in a match at Ipswich. They paid a terrible price, a jail sentence and a life ban. Peter Swan might have played for England in the World Cup. He was only 28 and he'd already been to the 1962 tournament."
The headline rumour of the day is that David Beckham may be on his way to AC Milan to train with the Rossoneri during the MLS off-season. Football Italia's Susy Campanale wonders if Becks can provide an alternative to Andrea Pirlo. "For many years now everyone at the club has bemoaned the fact Pirlo is "irreplaceable" because of his characteristics. Many have tried to fill his shoes, from Yoann Gourcuff to Mathieu Flamini, but all have failed. I think Becks can enjoy a change of position in the twilight of his career and rediscover himself a deep-seated playmaker. After all, Pirlo started out as a trequartista and look what happened to him."
Goldenballs is also referenced by The Times' Simon Barnes, who compiles a list of ten athletes who changed our view of sport. "The former England captain's achievement is the global trivialisation of a local triviality. His triumph, his legacy is not of substance but of image. He brought sport into the global culture of celebrity so that in the end Beckham has become more famous for being famous than he ever was for playing football. But he has done so without conforming to a stock image. In many ways he is the antithesis of the traditional footballer: a family man, uxorious to the extent of accepting a public pussy-whipping, and he prides himself on the sexual ambiguity of his image. Beckham, a man good at free kicks, is now a money-spinning fame machine that reaches across the world, even beyond football's last frontier, the United States."
On the topic of racism, Jasper Gerard sat down with former Stoke and Wolves defender George Berry to recall what football was like in the 70s and early 80s. Berry: "I wasn't as skilful as John Barnes so I had to head the bananas thrown at me… It was scary: I remember me and Bob Hazell being confronted by Leeds fans as we got off the coach, calling us nigger, coon, wog, the lot… They wouldn't bother if I was playing badly. If I could get them to call me 'nigger' I knew I was doing my job. I wasn't upset by a few NF fans. I was upset if we lost 3-1… During one pre-match meal, in the days of pie and Guinness, one player shouted down to me ' pass the nigger's lips', meaning chips. And there is still racism in dressing rooms. Racism hasn't gone, as Sol Campbell and Emile Heskey discovered."
Looking at Tottenham, the Independent's Jason Burt chronicles how the unbalanced Spurs squad was put together over the past few years. "Spurs had targeted young British talent: Tom Huddlestone, Aaron Lennon, Michael Dawson. Now Comolli, following on from Arnesen, was looking overseas. Benoît Assou-Ekotto, Kevin-Prince Boateng, Younes Kaboul. And the prices for the players were quickly rising, too. Then four of Spurs' most experienced scouts – including respected figures such as Eddie Presland and Alan Hill – were axed. It wasn't just that. The squad, as ever, was unbalanced. Players, it seemed, were collected rather than collated. Everyone in football knows about Spurs' so-called "left-sided problem", but it was never solved. Under Pleat, Gareth Barry was one solution offered, but the deal fell through. Then there was Stewart Downing and, last year, Martin Petrov. Still no deal. In the end Spurs, this summer, bought David Bentley. A right-winger. Even Bentley, it is believed, questioned why Spurs wanted him when they already had Lennon. Look at the present squad list, which Ramos has culled with several of Comolli's signings denied squad numbers: there are four left-backs and just three strikers."
Keeping with Spurs, the Sun's Paul Jiggins reveals that the Tottenham squad are unhappy with the dietary restrictions in place at the club. "The basement boys feel their manager's strict diet regime has left them feeling lacklustre during matches. One top player said: 'We're feeling hungry going into games and that can't be good. We get lots to eat after matches but we want something before as well.' Angry squad members held a secret summit about the grub snub before the 1-0 home defeat against Hull a fortnight ago. And several stars have met Ramos individually to express concerns about their eating habits. Ramos and his Spanish nutritionist Dr Antonio Escribano imposed the measures after arriving at White Hart Lane a year ago. Escribano – dubbed Dr Baby Food – worked with Ramos at his previous club Seville. The food guru's methods include pulping vitamins, minerals, fruit and vegetables and giving players a 'mulch' which many compare in texture and taste to baby food."
Terry Venables uses his weekly Sun column to compare "Wazza to Gazza." "Like Gazza, he has that schoolboy's enthusiasm for the game. Watch him in training and he's like a little boy in the playground. His current form for England is the best we've seen since Euro 2004. The reason for his resurgence is because he's fit, healthy and enjoying a regular run of games. Because he's built like a boxer – short and stocky – it's more important for him to be the right weight and have proper fitness. Taller, leaner players tend to come back from injury quicker. Some talented players, especially forwards, can be kicked out of a game by defenders. But this lad is no shrinking violet – he'll come back every time. Yes, he does have a short fuse and he does flare up at times. But he's not a nasty person."
In the big interview in the Guardian, Micah Richards tells Daniel Taylor about life at Eastlands and signing Robinho. '"One of my mates heard before me,' he recalls. 'He rang me to say, 'We've signed Robinho.' I just went, 'Yeah, whatever . . .' I mean, he's the sort of player you would usually only pick for City in a computer game. Robinho, he reports, has quickly won over his new team-mates. "When he turned up for his first day it was really weird for everyone," says Richards. "It needed a week before we could get our heads around it and stop staring. But he's just one of the boys now. Coming from Real Madrid, we were all thinking, 'What's he going to be like? Is he going to be a superstar? Up his own arse?' But he's a really nice lad. He went around the dressing room and shook hands with everyone and he speaks a lot better English than we imagined."
For David Lacey (Guardian), Fabio Capello evokes memories of Sir Alf Ramsey. "England's present coach is echoing Ramsey in his better years although the Italian's English is marginally superior to to Alf's strangled vowels and misplaced aspirates. Like Ramsey Capello is quick to identify a problem and deal with it successfully, as shown in his readiness to change the roles of Wayne Rooney and Steven Gerrard to the team's advantage during the qualifiers against Kazakhstan and Belarus. Moreover he appears to command the respect of the players as Ramsey did while keeping a similar distance from them – a master not a mate. Capello also shares Ramsey's belief in the importance of a solid defensive base although he will be lucky to unearth another Gordon Banks before 2010. Ramsey, too, would have been horrified at the space and possession England's midfield allowed Belarus before half-time in Minsk and both coaches' team talks would have amounted to the same thing, the oldest managerial edict in the game: 'Get stuck in!'"
Barney Ronay investigates the depth of Rio Ferdinand's wisdom in the Guardian. "The shock of the new, wise Rio comes across best in his new, wise face. Gone is the air of a man in a perpetual struggle to remember his own pin number. In its place is a mask of piercingly elemental forensic intelligence. It's tempting to compare wise Rio with a young Abraham Lincoln. This doesn't go far enough. What we've got here is the old Abraham Lincoln: furrowed, long-suffering, a vision of parched and forbidding integrity."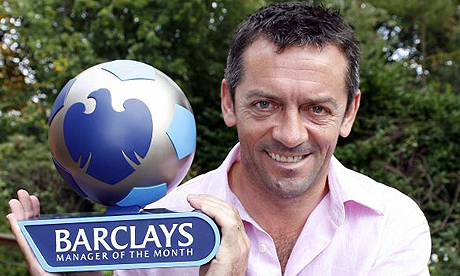 From his 'War Room,' Hull's Phil Brown tells Louise Taylor (Guardian) of his plans to keep bandwagon rolling. "Certainly Hull's players are kept constantly on their toes by the latest plans formulated behind the training-ground door labelled "War Room". Filled with blinking computer screens and bewildering charts, it is the football laboratory where Brown and his coaches dream up not just tactics but new ideas such as regularly testing the players' blood to measure individual stress levels. Some managers see football as primarily an art, other as predominantly a science. Brown believes it is a bit of both: an amalgam of the sweet passing, ultra-attacking game he played under Rioch and the newly hi-tech, ProZone- informed and psychologist-led sport he later helped Allardyce coach."
Jonathan Wilson (FT) reviews the starts made by the three promoted Championship sides to draw some conclusions about promotion to the Premier League. "For all three, there are rather more positives to be drawn than negatives, which is not to say that the gulf between Premier League and Championship has magically disappeared. Stoke, clearly, have a relegation battle on their hands. West Brom may well do. Hull can probably begin to relax but a slump in form could yet drag them into a dogfight. As ever, once the euphoria of playing in the Premier League has worn off, once injuries and suspension have begun to take their toll, life will become tougher. Two things have been evident this season, though. All three sides have played with great positivity in contrast to the negative, containing approach so many promoted sides employ. And money, while it may be a lot in modern football, is still not everything."
Another young English manager found talking to the press is Gareth Southgate, who talks to George Caulkin about life at Middlesbrough. "There's a danger it can really narrow your mind; you neglect the front page of the newspapers – and there's a whole other world out there, financial crises, governments in turmoil – because you're drawn to the sport. You laugh about the lack of sleep, but at times you get to 11 o'clock at night and you're still writing things down, making decisions in your mind. I'm a lot clearer now about team selection, whereas in that first year I was still thinking about it driving to the ground some Saturdays. The big thing was taking on board that every decision is down to you."
Best football betting tips & free bet offers
Click here for more Premier League betting tips
---