'Timid' Arsenal & 'not top-level' Podolski rebuked after Man United draw, spineless Newcastle & Liverpool invite Qatari investors
Comment & analysis round-up
Quote of the day: "It's a massive honour. To be voted by your peers is one of the biggest things in the game. It's great to win it and I am delighted." – Gareth Bale.
Runner-up: "He [Jose Bosingwa] was laughing because as he walked down the tunnel, another foreign lad, I don't know who it was, came up and said something to him and he laughed and put his arm around him. He wasn't laughing about being relegated, that's for sure." – Harry Redknapp.
Bale: Double Winner
Gareth wins the douBale (Shaun Custis, Sun) Gareth Bale pulled off a trophy double by winning both the PFA Player of the Year and Young Player of the Year awards. The Welsh wizard — who also landed the top award in 2011 — is the third man to win both gongs in the same year after Cristiano Ronaldo in 2007 and Andy Gray in 1977.
Bale scoops BOTH gongs at PFA awards while United lead the way with four players in the team of the year (David Kent, Mail) He also joined Mark Hughes, Alan Shearer, Thierry Henry and Ronaldo as the only men to have won the main award twice, after his first triumph in 2010-11… Bale has almost single-handedly kept Spurs in contention for a place in next season's Champions League, scoring 19 goals in 29 Premier League appearances, including a goal-of-the-season contender at West Ham and one in Tottenham's first win at Manchester United in 23 years.
Arsenal 1 – Man United 1
Robin van Persie found broken hearts waiting for him at Emirates (Ollie Holt, Mirror) Van Persie was booed in the warm-up when every missed shot was jeered and ­celebrated. He was booed when his name was read out, every time he touched the ball or made a tackle. What was uplifting, though, was the way Van Persie behaved. He brought only credit upon himself. The Arsenal players, too, deserve plaudits for the way they observed the guard of honour before kick off.
Timid Arsenal remind Robin van Persie why he left (Sam Wallace, Independent) Arsenal gave the kind of performance that sadly will have reminded Van Persie why he could not fulfil his ambitions at the club. They started like a train with a goal from Theo Walcott in the first two minutes while United began the game at half-pace. Then, when it was required of Arsenal in the second half to step up the tempo and overwhelm an opponent who had absolutely nothing riding on the match, they simply did not have the game to do so. Any comparison between Lukas Podolski, playing as centre-forward in the absence of the suspended Olivier Giroud, to Van Persie just seems unnecessarily cruel. The Germany international is not a top-level Premier League centre-forward, not by any stretch of the imagination, and any winning goal, after Van Persie's equaliser, was more likely to come from Santi Cazorla or Walcott.
No substitute for class but Wayne Rooney's woes continue (John Dillon, Express) For the fourth time in Manchester United's past five matches, Wayne Rooney was substituted. His last act before he departed three minutes from the end here was a potent reminder of the rich ability being camouflaged amid all the frustrations of his unspectacular end to the season.
Newcastle 0 – Liverpool 6
Toon fans can accept defeat but not a team that doesn't try and lacks spirit (Alan Shearer, Sun) Embarrassing, gutless, clueless but most of all very, very worrying. Newcastle fans can throw in their own adjectives if there are better ones to describe what they witnessed at St James' Park late on Saturday afternoon. A 6-0 trouncing by Liverpool — the club's worst home defeat since 1925. You can be excused a bad day at the office. But, for the second home game running, this lot have not even turned up for work.
There's life after Luis as Liverpool bite back with six goals (Jamie Redknapp, Mail) Liverpool produced their best team performance of the season at Newcastle and Luis Suarez was nowhere to be seen. Philippe Coutinho, Daniel Sturridge and Stewart Downing are £40m of talent so they shouldn't fall apart without the Uruguayan. Sturridge, in particular, tormented Newcastle.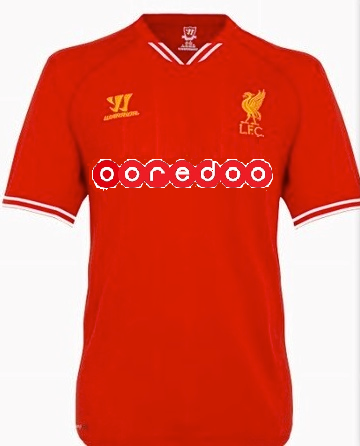 Anfield Name Change?
Liverpool could strike multi-million sponsorship deal with Qatari firm Ooredoo… which may see Anfield renamed (Dominic King, Mail) Qatari telecom firm Ooredoo have been linked with a multi-million pound sponsorship deal with Liverpool, which could see the stadium renamed… A spokesman for Ooredoo said on Al Jeezera's website: 'The goal was to sponsor a big English club with a huge history. Our search included Arsenal & Manchester United but the former two have long sponsorship deals and the same applies to Manchester City so Liverpool is the only club available right now. We want to sponsor the club in full. We want to sponsor the stadium (possibly rename it) as well as the club's kits. Our goal is to reach the Asian markets where the Premier League has an enormous fan base."
Bye Bye QPR
Joey Barton wades into QPR after lame exit from the Premier League (Stuart James, Guardian) For QPR, this was another hugely underwhelming performance from a group of hugely overpaid players. Harry Redknapp summed up a miserable 90 minutes perfectly. "It was a mundane sort of game, it was as though both teams knew they'd gone down anyway," the QPR manager said.
One last job: Harry Redknapp will relish hauling QPR back into big time (Mark Lawrenson, Mirror) I certainly expect Harry to stick at it because this is likely to be the last job of his career and I don't think he will want relegation to be the last chapter of his impressive life in the game. What QPR need to do though is go back to basics. Harry will already know the players that he wants to keep and the ones he wants to get rid of. Not only that, he is not too big for the Championship. He has been there with ­Portsmouth and knows exactly what it takes to get out of it. I've heard people saying that Reading have a better chance of going back with Nigel Adkins in charge. But they've got no players. The quality of that squad is poor.
FA: 1st Suarez, 2nd Terry
After dishing out a 10-game ban when before a yellow card would suffice, now they're out to nail their other bogeyman (Martin Samuel, Mail) The FA is increasingly a rogue regime in need of monitoring. Flushed with the success of banning Luis  Suarez for 10 games for an offence that previously received a yellow card, the FA wishes to further nail its other  racist bogeyman: John Terry… Terry contravened a rule that did not exist when he was punished. This makes the FA a parody of proper, appropriate governance. Until their kangaroo court commissions and  rulings are eliminated and replaced with a process that is fair, open and truly independent, every judgment will be soaked in controversy, and each verdict will raise more questions than answers.
Arsenal Target Kondogbia & Cesc?!
Arsene's top dog (Charlie Wyett, Sun) Arsene Wenger has confirmed he wants Sevilla's Geoffrey Kondogbia. The £17million-rated France Under-20 midfielder is also on Chelsea, Manchester City and Real Madrid's radar.
Cesc Fabregas could return to Arsenal (Paul Brown, Star) Cesc Fabregas could be sold by Barcelona this summer to pay for a big rebuilding job at the Nou Camp – putting Arsenal on red alert.The former Gunners midfielder is out of favour in Spain and was left on the bench for his side's Champions League disaster against Bayern Munich in Germany. He does not want to quit his boyhood club – but has fired the exit rumours by trying to buy a £5.4million flat in London.
---
GAMBLING CAN BE ADDICTIVE, PLEASE PLAY RESPONSIBLY