"Those who watched his performance for City against Stoke during the week could legitimately conclude that Bridge has done Capello a favour" – Jim White
Comment & analysis round-up
Quote of the day:Â  "I have thought long and hard about my position … in the light of the reporting and events over the last few weeks. It has always been an honour to play for England. However, after careful thought, I believe my position in the squad is now untenable and potentially divisive. Sadly, therefore, I feel for the sake of the team and in order to avoid what will be inevitable distractions, I have decided not to put myself forward for selection. I have today informed the management of this decision. I wish the team all the very best in South Africa." – Wayne Bridge
Runner-up: "I was flying when Bridge announced that he would not stay with us for the next game against Egypt [the friendly at Wembley on Wednesday] and also the future, in the World Cup, and that surprised me, I hope that Wayne Bridge will be with us at the World Cup, but I respect the decision of the player." – Fabio Capello.
Today's overview: Wayne Bridge's decision to quit England dominates. There is no shortage of opinion surrounding the second choice left back who in truth is hardly Roberto Carlos.
The Guardian claim "warfare" between Bridge and Terry following the left back's international retirement. "Wayne Bridge's dramatic international retirement has caused the simmering tension between the Manchester City left‑back and his former best friend John Terry to erupt into open warfare. As Bridge effectively confirmed he could not bear the thought of playing alongside his England team-mate, friends of Terry responded by suggesting Bridge had long been considered a "bottler" in the dressing room. The pair are expected to meet on Saturday with Chelsea playing City at Stamford Bridge, when all eyes will be on what is normally the formality of a pre-match handshake between the players."
Matt Lawton suggests he knows the real story why Bridge quit the Three Lions. "Wayne Bridge made himself unavailable for the World Cup because of John Terry's failure to apologise, leaving him convinced he could not spend any time in close proximity to the disgraced former England captain. Bridge gave serious thought to walking away from international football from the moment news broke of Terry's affair with his recently estranged partner, Vanessa Perroncel. But when Terry showed no signs of remorse in the statement he issued the day he was stripped of the England captaincy — and in his conduct towards Bridge himself — the Manchester City full back realised living in such close quarters to his one-time friend and colleague for the duration of a tournament was going to be impossible."
Oliver Kay reports that "Terry attempted to contact Bridge on several occasions in the hope of presenting his side of the story of his affair with the Manchester City full back's former partner, but Bridge refused to answer his calls. On the one occasion that Terry succeeded in getting through, having withheld his number, Bridge answered and said he would call back at a more convenient time, but did not do so, having decided that he wanted nothing more to do with his former Chelsea team-mate."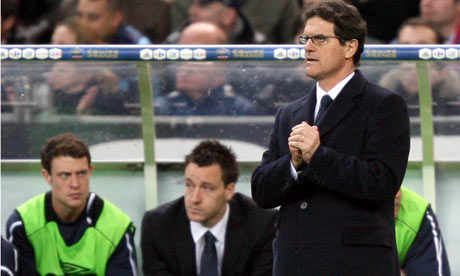 The lead story in The Sun suggests Fabio Capello has begged Bridge to come back into the England squad. "Fabio Capello last night insisted the door was still open for Wayne Bridge after the left-back quit – and left England in the lurch. The Italian was stunned by Bridge's shock decision, which left his World Cup preparations in tatters."
Matt Hughes backs Bridge's decision. "In addition to the emotional turmoil caused by his lingering antipathy towards Terry, whose calls he repeatedly ducked until one triggered an almighty row, Bridge's decision was primarily based on practical considerations. He is smart enough to have realised that the eyes of the world will be trained on the feuding former friends when they meet during City's match away to Chelsea tomorrow lunchtime. Had he remained in the national squad, that uncomfortable situation would have been repeated at England's first training session on Monday, during the game against Egypt on Wednesday and on every subsequent occasion the pair were in close proximity. As an ostensibly shy individual, Bridge could simply do without the hassle."
Martin Samuel also supports the Manchester City left back. "Weeks have passed since Bridge discovered Terry, his friend and colleague, was having an affair with his ex-partner, yet if anything his anger has intensified. Roberto Mancini, his manager at Manchester City, at first said he was convinced Bridge would put it behind him to represent England, yet even after the injury to first-choice left back Ashley Cole made it certain he would start against Egypt next week and perhaps beyond, it became clear Bridge was finding the issue difficult to resolve. With the squad due to be named on Saturday, Bridge had to make a decision and his choice should be respected. His explanation, that his presence in the England camp would be divisive, is honourable."
Sam Wallace is another columnist to support Team Bridge. "Those close to Bridge say that he wants, if even just for a few days, to make life difficult for Terry. Bridge wants people to know that what was said and done in private was wrong, wrong to the extent that he is prepared to sacrifice playing at a World Cup finals in order to make the point. What a pity for England it came to that, especially with Capello already missing Cole. What a shame for Bridge, a decent player who will probably be remembered for this saga above all. It does not make him a bad person, just someone who had taken about as much as he could bear and decided he needed to make his point."
Terry Venables voices his disappointment at Bridge ending his international career. "The Three Lions could desperately use a player like him this summer. But Bridge has deemed he is no longer an option. I am sure he does not regret his decision this morning but can even he predict how he will feel a couple of months down the line?"
Jim White adds to the opinion that Bridge has made a rash decision. "Those who watched his performance for City against Stoke during the week could legitimately conclude that Bridge has done Capello a favour. Which actually makes his decision all the more incomprehensible: if anyone can play as badly as that and still be regarded as worthy of selection, they really ought to bite off the hand that proffers opportunity rather than chewing off their own nose to spite their face."
Oliver Kay suggests that Fabio Capello has been caught short by Wayne Bridge's decision. "Outsiders will be surprised that Capello was so peripheral to the process, but it is simply a matter of his approach to man-management. He is distant from players, aloof, unapproachable even, and, as became clear in his handling of the Terry captaincy issue, he prefers not to deal with them by telephone. It is the antithesis of the Eriksson or Steve McClaren approach and, for most of the past 15 months, it has been lauded as a strength. Just occasionally, it might be a weakness, albeit one covered by Baldini, his right-hand man."
Henry Winter beleives the decision is good news for the Three Lions. "Fabio Capello has lost an average left-back but gained the opportunity to restore team spirit in the build-up to World Cup 2010. Whatever the motivation behind Bridge's announcement, whether pique or heartache, the Manchester City defender has done his country a great service."
Richard Williams also concentrates on Don Fabio. "There are suggestions that Capello may follow the example of Carlo Ancelotti and move the versatile James Milner into the role occupied by Florent Malouda for Chelsea at San Siro on Wednesday – an option strongly endorsed by Stuart Pearce, Milner's international Under-21 manager. For Capello, however, there are problems throughout in a defence now looking unexpectedly threadbare in every position – except, ironically, the one occupied by John Terry."
Paul Hayward also fears for England and Capello. "England's extended sex caper is ­threatening to engulf Fabio Capello's team, with the opening match against USA approaching fast on 12 June. Normally England wait until the quarter-finals to stage their implosion but this time hearts are being broken early."
Steven Howard pinpoints all the problems Capello is currently grappling with, "Capello may have thought his main worry was the state of the practice pitches at the Royal Bafokeng Sports Campus in Rustenberg. But with just 105 days to go before England's opening game against the USA, he is facing mounting concerns about the players using them. There are always complications during the season leading up to major tournaments… but never quite like this. Wayne Rooney aside – so far and God willing – there are dilemmas everywhere you look."
Matt Barlow specifically looks at Capello's options at left back. "So, what of the alternatives? Everton's Leighton Baines and Aston Villa's Stephen Warnock have six minutes of senior England action between them – all 360 seconds of which belong to Warnock. Both have been on the England bench without getting on this season but Baines seems to have the edge. He is more composed coming forward, over-lapping Steven Pienaar for his club as he would with Steven Gerrard for England."
Alyson Rudd features the women at the heart of the storm: Vanessa Perroncel. "Helen of Troy, Mrs Simpson, Christine Keeler — and now Vanessa Perroncel. If Fabio Capello's side founder in South Africa, then you can expect the history books to point the finger at the lingerie model who had an affair and tore apart the England team." Perroncel even gave her thoughts on Bridge's decision: "England's chances of lifting the trophy have been seriously weakened. He's made the wrong decision for himself and the country. He needs to reconsider."
On Liverpool's win in Romania last night, Tony Barrett describes the Europa League victory as "On other nights the interventions of Babel and Mascherano might have been the highlights, but, as he has done on countless occasions before, it was Gerrard who stole the show in Bucharest, just as Souness, his predecessor, had in 1984." Most of the headlines surrounding Liverpool's win in Unirea centre around Steven Gerrard becoming the top scoring Brit in Europe.
The tale of woe at Portsmouth shows no sign of abating, Peter Lansley: "Portsmouth will move a step nearer to relegation today when they are set to become the first Premier League club to enter administration. Balram Chainrai, the latest owner, spent yesterday in London in talks with representatives of four groups interested in buying the club. But, when none could meet a 3.30pm deadline to offer proof of funds, Andrew Andronikou, from UHY Hacker Young, the accountants, said administration could not be put off."
Ahead of the Carling Cup final, Neil Moxley interviews Paul McGrath who played for Aston Villa and Manchester United. "McGrath: "I hadn't tasted drink until I was 18,' he said. 'The minute I did, I felt comfortable. I used it as a way of being able to communicate with people, believe it or not. And then, because of it, you won't be surprised to learn that I couldn't communicate with them. I was always very shy because of my upbringing in orphanages. It was a case of just wanting to slide into the background of things. If you weren't heard too much, then people would leave you alone. But if you caught people's attention, then it wasn't good. You'd normally have to fight your way out of trouble."
Brian Viner interviews Lee Bowyer in The Independent. "So one last question: can he, as a footballer who knows what it feels like to be splashed across the front pages for reasons other than football, sympathise with John Terry and Ashley Cole? He leans forward and clears his throat. 'You know what? I'd rather not talk about that. I know the pair of them and I went to school with Ashley, played football in the playground with him. I can't comment on their personal lives.' And with that, out walks Lee Bowyer, reformed character and improbable diplomat.
Harry Redknapp uses his column in The Sun to try and get more goals out of Roman Pavlyuchenko. "Pav has come in, scored and he is sky-high right now. We play Everton on Sunday and it would be very difficult not to start him now. He is very laid back and, as I've already said, he needs to work a bit harder on the pitch. When someone is scoring goals, you don't notice their work-rate so much but it is an area he needs to improve, without a doubt."
Andy Cole, in his column in The Independent, defends everyone's least favourite footballer, Ashley Cole. "If Cole (no relation) has been unfaithful, been an idiot, whatever, that's for him and his wife and employers to act on. I'm not naive enough to think this doesn't warrant some press attention but you could be forgiven for thinking him and John Terry are mass murderers. The pack in pursuit turns my stomach. There are probably journalists somewhere now, seeing the Coles are heading for divorce, thinking, "This is great, we won". That's pathetic. I have no idea what state of mind Ashley Cole is in now, but you wouldn't blame him for feeling seriously disturbed; and only so much is self-inflicted."
Completely off topic Harry Pearson describes what it is like to dream of football at a later age. "Once you reach 40 it becomes increasingly difficult to fantasise about being a brilliant sportsman or woman. Because even a fantasy must have some tenuous toehold in reality and, once you reach that age, the toehold for the idea that you might knock seven bells out of Floyd Mayweather has crumbled away to leave a sheet of highly polished steel. When this occurs you have to seek an alternative. At one time there was a recognisable turning point in a man's life – the moment he went from daydreaming about playing football to fantasising about owning a football club. Where once you were spotted in the park slaloming effortlessly round waste-bins and tramps and catapulted to World Cup glory, now you write series of international poptastic hits/invent an air-powered engine/win the lottery six times in a row and use the money to buy your football club."
---