"This is no time to let Steven Gerrard walk alone," as Arsenal set their sights on Mikel Arteta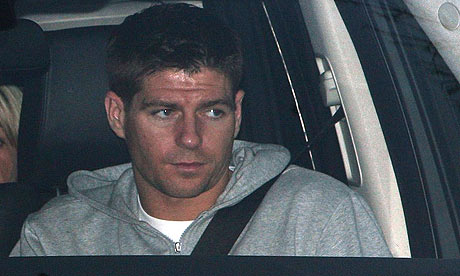 Comment & analysis round-up
Quote of the day: "Personally, the week in Japan was the worst week of my life. It's always bad when you are not involved, but it ended happily with the team winning the trophy, and now we have two League wins over Christmas. But there is plenty more to come from me yet. I will keep working hard and, along with the other guys, I think we can do a lot. We are there and we can win the title. If we win our games in hand, then it will be in our own hands." – Dimitar Berbatov.
Runner-up: "Steven Gerrard is known as a model professional and someone that kids look up to, so I think the first reaction people have with something like this is that it is out of character for him even to be connected to it. He has a certain image, squeaky-clean but with a kind of edge, that makes him appealing to sponsors. I would be surprised if his main sponsors did not stand by him." – Steve Martin, chief executive of M&C Saatchi Sport and Entertainment.
Today's overview: Having had a couple of days to digest the news of Steven Gerrard's arrest, many today begin to wonder what impact the recent events and future court hearings will have on the Reds' skipper.
Ian Herbert is fearful of the negative effect which recent events will have on Gerrard. "How he will cope with thoughts of a court case and all it entails remains unclear but if recent history is anything to go by, it seems that the hell-raisers fare much better in times like this than the more reflective souls like himself." Matt Lawton also picks up on the same point suggesting that Gerrard may "struggle in much the same way Jonathan Woodgate did after his involvement in an attack on an Asian student in Leeds eight years ago."
For Henry Winter, it is imperative that Gerrard does not shy away from the football pitch despite his recent troubles. "Gerrard must be allowed to parade his determination as well as his talent in front of a packed stadium, a watching nation and a substantial global television audience. This is no time to let Gerrard walk alone."
There is fresh trouble at the Bridge according to Neil Ashdown after "a full-scale slanging match developed between some of the club's star names during the 45-minute meeting after Scolari had asked his squad to air their grievances… Many squad members believe Drogba is one of the main causes of dressing room disharmony at the club and would prefer him to be sold in the January transfer window."
With the New Year just hours away, the Guardian have put their boffins to work to produce a club-by-club analysis of all 20 Premier League club's transfer needs and likely movements in the market. And according to Kevin McCarra most clubs are likely to busy themselves in the transfer window noting that "when a paltry six points separate Stoke, standing 18th, from Fulham, who are ninth, most owners must wonder if they dare leave their squads unaltered."
Stuart James and Dominic Fifield report that Portsmouth have rebuffed Spurs' combined £30m bid for their England internationals Peter Crouch, Jermain Defoe and Glen Johnson. In turn, the Daily Mail claim Spurs have been offered "former Liverpool man Luis Garcia… on loan until the end of the season." And according to Jason Burt West Ham are also determined to hang to their best players having "told Scott Parker that he will not be allowed to leave and join Manchester City, even though the midfielder has indicated that he would like the opportunity to speak to the club."
With Arsenal looking for a creative midfielder, Dominic Fifield reports that "Wenger [is set] to target the Everton playmaker Mikel Arteta (for £12m), with the Frenchman prepared to break with tradition and spend a considerable fee on a more experienced player during the transfer window." The Daily Mail also report on the Arteta-Arsenal story with the slight difference of opinion that the Gunners will offer £10m for the Spaniard. Mark Irwin tries to rationalise why the deal makes sense claiming "Moyes will have little cash to spend in the transfer window unless he sells first. And the ambitious Arteta would welcome the chance to move to the Emirates after growing frustrated by Everton's inability to break into the big time."
Cristiano Ronaldo's hystrionics are picked up on by Paul Wilson who argues that Sir Alex "must long for the days when his star player concentrated on his game rather than his personal grievances." Oliver Kay reports that Ronaldo may be allowed a short break from the United squad after "having struggled for his best form in recent weeks and he has also been involved in a succession of spats with opponents."
Henry Winter reviews the first half of the season arguing that Ashley Young "has probably been the outstanding individual… Young's wing-play has been electric, confusing right-backs with an ability to go either side, and showing a dexterity at set-pieces that has brought comparisons with Ronaldo himself." Also reflecting on the year that was, Laura Williamson chronicles the "10 most expensive signings of 2008, which amount to the tidy sum of £221.8 million."
According to Louise Taylor the walls are closing in on Gareth Southgate with Boro having only taken "three points from a possible 24 and failed to score for three games." Yet despite coming under increasing pressure, George Caulkin notes that Boro are remaining bullish in refusing to contemplate selling either Stewart Downing or Tuncay Sanli.
In an offbeat article Steve Wells ends the year ranting about TV commentators. "The commentator has become a distraction, an irritant, as parasitic and irrelevant to the actual action as those retina-raping electronic advertising hoardings, yet another symptom of sport's patronising terror of letting the game actually speak for itself."
---