"Thierry Henry must be banned from playing in the 2010 World Cup" – Henry Winter
Comment & analysis round-up
Quote of the day: "The handball was recognised by the Fifa commissioner, the referee observer and the match officials, as well as by the player himself. There is precedent for the invalidation of such results. In 2005, the bureau of the Fifa World Cup organising committee reached a decision to invalidate the result of a World Cup qualification match between Uzbekistan and Bahrain on the basis of a 'technical error by the referee of the match'. The Football Association of Ireland is hoping that Fifa and its disciplinary committee will, on behalf of football fans worldwide, act in a similar fashion so that the standards of fair play and integrity can be protected." – An FAI statement.
Runner-up: "Do I think it's a conspiracy? Definitely. FIFA want the big teams in the World Cup, they want France in the World Cup, and it may sound silly but they want teams sponsored by adidas. Adidas sponsor the World Cup, they sponsor France. Michel Platini has a lot of influence as well." – Damien Duff.
Today's overview: Public enemy numero un dominates the backpages this morning as Thierry Henry is criticised by all and sundry for his Le Hand of God against the Irish on Wednesday. The likes of Henry Winter, Simon Barnes and Richard Williams are all worth a butchers as the Barcelona striker is taken to task.
Simon Barnes attempts to put Le Hand of God in perspective. "Thierry Henry is a liar and a cheat. He is also a footballer, and he stands out from his fellow professionals as a sheep stands out in a flock of sheep. It is a a fact of life — footballers cheat. Their duty, as they see it, is not to obey the rules but to do what is best for the team. If a footballer can get away with something that helps the team, he is duty-bound to do the dirty deed. That is the morality of 21st-century professional football."
The usually calm and considered Henry Winter is raging this morning and calls for Henry to be banned from playing in South Africa. "Why you, Thierry? Why you of all people? You always stood for something purer in the polluted world of football. You sent 'good luck' texts to rivals like Steven Gerrard. You sought out Frank Lampard after one Chelsea-Arsenal tear-up, wishing him great joy with impending fatherhood. You played the game with style and a smile. So why cheat? Thierry, you have just given football its'Say it ain't so, Joe' moment. From Shoeless to Shameless. If it had been William Gallas or Lassana Diarra conning the referee with the Hand of Gaul, the shockwaves would not have spread so far and wide, the calls for replays and video umpires would not have been so strident. What is truly dispiriting about this skulduggery at the Stade de Fraud is that the perpetrator was Henry, an individual admired within an oft-criticised game for possessing principles. Until Wednesday."
Tony Cascarino is still seething over Thierry Henry and the former Republic of Ireland striker holds no punches. "Isn't blatant cheating as serious as a two-footed tackle? You aren't hurting one man, you're harming the image of the entire sport. Henry should be given a three-match suspension. Make him miss the group stage in South Africa next year. The way France played on Wednesday, they'll probably be out of the tournament after that, anyway. What an apt punishment that would be." Also in The Times, Gary Jacob points out how "Thierry Henry's gallant words return to haunt him… Henry was thought to be different, but he now stands accused of being just another football player."
James Lawton also sticks the boot in on the French captain. "Ireland at least have a degree of pride that, whatever he achieves in South Africa, will now always elude Thierry Henry. Henry: the beautiful talent, the deeply compromised soul."
The erudite Richard Williams sums up what many people have been feeling since extra-time on Wednesday night. "You are the captain of France, the country that gave us the World Cup, and here you had the chance to show us what sport can mean – or, at least, what we tell our children it means. To rank the incident in Paris alongside Diego Maradona's 'Hand of God' in 1986 is misleading. That was a street kid's instinct, acclaimed by his compatriots as revenge for Antonio Rattín and the Malvinas. Henry may come from Les Ulis, a quartier difficile outside Paris, but he is a sophisticated man, and a much decorated one. A chevalier of the Legion d'Honneur should have done better – by his opponents, by himself, and by the game."
Oliver Holt is another journo who can't hold back his rage towards the Barcelona forward. "I feel sorry for Thierry Henry. No, really. Even more sorry than I do for Ireland. Ireland have been cheated, sure. FIFA, who still doggedly refuse to help referees with video technology, owe Robbie Keane and his team-mates an apology and a replay, certainly. But without coming over all Othello, I still think Henry's lost something more precious than the Irish players have. Ireland have lost the chance to play at the World Cup finals, an opportunity that may never come the way of some of their squad again. But they can say they played their hearts out in Paris, that they did their best and gave their all. They can be proud of what they did. But Henry? Well, he's been stripped of the decency and the sportsmanship that always defined him. He's lost his reputation."
Jim White adds to the Henry bashing. "Henry, you will recall, in a magnificent piece of shirking, said immediately after the game that yes, he had cheated, but it was up to the referee to spot it and since he had not, what could he do? Now Fifa are effectively saying that since the referee didn't see it, it never happened. If you can uncover the moral difference between those two positions, then you probably deserve a PhD in sophistry. What Henry confessed to – and what probably most of his contemporaries would secretly adhere to – was the belief that, though players know the rules, there is no need to abide by them. The officials will do that for them. Fifa concurred with that view."
Kevin McCarra blasts Henry for proving that cheats do prosper. "Most of the leading countries have made their way to the 2010 World Cup finals, even if some took a devious route. France have probably got over the sense of shame, assuming there ever was a flicker of penitence. Any slight embarrassment on Thierry Henry's part about the build-up to the decisive goal in the play-off with the Republic of Ireland came in the silly comment that he had handled accidentally. On both occasions? He showed a delicate touch that would have been admired if he had been using his feet."
One of the few dissenting voices is Robbie Savage who argues he would have done "exactly what cheating Henry did." "The fact that it was Henry who did it is significant. This isn't some journeyman looking for an edge. This is one of the best players in the world. And when the decisive moment came, for all the ability he has, his competitive edge took over and he did what came naturally. The will to win is in all footballers. Even if that means winning at all costs."
Barney Roney looks at how Henry became "public enemy numero un." "Rarely can one man's act of sporting misconduct have brought such a concerted and diversely qualified chorus of disapproval upon his head. So much so that the incident already known as La Main de Dieu (in homage to Diego Maradona's Hand of God goal against England in 1986) or, increasingly, Henrygate, had by today afternoon mutated into the most fevered sporting brouhaha in recent memory and something close to an international incident."
Patrick Barclay once again calls for video evidence in the wake of the Hand of Henry. "Had the fourth official at the Stade de France been doing something useful like watching television, instead of policing the technical areas or checking that his electronic boards were functioning, he could have whispered into the earpiece of Martin Hansson, the Swedish referee, that the agonised Ireland players were not acting and that William Gallas's goal was illicit. Henry could have been shown a yellow card and play been restarted with a free kick to Ireland. No one, including Henry, would have complained. France might still have won, either in what was left of extra time or on penalties. Or Ireland won. But no one would have been stigmatised or left with a grievance. And there would have been no break in the flow. The time devoted to goal celebrations would simply have been reallocated to Henry's punishment."
Andy Townsend also adds to the calls for video evidence. "After what happened to Ireland, the World Cup has to have video replays. If it doesn't and there's another miscarriage of justice in South Africa, football should be ashamed. It is adored by billions of people across the world. It's a religion. But we're doing a disservice to the great game. The beautiful game is becoming a laughing stock and we're not doing anything about it. Footballers aren't discouraged from cheating and that's where the problem lies."
The Independent also back the calls for a fourth official to watch a monitor on big decisions, in a leading article. "Popular sports such as cricket, rugby and tennis have all incorporated new technologies to assist referees in recent years. Football looks increasingly isolated in eschewing it. The case for a new trial of video replays by the football authorities is overwhelming. And those who are still not convinced should pick up the debate this morning with an Irish football supporter."
Steven Howard in The Sun points the finger at Sepp Blatter. "There are two discussions here. One, where victory is all that matters to supporters at both national and club level, where old-fashioned values of sportsmanship are regarded as naive and weak. The other is the refusal of FIFA – under the self-seeking, money-is-all 'leadership' of Sepp Blatter – to drag the game into the 21st century. I have been banging on about the use of new technology like the instant availability of video replays to match officials for years. Yet Blatter, who always preaches 'fair play' and the 'spirit of the game', does nothing."
Martin Samuel rejects the video evidence route and provides a different solution. "If it were suspected an unfair advantage had been gained, the referee asked the player if he had handled the ball. If he said yes, a free-kick was given and no further action taken. If no, the goal stood, but if the player was found by video evidence to have lied, he subsequently received a three-match ban. Poll suggested the same scheme to combat diving, with a five-match ban. I would advocate a minimum six-game ban for liars, double for repeat offenders. So in the case of Henry, the referee would ask whether he had handled. If he said yes, there would be a free-kick to Ireland, if no, the goal stands, but then Henry is hit with a six-match competitive ban, which would put him out of the World Cup finals. He would certainly have told the truth."
It is fair to say Ireland's impressive display in the Stade de France has been almost forgotten since the full-time whistle. David Hytner praises the impact of Giovani Trappatoni. "In 18 months and from limited resources Trapattoni has sculpted a team who are hard-working, disciplined and never-say-die. He has fashioned a unit which has played out home and away qualifying-group draws against the world champions Italy – on both occasions Ireland might have won – and one that gave France, runners-up at the 2006 World Cup, the fright of their lives."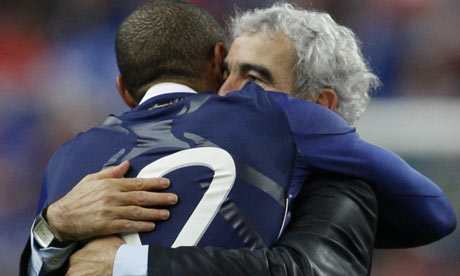 Amy Lawrence analyses where France's qualification for the World Cup leaves Raymond Domenech. "To the chagrin of those members of the French football populace with a conscience, Raymond Domenech did exactly what they would have expected of him in the aftermath of France's unheroic journey to the World Cup finals. He made everyone cringe. It is well known that sticking a microphone under the nose of their uber-obstinate coach is an exercise in disappointment. This is not a man with effusive charm. This is not a man capable of switching off his heavily guarded defence mechanism, however much the scenario screams out for a touch of humility. In fact this is a man whose capacity to rub people up the wrong way is perhaps unrivalled in world football."
Away from the France-Ireland furore. Craig Bellamy describes how he doesn't expect to be playing for much longer. Harry Redknapp uses his weekly column in The Sun to give an update on Carlo Cudicini's condition. "I told him that even after crashing his motorbike and lying in hospital he still looks like a bloody film star!"
With almost all the backpages covered with slating Thierry Henry there is little room for much transfer gossip. The Daily Mirror regurgitate the Adam Johnson to Chelsea rumour and The Daily Star claim that Red Rom is not sure whether to splash the cash for Sergio Aguero. Portsmouth gaffer Paul Hart isn't so keen on Amr Zaki and Bolton are after Celtic midfielder Scott Brown.
---