Thiago (Man United) & Rafinha (Everton) set for the Premier League & could Rooney live in London?
Comment & analysis round-up
Quote of the day: "I'm not sure Wayne Rooney could handle London. That would be a massive risk for me. I don't think it's a question of finances, it's his temperament and mentality. London is a different animal. It takes a different type of player to handle it. Wayne is ­a super player and I would love to see him at the Arsenal. But I'm not sure about him mentally, off the pitch and his ­professionalism. I wouldn't like to spend my money on Wayne." – Tony Adams.
Runner-up: "I think the BBC have a great story forever, because a manager getting information that he is being released from his employment by the BBC is quite surprising. The only thing I'm concentrating on is the appeal. Because it is the right thing to do. I cannot stand it any more because after all this I took a little bit longer with my lawyers and they are reading the email I still don't have myself and so it's very difficult to make any comments. I need to read everything first but I'm saying I will appeal whatever they say in the email – I know myself and I want to make sure everything is clear and whatever step I need to make I will make in the future." – Gus Poyet.
Is Thiago Alcantara joining Manchester United?
Manchester United given Thiago Alcantara boost as Barca starlet's dad drops Old Trafford hint (Alan Nixon, Daily Mirror)
Manchester United boss David Moyes's bid for Barcelona babe Thiago Alcantara has been given a DOUBLE boost. Alcantara's influential ex-Brazil international dad Mazinho thinks he should join United ahead of City, Bayern Munich and latecomers Chelsea this week. And the Spain Under-21 skipper's gifted young brother Rafinha is also heading for the Premier League from Barca on loan – making a move to England more appealing. Now the plan is for the family to relocate to the north-west, where they can all live together.
PSG want David Luiz
Chelsea face fight to keep Luiz as new PSG boss Blanc plots bid for Blues defender (Simon Jones, Daily Mail) Laurent Blanc will consider making an offer for Chelsea defender David Luiz when he becomes the new coach at Paris Saint-Germain. Blanc is set to be named as Carlo Ancelotti's replacement on Monday. Luiz, 26, is being lined up to replace former Chelsea defender Alex, 31, who is keen to return to Brazil.
Cardiff move for Wanyama
Cardiff bid to snatch Celtic's Wanyama as Premier League new boys launch £10m raid (Simon Jones, Daily Mail) Cardiff City have made a £10million offer for Celtic midfielder Victor Wanyama after his move to Southampton stalled. Wanyama has revealed his move to Southampton is off unless the club can agree terms with him and his agent. Southampton have had a £12million bid accepted by Celtic but Cardiff have now made a counter offer and are understood to be prepared to match the 21-year-old's wage demands. Malky Mackay's side are now hoping they can win the player's signature.
Southampton move for Belgian midfielder
Saints £15m Rad hot (Sun) Southampton have launched a £15million bid for Cagliari midfielder Radja Nainggolan. Boss Mauricio Pochettino is battling with Inter Milan to land the Belgium ace. Nainggolan, 25, said: "I have received a very tempting offer from Southampton. "Their proposal is the most attractive from an economic standpoint. But I don't play for the money. My priority is to have a major career."
Norwich to move for Kone
Which way Kone? (Sun) Norwich boss Chris Hughton wants Wigan striker Arouna Kone. The Ivory Coast star has a £6million get-out clause written into his contract. And Hughton reckons that is good value for the hotshot, 29, who scored 13 goals last season and helped the Latics win the FA Cup. But the Canaries faces stiff competition from new Everton boss Roberto Martinez, who brought Kone to the DW less than 12 months ago. Liverpool and newly-promoted Crystal Palace are also monitoring the situation.
Garcia to replace Poyet at Brighton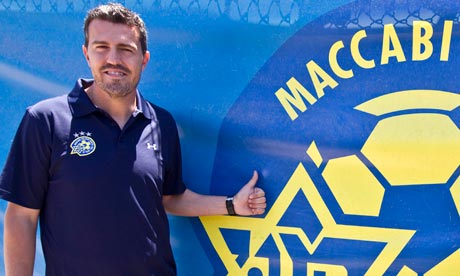 Brighton line up Oscar García as possible successor to Gus Poyet (David Hytner, Guardian) Brihton & Hove Albion have lined up the former Maccabi Tel Aviv manager Oscar García as Gus Poyet's potential replacement. Poyet, who was suspended by the Championship club last month for alleged breach of contract, attended a disciplinary hearing on Thursday that was aimed at resolving his dispute with the chairman, Tony Bloom. It is expected that an announcement regarding the findings will be made on Friday. But there appears to be no way back for Poyet at the club he joined in November 2009 for his break into management and the pressing issue concerns the terms of his departure. He is under contract until 2016 and it could cost Bloom around £2.5m to pay him off. Bloom does not want to pay.
Gus Poyet says he is to appeal Brighton sacking and said he heard the news while on air (Matt Somerford, Daily Telegraph) Gus Poyet has confirmed he plans to lodge an appeal against Brighton's decision to sack him as manager, ­saying he only heard of the news when he was handed a copy of the club's statement by the BBC.Brighton released a statement yesterday afternoon revealing Poyet's exit following a decision by the Champion­ship club's internal disciplinary panel a day before the players return for pre-season training. The statement claimed the club had informed Poyet of the decision, but he denied that live on air saying he learnt the news while acting as a pundit yesterday on the Confederations Cup match between Spain and Nigeria.
Newcastle
Newcastle United owner Mike Ashley has tainted club, claims former director Denis Cassidy (Luke Edwards, Daily Telegraph) A former Newcastle United director has accused Mike Ashley of ruining the club's reputation and alienating its supporters during six traumatic years as owner. Denis Cassidy, who was on the board in the 1990s at St James' Park during Sir John Hall and Freddie Shepherd's time in charge, insisted that Newcastle were a "gem" of a club tainted by "the garbage of its recent history" thanks to Ashley. The billionaire owner of the Sports Direct chain once again incurred the wrath of fans last week by appointing Joe Kinnear, an unpopular former manager, as director of football with complete control of the football side of the business. That has led to widespread accusations that manager Alan Pardew has had his authority undermined and led to the resignation of managing director Derek Llambias.
Why you need a VPN?
Cut chords:
Watch everything (Netflix, BBC iPlayer, Hulu) online using a VPN.
Unlock geoblocking:
A VPN gives you access to the best content from anywhere in the world.
Privacy & security:
A VPN keeps your information private, activity encrypted & data anonymous.
Just $6.67 a month + 3 months free!
Best football betting tips & free bet offers
Click here for more Premier League betting tips
---