"There was something reassuring about the fact that for once an England team were being sent off to a major tournament without the clamour of a revivalist meeting. This time England at least seemed cured of the hubris that in the last decade or so has made them raging favourites in their own minds" – James Lawton
Comment & analysis round-up
Quote of the day: "I'm writing to you because I care deeply about the club, the team and the fans. I hope against hope that Messrs Gillett and Hicks will see this letter, or some portion of it, and do the right thing. In holding on and holding out, they risk damaging a sporting institution of global renown and if they have any conscience or nobility they will stand aside and allow new owners to take over the club for its future benefit and that of its lifeblood – the club's fans…  We did our due diligence on Messrs Gillett and Hicks and if we're guilty of anything it is that, after four years searching, we may have been too keen, too ready to hear the good news that George and Tom had passed their tests… I hugely regret selling the club to George Gillett and Tom Hicks. I believe that, at best, they have bitten off much more than they can chew. Giving them that benefit of the doubt – that they started off with grand ideals that they were never realistically going to achieve – I call upon them now to stand back, accept their limitations as joint owners of Liverpool Football Club, acknowledge their role in the club's current demise, and stand aside, with dignity, to allow someone else to take up the challenge. Don't punish the club's supporters any more – God knows they've taken enough. Take an offer, be realistic over the price, make it possible. Let the club go. It is a sign of strength, not weakness, to concede for the greater good." – Former Liverpool chairman David Moores in an open letter to The Times.
Runner-up: "For the moment I can assure fans that Fernando will continue at Liverpool next season. Everything is down to Liverpool's attitude but for the time being Fernando is happy at the club and has a good contract. Liverpool have not spoken to us about his future, so he is just concentrating on playing at the World Cup." – Torres' agent, Jose Antonio Peton.
Today's overview: Liverpool fans have plenty to think about this Wednesday following David Moores comments to The Times (see quote of the day), while England fans sweat over the fitness of Barry as contingency plans begin to take shape.
Selling Liverpool: Following the publication of David Moores's open letter in The Times calling for the removal of Hicks and Gillett from Anfield, Helen Power investigates the current financial plight of the Merseysiders. "Tom Hicks and George Gillett Jr are holding out for an offer of at least £600 million for Liverpool, but have yet to find a serious buyer more than a month after putting the club on the market. The Times has learnt that while that is the price tag set by the American owners, Royal Bank of Scotland, the club's lender, values Liverpool at closer to £400 million and may put pressure on the pair to lower their demands to secure a sale."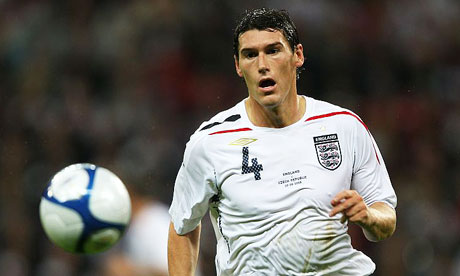 England's World Cup Watch: Michael Carrick, Tom Huddlestone, Scott Parker and James Milner will be far from encouraged this Wednesday as the big news surrounding England relates to Capello's decision to give Gareth Barry until the last minute to prove his fitness.
Dominic Fifield chugged "Capello has long insisted he would not carry an injured player into the finals, though his reliance upon Barry has been clear through his reign to date, and was reinforced by Mexico's alarming dominance of possession for long period's in Monday's friendly at Wembley." And in a supplementary article Fifield fleshes out Barry's importance to the Three Lions. "Barry does not snap into challenges like Claude Makelele in his pomp, or intimidate the opposition into shrinking away as Patrick Vieira once did. Yet he is quietly and busily efficient both at harassing his markers into relinquishing possession and, critically, in shifting the ball on to a team-mate to give England their rhythm."
Slightly worrying, Jason Burt believes that Steven Gerrard may be used to compensate for Barry if the Manchester City midfielder fails to gain his fitness in time for South Africa. "The make-up of the squad, and Capello's reservations, suggest that he will also now consider moving Steven Gerrard into the holding role. The Liverpool captain has the aggression and ball-winning ability that some of the others, such as Carrick and Huddlestone, lack. He can also pass as well, if not better than the other two – and certainly better than Parker or Milner. It is a role that may not get the best out of Gerrard, especially as Capello has worked hard to find him a position in the team which allows him to attack freely and closer to goal and link with Wayne Rooney, while still preserving the shape of the team."
The idea that Gerrard will be sacrificed as a holding midfielder is also picked up Sam Wallace. "What is the real Steve for England? It is a question that has followed him around since he made his debut at the old Wembley 10 years ago on Monday and wrote his name into Kevin Keegan's squad for Euro 2000. Now, with Gareth Barry in a desperate struggle to be fit, 'the real Steve' could well be as a holding midfielder for England – as a defensive player rather than a creative one."
Martin Samuel criticises any attempts to play Gerrard in a defensive role. "There are only two options for Gerrard in Capello's central midfield. The first places him in one of the two guarding positions, next to Lampard, which he lacks the discipline to do and would hate; the second displaces Wayne Rooney from the second striker role. Rooney was the top goalscorer in the European sector of World Cup qualifying. Why would Capello want to tinker with a successful plan like that?"
Looking at England's wider problems, a dizzy Oliver Kay feels that the Three Lions are stuck in a time warp. "With barely a fortnight to go before England play the United States in their opening game of the 2010 World Cup… Fabio Capello found himself discussing the dilemma over his first-choice goalkeeper; the pros and cons of Emile Heskey; even, perhaps the ultimate throwback, the possibility of using Steven Gerrard and Frank Lampard together in central midfield. It was 2007 again. It was 2006. It was 2004. It was 2002."
Swimming against the tide and looking to boost England's morale, Matt Lawton bleats in the Daily Mail that "Fabio Capello received the World Cup boost he was praying for on Tuesday night when Gareth Barry told the England manager to count him in for South Africa."
Turning negatives into positives, James Lawton celebrates the issues engulfing England as they prepare to head to South Africa arguing "Capello has finally rid England of that self-appointed favourites tag… There was something reassuring about the fact that for once an England team were being sent off to a major tournament without the clamour of a revivalist meeting. This time England at least seemed cured of the hubris that in the last decade or so has made them raging favourites in their own minds. The "golden generation" were always just one tournament away from the ultimate vindication. Not on Monday, though."
The Wider World Cup Watch: Ian Herbert explains why Holland are unlikely to win the World Cup. "The defence is a problem. At left-back Giovanni van Bronckhorst seems vulnerable to a sharp turn of pace and some in the Netherlands view goalkeeper Maarten Stekelenburg – the first choice since Edwin van der Sar's retirement – as uncertain at crosses… Those who have studied the fixture permutations know that an even more unpleasant menace lies just beyond the group. If games go to form and the Dutch beat Paraguay in the first knock-out round, they are looking at a quarter-final against Brazil on 2 July."
Kydd Boyle reports on how Japan look to be doomed ahead of the tournament. "Japan coach Takeshi Okada offered to resign last night after his team lost to rivals South Korea. The moral sapping 2-0 defeat to a Korean side inspired by Manchester United's Park Ji-Sung has left the Japanese preparations in tatters. Following the result Okada asked the JFA president if he should resign."
Hammer Time: West Ham fans will be pleased to learn of a new cash injection into their club. Nick Szczepanik explains how "David Sullivan and David Gold, the co-owners of West Ham United, have increased their joint stake in the East London club from 50 to 60 per cent. The former Birmingham City owners raised each of their shares from 25 per cent to 30 per cent at a total cost of £8 million, with half going to CB Holdings, the Icelandic group from whom they bought the club in January, and half going to the club itself."
Andrew Dillon spins the investment story in a much darker light in The Sun. "West Ham owners David Gold and David Sullivan have been forced to bail out the club with another £8million cash injection. The pair yesterday increased their stake in the Hammers by 10 per cent to 60 per cent to plug a black hole in the finances."
It's not all good news though for West Ham fans as Rob Beasley announces "Steve Clarke has been sacked as West Ham coach – paving the way for Avram Grant to be appointed boss next week… Talks are under way to agree a pay-off which could be as much as £1.3million."
Transfer News: Another day, a new twist in the Cesc Fabregas-Barcelona saga.
Oliver Kay details how "Arsenal are coming under increasing pressure to sell Cesc Fà bregas after his father urged them to 'respect' his son's wish to join Barcelona… The comments by Francesc Fà bregas Sr, in an interview with Radio Marca, have been regarded at Arsenal as the latest stage in Barcelona's campaign to weaken their resistance, but Arsène Wenger and the club's board have agreed upon a firm stance that their captain will not be sold — unless, of course, they receive a bid so big that it is too good to turn down."
Stopping short of calling it tapping-up, Jeremy Wilson argues that Barca have taken a leaf out of the Madrid transfer playbook in trying to lure Cesc. "It appears that the strategy from Spain is to gradually talk up the deal both in public and private. Such tactics would follow the pattern of Real Madrid's pursuit of Cristiano Ronaldo and are sure to anger Arsenal as they simply create maximum uncertainty without bringing the situation to any resolution."
The Telegraph announce the long-standing rumour that "Arsenal manager Arsene Wenger has made Fulham goalkeeper Mark Schwarzer one of his priority targets in this summer's transfer window." The Daily Mail add the long-standing guff that "Arsenal are still interested in Palermo's £10m-rated defender Simon Kjaer and Dinamo Kiev's Senegalese centre half Pape Diakhate," while also linking Werder Bremen's Per Mertesacker with a move to the Emirates.
Birmingham have all but sealed a £6m deal for Serbia striker Nikola Zigic from Valencia, according to Stuart James. In a separate article Stuart James also reports that "Tottenham Hotspur are interested in signing the Aston Villa defender Curtis Davies in a deal that could mean Jermaine Jenas moving in the opposite direction."
The Daily Mail's invisible hack spews a never-gonna-happen swap deal, claiming "Lokomotiv Moscow will resume talks to sign Tottenham's Roman Pavlyuchenko next month and are prepared to offer Peter Odemwingie in part-exchange." The Mail also claim that Sunderland have overtaken Wigan in the race for Argentina striker Mauro Boselli, as well as reporting that Panathinaikos have joined the race for West Brom midfielder Robert Koren.
Shaun Custis farts "Micah Richards could make a £9million summer switch to Spurs," while red-top rival David Anderson hurls "Manchester United are lining up a £20million swoop for Real Madrid star Rafael van der Vaart."
Elsewhere, Spurs need to stump up £15millionto snare Steven Pienaar, John Carew is heading to either Fiorentina or Sampdoria with the Villains looks at Spurs' Robbie Keane or Fulham's Bobby Zamora as replacements, while Liverpool are reportedly interested in Villarreal striker Giuseppe Rossi.
---
GAMBLING CAN BE ADDICTIVE, PLEASE PLAY RESPONSIBLY