"There is an inescapable feeling that circumstances are conspiring against the Spanish manager and the downward spiral that Liverpool have been on for the last three months shows no sign of coming to an end" – Tony Barrett
Comment & analysis round-up
Quote of the day: "The result and the way it happened just about sums up our Champions League campaign. Another last minute goal and we are disappointed with that for the third time in this group. Now we must be ready for the next game at home to Arsenal on Sunday. We worked so hard, we had chances, but they are the only positives that we can take from the game. We were trying to be positive after three clean sheets and six games without losing, so it is really disappointing that that has gone. We know Arsenal is a very important game for us because it is a chance for us to be closer to the top against one of our rivals. We know it can give us more options and could be a new start to the season for us." – Rafa Benitez.
Runner-up: "My big fear is that they are in meltdown. They are hundreds of millions of pounds in debt and if they don't get into the Champions League, the banks will be knocking on the door. If they don't qualify for the Champions League, the big players won't want to join. That would be the first time in as long as I can remember. They are hundreds of millions of pounds in debt and they need a new stadium to keep up with the rest and just stand still. Every year they are dropping off the pace so they need a new stadium. If they don't get to the Champions League the banks will be knocking on the door wanting to replace the income stream that the Champions League would give them. All those scenarios are frightening for Liverpool supporters." – Graeme Souness.
Today's overview: Sorry Liverpool fans. The Merseysiders chalked up yet another Champions League disappointment on Wednesday night and the fourth estate make sure to flag up Benitez's latest setback.
Referring to a "funeral farewell to the Champions League," Andy Hunter noted how "the competition in which the Liverpool manager excels has ended for this season, while the recent clean sheets and unbeaten record he had cherished also disappeared." Next to fire at the Reds was Tony Barrett, who commented "Liverpool's Champions League campaign was brought to an ignominious end last night when they were beaten 2-1 at home by Fiorentina, a result that condemned them to the embarrassment of entering the Europa League without being seeded."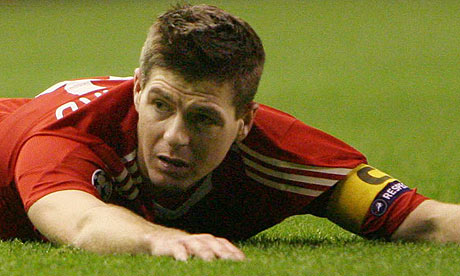 In a separate article, Tony Barrett speculates whether the Scousers are victims of fate. "In many ways, this was a hard-luck story for Rafael Benítez and his players… there is an inescapable feeling that circumstances are conspiring against the Spanish manager and the downward spiral that Liverpool have been on for the last three months shows no sign of coming to an end."
Henry Winter reviewed the starting debut of Alberto Aquilani. "Aquilani mixed economy and elegance. For someone who has struggled to understand the rapid Scouse that flows from the mouth of Steven Gerrard, the Italian had little problem communicating with the Englishman on the pitch, the pair striking up a decent understanding. Aquilani settled well, often ghosting forward to materialise suddenly in Fiorentina's area. His running style carries echoes of Jamie Redknapp, formerly of this parish and with a similarly unfortunate injury record."
Staying with the Italian, Rory Smith insists that Aquilani is not the new Alonso. "Aquilani is not, as his predecessor was, a doyen of the 60-yard ball, and he is almost certainly not going to score from inside his own half. There are similarities, of course – both have a predilection for the reverse ball, both see angles most midfielders remain in blissful ignorance of – but Aquilani is not a replacement, so much as an alternative."
The future for Liverpool also carries with it a sense of desperation according to Rory Smith, who noted that "Benitez has asked his players to put the woeful run of form which has cost them their place at Europe's top table behind them and treat their clash with Arsene Wenger's side, crucial if Liverpool are to keep touch with the contenders for a Champions League slot… as a new dawn."
Arsenal also suffered defeat at Olympiakos in the Champions League, but, having played a team of youngsters, Arsene Wenger's side receive only limited criticism in the backpages. Jim van Wijk set the tone commenting "Arsene Wenger can rarely have enjoyed a defeat so much."
Tom Dart, in fact, spluttered "it is impossible to do anything but predict a shining future for Arsenal's greenhorns on this evidence. Fran Mérida, Ramsey and Jack Wilshere, the 17-year-old, unpicked the Greek defence with a delicate wit," while accepting that "Arsenal were less sure at the back, which was inevitable since Tom Cruise – remember the name – and Kyle Bartley were debutants. Kerrea Gilbert, a veteran at 22, has played more than 50 times in the Coca-Cola Championship on loan at Cardiff City and Leicester City, but was never convincing."
Staying on the Gunners ropey and inexperienced defence, David Hytner commented "it was quite a baptism for Cruise. The 18-year-old left-back had to contend with Olympiakos's best player, the winger Luciano Galletti, and he was sometimes short of covering assistance. The right-back Gilbert and the centre-half Bartley's positional sense will improve with more experience at the highest level."
Shifting attention to Wednesday night's other matches in the Champions League, Bill Edgar talks down the chances of Inter Milan to win the competition. "[Mourinho's] Inter side have looked well short of the standard required to challenge for the trophy. Despite beating Rubin Kazan 2-0 at the San Siro last night, they suffered a few nervous moments against opponents who have just clinched their second consecutive Russian league title."
Little Mickey continues to demand column inches after his hat-trick at Wolfsburg, although Matt Hughes arguably goes too far in stating how far off the England team the striker apparently is. "Owen is behind Wayne Rooney, Defoe and Darren Bent in the second striker pecking order — as well as Emile Heskey, Peter Crouch and Carlton Cole if the big men are taken into account — and even if he suddenly rediscovers the best form of his career, it is unlikely he will get past Defoe, who has scored 12 Premier League goals to his two this season."
Are West Ham United about to come under new ownership?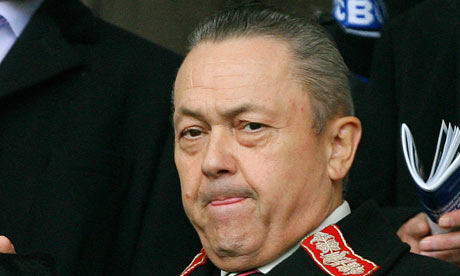 Stuart James reports "David Sullivan and David Gold, the former Birmingham City co-owners, have made an offer of about £42m for West Ham United… The offer outlines two proposals. One is to buy West Ham outright and assume full control and the other is to purchase a 50% stake that would come with the guarantee of funds for new players. It is believed that would see Gold and Sullivan pay about £21m for a 50% shareholding and the same amount to service the short-term debt and strengthen a threadbare playing squad when the transfer window reopens."
The Eastenders are not the only club who may change ownership in the near future, with Jon Brodkin announcing "Notts County are the subject of a fresh takeover bid, involving Sven-Goran Eriksson, it is reported today.  Eriksson, the League Two club's director of football, and Peter Trembling, the executive chairman, are said to have teamed up in an effort to buy out the existing owners. A third mystery backer is also said to be involved."
Dominic Fifield delivers a mixed bag for Chelsea fans this Thursday, detailing how Michael Essien will be sidelined for "three to four weeks" with a damaged right hamstring and that "[Ghana] will want Essien, such a key player, to complete his recovery with them at the [African Cup of Nations,]" but on
the upside "Chelsea are one of a number of clubs to have watched the Ajax forward Luis Suarez in recent weeks… [while] a more plausible option for Ancelotti would be the Italy forward Giampaolo Pazzini, a player he greatly admires with the 25-year-old potentially available from Sampdoria for around £19m."
Sam Wallace also flags up the Suarez-Chelsea story, reassuring readers that "Suarez would be available to play for Chelsea in the latter stages of the Champions League, even though he has represented Ajax in the Europa League this season."
Onto the transfers, where John Ley begins by snuffing out the rumours of Robbie Keane moving to Celtic. "Daniel Levy, the Tottenham chairman, will on Thursday assure supporters that, having built the club's best squad for years, he will not jeopardise their push for next season's Champions League by selling off key players… That is likely to mean that Robbie Keane, linked with a move to Celtic this week, will remain at White Hart Lane while Roman Pavlyuchenko will leave only if Spurs receive an offer similar to the fee of £14 million they paid to Spartak Moscow for the Russian."
Staying with Spurs, Simon Jones EXCLUSIVELY splashes with the rumour that "Liverpool have targeted Tottenham misfit Roman Pavlyuchenko in a surprise January move which could see Ryan Babel head in the opposite direction." The Anfield giants are hoping to shift some more dead weight according to Tony Barrett, with "Roma ready to take [Andrea Dossena] back to Serie A when the transfer window opens next month."
According to the Daily Mail, "Stoke are lining up Red Bull Salzburg striker Marc Janko  as a possible replacement for James Beattie. Their scouts watched the 6ft 6in Austrian against Lazio last week. Janko, 26, scored 39 goals in 34 games last season." The Mail continue by announcing how "Birmingham [are taking] Slovakia striker Jan Novak on trial with view to £2m move."
John Drayton unconvincingly links Sol Campbell with Hull and Everton, while the Daily Mail claim "sources in France have revealed there is a queue of clubs forming for [Luis] Saha, who is out of contract in the summer and is free to sign Bosman terms with foreign clubs from January. Roma, Bordeaux and Atletico Madrid are said to be among the sides interested while Sunderland are also monitoring Saha's situation."
In the rest of the gossip, Blackburn are linked to Ruud van Nistlerooy in The Sun, West Ham are mooted to be circling James Beattie, while James Nursey announces "QPR will sack manager Jim Magilton after his furious bust-up with Akos Buzsaky. They already scouring for a replacement with Gareth Southgate a shock contender."
Finally, Harry Redknapp makes himself look slightly stupid this Thursday by comparing Michael Owen to Henrik Larsson and Sol Campbell. "Campbell can do at the back what Henrik Larsson did up front for Manchester United two years ago… I don't know if he will go to Old Trafford, or if Sir Alex is interested, it would make sense. Larsson was successfully persuaded to come out of retirement and Sol – at 35 a couple of years younger – would also be one of those 'golden oldies'. In fact, Sir Alex has already turned to one golden oldie and is getting the rewards for backing his judgment in signing Michael Owen when few would touch him."
So how old is exactly is Michael Owen? Listen to the Manchester United striker discuss his age here.
---
GAMBLING CAN BE ADDICTIVE, PLEASE PLAY RESPONSIBLY