"There is a dearth of quality young players, not only in English football, but among all four home nations" – Alan Hansen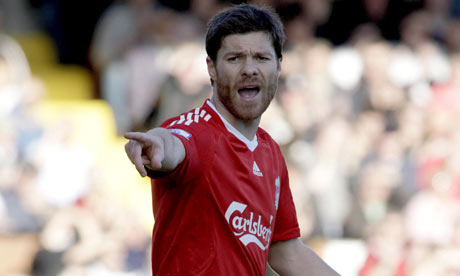 Comment & analysis round-up
Quote of the day: "Xabi [Alonso] is a magnificent Spanish player, so of course we'd love to have him. But everything would involve reaching an agreement with [the Liverpool manager] Rafael Benitez. It will need to be an agreement that is in the best interests of both clubs." – Florentino Perez.
Runner-up: "I don't say it lightly, but we must think we can be as good or even better than Barcelona. It's the belief of everybody at this club that we can become the best and I think we have really moved forward in the last two seasons. Liverpool are just as famous as Barcelona as a football club and even more famous trophy-wise. But we want to make Liverpool as successful in this era as they were in the '70s and '80s." – Fernando Torres.
Today's overview: As the debacle worsens by the day on Tyneside, English sport is facing a potential far-reaching crisis as Setanta are on the brink of folding. But as the long summer nights take hold, all the hacks can think about is whether England can win the 2010 World Cup.
The breakdown between Newcastle United, Mike Ashley and Alan Shearer appears to be widening by the day, Louise Taylor reporting the Super Al "is said to be 'angry and frustrated' that Newcastle's owner is clearly stalling on making a managerial appointment and implementing team-rebuilding plans." Gordan Tynan lifts the lid further by claiming "the news that [Mike] Ashley has hired the First Artists agency to begin a sale of a number of the 15 players on the club's books who earn more than £50,000 a week is unlikely to ease Shearer's fears over taking on the manager's position full time."
John Wardle attempts to take the sting out of the situation by announcing "there is said to be 'real and decent interest' as [Mike Ashely] attempts to call time on his brief and hugely expensive association with the club, but it will be at least two weeks before any decision will be made."
Taking a step back, Martin Samuel casts his critical eye on how Mike Ashley has screwed up royally at Newcastle. "If Ashley drives Shearer away, as he did Kevin Keegan, by contrast he will have successfully alienated two of the club's biggest heroes. It is as if he wilfully devises ways to drive a wedge between himself and the public. Short of claiming Jackie Milburn was rubbish, compared to Len Shackleton, or getting the team to run out to Maybe It's Because I'm A Londoner, there is not much more he can do."
There is the sense that the dark cloud of ITV Digital is hanging over Setanta.
The terrible news this Monday, as reported by Matt Scott, is that Irish broadcasters Setanta are on the brink of collapse – although the Premier League appear to have safeguarded their agreement. "Having planned their budgets on the basis of the revenues arising from Setanta's pledges, sports organisations and clubs will be forced into an uncomfortable recalibration of their expenditure. Some, including the FA with its £175m four-year deal and the Premier League (whose contract with Setanta is worth £130m for the broadcast of 46 matches a year) benefit from shareholder guarantees ensuring they will be paid even if the company fails."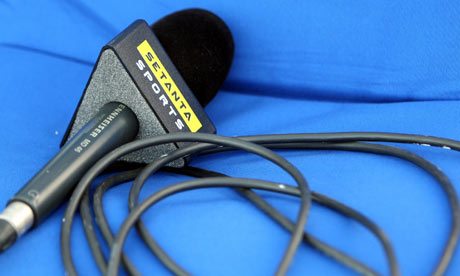 James Robinson continues the analysis of how Setanta arrived to this nightmare position. "Setanta's 1.2 million subscribers already fall short of the 1.9 million that consultants at Enders Analysis estimate it needs to break even. Subscribers are expected to leave unless Setanta can reach a deal with the Premier League. If the money can't be found, the company, which analysts estimate loses between £25m and £50m a year, could be forced into the hands of the receivers." Paul Kelso suggests a possible solution to the Setanta meltdown, writing "the broadcaster's best hope of survival may now be a buy-out by ESPN, which is seeking an enhanced European profile."
With all the talk of a financial downturn at Liverpool, Sam Wallace makes the case that Rafa Benitez is excelling himself by making the Reds' title challengers. "Benitez can do some odd things: that rant at Sir Alex Ferguson last season or his Soviet-style purge of the club's long-serving academy staff. But somehow, amid the financial wreckage, he has also built a team that can beat Real Madrid and Manchester United."
Turning focus onto the Three Lions, Patrick Barclay reaffirms his belief that England can win the 2010 World Cup. "I see no reason to alter the view that they can be world champions 13 months from now… There is a lot for this team still to learn, not least patience in possession, but 13 months is a long time in which to close the gap on Spain." But this is far from a consensus opinion, Sam Wallace firing back that "England are still a long way from the team that might confidently go into a game against Spain or Argentina knowing they can out-play their opposition."
For Kevin Gardside England's biggest problems are mental. "Confidence, confidence, confidence. It is the mantra that answers every question; the area of the game that is least understood in these islands where failure is invariably attributed to inferior technique. It drives Capello mad." Yet others look to more tangible reasons to argue England's success, with Scot Alan Hansen offering a detailed dissection on why England will not win the 2010 Wolrd Cup. "There is a big question mark over the goalkeeper position and England still do not have a centre-forward. Those are two big positions to fill but, on the surface, you cannot see anybody out there… There is a dearth of quality young players, not only in English football, but among all four home nations. In England's case, that is summed up by the fact that their key players are still the same ones that were the heart of the team in 2006."
Picking on Theo Walcott, Matt Hughes argues that the Arsenal winger needs to pick his game up for England. "The man responsible for kick-starting their qualifying campaign is looking a little boy lost. Walcott's breathtaking hat-trick in Croatia last September feels a distant memory, as long ago as the days when Gordon Brown could rely on receiving a standing ovation at the Labour Party Conference."
Having watched Argentina narrowly beat Colombia, Gabriele Marcotti delivers some home truths over Diego Maradona's success as a manager. "The uncomfortable truth is that Maradona the player remains an otherworldly being. Maradona the coach, for now, seems to share too many traits with other legendary players who were fast-tracked into the job without any clear idea of what coaching and tactics mean."
Onto the transfers, where Tony Evans acts as Liverpool's mouthpiece to warn Real Madrid off of Xabi Alonso. "Sources at Anfield indicated that it would take a 'mind-blowing' offer by the Spanish giants to prise the 27-year-old away from the club. Liverpool made it clear yesterday that they have no intention of selling the Spain player, who has three years left on his contract. Alonso, however, has made it equally clear that he wants to move on."
There is a large helping of Spanish interest in the Premier League this Monday. Simon Jones notes that "Atletico Madrid are trailing Everton midfielder Steven Pienaar," while Gary Jacob claims "Espanyol want to sign Giovani dos Santos on loan with an option to buy from Tottenham." The Catalans also continue to shop in London, the Daily Mail headlining with "Espanyol line up £800,000 move for out of favour Chelsea striker Sahar."
Elsewhere, according to John Edwards another Premier League deal has been done after "Arsene Wenger agreed a £10million deal for Ajax centre-back Thomas Vermaelen," while suggesting that Kolo Toure is on his way out of the Emirates. Alan Nixon boasts that "Manchester United are ready to clinch a £17million deal for Wigan winger Luis Antonio Valencia in the next few days." While Birmingham continue to splash the cash this summer, Simon Jones printed how the Brum "are to sign the Standard Liege central defender Oguchi Onyewu and have made a new £5m bid for Cardiff City centre half Roger Johnson."
---
GAMBLING CAN BE ADDICTIVE, PLEASE PLAY RESPONSIBLY