"There are believed to be more anti-Russian comments from [Lord Triesman], with suggestions of a Russian 'mafia' at work at Roman Abramovich's Chelsea" – Ian Herbert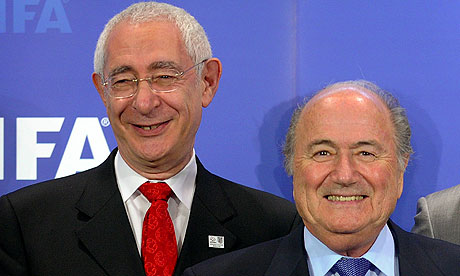 Comment & analysis round-up
Quote of the day: "Fifa can confirm that secretary general Jerome Valcke has requested its Ethics Committee to examine the alleged statements made by Lord Triesman in relation to the bidding process for the 2018 and 2022 World Cups. In addition, Fifa has sent a letter to the Football Association asking the FA to provide a report on this matter, including Lord Triesman's position. Fifa will not make any further comment on this matter until it has been dealt with by the Fifa Ethics Committee." – statement from Fifa.
Runner-up: "My goal is to remain with United, the best team in the world, and to see out my contract with the club. I know I have the qualities to do so. By joining Manchester United I have achieved everything I wanted. I want to ask why every second question I get is about where I am going next year. I wonder why the media don't wish me luck for my next year with United, but ask me where I am going." – Dimitar Berbatov.
Today's overview: The fourth estate's favourite sport of flogging a dead horse, and then flogging it some more, continues this Tuesday as Lord Triesman's sinking of England's World Cup bid appears to be past the point of repair.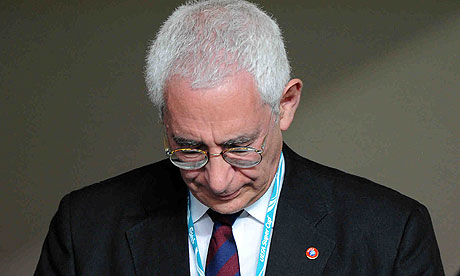 Triesman & the death of England's bid: Wondering whether England still have any hope of winning the bid for the World Cup were Matt Scott and Owen Gibson. "The new sports minister, Hugh Robertson, said he was convinced the affair need not fatally undermine England's chances of hosting the World Cup and urged the FA to use Lord Triesman's departure as a spur to fundamental reform. But the Guardian has learned that two members of the executive board that will decide England's fate at a vote in December now believe the bid has no chance of succeeding."
Countering to doom-mongers, Kevin McCarra still believes England can win the 2018 bid. "Ultimately, the hosting of the World Cup eight years from now will not be determined by a loose-lipped tête-a-tête in a restaurant. The fundamentals cannot be altered. Once the FA gets back on its feet there will be a reassertion of a potent case. Self-deprecation must not prevent anyone from declaring the appropriateness of siting the World Cup in England. The arguments have as much force as ever. This is a country with a passion for the game that is still vast despite all the grumbles about the conspicuous consumption of overpaid footballers. Attendances in even the lower divisions are virtually without parallel around the globe. The grounds that would be used for a World Cup are modern, safe and, unlike other bids, exist in reality rather than merely on the drawing board. Regardless of the resentment we all express over public transport, our infrastructure is comparatively advanced."
Also taking a more optimistic line was Oliver Kay. "There is a belief on the England 2018 board – and even among some on the Fifa executive committee – that the bid could gain, rather than lose support, as a result of Triesman's replacement by Thompson, but there is also concern at the time that will be lost in the clean-up operation."
Changing tracks somewhat, details about the second batch of Triesman revelations set to released are outlined by Ian Herbert. "The Football Association is braced for the publication of a highly personalised attack on those at the top level of the game considered by Lord Triesman to be 'greedy, corrupt and ignorant,' with the deposed chairman's former aide Melissa Jacobs understood to be in two minds about whether to share more revelations from her recorded conversation with him. The married Labour peer, with whom Ms Jacobs claims she was having an affair, is understood to have spoken at length to her about colleagues at the Football Association and at the top of the game in general and there are believed to be more anti-Russian comments from him, with suggestions of a Russian 'mafia' at work at Roman Abramovich's Chelsea."
And then there is the question that only few want to ask. Was Lord Triesman's accusation of bribery against the Spanish and Russian federations accurate?
Bravely, Oliver Kay delves into the murky world of Fifa politics. "A question: what if there were even a grain of truth in Triesman's claims? They have been dismissed as the ramblings of a fantasist or someone willing to tell tall stories to impress his dining companion. But that is at odds with the uncomfortable truth that has floated other disturbing theories about Fifa politics in private company in recent months… The notion of Spain attempting to "bribe referees" seems, to the right-minded observer, to be worthy of derision, but the trouble with football is that even more serious and seemingly more substantiated allegations go unchecked."
Gabriele Marcotti responds by throwing cold water on the bribery claims. " Was it just a throwaway line used to impress his young admirer? Or does Lord Triesman really believe that Spain and Russia are looking to conspire to bribe referees in the World Cup as he allegedly opined according to a Sunday newspaper?… There are no recorded cases over the past few decades of top-flight officials taking cash bribes to fix games. And, frankly, it would seem unthinkable that it would happen at a World Cup… While conspiracies can never be definitively ruled out, suggesting that one would unfold in the way Triesman allegedly described is, frankly, preposterous."
Finally on the Triesman scandal, the Mail on Sunday are strung up and quartered by the Independent as
Cahal Milmo
describes the public's backlash to the tabloid's actions. "The Press Complaints Commission said it had received 55 complaints about the story revealing details of a covertly recorded conversation… Radio phone-ins and websites, including the online version of the newspaper itself, were bombarded with complaints from England fans, who questioned whether a story based on private comments should have entered the public domain."
World Cup Watch: Poor Germany. The big news this Tuesday is that Michael Ballack will miss South Africa through injury, with Stuart James detailing "the 33-year-old has torn the medial collateral ligament in his right ankle and faces a minimum of eight weeks on the sidelines before he can return to training, ending his hopes of featuring in a third successive World Cup finals and depriving Joachim Löw, the Germany coach, of his talisman."
On the Three Lions, Ian Herbert happily scribbles "England are encouraged by Gareth Barry's initial recuperation from ankle ligament damage… Barry has brought forward the date of a critical medical examination of his ankle by six days to next Monday, the date of England's warm-up match with Mexico at Wembley, in the hope that he can defy preliminary medical expectations and make it into Capello's final 23-man squad."
In other news, David Brown reports on Al-Qaeda's threats to attack the World Cup. "A senior member of al-Qaeda who was arrested in Iraq two weeks ago was planning a terrorist attack during the World Cup in South Africa, security forces said… Al-Qaeda said earler this year that it hoped that "hundreds" of spectators would be killed in an explosion during England's match against the USA in Rustenburg on June 12."
Raising Funds: Bitter news this Tuesday for the Green & Gold campaign, as fresh funding has been secured by the Glazers in their latest business deal.
The Guardian report "Manchester United's London-based commercial team have broken the £200m barrier after announcing their latest sponsorship deal. The South American producer and exporter of premium branded wines, Concha y Toro, has been confirmed as their official wine partner… United's continuing global popularity is working to much more financial benefit than has previously been the case. It is presumably one of the reasons why the Glazer family continue to insist they have no intention of selling the club, despite huge debts."
Consolidation: It is usual for clubs to try to renegotiate contract extensions with their best players in order to fend off potential outside suitors, however at mega-rich Manchester CIty we now have the bizarre situation of a club trying to hold to it's Englishmen to fulfill quota requirements.
According to Daniel Taylor, "Roberto Mancini's plans for an extensive recruitment programme at Manchester City, with James Milner and Fernando Torres the main targets, will be accompanied by attempts behind the scenes to placate disaffected players such as Stephen Ireland and Shaun Wright‑Phillips in the light of the Premier League's new 'homegrown rule'… City's immense spending power is offset by the knowledge they will have to include eight homegrown footballers in a 25-man squad to be submitted at the end of the August transfer window."
Elsewhere, happily ignoring the crucial details, the Daily Mail's no-name reporter claims "Carlo Cudicini's incredible recovery from a career-threatening motorcycle accident has been rewarded with a new Tottenham contract."
Transfer Gossip: North London rivals Arsenal and Spurs are both referenced by George Caulkin in The Times, as we learn "Cesc Fà bregas is expected today to hold talks with Arsène Wenger about his future at Arsenal… Lokomotiv Moscow have said that they will reopen talks with Tottenham Hotspur about signing Roman Pavlyuchenko." Geoff Sweet adds in The Sun "Barcelona last night officially decided to approach Arsenal for Cesc Fabregas. A board meeting rubber-stamped the move and Barca boss Pep Guardiola is ready to offer Yaya Toure in part-exchange."
Staying in London, Jason Burt has fresh news for Hammers fans. "An official approach has been made for [Avram] Grant but West Ham have also asked to speak to Blackburn Rovers manager Sam Allardyce plus Ian Holloway and David Jones… here have already been talks about West Ham signing two Portsmouth players – Kevin-Prince Boateng and Jamie O'Hara." Simon Cass then charges in with the EXCLUSIVE that "Avram Grant is set to be unveiled as West Ham's new manager after agreeing a three-year deal at Upton Park," while The Mirror reports "Palermo's director of football has confirmed that Valon Behrami is on the club's wish list this summer."
Keeping with managers on the move, David Maddock claims "Inter Milan are preparing an official approach for ­Liverpool manager Rafa Benitez…Inter also have the Fiorentina coach Cesare Prandelli on their short-list, along with the Bayern coach Louis van Gaal."
The Daily Mail (as standard) shovels it's daily dose of transfer crap, beginning with the odd sight of Simon Jones, Neil Moxley and Ian Ladyman all joining forces to fart "Manchester City flexed their muscles again on Monday when they opened negotiations to take brilliant Brazilian David Luiz from under the noses of Real Madrid in a £25million swoop… It comes 24 hours after they began their £24m raid for James Milner."
Also in the pseudo-tabloid we learn that "Wigan Athletic have rejected Birmingham's £8million bid for Charles N'Zogbia," and that "West Ham hope to close a deal for France international Sidney Govou this week."
The Sun's Rob Beasley also dives head first into the transfer muck, hurling "Chelsea face fierce competition from Barcelona to sign Liverpool striker Fernando Torres. The Blues are expected to make a massive £50MILLION move for the 26-year-old hitman this month… The Blues are also closing in on another Anfield man, Yossi Benayoun."
Wrapping up the speculation, the Telegraph confidently pen "Manchester United goalkeeper Ben Foster is expected to complete a £6 million transfer to Birmingham City later today," while The Mirror claim "Celtic and Hanover both want to sign Robert Koren after Premier League new boys West Bromwich Albion decided against taking up their one-year option on the midfielder."
---
GAMBLING CAN BE ADDICTIVE, PLEASE PLAY RESPONSIBLY