"There's a moral to the story: he who found Diego Maradona's Hand of God goal a cause for hilarity and celebration will one day have it repaid by the spadeload" – Rod Liddle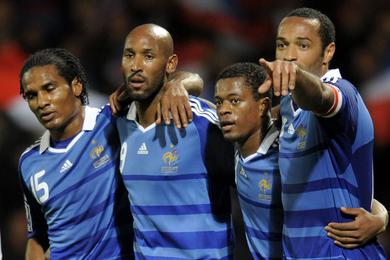 Comment & analysis round-up
Quote of the day: "In football, there are injustices all the time. Titi [Henry] does not deserve this. Leave him in peace. Who made the error? The referee. When I think that certain politicians want the game replayed, they do not know even if the ball is round or oval and they will be the first ones to go and drink champagne in South Africa [at the World Cup]. For me, I'll replay the game whenever you want: on the PlayStation… The debate on Henry? We should make him a statue. That the world's press destroys Henry is no concern. But that we, in France, put ourselves there, this is not possible. It needs to stop. If Titi had gone to the referee to have him cancel the goal and we had lost, the same people would be talking about his ego. Frankly, if he had done that, I would have said to him, 'Titi, you betrayed us.' The handball was an instinctive gesture. Which sportsman can look coldly at himself and pretend he wouldn't have done that? Who would have gone to see the referee to say that to him? Those people are hypocrites. We go to South Africa, that is it." – Patrice Evra.
Runner-up: "I probably had the best view, along with Shay Given and Keith Andrews. We were staring right at Henry. The initial handball, which he possibly couldn't have avoided, took the ball away from him, but he cut it back for himself with the second touch of his hand. That's what I saw and that is why I thought it was so clear. I asked the referee at half-time in extra time: 'Did you see it?' and he told me: 'I can 100% say it wasn't handball.' Those were his exact words. That is what made it even more annoying. I don't know how he can make a comment like that when he hasn't seen it. I also asked Henry on the pitch, 'Handball?' and he said: 'Yes, it was handball, but I couldn't help it.' He blatantly lied by saying it was unavoidable. I think he said the same thing to Richard Dunne when they were sitting on the ground at the end of the match." – Kevin Kilbane recants his view of Le Hand of Henry in the Sunday Times.
Today's overview: In a move straight out of left-field, news is abound that Golden Guus will participate at the World Cup. The Observer announce "Guus Hiddink could be set for a surprise move to become the joint coach of the Argentina national team with Diego Maradona. Hiddink's Russia failed to reach the 2010 World Cup finals last week but the Dutch coach has been told to expect an approach from the Argentinian federation to work alongside Maradona."
Manchester City will be kicking themselves after letting victory slip through their fingers on Saturday at Anfield.
Andy Hunter sarcastically commented "City should seek a placenta cure for their lack of ambition when they next visit the besieged Belgrade home of Mariana Kovacevic… Even with mitigation, however, this was a glorious opportunity wasted by City." Andrew Longmore also jumped on City's
failure to claim three points commenting "a point at Anfield would normally be regarded as a fine result, but not now and not for Mark Hughes and Manchester City, who have had more draws than the national lottery in the past few weeks."
Ian Herbert was also left asking questions of City. "Anfield might be a stadium where City have won only once in 32 games, but that statistic belongs to the days when Liverpool were the aristocracy and City the working class. Consider the strike forces on offer to the managers here for a full appreciation of how this was an opportunity spurned: for Rafael Benitez – David Ngog, bought for £1.5 million from Paris Saint- Germain in the summer of 2008; for Mark Hughes – Emmanuel Adebayor, Craig Bellamy, Roque Santa Cruz and Carlos Tevez, collective worth £90m."
Yet, if the CItizens let two points slip, the outlook for Liverpool is even bleaker.
Henry Winter coughs "their recent run now reads a solitary victory, albeit an epic one over Manchester United, in 10 outings and this week threatens more misery, more darkness. Liverpool are fighting two Champions League campaigns at once, battling to stay in this season's competition and struggling to qualify for next year's. Both dreams could effectively be terminated over the next eight days, filling the horizon with black clouds."
So what of Arsenal after their loss at Sunderland.
For Jonathon Wilson the Gunners' title hopes are almost close to extinction. "Although they have a game in hand, Arsenal now lie eight points behind the leaders, Chelsea; the match between the two at the Emirates next Sunday could break their season." Tim Rich drew similar conclusions in the Observer. "By the end, the gap with Chelsea was eight points and next week's meeting with Carlo Ancelotti's side already has the air of a decisive fixture."
Le Hand of Henry refuses the depart from the backpages.
Rory Smith talks up a ban which is hugely doubtful of ever materialising. "Thierry Henry could miss the start of the World Cup if Fifa's disciplinary panel decide that his handball in the build-up to France's winning goal against Ireland in Paris last Wednesday night constituted 'unsporting behaviour.'" That said, Henry Winter supports the proposal to ban Henry. "Calls for a replay are misguided. However illegally achieved, results must stand otherwise appeals will follow every game and chaos will reign. Where Fifa can and must act is in punishing Henry by suspending him from the World Cup. Henry denied honest pros like Shay Given a chance of glory, so why should the Frenchman be allowed to adorn the tournament?"
Changing the debate, self-confessed Arsenal fan Piers Morgan absolves Henry of guilt, opting to lay into Roy Keane instead. "I was going to write a fairly critical column about Thierry Henry. As an Arsenal fan, I was stunned that one of my all-time heroes could commit that double handball horror and, more importantly, allow the crucial ensuing goal to stand… But then, just as my pencil was being sharpened to commit heresy, Roy Keane entered the debate, like the snarling, vile, putrid pitdog that he is… Was I really going to lambast someone like Henry for the first really dodgy thing he's ever done while Keane's still alive and, literally, kicking?"
Sick to the back teeth of Irish complaints, Rod Liddle comes out fighting in the Sunday Times. "My support for Ireland dissolved when this brouhaha began, when the politicians got involved, when they began to wreathe themselves in the luxury of perpetual victimhood — 800 years of British oppression and now this! And there's a moral to the story: he who found Diego Maradona's Hand of God goal a cause for hilarity and celebration will one day have it repaid by the spadeload."
Joining those fed up with the Henry-bashing is James Corrigan. "Henry is no more a cheat on this Sunday than he was last Sunday and if last Sunday this hypothetical question had been raised then the answer would have matched the reality: "Would Henry purposefully break the rules to give his team an advantage? Would he then admit to doing so?" We all know that the response would have been a resounding "yes, no". So why were we surprised? Because it makes us feel better, that is why. Our moral righteousness is as much a part of footballing culture as cheating is. And, quite frankly, it is just as pathetic."
In contrast to the money-grabbing Premier League, Paul Wilson investigates how the Bundesliga makes decisions with the good of the German game placed above any individual team's needs. "Full stadiums, massive crowds, affordable ticket prices, support from all sections of the community; name something desirable in a national pastime and Germany has it. There is no shortage of players to supply the national team, no embarrassing over-reliance on imported talent on the field or in the dug-out, and while Germany may no longer be automatic favourites to reach the final of any forthcoming tournament their ranking of fifth in the world puts them deservedly ahead of England and France. Perhaps most astonishing of all to English eyes, the Germans do not ask their public to pay through the nose for subscription television either."
Staying in Germany, Ian Hawkey details the latest news in the unraveling European match fixing scandal. "UEFA administrators are suspected of aiding match-fixers by supplying them with insider tip-offs on refereeing appointments… [while] up to 40 players are on the investigators' radar for allegedly helping to throw games."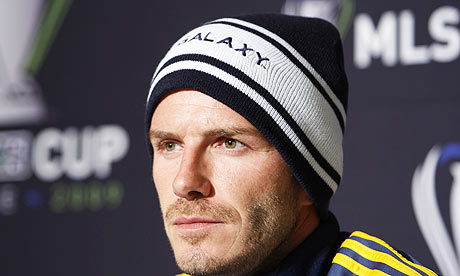 As David Beckham prepares for LA Galaxy's MLS Cup final against Real Salt Lake, Jamie Jackson assesses how Goldenballs is involved in American soccer for the long haul. "There has been plenty of sneering since David Beckham's hyped-up move to LA Galaxy two years ago, but much of it ignores the fact that there has been an upward shift in football's popularity and profile, so much so that Beckham himself is likely to stay in the States for a while yet and invest his own money in the game."
In an EXCLUSIVE which barely gets the pulse racing, Ian Ladyman over-hypes the news that "Arsene Wenger is being targeted for a lead ambassador's role by England's 2018 World Cup bid team in a bid to inject new impetus into the campaign."
And then come the transfers.
Simon Mullock kicks off the usual Sunday lies farting "Ruud Van Nistelrooy is being lined up for a New Year move to Liverpool." In a separate article from Simon Mullock, the hack claims Micah Richards is demanding showdown talks with City boss Mark Hughes, with "Aston Villa will make a move for Richards in the New Year if he does not get the answers he wants."
The Sunday Mirror suggest that Chelsea will be shopping in the kiddies' section again this Christmas. "Chelsea are favourites to land Ipswich wonder boy Connor Wickham. The 16-year-old, 6ft 3in striker became the youngest player ever to appear for the Championship club last season – and he's attracted attention from all the top clubs in the Premier League."
The News of the World then inject a heap-load of new transfer lies, starting with Martin Hardy's report that "Steve Bruce plans a double raid for Argentine hitman Diego Buonanotte and Mexican winger Nestor Calderon." Next, Tom Lake chimes in with "Manchester United have been rocked by CSKA Moscow's decision to slap a £25million price tag on goalkeeper Igor Akinfeev," before announcing "United are poised to make a £5million move for Argentine wonderkid Daniel Villalva." Elsewhere, Luke Nicoli links Spurs' Alan Hutton to Everton.
The People also get in on the transfer gossip, Tom Hopkinson shouting "Chelsea will sign striker Sergio Aguero for £35million in January – then loan him straight back to Atletico Madrid for the rest of the season."
Lastly, the managerial-merry-go-round is spun by Martin Hardy, who invents the story that "Alan Shearer  is favourite to take over as Sheffield United boss if Kevin Blackwell is sacked. The Bramall Lane chief is on the brink of losing his job after a dramatic slump that has left the club floundering way off the play-off spots."
---
GAMBLING CAN BE ADDICTIVE, PLEASE PLAY RESPONSIBLY