"The way the Arsenal fans behaved towards me was not nice at all" – Emmanuel Adebayor
Comment & analysis round-up
Quote of the day: "I am certainly mistaken in thinking he was coming towards me to throw punches at me. Now I know, obviously, he had been struck, reacted and thought the strike was by me and he came into me and that's when I reacted. I am sorry about the whole incident… It was very difficult at the time to explain to police why I did throw that first punch. We were arguing and I told the police I felt that Marcus came towards me and that's why I raised my arms. I firmly believed Marcus came towards me to hit me. I grabbed the back of his jumper as he moved forward to me. When I had hold of Marcus, I remember swinging my right hand two or three times." – Steven Gerrard.
Runner-up: "At the end of the day, I play my game, whether I get booed or not doesn't matter to me… It is not about whether I can move on. To be honest, all I'm going to do is play my football, and as long as it's good enough for myself and the team nothing else matters. I don't like my family seeing that and hearing that (abuse), from an organised group of fans. I think it was disrespectful, some of the things that were being said and also some of the banners, but it is what it is." – David Beckham.
Today's overview: There is no shortage of big talk and transfer gossip today. Emmanuel Adebayor leads the way but the likes of David Gill, Fernando Torres, Deco and Lee Bowyer all attempt to liven up the pre-season with some fighting talk.
Emmanuel Adebayor could probably have expected a hot reception when he returns to the Emirates, the Togo striker is now guaranteed one after his comments in The Sun this morning. Adebayor: "The way the fans behaved towards me was not nice at all. I can't understand why they were after me. I did my best for them and I was very happy there. I scored 30 goals in a season – it's not my fault that Milan, Barcelona or Real Madrid wanted to sign me… In any summer, Barcelona try to sign Cesc Fabregas. But the fans never turned on him."
Ian Herbert analyses Adebayor's comments in South Africa yesterday. "The words always tend to tumble out, pell-mell, when Emmanuel Adebayor is holding court and there is often a sparkle in the eyes but he has even more reason to talk for Togo last night after bowling into the team hotel where Manchester City have taken up residence here on the outskirts of town… The depth of the frustration Adebayor evidently feels towards Arsenal's fans suggests the move north is for the best and when it comes to hurdles – this one is his highest, he says – he has always prevailed in the past."
Another ex-Arsenal striker has advice for Arsene Wenger this morning, Thierry Henry said of Fabregas' future: "it is vital [Cesc stays]. He's the Arsenal captain, he's young, and I am sure he wants to give something back to the club. Knowing Cesc, that's really important."
Patrick Barclay has been following Manchester City on their tour of South Africa, The Times scribe wrote of the team's meeting with Nelson Mandela. "The players sang "happy birthday" to the great man, who was 91 on Saturday, and gave him a signed shirt. Several were close to tears, caused less by any deterioration in his condition than his sheer presence.  He was said to be in fine form, cracking jokes at the expense of some players, saying that the baby-faced Robinho was too young to be a footballer and warning them that they would find it tough in the final at Loftus Versfeld in Pretoria."
The main story in The Times today is how "David Gill, the Manchester United chief executive, launched an impassioned defence of the club's transfer policy last night, suggesting that other clubs' fortunes depend on the whims of their fabulously wealthy owners." Gill: "I don't know if obscene is the right word to describe the current spending, but it has gone to very high levels, if people have paid it, then they obviously don't think it's obscene. We have our own models and targets and we are operating within those. We are not at the whim of someone pulling out and being disinterested. That is the issue, clearly, but you'd have to speak to those clubs about their plans."
Ian Herbert in The Independent questions whether Manchester United can rest on their laurels for too long. "For a sense of the clubs and individuals who keep Ferguson awake at night, observe those for whom he reserves his venom. Rafael Benitez was last season's target, increasingly so as the season went on and Liverpool loomed over his shoulder like some plague. Expect some serious vitriol from him for Manchester City in the days and weeks to come."
The Times also feature another title contender, with Fernando Torres confident Liverpool can win the Premier League. El Nino: "Maybe this season will be more important because we have a fantastic squad and we can play better than last season. I came to Liverpool to win trophies and I am sure that this time we can win the Premier League or the Champions League."
Deco continues the theme of big talking today: "It was the right decision to come to Chelsea, I will be here, I have a contract and I will do my best. I hope this season I don't have the injuries and can play the way I know. I hope to show fans what I can do. I am happy to be here. The club is good, the atmosphere around it is good. I like being here. I just need to play and be fit. To play and do my best for Chelsea."
As ever, there is no shortage of transfer gossip/rumours and lies.
Arsenal fans can console themselves with the loss of Adebayor as Dutch hitman Klaas-Jan Huntelaar could be on his way to the Emirates, according to The Sun (who clearly just pulled the story from Marca yesterday). "The Dutchman, 26, has turned down Stuttgart in favour of a move to the Premier League. And the Gunners are confident they can outbid Tottenham with an offer of £16.5million." The Sun also claim "Arsenal are poised to make a move for Lorik Cana."
The Sun also suggest that Steve Finnan will return to the Premier League, Mark Viduka is on his way to Hull, Birmingham have targeted Elliot Grandin, Pompey are eyeing Christian Poulsen and West Ham are tracking Lyon defender John Mensah. The Mail also make claims over the Juventus midfielder, with West Ham and Tottenham believed to be interested.
The Daily Mail toot how "German champions Wolfsburg are weighing up a move for Newcastle striker Obafemi Martins and that Cardiff striker Ross McCormack "has handed in a transfer request to push through a move to the Premier League."
The Times crow that "Andriy Shevchenko has been offered an escape route from Stamford Bridge by Fenerbahce" and "West Ham United are confident of signing Fabio Daprela, the Switzerland Under-19 left back, from Grasshopper Zurich."
Further transfer lies suggest Liverpool could be re-signing Peter Crouch (Daily Star) and will finally land David Silva from Valencia (The Independent).
Sven Goran Eriksson's cushy number is chewed over by Barry Fry in The Sun: "Anything's possible in football, so they tell me. But the Premier League is getting so far away – they'll be playing on Mars soon. The Championship is the best Sven can hope for in my opinion."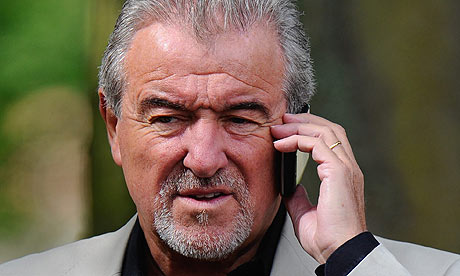 The Guardian make "Small Talk" with Terry Venables. "Might be a touchy question this, but what's going on with that goatee beard? [Laughs] Well, it's for the wife. She quite likes it actually. She's been banging on at me to have one for years. It's not a big deal, I'm alright. I haven't got to have an operation to get it removed or anything. I can shave it off."
The Daily Mail have a frank interview with Lee Bowyer. The Birmingham midfielder says: "It does gripe. I've made mistakes. I've never denied that. If I've been sent-off, I'll take my punishment. Everyone makes mistakes. But I see others doing the same and they aren't as harshly treated as me. I'm not talking about Joey because I don't know him, but he's been to prison twice, hasn't he? That's nothing like me."
Sachin Nakrani looks ahead to this weekend's Wembley Cup. "At the national stadium from this evening Tottenham, Celtic, Barcelona and the champions of Egypt, Al Ahly, will begin competing for a trophy nobody has won before and which may never be won again after the tournament ends on Sunday. The inaugural Wembley Cup, it is safe to say, lacks prestige but that is of little concern to the four clubs involved considering the other rewards. Each is receiving a cut of one of the most lucrative close-season tournaments ever, with one analyst valuing it at £8m-£9m. A large chunk of that comes from broadcast deals that will see the four-match event (Spurs play Barcelona in the marquee fixture this evening), televised in more than 90 countries. At a time when clubs are travelling further to boost their global profile in pre-season, the guaranteed TV coverage was a huge attraction."
---