"The unpalatable truth for Wenger is that his Carling Cup team, just like his Premier League side, is fragile enough for a side of attacking force like Hughes' to blow them away" – Ian Herbert
Comment & analysis round-up
Quote of the day: "There is a certain protocol and I am disappointed because I have huge respect for Arsène and I think he should be a little more gracious. It is unnecessary. At one point he questioned why I was over on his side of the technical area and he was aggrieved at that, or maybe he was aggrieved at losing. I have been beaten 6-2 at the Emirates and I offered my hand. You always hurt when you lose. There is nobody more upset than me when we lose but I always offer my hand." – Mark Hughes.
Runner-up: "That has nothing to do with the game. I am free to shake hands with whoever I want to after the game. There is nothing more to say about it. Yes it is (professional courtesy to shake hands). Perhaps I have no professional courtesy… We have not won a trophy since 2005 but I don't concede that, if we win the Carling Cup, we can then have a parade with the trophy. It is a competition for our young players. To play the quarter-final of the Champions League, or the semi-final or final, is 10 times more difficult than to win the Carling Cup." – Arsene Wenger.
Today's overview: Can Arsenal's belittling performance at Manchester City in the Carling Cup be justified?
Looking for excuses to absolve Arsenal after their 3-nil hammering at Eastlands, poor Manchester City have the wind taken out of their sails by Kevin McCarra. "No one can really pretend that even this sorry outcome is another element in a syndrome of anti-climax at Arsenal. The side chosen had only two men, Traoré and Alex Song, who had started against Chelsea… The emphasis put on the occasion by City's manager had its risks."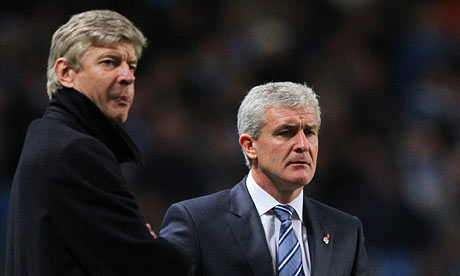 James Ducker flips the analysis of Arsenal on it's head, criticising the Gunner's approach to the Carling Cup. "As uplifting as this result was for Hughes, it was another bitter blow to Wenger's hopes of ending Arsenal's search for a trophy. These young players may have plenty of promise, but they were well beaten by a City team whose sheer will to win shone through. The contempt that Wenger exhibited for the Carling Cup in his post-match press conference was unnecessary and yet more evidence of sour grapes, but try telling City that the competition does not matter." And the same point was made by Rob Kelly. "The Frenchman said in the build-up to Arsenal's clash with Manchester City on Wednesday that the Carling Cup was "not a priority" for the club. Why not? When you have not won a trophy in four years, can you really afford to act so dismissively towards a competition in which you are in the quarter-finals? I would suggest Arsenal fans would have been quite happy to win the Carling Cup, and quite happy to have fielded their strongest side to do so."
The criticisms of Wenger's Arsenal continues with Ian Herbert. "Don't let anything Arsène Wenger might say take anything from this… The unpalatable truth for Wenger is that his Carling Cup team, just like his Premier League side, is fragile enough for a side of attacking force like Hughes' to blow them away."
Andy Hunter took up the job of observing Emmanuel Adebayor's performance against his former employers, with the striker emerging as if smelling of roses. "This was a far more disciplined display from Adebayor than September's league meeting. Perhaps the absence of so many recognisable faces from the Arsenal team lessened the distractions. Indeed, he even offered a handshake and apology to Aaron Ramsey having accidentally trod on the Welsh midfielder's toes and acted as the peacemaker when Craig Bellamy went nose-to-nose with Jack Wilshere. His recovery, if not Arsenal's, is underway."
Making sure nobody at Eastlands is found counting their chickens, Tony Cascarino barks "Mark Hughes will remain in danger despite last night's win… Hughes still needs to do better in the league, though, if he wants to survive beyond Christmas. City will have plenty to spend next month and if you were their owners, would you want to hand tens of millions of pounds to a man you no longer trusted?"
Arguably picking a strange day to do so, Patrick Barclay issues a defence of the philosophy of Arsene Wenger. "Ask him a question and he meets it head-on with a philosophy that has never varied. He makes no bones about his preference for brain over financial muscle… Few people connected with football are in any mood to stop and think. Everyone must win or be damned. This is why Wenger is so courageous: he is forever a couple of defeats from crisis."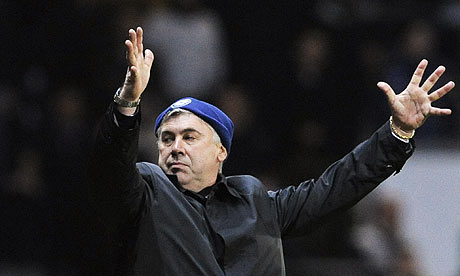 For the first time since joining Chelsea, Carlo Ancelotti has his tactical acumen questioned after the Pensioners were dumped out the cup by Blackburn.
Ignoring the benefit of hindsight, Paul Wilson launched into the criticism of the Italians' tactics at Ewood Park. "Ancelotti got every other aspect of his tactics wrong and was responsible for his side playing for well over 40 minutes with 10 men. There seemed only one likely winner once Didier Drogba came on at half-time and two goals in four minutes wiped out a first-half deficit, but in using all three substitutes at once Ancelotti left himself unprepared to deal with a Blackburn fightback and, perhaps more importantly, with an injury to Salomon Kalou that saw Chelsea play out the last 15 minutes of normal time and everything that followed with 10 men."
After Ireland had their request to be the 33rd team at the World Cup rejected, Sachin Nakrani reports how Thierry Henry may be slapped with a World Cup ban for his actions in the playoff. "Thierry Henry could miss the start of next year's World Cup after it was confirmed today that Fifa's disciplinary committee is to investigate his now infamous handball against the Republic of Ireland."
Uneasy questions on Manchester United's finances have now been raised by Daniel Taylor after the Old Trafford giants announces that they have pulled out of the deal to sign Serbia's "little Kaka," Adem Ljajic. "The official reason is that Ljajic has failed to live up to the hype since he broke into the Partizan team at the start of the 2008-09 season and has not impressed United's coaching staff… The decision
will, however, raise inevitable questions about whether the club's owners, Malcolm Glazer and his family, have involved themselves in Ferguson's planning for the future at a time when they are making substantial cuts at Old Trafford."
Ian Herbert sums up the disappointment in the Ljajic deal going south, while also flagging up Zoran Tosic's failures so far at Old Trafford. "The decision not to take up the option to buy will come as a blow to supporters, since Ljajic was always considered the more promising of the two Belgrade wingers who were to be joining the club in a joint £16.3m deal. Tosic has sunk without trace… His reputed dead-ball ability has never been witnessed and the player has only lived up to the nickname of "Bambi" bestowed upon him in Serbia."
Conversation then moved onto the quality of United's next generation.
Continuing to shower United in negativity, Matt Hughes argues that we're now witnessing the "beginning of the end for United's era of dominance." "The incredible impact of the Beckham-Neville-Scholes generation may never be felt again in such an intense competition as the Premier League, and the best the current crop can aspire to is turning themselves into useful squad players such as Fletcher, Wes Brown and John O'Shea." Continuing the analysis further, Ian Ladyman then interjected with his observation that "there is a huge difference between being good enough for the top flight and being good enough for Manchester United. And the dilemma facing players [like Gibson, Welbeck & Macheda] centres on how long they are prepared to wait. Do they, for example, take the Darren Fletcher approach and resist overtures from elsewhere in the hope of establishing themselves by their mid-twenties? Or do they follow the lead of defenders Ryan Shawcross (Stoke) and Jonathan Spector (West Ham) and look elsewhere for regular football?"
Heading over to Merseyside, Paul Kelso reports of potentially exciting news for Liverpool fans. "Liverpool co-owner George Gillett has sealed a $300 million profit following the sale of his Montreal Canadiens ice-hockey franchise, which was approved by the National Hockey League last night… It is far from certain that he will use the windfall from the sale to change the balance of power at Liverpool, but the money could help strengthen his position."
The topic of fee paid to agents remains a hot-potato this Thursday, with Lawrence Donegan making the case in defence of the "parasitical hucksters." "If every agent in the country was rounded up today and put on a boat to Bolivia, we would all still be paying a ridiculous amount for a football shirt and the FA would still be a shambling bureaucracy. That is because the finances of football are not a zero-sum game. The £70.7m paid to agents is not money that is "lost" to football's better causes because football's better causes never had the money in the first place and never would have."
In an offbeat article, George Caulkin selects his Premier League team of the decade. "(4-3-1-2): Shay Given – Gary Neville, Rio Ferdinand, Jamie Carragher, Ashley Cole – Paul Scholes, Steven Gerrard, Ryan Giggs – Wayne Rooney – Alan Shearer (c), Thierry Henry. Subs: Petr Cech, John Terry, Frank Lampard, Cristiano Ronaldo, Nicky Butt, Phil Neville, Dennis Bergkamp."
As standard, we end off with the transfer lies.
The race for Sergio Aguero is hotting up. According to the Guardian, "Atletico Madrid… confirmed last night that the club have turned down a bid for their Argentina forward Sergio Ageero. Gil refused to name the club who had lodged the offer, thought to be worth £40m, but Chelsea made a bid, which the club turned down, for the 21-year-old last summer."
Staying with strikers, the Daily Mail report that "Arsene Wenger will have to pay around £12million to prise France striker Andre-Pierre Gignac away from Toulouse.  The Arsenal manager has placed Gignac at the top of a striking wish list that also includes Bordeaux's Marouane Chamakh and Inter's Mario Balotelli." Taking a different angle, Mark Irwin chugs "Arsene Wenger wants £15million-rated Wolfsburg striker Edin Dzeko to save Arsenal's season."
Brilliantly putting two and two together to make five, The Mirror's David McDonnell splashes with the headline "Manchester United kill Adem Ljajic deal to free up transfer funds for Wolfsburg striker."
The Gunners do appear to have signed one fresh-face though, Ashley Gray scribbling "Brazilian starlet Zezinho expects to sign for Arsenal in the new year… Arsenal are understood to have made an improved bid after having offers of £1.5million and £2.75m rejected." While the Mirror claim "Philippe Senderos is set to quit Arsenal for Atletico Madrid next month."
Manchester United's quest to find a new goalkeeper continues this Thursday with the Independent reporting "United are interested in Schalke goalkeeper Manuel Neuer, according to the player's agent."
In other gossip, Ashley Gray trumpets "Tottenham Hotspur are set to complete the £6.5million signing of Brazil midfielder Sandro from Internacional," and The Sun continue to spend the north Londoners' money farting "Redknapp will table a £1.5million bid for Watford keeper Scott Loach in January."On the outgoings at White Hart Lane, Darren Lewis toots "Roman Pavlyuchenko could leave Tottenham for his former club Spartak Moscow in the January transfer window."
---