"The United manager has become part of the problem. Against Aston Villa he blundered by playing Gary Neville at centre-back, last night he did the same with an unfamiliar 4-3-3 formation" – Sam Wallace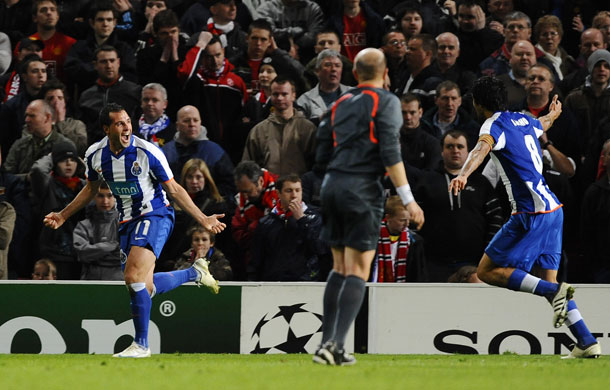 Comment & analysis round-up
Quote of the day: "It was a terrible goal to lose when you are 2-1 up and seeing the game out. We only have ourselves to blame. You can't say that it was a great manufactured goal. It just exemplified the fragile nature of our defending at the moment. Losing Jonny Evans was a blow because I don't know if we would have lost [the goal] with him on the pitch. We were doing very well when we weren't losing any goals because we had a record to defend. Once we lost that first goal against Blackburn we have lost really bad goals thereafter. The hope now is to get a settled back four, not changing it and get things back to normal. It's a difficult job now and it doesn't make you feel any better when someone tells you that no British team has won in Porto. We have to win the game. No British club has won there. Well, we like to be first at everything at this club. We'll have to be first again." – Sir Alex Ferguson.
Runner-up: "We have to concentrate on our team, but he [Ferguson] likes to talk too much about other teams. It is not mind games, but maybe he is a little bit scared. He was talking about Liverpool and Chelsea after the [Villa] game, so I was just trying to clarify that if Chelsea are not in the Champions League or Liverpool are not in the Champions League in the next round, it means that one of us can concentrate on the league. They [United] will have a problem with that. It will be worse for United. He [Ferguson] will be supporting Liverpool because we are the biggest threat now. If we continue in the Champions League, we may be tired, but if we are not in it, he knows we will be a threat. I think we have enough quality to go all the way in both competitions." – Rafa Benitez.
Today's overview: Manchester United will be waking up bitterly disappointed this Wednesday, and the papers are queuing up to kick them when they are down.
Porto were lauded by Kevin McCarra, boasting "a draw barely did justice to visitors who were sharper, livelier and superior in all aspects." David Pleat joins in the Portuguese chorus. "Not many teams possess three forwards whose running, interchanging and technical skills combine so well to move the opposition defenders and stretch the game."
Rob Smyth takes his gloves off to hurl abuse at the Red Devils. "Rank defending is becoming a more familiar sight when United play: in the first half an hour they were remarkably incompetent." Oliver Kay however spreads his blame much wider, making reference to the idea of a collective downturn at United. "A collective malaise has swept the team since Liverpool's 4-1 win at Old Trafford 3½ weeks ago and, while Federico Macheda's stoppage- time winner against Villa was seen as an adrenalin shot at the time, its effect proved short-lived."
As if blaspheming, Daniel Taylor points a finger of blame directly at Sir Alex. "[Ferguson] turned down the ­opportunity to give his players another day to prepare for this match and, in doing so, he was ­blatantly asking too much of them." And Fergie takes a grilling from the pen of Sam Wallace too. "The trouble is, the United manager has become part of the problem of late… Against Aston Villa on Sunday he blundered by playing Gary Neville at centre-back, last night he did the same with an unfamiliar 4-3-3 formation that Porto picked apart before it had to be adjusted within 15 minutes."
Almost gloating, Steven Howard happily sticks the knife into United. "So much for Manchester United being galvanised by the miracle of Federico Macheda 48 hours earlier. So much, according to Alex Ferguson, for United now going into overdrive. More like reverse, downhill, in a steam-roller. It was as if the lessons of Sunday's Great Escape had gone in one ear and out the other."
Henry Winter finds himself thinking of "absent friends." "Rio Ferdinand would have brought pace and organisation to a dishevelled back-line. Owen Hargreaves would have anchored midfield." While Mark Odgen allows himself to praise Wayne Rooney. "Without the Liverpudlian, heaven knows what damage to United's Champions League's hopes Sir Alex Ferguson would have been surveying this morning."
Changing topics somewhat, Gabriele Marcotti criticises the United youth transfer policy over how they signed Macheda. "What United did ought to be illegal. A club scouts a young player, trains him, develops him and then, because club's can't legally tie themselves to a player until he turns sixteen, they lose him for virtually nothing a day after his sixteenth birthday, because another club comes along and offers him more money."
Moving onto Arsenal, Matt Hughes praises the Gunners' result. "The performance was patchy, but this is the kind of result that can define a season. Outplayed for long spells and in danger of being humiliated by Villarreal's mesmeric movement at certain stages, Arsenal somehow survived to score the away goal that makes them favourite to progress to the semi-finals." Drawing a similar conclusion is Jeremy Wilson penning "the way Arsenal recovered from relentless first-half pressure to emerge with a 1-1 draw pointed to a resilience that should ultimately see them progress."
Picking the Gunners' star performers, Pete Jenson wrote "with the Togo forward immense at one end and Kolo Toure his equal at the other, Arsene Wenger's side recovered from a nightmare first half."
The result however came at a heavy price, David Hytner reporting "the [potential] loss of William Gallas for the rest of the season with medial knee ligament damage and additional concerns over Manuel Almunia's 'serious' ankle injury."
Patrick Barclay labelled Arsenal as "lucky," flagging up how "the influence of the referee should not be ignored." While looking at the match from the Spanish perspective, Sid Lowe revels in "a tale of two Arsenals as Villarreal's passing put the visitors to the sword, only for the real Gunners to then stand up."
Then there is the small matter of Liverpool taking on Chelsea in the Champions League tonight. Offering free tactical advise, David Pleat advises Guus Hiddink to consider man-marking Steven Gerrard to stifle his dangerous link play with Fernando Torres.
Sandy Macaskill explains why he'll be watching Barcelona-Bayern Munich tonight as "one thing is for certain: there are bound to be goals." Pete Jenson echoes the same sentiment writing "while Liverpool and Chelsea promise strategic sparring, Barca versus Bayern should be a bare-knuckle slugging match."
Shifting back to domestic football, Stuart James explains West Brom's failings that will see them play Championship football next year. "Their expansive style has come up short in the Premier League, where opposition teams are content to allow them possession in the middle third safe in the knowledge they do not have good enough players to break them down. In the nine Albion matches I have watched this season, the ball tends to go sideways far more often than it goes forward. It is frustrating rather than uplifting."
Neil Ashton tears strips off of Aston Villa. "Can they finish fourth? Of course not. They are not good enough, just as they were not good enough in October, when Chelsea bashed them around the head at Stamford Bridge, winning 2-0 with their best performance of the season so far."
Martin Samuel reviews the Southampton administration debacle, offering the Saints some limited support. "[Rupert] Lowe cannot be blamed for his act of cunning, no more than a speeding motorist is responsible if he walks free due to incorrect police paperwork. It is up to the authorities, those who make the rules, to ensure their system functions."
On the transfer front, the Telegraph report how "Manchester City are to offer Daniel Sturridge a £30,000-a-week take-it-or-leave-it offer to keep the 19-year-old at Eastlands." John Cross farts "Everton boss David Moyes has stepped up his pursuit of Sporting Lisbon midfielder Joao Moutinho." While the Mirror go out on a limb reporting "Fulham striker Bobby Zamora is a shock target for Spanish side Villarreal."
In the best of the rest, Peter and John Lansley list the 50 greatest Wolves players of all time and Matthew Fearon lists his Barcelona dream team in the Independent.
---
GAMBLING CAN BE ADDICTIVE, PLEASE PLAY RESPONSIBLY