"The truth is that there are very few believers left in Wenger's creed, to the extent that his faith in this young team is starting to look more like a wacky cult." – Sam Wallace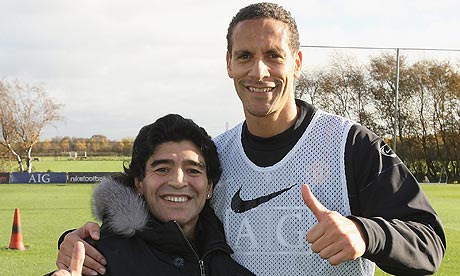 Comment & analysis round-up
Quote of the day: "To be able to shake his hand, get a cuddle of him and a picture [left], it made my birthday. We were like schoolkids around a star coming to school. He came and watched us train and I think the gaffer would probably like him to come every day the way he raised standards in training. Everyone was trying to impress him. I hope he will go back to Argentina and say he's seen a great player – Rio Ferdinand." – Rio Ferdinand.
Runner-up: "I was asked by ITV to do the Celtic versus Manchester United game but I've done it once for Sky and never again. I'd rather go to the dentist. You're sitting there with people like Richard Keys and they're trying to sell something that's not there. Anytime I watch a game on television, I have to turn the commentators off. They say 'he's playing well' and I'm thinking 'no, he's not'. My advice to anyone is don't listen to the experts, Just watch the game and gather your own opinions… There was a debate about Wenger on Sky and how crazy is that? People are actually getting interviewed saying he shouldn't be doing this. What that man's done for English football is amazing and will be remembered in 25, 50, 100 years' time. Will those on telly yesterday be remembered for what they've achieved? None whatsoever. I wouldn't trust them to walk my dog. There are ex-players and ex-referees being given air-time who I wouldn't listen to in a pub. OK, there will be one or two who've done something in the game whose opinion you would take on board, but I'm on about every Tom, Dick and Harry." – Roy Keane.
Today's overview: Roy Keane may have let rip on those pundits who criticise Arsene Wenger, but it looks like Fleet Street has chosen to ignore the Irishman, with Arsene Wenger's Gunners coming under fire this Saturday.
Ahead of the big match at the Emirates this lunchtime, The Sun have an article from Cesc Fabregas in which the Spaniard writes "it is far too early to write off Arsenal. At the moment, we are six points behind the leaders. If we win today, we will be back in the top three and putting pressure on Chelsea and Liverpool."
Kevin McCarra details his vision for Arsenal's future claiming "Wenger's duty now, whether he recognises it or not, may be to keep the team in the Champions League pack. An eventual successor with a conventional attitude to the transfer market would then have the means to spend on squad development as Wenger never has." Frank McLintock pens a host of negative comments on Arsenal including "I'm not jumping on the bandwagon when I say they need three new players, I've been saying it for two years." Jonathan Wilson adds to the chorus of negativity saying "Wenger's idealism may be admirable, but it may also be self-defeating."
For Jeremy Wilson, despite Wenger's bomb-proof reputation in "the absence of silverware for more than three years – there is a growing sense that the structure around him requires urgent attention." Sam Wallace perhaps goes the furthest in his Arsenal criticism claiming "the truth is that there are very few believers left in Wenger's creed, to the extent that his faith in this young team is starting to look more like a wacky cult." Against all the Wenger-bashing. Matt Hughes points out that "the Frenchman thrives on criticism and would prefer to be the focus of it, shielding his players."
David Lacey waxes lyrical over Dimitar Berbatov, likening the Bulgarian to a "plain-clothes man trailing a suspect, only revealing himself when he is about to make an arrest." In other news, Harry Redknapp sticks up for teams like Stoke arguing "these teams get a raw deal. The style may not be pretty, but it is effective." While resident boffin at The Times, Daniel Finkelstein, proves "the idea that underdogs up their games against the big teams is a myth. And so is the idea that big teams drop their standards after thinking that they have secured victory against small teams."
Writing about recent events at Tottenham, Argentina and Modena, Chris McGrath looks at the secrets of management in which "there are times when a new magnetism in the dressing room can make all the difference." Tom Dart chronicled what happened when Diego Maradona met the Manchester United squad. "It was a moment to turn the rich and famous into people like us: awestruck, excited and nervous in front of an idol."
In a standout article for The Times, Matt Dickinson visits the Crystal Palace youth training ground to investigate "why are there not enough Rooneys or Walcotts? Why are there precious few Bostocks? Life as a footballer has never been more appealing."
The Saturdays are also full of the usual weekend interviews. Daniel Taylor met Newcastle's Spiderman – Jonas Gutierrez, Mark Overmars spoke to Richard Edwards, Matt Lawton had a sit-down with Gael Clichy ("At one stage last season we were being described as the best team in Europe and now we're not good enough. That's ridiculous.")
Finally, with round one of the FA Cup upon us, John Ashdown reports on AFC Wimbeldon's match with Wycombe, noting "AFC have the opportunity to make their own indelible mark on the Greatest Cup Competition In The World."
---
GAMBLING CAN BE ADDICTIVE, PLEASE PLAY RESPONSIBLY