The Toon Twitter ban, Barca have 11 days to sign Cesc, and PSG want Cole & Berbatov
Comment & analysis round-up
Quote of the day: "The problem I have is people are tweeting on there in an emotional state. Not just footballers. Sportsmen are an emotive people. They get in an emotional state and then put something out instantly on Twitter – it's very, very damaging. I spoke to Sir Alex and their policy is nobody at their club can comment about the club. That's probably where we should be because it is in breach of contract if you are criticising the owner, the masseur, the player, anyone at the club. If you're giving out injury news, that causes us a problem, so we've notified the players. They have probably seen it as another sort of dictatorial moment from us but we've had to issue them legally with a letter to say this is not right. It's a breach of contract and you're going to be disciplined." – Alan Pardew.
Runner-up: "I lived in so many places but I was always happy. There's more sunshine in Rome than in Manchester but there's nothing wrong with Manchester. Yes, it rains a lot but there you go. You are there to work, not for holidays. No, no, no I don't understand that. I don't know if it's the difference in age between me and the young players today but the important thing when you sign for a new club if you are a manager or a coach is what is your target or your aim. What do the club want to do? Do they want to be promoted, do they want to stay? Has the club a good future? Then you sign. Manchester City today you can't have any doubts about what they want to do and one day they will probably do it as well." – Sven Goran Eriksson.
Today's overview: Loads is going on in the Friday backpages.
Newcastle's Twitter ban is first up for discussion, with some debate over whether it was Mike Ashley or Alan Pardew who pulled the plug on allowing Toon players to tweet while Robbie Savage argues that Joey Barton has emerged for the situation with his head held high.
Steven Howard and David Maddock both argue that the Community Shield is more than a friendly, there is discussion over a change in the English football season, and Matt Scott reveals plans for a European breakaway league.
Other stories in the news include reports of a £50m benchwarmer, Cesc Fabregas' future is again trawled over, while a host of players have their fitness examined before the new season.
As always, we end off with a shedload of transfer lies.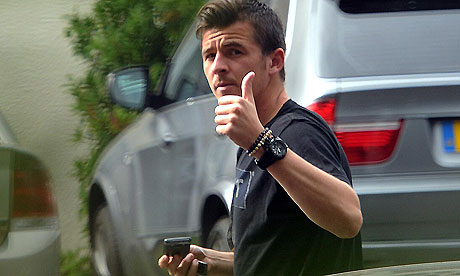 Toon Target Free Speech: Should employees have the freedom of speech to talk publicly about their employers and work environment? Not according to Newcastle, who have instilled a draconian absolute ban on Twitter, Facebook and all other social media.
Steve Brenner reports "Mike Ashley has launched a Toon Twitter clampdown to avoid a repeat of his bitter bust-up with Joey Barton. Newcastle's players were yesterday issued with legal letters ordering them not to blast the club on social networking sites. Guidelines had already been put in place at the club."
According to Jason Mellor, Alan Pardew and not Mike Ashley was at the forefront of the Twitter ban. "In the latest twist, Pardew called in the lawyers in a crackdown on ­Barton and his Toon tweets. Pardew knows he risks being seen as a dictator by his Twitter-mad squad – having sent out legal letters in a bid to stamp out the kind of ­cyber rant that has left Barton's future on Tyneside hanging by a thread."
Twitter-lover Robbie Savage defends Joey Barton's use of the micro-blogging site. "Twitter has been great for Joey Barton. It's made people realise he's a thoughtful, clever bloke trying hard to escape his past. And now, inadvertently, it looks like it's helped him get out of a season of madness at Newcastle. All Joey has done is speak his mind. He hasn't gone over the top. Yet he is treated like a pariah, fined and made to train on his own while the club's PR machine briefs against him. I don't know who is pulling the strings at St James' Park but they are pulling them in the wrong direction."
The Community Shield: We know it's a friendly. You know it's only a friendly. Yet the fifth estate fall in to the the dumbass trap of making themselves argue that it is anything but a friendly.
Lacking any substance to his argument, Steven Howard works overtime to detail that showpiece friendly means something. "United v City will have an enormous impact on the whole season… It will certainly resonate all over Manchester. The last time United were at Wembley they were vaporised by Barcelona."
David Maddock also puts himself in the it's-more-than-a-friendly camp. "Sunday is so important, even if it is ­traditionally a creaking pre-season opener where rusty sides stroll through their paces in the late summer sunshine. That won't happen this season, given it is the first time United have faced City in this fixture – and given the events of last April, when Roberto Mancini's side pulled off a dramatic victory… To everyone at United, it has become increasingly obvious City will present the biggest barrier to success this season. And putting them in their place even before hostilities get underway could offer a massive psychological edge."
Winter Break/Summer Football: Does the English Football League calendar need adjusting?
Martin Lipman writes "FIFA chiefs face all-out war with Europe's top clubs over plans to turn football into a summer sport. Under the proposals, the Premier League would play throughout the British game's traditional mid-year break, with the season transformed to run from February to November. The initial impetus behind the idea came from UEFA president Michel Platini, who has backed the concept for more than a decade. Despite the outright opposition of the big five leagues – England, France, Spain, Germany and Italy – the plan is now gaining support among FIFA bosses."
Support for the new season structure is given by Sven Goran Eriksson in an interview with Henry Winter. "England will struggle to win the World Cup or European Championship unless the Premier League introduces a winter break, says Sven-Goran Eriksson. The former England manager believes the English "will never learn" because of the Premier League's desire to feed lucrative television markets around the world at a time when other major leagues sensibly pause for breath."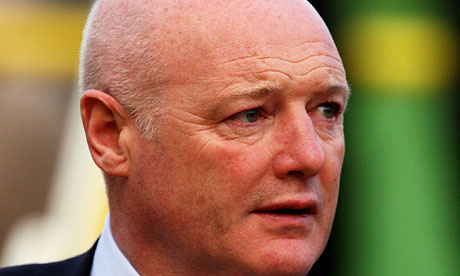 The Breakaway League: Matt Scott reveals "suspicions that Peter Kenyon is actively working to develop a blueprint for a breakaway European league are widely held in football. Kenyon says he has never received any request to do so from the big European clubs who are pushing for revolution in the game. This is true, but Digger can reveal the former Chelsea chief executive and the Creative Artists Agency he works for are waiting for the call."
Europe League, Urghgh: Andrew Dillion shows his disdain for the oversized competition scribbling "Andy Johnson has condemned Fulham to at least two more Europa League games… Fulham go into today's draw for the play-off round alongside Tottenham, Birmingham and Stoke after SIX qualifying matches and a trek halfway around Europe… Fulham face 16 more Euro games to repeat their 2010 march to the final."
The £50m Benchwarmer: Says the unreliable Martin Lipman, "Andre Villas-Boas is ready to bench Fernando Torres for the start of the season… Torres still has the chance, at Ibrox and in next week's training sessions, to convince Villas-Boas he should start at the Britannia Stadium, but it seems the ex-Porto boss is veering towards 33-year-old Drogba – especially given Stoke's strong physical approach."
The Never-Ending Cesc Story: Jeremy Wilson imposes a deadlock with some backbone into the Cesc Fabregas saga. "Barcelona have 11 days to conclude a deal for Cesc Fabregas if they want to be sure of his inclusion in the Champions League, with Arsène Wenger now planning to select his captain for the start of the new season."
According to Sami Mokbel, "Arsenal majority shareholder Stan Kroenke was in London on Thursday night in an attempt to finally sort out the Cesc Fabregas transfer saga. Kroenke was in the capital to attend the club's annual members day at the Emirates. But more importantly the American tycoon hopes his trip to England will resolve the long-running uncertainty over Fabregas' protracted switch to Barcelona…Â Wenger told Kroenke he wants the matter resolved as quickly as possible so he can plan for life with the 24-year-old or line up a replacement – with Juan Mata believed to be at the top of Arsenal's list."
Sam Wallace added "Arsene Wenger was given the backing of Arsenal's majority shareholder Stan Kroenke yesterday to hold out on his £40m valuation of Cesc Fabregas and not to change his position in any negotiations over the player's putative transfer to Barcelona this month."
Clearly frustrated by Arsenal's dealings this summer, James Lawton fears for the Gunners this season. "The bitter truth for Arsenal's following is that, while all their most serious rivals have addressed the challenge of strengthening or, in the case of Chelsea, remotivating their squads, their own club appears to be more than anything locked in denial… Arsenal make a desultory move for Phil Jagielka, an old target, and sing an unrequited love song to Cesc Fabregas. Perhaps Arsenal shouldn't fret over a blurred team picture. Maybe they should worry that it is about to fall off the wall."
Fighting To Be Fit: Several high profile Premier League stars are struggling to be fit for the start of the season.
On the reigning champions David Facey writes "United's prospects of remaining top of the pile received a big boost yesterday when Darren Fletcher trained flat out for the first time in nearly six months…Â United sources say they will not risk him in Sunday's match but are confident he will be fit enough to be considered for their Premier League opener against West Brom in a week's time."
The news isn't so sunny at Arsenal. Charlie Wyatt: "Jack Wilshere and Theo Walcott could miss the start of the season for Arsenal and England. Midfielder Wilshere and winger Walcott have ankle problems and will miss Arsenal's final pre-season friendly against Benfica in Lisbon tomorrow."
Others with fitness problems in Liverpool's Luis Suarez and Manchester City's Sergio Aguero.
Transfer Lies: PSG are making moves for both Joe Cole and Dimitar Berbatov, Newcastle are in the hunt for Bayer Leverkusen's Swiss winger Tranquillo Barnetta and Gabriel Obertan, while Pedro Leon is a loan target for Everton, Aston Villa and Fulham.
Begging the question or what?, the Star fart that "Manchester United have set Wesley Sneijder a two-week deadline to join the champions." Equally irritating the Star also vomit that "Cesc Fabregas and Samir Nasri still want to quit Arsenal – and have let the club know it."
Blackburn want £12m for Arsenal and Tottenham target Chris Samba, a rumoured training ground bust up at Inter Milan have raised Man City hopes of an Eto'o/Tevez swap deal, Bolton are trying to agree a bargain fee for Shaun Wright-Phillips, Liverpool are linked with Anderlecht's Argentine holding midfielder Lucas Biglia, and Rangers have taken Arsenal's Kyle Bartley on loan, and Stoke have joined Spurs and Chelsea in £8m chase for West Ham midfielder Scott Parker.
---