The start of the January sales: Liverpool target Rodriguez, Van Nistelrooy, Pavlyuchenko & Torisidis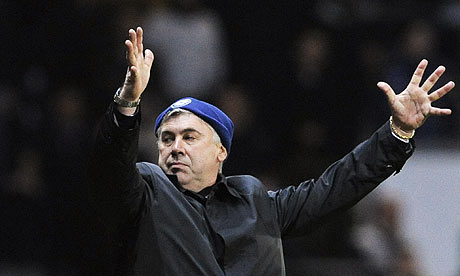 Comment & analysis round-up
Quote of the day: "If Wenger said that after that game, he must be a very good magician. I have never said that Chelsea are unbeatable. There is no such team in football. We have had some problems in December and didn't win some important games. But the fact is that we are still top of the table and that means we have done better than any other team over the first six months. Chelsea are in first place and we deserve to be there. We have done a very good job to maintain that position even though we have dropped some points by drawing against Everton, West Ham and Birmingham recently. But the other teams have also had their bad moments and we have come through our period that was not so good. Now I think the problems are over for Chelsea." – Carlo Ancelotti on Arsene Wenger's claim that Chelsea were vulnerable after their 3-0 win at the Emirates in November.
Runner-up:Â "If we keep on playing like that no team can beat us. We continue to improve but we're stronger this season. We know we are in a strong position. Chelsea can drop points again, we know it is not easy for any side to play so many matches. We need to try and win every game." – Alex Song.
Today's overview: Welcome to 2010. As would be expected transfer lies dominate on the opening day of the transfer window with Liverpool leading the chase for a host of players. There is also analysis of Portsmouth's problems and the FA Cup.
Portsmouth's woes dominate this morning after their players went unpaid again yesterday and French club Lens called for them to be shut down.
Matt Dickinson is pessimistic comparing Portsmouth with Leeds. "Without a quick injection of funds, the only player movement this month will be via the exit, thereby guaranteeing relegation, which most believe inevitable. And then does administration loom? What is rock bottom? For Leeds, it has been three seasons in League One and, more humiliatingly still, a billing of minnows as they travel to face Manchester United on Sunday."
Following Gary Megson's departure at Bolton, Harry Redknapp urges bosses to be given time. "I'm probably only dreaming but how I'd like to see chairmen take things into perspective, to realise what the achievable really is and what constitutes success. Hodgson has had time to impose his style and philosophy. Not many others have been so lucky."
Mike Norrish in the Telegrah defends the departure of Megson. "Bolton hated seeing their forwards being taken off when they were winning games, and were mortified that he sent out a reserve side against Sporting Lisbon in the Uefa Cup. They didn't want to be blamed, by Megson , for the club's defeats. And in short, they didn't want supporting Bolton to be such a joyless experience. Perhaps results will be worse without him, but from their point of view, nothing could be worse than the status quo." Peter Reid has emerged as the favourite for the Bolton job, although an Alan Shearer-Gary Speed dream team has been mentioned.
Sir Alex Ferguson has brought some good tidings for Manchester United, commenting on the return of Rio Ferdinand to training. Daniel Taylor in The Guardian is less optimistic, highlighting Ferguson's comments that the England defender is "nowhere near" a comeback. And looking ahead to the FA Cup clash with Leeds on Sunday, Simon Grayson gives his thoughts of what it will be like to take his team to Old Trafford.
Laura Williamson in the Daily Mail reports how West Ham have begged their fans to be a "12th man" for the FA Cup clash with Arsenal. "Such is the loss of standing of the FA Cup that West Ham have been forced to send out a begging email to their fans to attend their third round glamour tie against Arsenal at Upton Park on Sunday. In a damning indictment on the oldest cup competition in the world, the club has struggled to sell tickets for what should be one the biggest, most prestigious weekends in the domestic football calendar and one of the ties of the round — a repeat of the 1980 final, won by Sir Trevor Brooking's diving header." Jeff Powell provides a solution to the woes of the FA Cup – give the winners a Champions League spot.
Andy Cole uses his column in The Independent to hail his old boss Sir Alex Ferguson and to look back on 2009. Premier League player of 2009: "Tough because there are lots of contenders, including Cristiano Ronaldo in his last half-season at Manchester United. Of those still in England, I hand the award jointly to one player from each of the 'big four', each one of whom has stepped up to the plate, big time: Wayne Rooney, Didier Drogba, Fernando Torres and Cesc Fabregas."
Andy Gray in the Daily Mail backs Chelsea to win the league. "Carlo Ancelotti has a couple of selection issues to tackle. If he does that successfully, I think they will win it. Ancelotti may need to be flexible, as he was during the Fulham game when he changed from the midfield diamond to his trusted 4-4-2 and it won them the game. He won't get nervous, he won't get flustered. Sir Alex Ferguson will be wasting his time playing mind-games with him. He'll try, mind you! They are harder to beat than anyone else up there."
The Big Interview in The Guardian is with Nottingham Forest manager Billy Davies, who explains how he has won some sceptical fans around. "I got a lot of letters condemning my appointment and saying I should not be at Forest. I've still got them. But now I'm getting loads of emails, letters and cards from Forest fans delighted with what they're seeing. And the great thing about the letters – and many are from fans who've watched Forest for 30 or 40 years – is that they're talking about how they enjoy the style of football."
Sam Wallace lists 5 young players that he expects to make an impact in the next 12 months. Wallace also features Aaron Ramsey after his fine performance for Arsenal at Fratton Park on Wednesday. "The debate over Ramsey is whether he plays as the holding midfielder or more advanced, a position that belongs to Fabregas when he is fit. Watching him you cannot help but feel that he would be wasted in a holding position where plenty of average tacklers have made their name."
The first day of the transfer window sees no shortage of spurious rumours with Liverpool taking center stage. Gary Jacob claims the Merseyside giants have made a bid for Maxi Rodriguez, in the Mail Benitez is closing in on Ruud van Nistelrooy and Roman Pavyluchenko and following the injury to Glen Johnson Olympiakos right back Vasilis Torisidis could also be heading to Anfield.
Aside from the potential comings and goings at Liverpool, Manchester City have rejected a bid from Birmingham for in-form keeper Joe Hart. But Roberto Mancini is interested in Zlatan Ibrahimovic & Maicon (like these transfers will happen!) and Ivan Cordoba.
Chelsea are linked with a major move for David Villa by the ever unreliable Daily Express and Arsenal have signed a Brazilian striker, Wellington Silva. Despite the fact we can expect Spurs to be linked with a new player every day for the next month, Harry Redknapp has said it is "highly unlikely" he will bring anyone in.
Fulham are after Roma striker Stefano Okaka, Sunderland are preparing moves for Alan Hutton and Keiran Westwood and Aston Villa want to sign James Beattie.
---
GAMBLING CAN BE ADDICTIVE, PLEASE PLAY RESPONSIBLY