"The Special One at Stamford Bridge. Goldenballs at Old Trafford. Hilarious" – Henry Winter
Comment & analysis round-up
Quote of the day: "I don't see why parties should happen in today's football – they're more trouble than they're worth. Most people can go out, get drunk, fall over and be stupid but as a footballer you can't do that. People are always waiting to catch you out by taking your photo or doing whatever. I don't sympathise with players. Being sensible is part and parcel of being a footballer and you're well paid for it. I'm a football manager – I wouldn't go out and get drunk, falling around and pulling some old slag. I'm not that stupid. Even if you wanted to do it, somebody would catch you out. Having said that, Tiger Woods didn't do too badly." – Harry Redknapp.
Runner-up: "I had a lovely letter from Tiger Woods thanking me for taking the pressure off him. He is now driving around Florida, in an open-top car singing, 'Super Mick McCarthy.' And my latest e-mail is from Thierry Henry, who says I have taken the heat off him. The one person [in the Premier League] who has the right to bleat is Owen Coyle. He has seen it was the right thing to do and said it. He is a proper bloke. He has come up through the school of hard knocks. I don't give a monkey's about anyone else." – Mick McCarthy.
Today's overview: Fleet Street cannot wait to get stuck in to the Champions League draw this Saturday, as both Chelsea and Manchester United drew mouth-watering ties against Mourinho's Inter and Beckham's Milan, respectively.
Typically poetic, Henry Winter describes how the draw unfolded. "The Special One at Stamford Bridge. Goldenballs at Old Trafford. Hilarious. Friday's Champions League draw in Nyon was little short of a script conference for football's dream drama. The hot air that usually follows these events was replaced by the smoke plumes rising from television moguls and Uefa executives puffing on cigars the size of bazookas. Showtime!"
On the return of the Special One to the Bridge, Richard Williams observes how "Ancelotti will find himself shaking hands with Jose Mourinho, the man whose achievements at Chelsea will provide the yardstick for all his successors until one of them finally achieves the one feat, victory in the Champions League final, that eluded the Portuguese controversialist… But as long as Chelsea do not suffer some form of collapse over the next few weeks, Ancelotti will know that he has nothing unusual to fear."
Oliver Kay weighs up what victory or defeat to Inter would mean for Ancelotti. "Eliminate Inter Milan over two legs and, presuming they are still in the thick of the Barclays Premier League title race, Chelsea will have proved once and for all that they have moved on from Mourinho. Lose, though, and Ancelotti will suffer the worst type of defeat a Chelsea coach can experience – the type that leaves Roman Abramovich, the club's billionaire owner, feeling humiliated."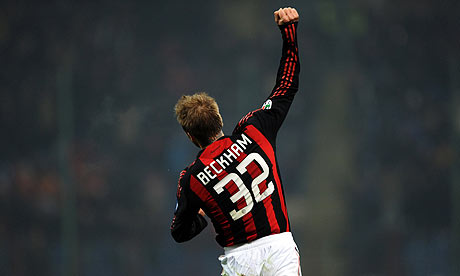 On Beckham's return to Manchester, a pragmatic Kevin McCarra puts an immediate spanner in the works questioning if Goldenballs can even make the Rosseneri's side. "Beckham faces a challenge to make the starting line-up. Pato, Marco Borriello and Ronaldinho… make up a three-man attack that also has Clarence Seedorf in close support. If the Englishman has his eye on an elder statesman's post in front of the defence, he may have to pull off the unlikely feat of deposing Andrea Pirlo. While Beckham could expect to be preferred to Massimo Ambrosini in that same area of the midfield, the Italian is more convincing at stopping opponents."
Paying lip-service to Arsenal's tie with Porto, Tim Rich voices the consensus opinion that the North Londoners lucked out. "In drawing FC Porto in the first knockout stage Arsenal have cause for the most optimism of any of the three English clubs, yet Arsène Wenger rated his side's chances as no better than "50-50″ against the Portuguese club they beat 4-0 at the Emirates in last year's group stage." Alan Smith then added, "Wenger's boys should be able to pass their way to victory. Younger, fitter and faster, Cesc Fabregas and friends can call the tune."
Rounding off the Champions League discussion, Terry Venables spouts the bleeding-obvious by farting that Barca are the team to beat. "Holders Barcelona are undoubtedly the team to beat although no club has ever retained the Champions League trophy…Â  I've said all along Seville are the dark horses for this tournament and my opinion has not changed… with stars like Adriano, Luis Fabiano, Didier Zokora and Frederic Kanoute in their line-up, I tip them to progress further, especially after they were drawn against CSKA Moscow."
And then we arrive to the weekend's big news, as loose-lips begin flapping that Sparky's reign at City is on the brink. And with a sacking apparently being imminent, focus shifts onto who will take the hot-set at Eastlands.
Setting the scene, the Guardian shout "there are widespread suggestions that [Hughes] could be forced out, possibly this weekend, regardless of the outcome against Sunderland. City's owner, Sheikh Mansour, is said to regard a top-four finish as well within the club's grasp in a season when Liverpool look vulnerable… Candidates to take over at Eastlands would include Jose Mourinho, the Internazionale and former Chelsea manager; the out-of-work former Germany coach Jürgen Klinsmann; Roberto Mancini, who has been without a job since leaving Inter; and Guus Hiddink."
Others, like James Ducker though, doubt whether Sparky will actually receive his P45. "Mansour and al-Mubarak are deliberate people. Nothing is left to chance. Everything is carefully planned for. As such, the idea of them only now having begun to plan for life without Hughes at City does not wash… [That said] the two dream candidates are José Mourinho, the former Chelsea manager now in charge of Inter, and Arsène Wenger, the Arsenal manager, but for similar reasons both could prove very difficult to prise from their clubs."
Patrick Barclay offers three reasons as to why Hughes is in trouble; expectations, money and the Champions League draw. "Hughes is partly suffering for the expectations raised by his early career in the Barclays Premier League… Although City have spent more on intermediaries in transfers – some £13 million – than most clubs have spent on transfers, they have won fewer matches than Birmingham City or even Liverpool… Mourinho might have been made for City. He yearns to return to England, and to 'build.'"
Adding a fourth reason as to why Hughes is set to walk the plank, Louise Taylor commented "Hughes's position at City has come under scrutiny after only one win and eight draws in the past 10 matches." And, in a fifth line of reasoning looking at the immediate future, James Ducker claims "with a winnable run of fixtures to follow, the Arab owners are considering when and how they might make a change."
Of the talk of potential new managers, Jason Burt's possible suggestion must be the most unappealling. "It may be that [Roberto] Mancini might consider initially taking over until the end of the season when his position would be reviewed which may raise the possibility of an approach for José Mourinho."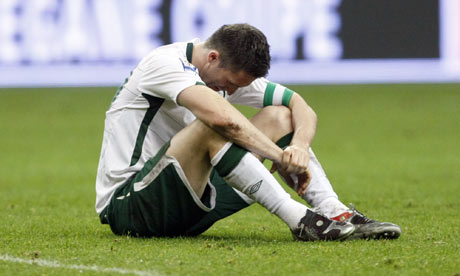 Staying with sackings, Robbie Keane's future at Spurs is in the balance after the Irishman was outed for breaking club rules to organise a Tottenham Christmas party.
Andrew Fifield details how Redknapp "is expected to issue fines of up to two weeks' wages to all 16 players involved in the party, including the team captain, Robbie Keane, who is reported to have organised the trip. The striker's future at White Hart Lane is now in doubt." According to Gary Jacob though, Keane is in for special punishment. "The Spurs manager will reserve the strongest dressing down for Robbie Keane, who could be stripped of the captaincy for reportedly organising the jaunt to Dublin 11 days ago… he future of Keane, who is expected to be fined about £150,000, will be further called into question, with Sunderland and Celtic among the Ireland striker's admirers."
Dipping into the transfer gossip, John Ley kicks things off by quoting The Professor as forecasting an uber quiet winter period. "Wenger warned that the game is living in "dreamland" and is predicting one of the quietest January transfer windows in recent memory."
That view appears to be supported with only a measly few transfer tales to chew over. James Nursey coughs "Birmingham are stepping up their efforts to sign German bad-boy striker Kevin Kuranyi," while Alan Nixon detailed how "Arsene Wenger last night warned he will only allow Jack Wilshere to join Burnley on loan – if he is promised regular games."
---
GAMBLING CAN BE ADDICTIVE, PLEASE PLAY RESPONSIBLY