The Sheik-Up: Manchester City eye Torres (Liverpool), Ronaldinho (AC Milan), Fabregas (Arsenal), Zlatan (Barca), Di Maria (Benfica), Ozil (Bremen) & Boateng (Hamburg)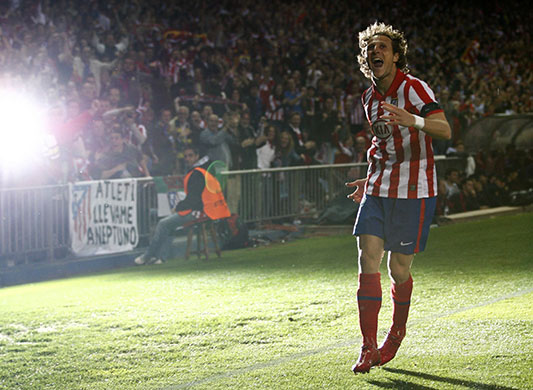 Comment & analysis round-up
Quote of the day: "I am still confident of reaching the final. I have confidence in Anfield, in our players and in our supporters. We had the same situation against Lille and Benfica and we managed on those occasions so hopefully we can do the same again this time. I'm not happy about the result but I'm not unhappy either. Everything will now be decided at Anfield where we will go out and fight hard and we will have our supporters behind us." – Rafael Benitez.
Runner-up: "Not many people leave stadiums at halftime or go for a cup of tea thinking the game has been won. There is a lot of football to be played and Hamburg are a very good team. If they score a goal next week the advantage passes to them. The tie is open but I am delighted about that because it is very easy to put yourself out of contention." – Roy Hodgson.
Today's overview: A host of topics focus minds this Friday as Manchester City open what could well be the transfer story of the summer targeting Liverpool's prized-assets, while the pundits cast their keen eyes over how Liverpool and Fulham got on in the Europa League on Thursday night.
Let the bidding for Torres begin: It's open warfare in the backpages today after Roberto Mancini made it crystal clear on Thursday that, if he got the chance, Manchester City would move to sign Fernando Torres from Liverpool this summer.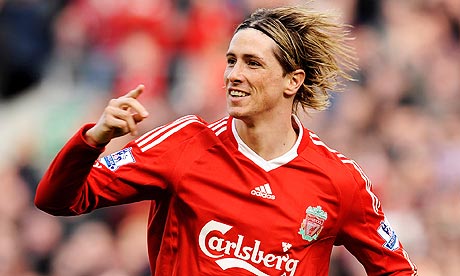 For Daniel Taylor, "Roberto Mancini has laid down a marker for what promises to be another summer of huge spending at Manchester City by confirming that he would like to sign Fernando Torres and speaking openly about the club's chances of persuading the Liverpool striker to leave Anfield… City are one of the few who could afford to make Liverpool an offer in excess of £50m, as well as making Torres the highest paid player in English football, with a weekly salary of about £200,000… Representatives of Ronaldinho, the former world footballer of the year, are also understood to be planning to sound out City to see if there is any interest in arranging a deal with Milan."
Unsurprisingly, as reported by Tony Barrett, Liverpool are rather miffed by City's interest in Torres. "Liverpool have reacted furiously to Manchester City making their interest in Fernando Torres public after Roberto Mancini revealed his desire to sign the forward… Mancini remains hopeful of snaring his No 1 target, with an opening bid of about £60 million being prepared, provided that he can offer Torres Champions League football next season."
Playing devil's advocate Rory Smith makes the case for Liverpool to sell El Nino. "Torres, in the open market, would cost around £70 million to one of the five or six clubs who could afford him. But should his injuries fail to clear up, perhaps that value will fall, and the number of suitors with it. This may be the last season Liverpool can attract top dollar for one of the world's most gifted players.  Providing that money does not go straight to the Royal Bank of Scotland – a big if – the club could buy a £30 million striker who, instead of playing 60 per cent of their games, could play 90."
While many Reds will be angry about the potential of Torres going to City, they will be similarly irked by Ian Herbert's report in the Independent that Rafa Benitez has agreed in principle to move to Turin this summer.
Herbert: "Rafael Benitez's representatives have put in place a detailed framework with Juventus which would enable the Spaniard to settle straight into a Serie A role should he part company with Liverpool this summer. No decision is expected on the Liverpool manager's future for at least 10 days and developments both at Anfield and the Bernabeu are likely to dictate whether he does find himself in Turin's Stadio Olimpico, but a £4m a year salary, before tax, has been agreed between Juventus and Benitez's agent Manuel Garcia Quilon, according to reports in Italy yesterday."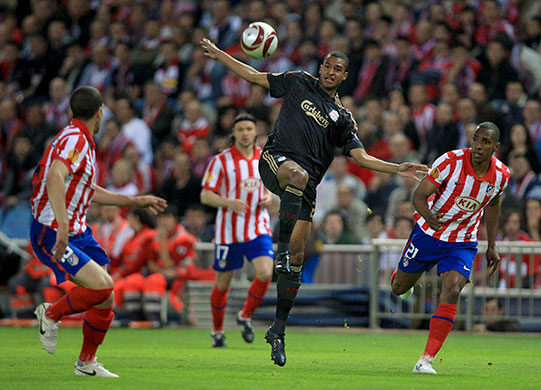 Liverpool lose, Fulham hold firm: After Liverpool's 1-nil defeat at Atletico Madrid on Thursday night, Kevin McCarra fears that the Scousers won't be able to turn the tie back at Anfield. "Liverpool now face a real challenge to recover in this tie at Anfield next Thursday. The side had spells of endeavour but the display did not gel. Frustrations familiar in the Premier League had seeped into the European scene."
Andy Hunter chose to view Liverpool's performance through the prism of striker David Ngog. "The French striker often appears to be criticised for the unavoidable fact he is not Liverpool's record signing and the man who delivered the European Championship to Spain in 2008. He is, as Ronseal may advertise, exactly what it says on the tin; 21, a £1.5m signing and one who has assumed greater responsibility at Liverpool than would have been needed had a decent back-up arrived last summer… That quality must be discovered at Anfield next Thursday. Managerial and club reputations rest on it."
Far less charitable though was Oliver Kay, who highlighted Liverpool's lack of cutting edge against Atletico. "Once again, in [Torres's] absence, there was an alarming lack of cutting edge from a Liverpool team for whom scoring an away goal was always going to be a struggle, given the paucity of their performances away from Anfield… The post-match statistics from Uefa showed that David de Gea, the Atlético goalkeeper, did not have a single shot to save and, while travel-weariness was almost certainly a factor, it was hardly the first time this season that Liverpool have lacked spark away from home."
Adding to criticism of Liverpool's attack was Tony Barrett. "Without Fernando Torres, Liverpool's attack is as blunt as many of Benítez's critics. As such, clean sheets are often easily obtainable against the men from Anfield. Atlético's defence has conceded 52 goals in 33 La Liga matches this season, a record indicative of a porousness that is ill suited to European football and the away goals rule that so often separates winners from losers. Liverpool, though, could not breach the home team… It [does not] inspire confidence that Liverpool will reach their third European final since Benítez's arrival."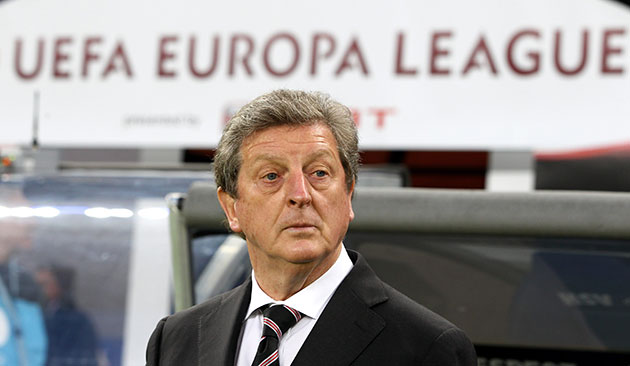 So what of Fulham?
Tom Dart leads the way by admitting "to feel even vaguely regretful that Fulham left Hamburg with a goalless draw is to be utterly greedy. But that is the price of achievement: the constant thirst for more. So impressive have Fulham looked in Europe this season that it is easy to lose perspective and forget we are talking about a small team in uncharted territory. They resemble their continental veteran of a manager, and it is a very convincing disguise… The Europa League has made Fulham's season; Hamburg need it to save theirs."
Glenn Moore pushes the Fulham bandwagon along by celebrating their clean sheet in Hamburg. "The unheralded Premier League side delivered a masterclass in the art to earn a goalless draw that means they are a home win away from their first final since Alec Stock steered them to Wembley in the FA Cup 35 years ago. Then they had Bobby Moore and Alan Mullery, admittedly both well past their peak. Last night the key figure was Mark Schwarzer; but if the goalkeeper was called upon to produce a cluster of saves in the closing stages this was otherwise another superb team effort."
Hedging his bets on the return leg was John Ley. "The evidence in the HSH Nordbank Arena suggests that Roy Hodgson's well-organised team could be back, with Hamburg offering little to hint at an away goal. Fulham have now gone 416 minutes since they last conceded a goal, but they have also gone a minute short of six hours without scoring, so the return could prove fascinating."
Beauty is a beast: Simon Barnes delivers a brilliant op-ed this Friday in which the scribe flags up some of the misconceptions surrounding the need for beauty in football. "Arsène Wenger declares that beauty is football's most effective tactic: 'It is pragmatic to make a good pass, not a bad one.' But he's being disingenuous: beautiful passing isn't football's only effective tactic, just the one we like best. Perhaps Barcelona will show what beauty can do when the sides meet for the second leg on Wednesday. And then most neutrals will become partisans for the team that give them more aesthetic pleasure. Barcelona will be the good guys. They will seem morally superior to Inter because they play prettier football… Troubles come when we start believing… that the teams and individuals we like, who please our aesthetic sensibilities more, really are morally superior to the others."
Football's financial plight: Failing to mince his words, the Telegraph's Jim White is at pains to stress that English football is still gripped by recession. "All this week, Gordon Brown has been telling anyone who will listen that Britain is coming out of recession. Well, football isn't. If anything, it seems to be getting worse. Everywhere you look the consequences of the sort of financial behaviour that got the wider economy into such a mess are being visited on our leading clubs. At Portsmouth, West Ham and Liverpool, as well as Hull, things appear destined to deteriorate much further before there is any hint of improvement. And those are the ones we know about, the ones the depths of whose problems have been exposed either by new owners or the pressing need to find new owners. Goodness knows what other horrors lie under stones as yet unturned."
Three Lions: The Daily Mirror supply two dubious articles today bigging up boarderline players for apparent definite World Cup call-ups.
John Cross bullishly scribbled "Fabio Capello is desperate to take Ledley King to the World Cup. The England boss has made discreet checks with the Tottenham medical staff about King's fitness and has made it clear that he wants him to be in his 23-man squad. It would represent a huge gamble on Capello's part as King has been plagued by injuries and still struggles to play two games in a week because of his persistent and career-threatening knee problems."
In a separate article John Cross charged with news that "Fabio Capello is considering a shock World Cup call-up for Fulham striker Bobby Zamora."
Transfer Tittle-Tattle: Evertonians won't be happy to read James Ducker's report in The Times which announces that Arsenal are in the market for Jack Rodwell. "Arsenal are understood to have joined Manchester United, Chelsea and Manchester City in the hunt to sign Rodwell, who is widely regarded as one of the most exciting young talents in English football, and have been closely monitoring his situation."
While, as reported above, the big news for Manchester City is their pursuit of Fernando Torres, Ian Herbert details some of the other targets on the CItizens' radar. "Mancini said Benfica's Angel di Maria has caught his eye and City are also eager to have a deal agreed to sign the 21-year-old German phenomenon Mesut Ozil before the World Cup… City are close to completing an £11m deal to bring the Hamburg defender Jerome Boateng to the club."
Like transfer turrets, Bill Thornton also spouts a list of supposed targets for Manchester City claiming "City owner Sheikh Mansour has given the go-ahead for another massive spending spree this summer. Arsenal's Cesc Fabregas, striker Ibrahimovic, of Barcelona, and Hamburg defender Jerome Boateng are all top targets."
And then we arrive to the downright, untrue lies.
The Daily Mail adopt their tried and trusted method of refusing to put a name on an article when farting "Bacary Sagna is a target for Juventus amid reports that Arsenal want Ajax defender Gregory van der Wiel. France international Sagna has not sustained his form of the last two seasons and Arsene Wenger is planning an overhaul of his squad. Roma are also keen on Arsenal's Emmanuel Eboue."
Next, the lying DM appear to daftly claim that cash-strapped Liverpool will splash out a whopping £7m on securing Wolves goalkeeper Wayne Hennessey as back up to Pepe Reina. The price comes crashing down in The Sun, who detail that "Rafa Benitez is preparing a £2.5million raid for Wolves keeper Wayne Hennessey."
The Sun also proved themselves capable of spreading gossip this Friday as Carl Long claims "Klaas Jan Huntelaar could be heading to Manchester United in a sensational swap deal with Dimitar Berbatov."
It doesn't take long for John Cross to get in on the action for the Mirror and he spews "Arsenal have been checking on Bayer Leverkusen's German international [goalie] Rene Adler… Arsenal are scouring around with Hamburg's Jerome Boateng in their sights." Staying in the Mirror and with Arsenal, Massimo Marioni details the never-gonna-happen story that "Juventus are considering using Gianluigi Buffon and Felipe Melo as bait in order to lure Robin van Persie away from Arsenal."
Click here for more Premier League betting tips
---