The Red Knights raise £1.5bn to buy Manchester United & Capello's conundrums
Comment & analysis round-up
Quote of the day: "What happened in the Arsenal game will not be factor when I next play again for Stoke. Whenever I pull on the Stoke shirt I have got to be 100 per cent committed and I have got to be the same as ever. Hopefully, when I am back from the suspension I can do well again. All the England players have been fantastic about what happened with Aaron Ramsey. They've got my mind on football really, nothing else. I've enjoyed their company and it's been a good experience. It's been a tough week, everyone knows about that but being in the England squad has been fantastic and all I can do now is look forward and try to keep my place. Being called up to England has definitely helped me put what happened against Arsenal behind me, it's been a great experience. The Stoke fans and a lot of people me have been fantastic. It's been a tough week, but I've enjoyed myself." – Ryan Shawcross.
Runner-up: "It's important we forget this now and forget about me. We just need to concentrate on winning the World Cup. Privately, I've had a lot of support from the lads. I certainly hope we can draw a line under everything now." – John Terry.
Today's overview: There is no shortage of comment this morning following the international games on Wednesday night. The decisions for Fabio Capello are chewed over and analysis of the likes of Spain and Brazil is also included. Two articles well worth a butchers are both in The Times, Gabby Logan on the Terry-Bridge affair and Simon Barnes writes about the death of Keith Alexander and the role of stress in football management.
The Times bring the exclusive today that the Red Knights have raised 1.5 billion pounds to buy Manchester United. The tag team of Kevin Eason and Helen Power report: "Sixty super-rich investors have pledged up to £1.5 billion in their bid to seize control of Manchester United, The Times can reveal. Although the Glazer family have insisted that the champions are not for sale, the leaders of the Red Knights, the group of leading City financiers behind the move, will sit at their round table today to sift through a rich list of applicants ready to back a buyout. 'We thought we had 40 investors — well, it is already 60,' one of the Knights said last night. It may mean that a bid for Britain's biggest club could soon be a realistic prospect and that the Knights will be in a position to make an offer that cannot be refused."
Transfer gossip seems to have moved over into international football with a vengance today. Fabio Capello has been approached by Russia to become their new boss. Luke Harding reports: "The Russian Football Union has made an approach to Fabio Capello about leaving England after the World Cup in South Africa and taking up a new and highly lucrative position as coach of their national team. The new head of Russia's Football Union, Sergei Fursenko, flew to London to pursue Capello last week. He held informal talks with the England manager at Stamford Bridge last Saturday, meeting him during Chelsea's 4-2 home defeat to Manchester City… Capello is one of between five and eight candidates currently under consideration, it is understood. The England manager responded politely to the Russian approach last weekend in London, the newspaper reported, but made it clear that any negotiations would have to be carried out via his agent… Although Capello spoke in conditional terms last week about his continued involvement with England after the World Cup, the Football Association is certain he will stay on. In recent weeks he has spoken warmly of his experience here and his spokesman said of the link with Russia: 'Fabio is under contract until 2012.'"
Meanwhile the lead story in The Sun claims Don Fabio has not given up on Wayne Bridge and will beg the Manchester City full back to go to the World Cup. "Fabio Capello will again beg Wayne Bridge to go to the World Cup. England's boss still believes the Manchester City star is the best left-back cover for injured Ashley Cole. Leighton Baines produced a tidy performance against Egypt but did not do enough to prove to Capello he should be ahead of Bridge in the pecking order. And an England insider told SunSport: 'Fabio has not given up on Wayne Bridge.'"
Also on Bridge, Gabby Logan argues that "Planet Football has been thrown into a new orbit due to the Terry-Bridge affair." "We've all read some or all the acres of opinion expressed from the most surprising corners of the journalistic community on the myriad of subjects that have emanated from John Terry's extramarital affair: whether or not JT should be stripped of the captaincy; whether Toni should stay with him; whether Wayne should play for England; whether JT should be booed; whether Ashley Cole should be subjected to some kind of public torture for his carnal sins against St Cheryl of Tyneside … the list of moral dilemmas goes on. It has occurred to me, more than once, that male sports writers have written in a way that 20 years ago would have been unthinkable to the genre. Hard-nosed football journalists have talked about feelings, betrayal, emotion, and all in the context of a personal matter that has ended up as a football dilemma."
Jim White analyses Carlos Tevez's take on the Terry-Bridge affair. "Speaking about John Terry's private predilections, Tévez said that "in my neighbourhood if you do that, you lose your legs, or you don't survive. So now we know where to begin our inquiries if JT ends up one day with a steel boomerang embedded in his head."
Oliver Kay gets the ball rolling on the decisions faced by Fabio Capello. "The time for players to stake their claims is running out — it appears unlikely that any new name could find its way into Capello's plans — but competition for those 23 places remains fierce. On Wednesday Shaun Wright-Phillips came on as a substitute to score one goal and set up another for Peter Crouch against Egypt, elevating him into serious contention for a place at the World Cup, even if, for him to make the flight, it seems likely that at least one of Theo Walcott, Aaron Lennon, Joe Cole or (gasp) David Beckham would have to miss out. Decisions, decisions."
Sam Wallace also analyses the "Capello conundrums." Some positions are better served than others. Questions remain over whether Ashley Cole will be fit in time. But what is not in doubt is that the quality of England's squad runs sufficiently deep that some big names from English football will be left behind."
Steven Howard backs England's Italian boss. "Capello's mere presence at matches featuring members of his squad between now and the end of the season will ensure there is no coasting through to the World Cup by players assuming they are guaranteed a place. By removing Lampard from the action and ignoring Beckham, Capello has kept the pot simmering away nicely."
Tony Cascarino incredibly suggests Peter Crouch is more important to England than Wayne Rooney. " Crouch is one of those players who can make the entire team more effective just by his presence. He's not the most individually talented, he need not even have an especially good game; but as we saw on Wednesday, when he's in the team, England are improved. It's because of what Crouch does to opponents – he scares defences who are intimidated by his height – and what he does to his own team-mates. He adds a dimension to England's attacks that isn't present when two small forwards such as Rooney and Jermain Defoe are up front."
Jamie Redknapp also bigs up Peter Crouch. "When I first trained and played with him at Southampton, I remember thinking: 'You're a player.' I told him enough times, too, and also said publicly that I thought he could one day play for England, although it was an idea initially met with derision. Take a look at his record at international level now."
The Sun also reveal that Chelsea have sent psychologists to check on the well being of Ashley Cole. "Worried Chelsea chiefs have sent a psychologist to check on love-cheat Ashley Cole amid fears for his mental wellbeing. The expert was flown out on the orders of club owner Roman Abramovich following reports of bizarre behaviour by the downcast star. Cole, recovering from a broken ankle at a clinic in France, has been wracked by grief after betrayed wife Cheryl ditched him over his flings and sex texts."
There is also plenty of analysis on teams other than England going to the World Cup. Tony Barrett bigs up Spain: "If the most accurate measures of a team's preparedness for the World Cup are the number and type of concerns that occupy the mind of their coach then it would not be stretching a point to suggest that Spain are as ready as they could be." Fellow Times journalists Matt Dickinson and Tom Dart back Brazil and Serbia respectively.
Guillem Balague, in his column in the Daily Mirror, highlights Spain's new star: Sevilla winger Jesus Navas. "The 24 year old Spaniard could turn out to be Spain's secret weapon at the World Cup and after bringing Navas off the bench for the win over France this week, the Spanish national coach is ready to unleash the player his club manager calls the best winger in Europe. Where have we been hiding him if he's that good? Well, he suffers from anxiety attacks and has even been known – in the words of a team mate – to 'leg it from a training session Forrest Gump style'."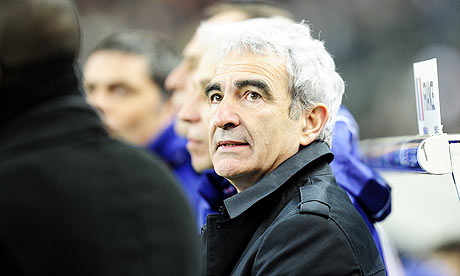 Amy Lawrence looks at the mess that is France and their incompetent manager Raymond Domenech. "there are several good reasons why France, despite their pedigree, look ill-equipped to offer a reprise of Italy's redemption story. The squad has weaknesses, notably at centre-half (Julien Escudé, Jean Alain Boumsong, say no more). Against a team as comfortable and confident as Spain there was also trouble up front, where one observer in Paris described the Henry-Nicolas Anelka-Franck Ribéry axis as 'three lost divas'. They also don't have a Zidane, and do have a Domenech who becomes even more intransigent the longer he stays in the job. An inspirer, a guide, a leader, a Marcello Lippi, he is not."
Just a few weeks ago it was the main Premier League topic, but the Champions League play-off idea has been rejected in double quick time. Paul Kelso: "Premier League clubs have rejected a proposal to decide the fourth Champions League place with a play-off, after support for the plan fell short of the required majority at a board meeting on Thursday. The plan was for clubs finishing fourth to seventh to play-off for England's last Champions League spot. League executives delivered a feasibility study to the clubs on Thursday in which the practical difficulties of fitting the additional matches into the crowded end-of-season programme was made clear. These logistical difficulties, as well as concerns about the integrity of a competition where league positions are decided over 38 games led to the idea being abandoned."
The always excellent Simon Barnes writes about the death of Keith Alexander. "But stress itself is not an entirely bad thing. It is an equivocal thing. If it is a bad thing, it is also a good thing. And one we seek as a treat, as one of life's little bonuses. Alexander loved the life of the football manager, with all its madness and uncertainty. Arsène Wenger once said: 'At first you think the pressure is unbearable, but then you learn to cope. That is why it is like an addiction.'"
With real football to talk about there is a lack of transfer gossip. Ian Wright slams Manchester City for their treatment of Shaun Wright-Phillips. The former Arsenal striker: "They are mugging him off and treating him like a youth team player."
The future for Joe Cole at Chelsea also looks bleak according to Matt Lawton. "Joe Cole fears a complete breakdown in his relationship with Roman Abramovich will result in the midfielder leaving Chelsea at the end of the season. Sources at Stamford Bridge claim Cole and his representatives infuriated the Russian with their hardline stance in contract negotiations which saw the player threaten to leave if Abramovich did not meet the 28-year-old's wage demands." In a seperate article, Lawton charts the "depressing decline" of Joe Cole.
The Daily Mail also reveal that Juventus are after Robin van Persie and Manchester United are tracking Dinamo Zagreb midfielder Milan Badelj.
Finally, The Guardian have Small Talk with Viv Anderson. "Last question then Viv, what was the best dressing-room prank you saw as a footballer? A colleague of mine, Terry Curran, borrowed somebody's washbag to get some underarm spray, but it turned out to be hair remover. So he sprayed it under his arms and literally three days later he combed his hair and it all fell out in big chunks."
---