"The Premier League must enforce its rules that all teams field their strongest teams, or start to fear for its lucrative broadcasting contracts" – Sam Wallace
Comment & analysis round-up
Quote of the day: "I don't remember United being disappointed when I played 3‑5‑2 at Chelsea, or when we tried to attack Arsenal. We got slapped there and there was no sympathy for me afterwards in the managers' room. I'm not bothered about angry reactions anywhere else, my priority is my own team and any decisions I make this season will be based on whether or not we can stay in the Premier League. I accept some of the fans may have been unhappy with the team I put out, but I would hope they will understand the situation. I played my strongest team and we competed with United." – Mick McCarthy.
Runner-up: "We're not stupid. We know we're in a bad position and we haven't got enough points. The quicker we can get a win, the better." – Gianfranco Zola.
Today's overview: Was Mick McCarthy within his rights to make 10 changes to his Wolves team in Tuesday 3-nil defeat at Old Trafford?
Taking up the discussion from the point of view of the Wolves' fans, Henry Winter observed how the visiting support expressed their dismay at McCarthy's selection choices. "On seeing an outfield boasting only 41 Premier League starts and frustrated by the sacrificing of any momentum built by the win over Spurs, Wolves fans inquired: "Where is our first team?''. They followed up with "40 quid to watch the reserves'' and "we want our money back'' as board members shifted uneasily in the smart seats."
Staying with Wolves' perspective, Sam Wallace argued "there is sometimes more than just fresh legs to consider. The feelgood factor earned by Wolves' victory at White Hart Lane and the momentum that gave McCarthy's team has been lost. The supporters who made the trip home last night from one of the biggest games of the season returned home severely disgruntled. That is even before the more serious implications for the competitive ethic of the Premier League are examined."
Paul Doyle, calling the match a "soporific stroll" for Manchester United, noted "in the old days, before anyone had heard of Champions League squads or rotation, teams used to get into trouble for doing that. Now Wolves can offer the defence that sides at the top of the table regularly make wholesale changes and, presumably argue, that Burnley at home this weekend is a more winnable fixture."
Attacking Wolves' starting XI, Oliver Kay explains the dangers in McCarthy's selection precedent. "The concern is that such team selections could become the norm when a struggling, relegation-threatened side visit one of the elite, at least when there is a more winnable game to follow a few days later. English league football has built its reputation on the belief that, on any given day, any team can beat any opponent… and, in a season in which the aristocrats have frequently been embarrassed, the idea of an inferiority complex sweeping the lower classes is an unwelcome one." Sam Wallace, going a step further, called for action to be taken against Wolves. "When small clubs are already writing off games in December there is a problem with the competitive ethic of the league. The Premier League must enforce its rules that all teams field their strongest teams, or start to fear for its lucrative broadcasting contracts."
From one extreme to another, James Ducker then criticises United for have not put Wolves to the sword. "Surely this was a game when Rooney and Berbatov could have sent out a statement of intent with Christmas looming. Their partnership has shown some signs of encouragements, but the sparks have yet to fly. What would a flurry of goals have done for their confidence?"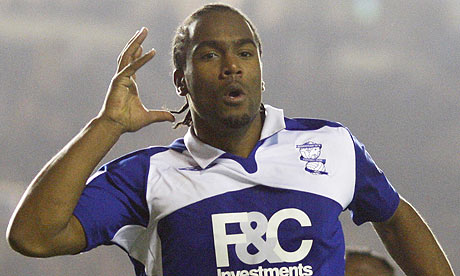 Punching above their weight are Birmingham, who moved into sixth win their victory over Blackburn. Looking to the future, Phil Shaw wonders whether the Midlanders can push on even further. "Sixth place in the Premier League, above 18-time champions Liverpool and the moneybags of Manchester City, and with a £40m war chest for Alex McLeish to build from a position of strength – this really is Bluenose-bleed territory for Birmingham and their followers."
Contextualising the Midlanders' feat, Stuart James dredged up history to detail "not since 1973, when a young Trevor Francis was tearing through the old First Division defences, had Birmingham won five top-flight matches on the bounce. Back then Birmingham were hauling themselves clear of the relegation zone but the current crop were seeking to ruffle a through feathers at the other end of the table."
Are West Ham going down? Tim Rich seems to think so having seen the Hammers lose at Bolton. "This West Ham side is certainly bad enough to get itself relegated and is making the kind of errors mixed in with ill-fortune that usually accompany a side in freefall."
Staying with negativity surrounding London-based clubs, Martin Samuel discusses Tottenham's constant inability to prove themselves as a top Premier League club. "It is not just that Tottenham invariably end up as the bridesmaid not the bride, more that they become the sad sack bridesmaid who spends most of the evening in floods of tears, or the one who breaks an ankle trying over-enthusiastically to catch the bouquet or comes out of the toilet with the back of her skirt tucked in her knickers. They have an almost exquisite talent for blowing the big chance and this season is no exception."
Liverpool fans, for the first time in a while, receive some good financial news this Wednesday from Paul Kelso. "Liverpool co-owners George Gillett and Tom Hicks are closing in on a deal that will see them sell a significant share in the club to a new investor for around £124 million… Gillett was in London last week to hold talks with potential investors, and Liverpool managing director Christian Purslow is understood to have held talks with a number of candidates interested in taking an equity stake in the club. A long-list of around six serious investors has been compiled with two or three proposals thought to be particularly strong, offering the owners around $100 million (£62 million) each for a share in the club."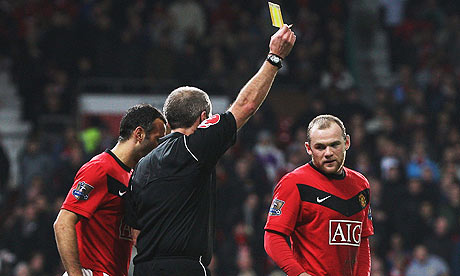 Looking to debunk the theory the diving is a foreign curse, Paul Doyle asks "why is diving by English footballers so often overlooked? English footballers are as hypocritical as randy clergymen when it comes to preaching one thing and doing another." The same topic is picked up by Rory Smith who also believe Englishman are cock-eyed when it comes to the issue of diving. "Most of those players held up as practitioners of the dark arts, after all, are not English, and yet there are dozens of English players who did not need to be taught anything about enjoying a quick tumble. Emile Heskey, Michael Owen, Francis Jeffers, Robbie Savage (he's Welsh, but you take my point), even Franny Lee. Yet because they're native, we forgive them, we insist they're only doing it to keep up with the foreigners, we believe that, had it not been for the outsider invasion of English football, all would be pure and clean."
England's 2018 World Cup bid is brought into focus by Paul Kelso who details the latest measure taken by the government to try to secure the tournament. "The Government will have to suspend normal immigration controls and exempt Fifa from all UK taxes if England wins the right to host the 2018 World Cup… The measures are among a series of far-reaching guarantees demanded by Fifa and signed off on Tuesday by the Prime Minister, Gordon Brown, and ministers in support of England's bid."
Onto the transfers, where West Ham's Scott Parker is in hot demand according to Oliver Kay. "Parker has been linked with a move to Liverpool in next month's transfer window but, with money scarce at Anfield, Tottenham are favourites to sign him next month if West Ham indicate a willingness to sell." Keeping with the Lillywhites, the Independent report that "Real Sociedad goalkeeper Asier Riesgo is hoping a deal can now be struck for him to join Tottenham after he seemingly impressed during his trial with the Barclays Premier League club."
Elsewhere, The Sun reveal that "Steve Bruce will make a transfer-window move for Wigan's long-range goal hero Maynor Figueroa," the Mirror bark "Manchester United are targeting young Serbian central defender Uros Cosic – seen by his club CSKA Moscow as potentially a bigger talent than Nemanja Vidic," while James Nursey farts "Carlos Cuellar's superb recent form for Aston Villa is set to earn him a Spain call-up in 2010 – and has alerted Real Madrid."
The managerial merry-go-round bursts into life today, with the Daily Mail coughing "Arsenal legend and former Portsmouth boss Tony Adams has had talks with St Etienne and could take over as coach after the French club yesterday sacked another ex-Pompey manager in Alain Perrin." The vacant Scotland job is also chewed over by Stephen McGowen, who reports "Dutch coaching master Aad de Mos last night became the latest overseas candidate to put himself in the frame for the Scotland manager's job… Sportsmail has also learned that former Italian World Cup goalkeeper Walter Zenga has also applied for the position."
We end with the story of the missing football team, as reported by Tristan McConnell. "The entire Eritrean national football team absconded from their hotel in Nairobi after being knocked out of a tournament, becoming the latest of their compatriots to flee their homeland. The Red Sea Boys, as they are known, suffered a 4-0 defeat against Tanzania on Saturday in the quarter-final of the Cecafa Senior Challenge Cup. With Eritrea's dream of becoming champions over, the players seem to have set off in pursuit of their own dreams. The team aircraft is said to have arrived in the Eritrean capital, Asmara, with only the coach and one official on board."
---
GAMBLING CAN BE ADDICTIVE, PLEASE PLAY RESPONSIBLY