The Premier League is €4bn in debt, Pompey face 20-point penalty next season, and which of Inter's Mourinho or Chelsea's Ancelotti is under the greater pressure?
Comment & analysis round-up
Quote of the day: "I called him a few days ago because I care about him and I wish him a very quick recovery. And because I like him very much, my advice is 'Don't leave England.' I watched Ashley Cole play until the moment of his injury and I watched him play superbly. So if he has problems, they are for sure not on the pitch. Ancelotti must give him advice, his family must give him advice and he must think for himself. If he wants my little opinion, my opinion is 'Stay in England.'" – Jose Mourinho.
Runner-up: "John and Frank perform week after week, year after year. They look as if they are never tired of playing well, which is the reality. Did I give them a little contribution to that? They say yes, and I think so. I thank them, because they never forget my contribution. But if they are good players, it's because they're good players and they've worked very hard. When I speak with somebody at the club, they always say that the culture of working very hard did not change. The players have kept their strong mentality. The years are going by and they are like port wine. The older the better." – Jose Mourinho.
Today's overview: The horrible financial state of English football is again plastered all over the backpages this Wednesday as the Guardian expose more truths about the ill health of how debt is plaguing the beautiful game.
David Conn earns his stripes revealing the true financial state of English football. "Concerns over English football's financial wellbeing are set to deepen further with the impending release of a report from Uefa which shows that Premier League clubs owe more money than all the other clubs in Europe's top divisions put together… The combined debts of just 18 Premier League clubs at just under €4bn (£3.5bn), around four times the figure for the next most indebted top division, Spain's La Liga."
In a secondary article, David Conn tries to explain how the Premier League is in such financial ruin despite the fact that "the English top flight makes hugely more money than its nearest rival, the Bundesliga, due principally to the willingness of English people to pay for expensive Sky TVÂ subscriptions and season tickets… The prime reason for this contradiction, between a league making more money than ever previously imaginable, and one nevertheless writhing under a mound of debt, is that too much of the money football clubs make is spent on ever-inflating players' wages."
The issue of player's wages comes into sharper focus up at Eastlands today as Daniel Taylor details how SWP rejected a new contract. "[Shaun Wright-Phillips] turned down a new contract because he felt he was not being offered enough money, a development that has left the winger starting to begrudge the men in power at Eastlands… This will be the last major contract of Wright-Phillips's career and he wants to take advantage of the immense riches available to the club by moving closer to the higher earners such as Emmanuel Adebayor, Kolo Touré and Carlos Tevez, all of whom earn in excess of £100,000 a week."
Switching to the harsh realities of life at Portsmouth, and all of a sudden not only is relegation from the Premier League a given, but League One beckons for the south coasters too.
The punching-bag that is Pompey receives another bashing, as Jamie Jackson reveals "Portsmouth will almost certainly become the first Premier League club to enter administration on Friday in a move that would effectively condemn them to relegation. It could also result in the club starting next season in the Championship with a further reduction of up to 20 points… Portsmouth would only avoid a ­further points deduction from the Football League if the administrator can reach a company voluntary arrangement, a deal with creditors to accept only a proportion of the club's debts. That will be extremely hard to achieve, however, because league rules state that football creditors must be paid in full and Her Majesty's Revenue and Customs will insist on the same."
Are the Premier League willing to take any responsibility over the plight of Portsmouth? Are they hell! Russell Kempson explains "the League declined to comment last night but it is understood that it views Portsmouth's plight as 'an aberration' that says more about the management of the club than itself. It is confident that when new financial reporting criteria come into place next month, the possibility of 'another Pompey' is remote."
Swooping in to offer some limited cheer for Pompey, Alan Nixon trumpets "crisis club Portsmouth will go into administration and take a nine-point penalty – but grab a £11million lifeline from the Premier League… Before the announcement was made yesterday there was an agreement behind the scenes to turn to the Premier League for an advance of the relegation 'parachute payment' – as revealed by Mirror Sport a fortnight ago."
Changing tracks, Paul Kelso announces FIFA's smart new proposal to help regulate worldwide transfers. "The Transfer Matching System is deceptively simple but has the potential to bring transparency and rigour to the wilder reaches of the market. A web-based system, it requires the buying and selling clubs to enter details of transfers, including the contracts, player IDs, payments to agents, total fees and verifiable proof of payment. Only when the details match is the deal cleared."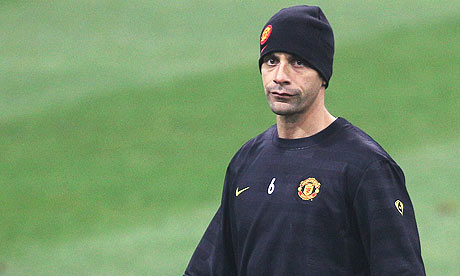 Manchester United, and Wayne Rooney in particular, again hog the headlines after seeing off West Ham on Tuesday night, however another injury setback for Rio Ferdinand failed to go unnoticed by the fourth estate.
Looking at the wider English picture, James Ducker commented "with Glen Johnson and Ashley Cole, the full backs, out injured and John Terry in emotional turmoil, Ferdinand's latest injury has left Capello's first-choice defence in tatters, but, for all the worries the Italian has at the back, he can at least comfort himself in the knowledge that, at the opposite end of the field, he possesses arguably the best player on the planet on present form."
From the macro to the micro, as Gabriele Marcotti vents at the fact the fact that Manchester United-West Ham was not shown live on UK TV. "Sky owned the rights to the game – they showed highlights at 10.15pm, – but were not allowed to show it live, presumably because it was a rearranged fixture scheduled for the weekend which was moved because United are playing in the League Cup final. Here's an idea: when you get rearranged fixtures and the game is a sell-out (which means you're not hurting attendance) in midweek, why not show it live on TV?"
Inter Milan versus Chelsea. Carlo Ancelotti versus Jose Mourinho. Let the games begin!
After Jose Mourinho's entertaining press conference on Tuesday, Henry Winter observed how the Special One spoke of the Blues. "Short of wearing a T-shirt declaring 'I Love Chelsea,' clasping a copy of Chopper Harris's autobiography and launching into a rousing rendition of '10 men went to mow,' Mourinho could not have declared his admiration for his old club more."
Next, which of the managers is under greater pressure to win the tie?
According to Matt Hughes, "even accounting for the demands of Roman Abramovich, the Chelsea owner, it is Mourinho who finds himself under more pressure, although he appeared impervious to it as he spent much of his press conference casually flicking through Uefa's Champions magazine." Yet Mark Fleming believes Ancelotti is the one who should be sweating. "The focus is on Mourinho ahead of this contest against his former club. However, if anything, the pressure is greater on Ancelotti, who is the third manager to move into Jose's old office since the combative Portuguese was relieved of his duties in September 2007."
After all the gesticulating and posturing between the rivals coaches, Richard Williams investigates which man has the better record according to the stats. "In their winning percentages while in charge of Chelsea, the two managers are virtually neck and neck, with Mourinho at 67% over 185 matches and Ancelotti at 70% over 40 games. With the rival Milan clubs, too, their performance is remarkably similar: 56.7% for Ancelotti over seven seasons with the Rossoneri, 58% for Mourinho over a season and a half with the Nerazzurri. No current manager in top-flight football, of course, can match Mourinho's ongoing personal record of 130 unbeaten home league matches in succession."
Gabriele Marcotti focuses in on Ancelotti, arguing that the match with INter will be a yardstick of his achievements so far at Stamford Bridge. "The diplomatic skills honed at San Siro, coupled with an ability to get the best out of players already there rather than requiring hefty investment (something he rarely enjoyed at Milan), naturally made him a good fit, at least on paper. The two-legged clash with Mourinho will reveal just how good a fit it is in real life. What is pretty clear, though, is that most of Italy will be following him and a fair chunk will be cheering him on."
Turning to the smut engulfing the Blues and Ashley Cole, where Matthew Syed blows a fuse against the moral double standards of Chelsea and their owner, in particular. "Does [Abramovich] seriously imagine that a sexual encounter between consenting adults is more damaging to Chelsea's reputation than the entire club being bankrolled by a man who made his billions in one of shadiest privatisations of the Boris Yeltsin era? Who has admitted in court to paying huge bribes to get his hands on his assets? Who boosted his shareholding in Sibneft, an oil company, by allegedly manipulating wage payments to take over worker-controlled stock and conducting a closed share issue in one of Sibneft's most profitable subsidiaries?"
The Sun have an EXCLUSIVE interview with John Terry where the Chelsea captain pompously talks about himself in the third person. Terry: "I'm on a mission and nothing is going to distract me. I want to win the Champions League and Premier League for Chelsea and help win the World Cup for England. I'm not ashamed to say it, I wouldn't be John Terry if I felt any differently."
We finish off with the transfer gossip.
Laura Williamson claims "Glenn Hoddle is poised to become the new manager of Nigeria," the Mirror barf "Manchester United are ready to make a new move for Spanish hot shot David Villa – if he goes up for sale at Valencia in the summer," while Neil McLeman shouts that Neil Warnock, poised to take over at QPR, wants to take Crystal Palace's Darren Ambrose, Neil Danns and Nathaniel Clyne with him.
Lastly, Rob Bagchi took a step back to look at how the nature of transfer gossip has changed in recent times. "Managers were never interested, they were 'poised to swoop.' Bids could not be turned down but had to be 'snubbed,' all players over 23 were stars while those under that age were "starlets" and clubs were unlikely to be facing difficulties persuading a player to sign a new contract when 'being held to ransom' fitted the bill far more vividly."
---
GAMBLING CAN BE ADDICTIVE, PLEASE PLAY RESPONSIBLY