The police get involved in Eden Hazard incident, bashing the ball boy & Spurs want Diame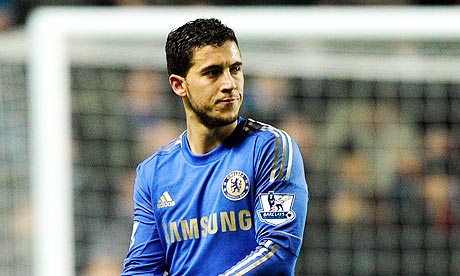 Comment & analysis round-up
Quote of the day: "It's unfortunate and of course it's not something we are proud of. No football authority or person interested in football likes to see acts of violence or lack of respect and this is what happened. It might have happened in the heat of the fire but professionals are expected to be able to control themselves. They have to be able to control their emotions and when they don't that's unpleasant in general. Of course as we are the Belgium FA we don't like it to be a Belgium national squad player but I am very much convinced that Eden himself will realise that. Eden is more than intelligent enough to understand that this is going to be a lesson learned for him. All of us make mistakes in life." – Steven Martens, the chief executive of the Belgian FA,
Runner-up: "I am breaking my rule of not talking about the day-to-day of the club in order to say that it is absolutely false. There no ultimatum nor anything or the sort. What has been said is not true. I think this is very serious and because of that seriousness I have decided to defend the club. Things [like this] have happened numerous times. This is the last time. I understand that someone may have as their objective to force someone [Mourinho] out of the club. We have just reached the semi-final of the Copa del Rey and it seems like someone does not like that. It is the unity of all the members and supporters of this club that has made it the best club in the world and we, and only we, will decide the future of our club." – Real Madrid president Florentino Perez.
The police get involved in ball boy gate but Eden Hazard only set for 3 game ban
Kick and hush: Chelsea's Hazard poised for just three game ban after booting ballboy (Darren Lewis, Daily Mirror) Chelsea and the Football Association are set to let Eden Hazard off the hook despite his ballboy kick that enraged football. Blues manager Rafa Benitez promised the club would "deal internally" with the £32million player for kicking out as 17-year-old Charlie Morgan shielded the ball during the Capital One Cup semi-final at Swansea. But Chelsea are being supportive of Hazard, and pointed to footage they claim clearly shows the Belgian aimed for the ball underneath Morgan rather than the teenager himself. Hazard, criticised by his own country's FA, had been facing a £340,000 fine – two weeks' wages – after the incident that once again plunged the attacking midfielder's club into controversy.
Hazard free (Sun) Eden Hazard is set to escape further disciplinary action after FA chiefs spent an entire day studying footage of his clash with a Swansea ballboy. Compliance bigwigs have still to reach a formal decision as to whether to hit the £32million Chelsea star with a disrepute charge. But new footage emerged yesterday which appeared to confirm Hazard's claim that he kicked the ball and not ballboy Charlie Morgan in Wednesday's Capital One Cup semi-final second leg at the Liberty Stadium. And with Chelsea confirming that they will not be appealing against Hazard's red card, the feeling within the FA is that the Belgium international does not warrant further punishment.
Police launch fresh inquiry into incident involving Chelsea's Eden Hazard and Swansea ballboy (Jeremy Wilson, Daily Telegraph) Police have been forced to launch new inquiries into the confrontation between Eden Hazard and a Swansea ballboy, with the Football Association also reviewing new video evidence before deciding whether to extend the Chelsea forward's ban. Hazard was sent off when he appeared to kick Charlie Morgan as the Belgian tried to retrieve the ball in a frustrated attempt to get play restarted following a goal-kick during Wednesday night's Capital One Cup semi-final second leg. Morgan seemed to have made a deliberate attempt to time-waste for Swansea by blocking Hazard and lying on the ball. The 17-year-old ballboy, who is the son of Swansea director and part-owner Martin Morgan, then complained to the referee and clutched his ribs as he left the pitch. Police confirmed last night that they had received calls from members of the public that they will investigate.
Ball boy bashing & defending Eden Hazard
We've had the cult of the celebrity referee. Spare us the cult of the celebrity ball boy (John Edwads, Daily Mail) I can think of only one criticism of Eden Hazard's so-called attack on a ball boy at The Liberty Stadium. He didn't kick him hard enough. A little extreme, perhaps, and not to be taken seriously. But, then again, should we really be attaching credibility the general sense of outrage over an incident that brought the Chelsea forward a straight red card from referee Chris Foy, who was looking away at the time and must have been acting on the advice of a colleague? Hazard has been demonised for his role in what was an extraordinary incident. Acting on impulse to try and speed up a Swansea goal-kick, he may have gone about it in a slightly over-zealous way, but who could blame him for reacting to such a deliberately dilatory tactic that went way beyond the remit of any ball boy?
Persecute Hazard and it's victory for sly, cunning and sneaky sportsmanship (Martin Samuel, Daily Mail) So what message does it send if the Football Association throw the book at Eden Hazard? Cheats  prosper. Cheat, but make it sly. Gamesmanship rules. Think artful, think devious. And gain any advantage you can. Don't worry, we're here to help. Hazard was wrong. Hazard was punished. He will receive a three-match suspension, and if a further game were added, he couldn't really complain. His club, Chelsea, will be furious, forced to defend the indefensible once again. Yet those calling for more, for a draconian, landmark, line-in-the-sand suspension are missing the vital component: cause and effect. Hazard was reacting to some pretty poor behaviour. If he receives a further hefty ban it will be a victory for sneaks. Nobody emerges from this well; least of all the supposed victim.
The Eden Hazard ballboy row: a silly footballer and a silly boy (Daniel Taylor, Guardian) Apologies in advance if any of this sounds harsh but there was a point, before Eden Hazard was shown the real thing, when it would have been no surprise if Charlie Morgan had bravely staggered to his feet and started waving an imaginary red card towards the referee. That doesn't mean Hazard was right to deliver the sharp little kick with which he tried to dislodge the ball from beneath the Swansea City ballboy, even if it was a mix of naivety, impatience and silliness rather than anything genuinely malevolent. The basic fact – footballer kicks ballboy! – still represents something ignominious for Chelsea whatever the defence argument and however much the boy in question appears to have had a premeditated plan to annoy the hell out of Swansea's opponents.
I've been there – just never in kicking distance (Neil Warnock, Independent)  I expect most people were shocked when the incident happened with Eden Hazard and the Swansea City ballboy on Wednesday night but I have to admit I wasn't surprised. I immediately thought, "That was bound to happen one day." I can't condone what Hazard did, but I can understand his frustration at the kid lying on the ball at such a crucial stage of the game because I've been there, though fortunately I was always too far away to actually take actions into my own hands – or feet.
Who is at fault: Eden Hazard or Swansea ballboy? (Henry Winter, Daily Telegraph) Those who seek to defend Eden Hazard need their eyesight, sanity and moral compass checking. Hazard was a fool who kicked a ballboy, who set fire to the Football Association's Respect document and dragged Chelsea into another fine mess. You cannot kick ballboys, whatever the desire to flick a ball loose, whatever the provocation of a self-admiring teenager. Ballboys should be seen and not hurt. Such has been the perfect snowstorm of tribalism, naivety and sanctimony following events 10 minutes from time at the Liberty Stadium on Wednesday that the simple truth is in danger of being clouded. Hazard kicked Charlie Morgan, a ballboy mature in years if immature in behaviour. Hazard risked a criminal charge. And just imagine the headlines of horror and outpouring of outrage on the airwaves and social media had Morgan kicked Hazard.
Spurs to rival Arsenal for Diame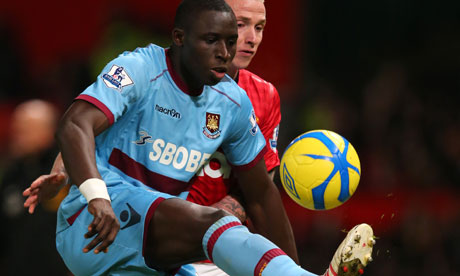 Tottenham aim to tempt Mohamed Diamé from West Ham for £3.5m (David Hytner, Guardian) Tottenham Hotspur are considering whether to meet Mohamed Diamé's £3.5m release clause at West Ham United and tempt the midfielder across London this month, with the club's chairman, Daniel Levy, coming to view the midfielder as an interesting investment. André Villas-Boas, the Tottenham manager, would love to sign the midfielder João Moutinho, a player he worked with during his time in charge at Porto and whom he unsuccessfully attempted to bring to White Hart Lane last summer. But back then, Moutinho's price proved prohibitive – it was upwards of £20m – and he is similarly out of reach now.
Chelsea have other problems…
Beleaguered Benitez has yet another problem as Luiz faces weeks out… but injury opens door for Terry's return (Matt Barlow, Daily Mail) David Luiz has added to Chelsea's woes with an injury he fears may rule him out for weeks. Luiz was on the Liberty Stadium pitch for only 22 minutes as Chelsea went out of the Capital One Cup in the semi-final but he damaged a calf muscle in the final seconds. Rafa Benitez's squad is already depleted by Eden Hazard's ban for kicking a ball boy and because John Mikel Obi and Victor Moses are at the Africa Cup of Nations.
Why always me? Because you are Chelsea (Steven Howard, Sun) Like Mario Balotelli, Chelsea will be asking themselves: Why always me? Yes, the 17-year-old ballboy son of a Swansea director who bragged on Twitter about time-wasting before Wednesday night's game hardly comes out of the latest incident involving Chelsea as an unblemished innocent. Perhaps he just reverted to type — most young men brought up in rugby-mad South Wales are taught to throw themselves on top of a loose ball. Joking aside, Eden Hazard's reaction was pretty dumb in an age when footballers — especially Chelsea footballers — have their every move scrutinised. Hazard's defenders claim he merely wanted to get on with a game that was rapidly running away from them. Yet another 10 seconds was hardly likely to alter the outcome of a match in which Chelsea, usually so mentally and physically psyched-up for a cup semi-final, were woefully subdued.
Liverpool want Ashley Williams
I'll be back: Liverpool chiefs give Rodgers OK to bid for Swansea's Ashley Williams (David Maddock, Daily Mirror) Swansea's march into the record books will leave them with a struggle to keep their history-making skipper in the summer. Ashley Williams is set to become the first captain to lead the club out in a major final, but his vital role in their march to Wembley WILL trigger a Liverpool bid for his services. After emerging this season as one of the outstanding centre-halves in the Premier League, Williams is a hot property, and Arsenal, Spurs and Newcastle are also monitoring his progress. Yet Liverpool have emerged as favourites to land the defender, given the close relationship between Anfield boss Brendan Rodgers and the man he made captain at the Liberty Stadium.
---
GAMBLING CAN BE ADDICTIVE, PLEASE PLAY RESPONSIBLY