"The only way that I can see the FA Cup getting back to anywhere near its former glory is to offer the winners a place in the Champions League" – Gary Lineker
Comment & analysis round-up
Quote of the day: "The ref gave five minutes of injury time. That was an insult to game and to the players out there. You need luck and Leeds got it… I was shocked at the performance. Human beings can always surprise you, but we didn't expect that today. I don't think any of the players can say they had a good day. Only Antonio Valencia, when we got the ball to him, but it took us 10 minutes to do that. We never got going and the quality of passing – the whole performance was bad. You always expect us to get a goal at Old Trafford, the intensity of the game improved a little bit. We had a lot of chances in the box but we didn't take them." – Sir Alex Ferguson.
Runner-up: "There will be three scenarios with Jermaine. Either he signs a new contract, leaves at the end of the season for free or we sell him and get money which we think is too good to turn down. Jermaine showed what he's all about with his goal. He worked ever so hard for the team, took his opportunity and now has five goals in his last three games. Strikers are a precious commodity and we won't be letting him go on the cheap. Money talks with any player, but we're not looking to sell him. We don't want him to leave unless it's something that suits both him and the club." – Simon Grayson.
Today's overview: It's been a long long time since Leeds United were the club grabbing all the headlines, but after dumping Manchester United out the FA Cup in front of their own fans, The Whites deservedly steal the spotlight this Monday.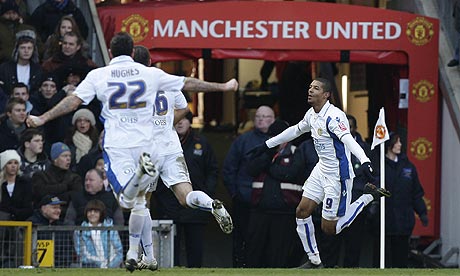 Was Jermaine Beckford's winner at Old Trafford the striker's final farewell to the Elland Road faithful? According to The Star's Bill Thornton, "Beckford KO'd Manchester United in what could be his last match for Leeds. The 26-year-old striker is all set for a £2.5m move to Championship pacesetters Newcastle this week."
Moving away from the speculation, other revelled in Leeds' victory on Sunday.
Tim Rich lead the Leeds' celebrations writing "it is one of football's great ironies that the club that almost bankrupted itself to compete against Manchester United – and justified their spending with the boast that they had lived the dream – should finally overcome their great rivals in their own temple once they had tumbled into the third tier of English football." Yet Henry Winter made the point that Leeds' long-suffering fans deserved their moment in the sun. "The intense loyalty of Leeds' followers, many of whom paid £51 a ticket for this date with destiny, is one of the most eye-catching and uplifting features of the modern game. Here was a reminder that clubs will never die as long as the lifeblood, the support, stays strong."
James Lawton went out his way to explain that his enjoyment of Leeds' victory "was not [borne out of] any inordinate love of competing for the old silver – indeed, the star of the show, Jermaine Beckford, may well be dressing himself in new colours long before the end of this month's transfer window – but the ability of players, with the right handling and proper leadership, to respond to the greatest challenge of their lives."
Knee-jerking is also prevalent in analysis of Leeds' victory, with Tony Cascarino barking "I'm sure they'll win promotion from League One this season by some distance, which will give them a head start in the Championship as they can plan early… With momentum behind them, Leeds's climb could be as dramatic and swift as their downward spiral was." Richard Williams is also found guilty of putting the cart before the horse writing "for Leeds, it could prove to be a win almost as significant as the one squeezed out by Manchester United against Nottingham Forest in the third round 20 years ago, when legend says that Mark Robins's header kept a besieged Alex Ferguson in a job. Grayson knows his team is good enough to vault comfortably from League One into the Championship; now he can be confident not merely of their ability to survive but to thrive at higher levels."
Nemanja Vidic pulled out of the Leeds match after complaining of an injury during the warm-up, and the Mirror's David McDonnell wastes no time in gossiping about the Serb. "Nemanja Vidic's Manchester United future is also in doubt after he enraged Sir Alex Ferguson by refusing to play against Leeds yesterday after complaining of suffering an injury in the warm-up. Vidic, a target for Barcelona and Real Madrid, is unsettled at United and Fergie was clearly angered by the defender's decision to pull out at such a late stage."
Taking a step backwards to review the third round of the FA Cup, Gary Lineker regurgitates the annual criticism that the competition has lost it's status. "This weekend's FA Cup third round is treated almost like an extra guest at an overcrowded party, the competition struggling to revive former glories… The only way that I can see the competition getting back to anywhere near its former glory is to offer the winners a place in the Champions League. I think you would see an upsurge in interest and clubs taking it seriously."
Ready and waiting to fend off such criticisms of the FA Cup was Sam Wallace. "Here's a radical theory: the FA Cup is actually in relatively decent shape… The result at Old Trafford illustrated how difficult it is to generalise about the competition. There will always be dreadful games in any competition. There will always be ties that fail to spark the imagination, like Wigan against Hull, for which a crowd of 5,335 seems a little on the generous side. Manchester United against Leeds was different; that was a tie that would always have an edge to it."
The standout article of the day sees Gabrielle Marcotti chastise clubs, like Portsmouth, who live beyond their means. "When it comes to cheating in football, we tend to employ double standards. Take a tumble untouched in the penalty area, gobble up some nandrolone so you can train harder and longer, or handle the ball so that you can cross to a team-mate who scores and knocks Ireland out of a World Cup play-off and you'll be crucified as an inveterate cheat who brings shame on the game. But go and buy good players with money you don't have and then go and win thanks to those players who should not be playing for you in the first place because you can't afford them and, somehow, it's not as bad."
It's day four of the transfer window and, despite a distinct lack of movement in the first few of January, the papers continue to take journalistic licence to spew out an apparent spate of lies.
Adopting the questionable term "wonder-kid" to help spin their stories, the Mirror talk up the potential of American forward Freddy Adu switching to Hull while Alan Nixon farts "Stoke boss Tony Pulis is making a surprise move for Barcelona's brilliant youngster Oriel Romeu – and wants him on loan for the rest of the season." Staying with Stoke, and seemingly having as much chance as pigs flying, Pat Sheenan barfs "Tony Pulis is planning an audacious bid to snatch striker Ruud van Nistelrooy from under the nose of Liverpool."
The Mirror continue to peddle fanciful stories claiming David Bentley is considering a move to Atletico Madrid, while over in The Sun hack Shaun Custis writes "Sunderland could end David Bentley's Spurs hell… Bruce has bargaining chips in the like of centre-back Anton Ferdinand – managed by Spurs boss Harry Redknapp at West Ham – and striker Kenwyne Jones, who has interested Tottenham in the past."
The Daily Mail also get their feet dirty with unlikely transfer rumours. First the pseudo-tabloid linked Everton with Pompey on-loan forward Frederic Piquionne, while Sami Mokbel claims that Manchester City are ready to splash out £5m for Crystal Palace striker Victor Moses.
Onto the managerial-merry-go-round, where in a surprising no-named article in The Sun we learn "Alan Shearer wants to take charge of managerless Sheffield Wednesday. And the Match of the Day pundit hopes to install his former Newcastle team-mate Gary Speed as his No 2 at Hillsborough."
Bolton's search for a new boss continues, and Burnley manager Owen Coyle appears to remain the favoured candidate for the Trotters. Happily committing himself to nothing, Alan Nixon coughs "Owen Coyle is ready to walk out on Burnley and become Bolton boss – in time to take on Arsenal in a debut of fire n Wednesday night."
---
GAMBLING CAN BE ADDICTIVE, PLEASE PLAY RESPONSIBLY