The Man City bust-up, how Liverpool will use Suarez-Sturridge, Falcao's signed with Real, Arsenal's Chamakh wanted by West Ham & Reading
Comment & analysis round-up
Quote of the day: "Mancini completely lost it with Balotelli, although to be honest the foul was fairly innocuous and Sinclair didn't seem too upset. Mancini was playing in the same 10-a-side training match, and he had been throwing his weight about a bit, making sure everyone knew he was the boss. And when Balotelli and Sinclair tangled he came running over, pushed Mario away and gave him a real mouthful. Balotelli seemed to be surprised at first, but when Mancini kept pushing and yelling he started screaming back into Manicini's face. The next thing we knew they were pushing each other and grabbing each other by the neck. It looked like Mancini was trying to either throw Balotelli off the pitch, or trip him over and throw him to the ground. But Balotelli is a big lad and he was having none of it. The other City coaches and trainers came racing over to separate them, and the rest of the players stood around open-mouthed. They were obviously shocked and embarrassed by what had happened. They didn't know where to look. When they were dragged apart Mancini kept shouting and Mario went back over to the rest of the players and starting kicking a ball round. That was the end of the session, but Mancini kept shouting at Mario and he had another go back as they left the pitch. It was pretty heated stuff." – a 'source' speaks to the Sun.
Runner-up: "I was asked by one agent if I wanted to sign Sneijder. Of course I do. However, he's on about £200,000 a week and now he wants to join QPR? I won't name the agent, but let's just say I think a deal is unlikely." – Harry Redknapp.
The Mancini-Balotelli Fight
Roberto Mancini in foul-mouth bust-up with Mario Balotelli (Star) Roberto Mancini accused Mario Balotelli of being a "f***ing lunatic" during an amazing training ground clash yesterday. Balotelli is now ready to quit Manchester City after he was targeted by a fuming Mancini in front of stunned team-mates.
Mario Balotelli and Roberto Mancini both come out of this fracas badly (Daniel Taylor, Guardian) The latest pictures, however, are the most damaging yet and the most embarrassing, too, now it has crossed the boundary from angry, heat-of-the-moment words into something physical. Mancini, in particular, appears to have lost the plot. The focus will be on Balotelli, the serial offender who had stayed too young too long and now appears to have brought his manager beyond the point of exasperation. Yet the pictures don't look too clever from Mancini's perspective. If anything, he is the main aggressor, grey with anger, taking a fistful of the player's bib. Balotelli is shepherded away in the end, either to prevent him from doing something stupid or, indeed, to stop Mancini doing likewise.
Mario Balotelli's latest escapade is just another instalment of the antics roadshow that shames Manchester City (Henry Winter, Telegraph) "Mad Mario" will get all the "why always him?" headlines but incidents involving him are hardly rare. The issue lies less with a player the club should have offloaded some time ago and more with the manager. Mancini should have been above scrapping with a player in training. He is manager of the Premier League champions, one of the most famous clubs in the world, an organisation seeking global respect. It is about perception, about an authority figure looking just that: in charge, not stooping to wrestle with a recalcitrant charge. It is about setting a tone. Mancini is a passionate individual, who reacted strongly, and he was wrong. It looked bad.
Blast of the mohican (Sun) City sources quickly dismissed suggestions this might prove to be the final straw in their tempestuous relationship. The feeling Mancini was at least as much to blame for this incident as his player means it will almost certainly be glossed over.
Why Roberto is to blame (Steven Howard, Sun) This morning Mancini will gloss all over it, crack a few jokes and talk of how "Mario, Mario" is like a son to him. Except that if it goes on like this — and it will — City's immature and irresponsible striker will end up costing Mancini his job.
When push comes to shove: Manchester City fear they are stuck with Balotelli (David Maddock, Mirror) Balotelli is paid £170,000 a week at City and there are few clubs in the world who can afford him.
Why is it always you, Balotelli? Because you make it so with childish behaviour and clueless acts of petulance (Kevin Garside, Independent) The greater concern for Balotelli is the contrast between this latest episode and his performances on the pitch, the arena in which he is paid to entertain. Balotelli has scored only one Premier League goal this season. His apologists might argue that he has not played enough. This might be the reason why.
Balotelli seeking help from club chaplain in fight to save Man City career after training-ground scrap with Mancini (Mail) Mario Balotelli has been having regular sessions with the Manchester City chaplain as he bids to save his career at the Barclays Premier League club. City's controversial Italian has plumbed new depths at the club, becoming embroiled in an ugly public grappling match with manager Roberto Mancini at the end of training. Now it has emerged that the 22-year-old regularly sees City chaplain Peter Horlock for one-on-one meetings and is scheduled to chat with the minister later on Friday in the wake of this controversy.
Chelsea, Rafa Take A Bashing
Rafa is Rom's WORST stand-in (Steven Howard, Sun) If there was one match Rafa Benitez could ill-afford to lose it was Wednesday's home game with rock-bottom QPR. Much has been made of the improvement of both Chelsea and Fernando Torres under the former Liverpool boss but, on closer inspection, it's all a bit of a mirage. Under Benitez, Chelsea have won seven, drawn two and lost three. On the basis of the first dozen matches, it's the worst start of any 'interim' boss at the Bridge.
Is Stamford Bridge a striker's graveyard? Ba follows a trail of destruction at Chelsea (Rik Schama, Mail) Ever since Roman Abramovich arrived at Chelsea in 2003, there has been a problem. With one very notable exception, no striker, regardless of their transfer fee, reputation or ability, has been able to thrive at Stamford Bridge. So just what is Demba Ba, the latest in a long line of Blues forwards whose signings have been bankrolled by Abramovich, letting himself in for?
Why Rafa's rotation policy will do him no favours at Stamford Bridge (Robbie Savage, Mirror) Realistically, Chelsea's defeat has left them too far behind Manchester United to challenge for the title now – and if Benitez doesn't last the course, he will look back on that teamsheet against QPR as a real moment of madness. I was amazed he left out both Juan Mata, their best player this season, and Eden Hazard, in the name of squad rotation.
Liverpool: Suarez & Sturridge
Red-hot Suarez may have to switch positions to make room for £12m-man Sturridge (John Edwards, Mail) It would be a gamble that could make or break his Anfield reign, but Brendan Rodgers is giving serious consideration to moving Luis Suarez to another position to accommodate new signing Daniel Sturridge… Rodgers admitted he is ready to install Sturridge as his main striker.
Asked where he would use his £12million signing from Chelsea, the Liverpool boss warned 18-goal Suarez.
Suarez will have to move to make room for Sturridge says Liverpool boss (Mirror) Given that Suarez this term had already surpassed his tally of 17 goals for the whole of last season while playing in that position, some may question the wisdom of the Sturridge signing, particularly as Suarez has THIRTEEN more goals than any of his team-mates.
QPR: Going Down
Why QPR will still go down despite Stamford Bridge success (Robbie Savage, Mirror) I don't want to be a killjoy, but I think Harry might have started working his magic a bit too late to save Rangers from going down… When [Harry] looks at the Premier League table in the cold light of day, and at his team's next three games (Tottenham, West Ham and Manchester City), Harry will know that QPR have still got it all to do.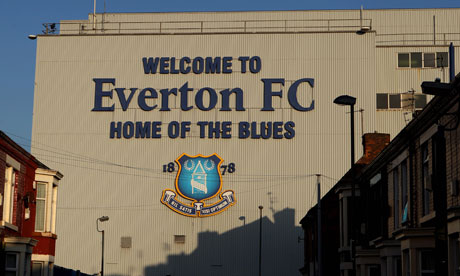 Everton: The Financials
Everton manager Moyes is top of the Goodison Park payroll (Charles Sale, Mail) It emerged from Thursday's publication of Everton's financial report that David Moyes is one of the few, if not the only Premier League manager to earn more than any of his players. Moyes's reward for keeping Everton as a PL force for over a decade in charge on limited resources is a salary approaching £4million a year, which is more than Everton's best paid player, Marouane Fellaini, earns. Everton's wage bill for last season was £63.4m, which amounts to 75 per cent of turnover with a net loss of £9.1m.
Everton's wage bill rises to 75% of turnover (Andy Hunter, Guardian) The financial constraints on David Moyes's attempts to lead Everton into the Champions League have been underlined in the club's latest set of accounts that show a net loss of £9.1m for 2011–12 and wages rising to 75% of turnover. Everton's loss increased by approximately £4m on 2010-11 and overall debt rose from £44.9m to £46m, despite the sales of Mikel Arteta, Yakubu Ayegbeni, Diniyar Bilyaletdinov, James Vaughan and Jermaine Beckford.
Joe Cole
Joe Cole's West Ham homecoming is populist but ignores the reality (Jacob Steinburg, Guardian) The longing for Cole to return has persisted ever since his departure and, if nothing else, this is a populist signing that West Ham need to get out of their system. And so here he is: older, wiser but not necessarily better, too many injuries preventing him from maintaining the form that made him such a threat for Chelsea… Expectations might be low. Cole is not a teenager any more and, to some observers, he is a busted flush.
Transfer Window: Day 4
Real deal? Chelsea target Falcao 'has already agreed a move to the Bernabeu' (Mirror) Chelsea's chances of acquiring Falcao appear to have been blown out of the water by Atletico president Enrique Cerezo. Cerezo, quizzed about Falcao's future on Spanish television, replied: "Falcao has had something signed with Real Madrid for some time."
Lampard is leaving Chelsea in the summer, reveals England star's agent (Mail) Frank Lampard will leave Chelsea at the end of the season with Italy his most likely destination, his agent has revealed. The 34-year-old England midfielder will not be offered a new deal by Chelsea and has recently been linked with a move to Serie A sides Inter and Lazio.
Wenger reveals the secrets behind his window shopping… and he's after Holtby (Mail) Holtby, 22, has made it clear that he will not be signing a new contract at the Veltins-Arena and will be leaving at the end of the season on a free transfer. Wenger added: 'We have looked at him, yes,' but that is as far as he would be drawn on the Germany midfielder… Wenger has other targets in January, but Arsenal are being out-manoeuvred by Manchester United in the chase for Crystal Palace winger Wilfried Zaha.
Sneijder shock (Sun) Harry Redknapp has been sensationally offered Dutch star Wesley Sneijder to boost QPR's relegation scrap.
West Ham set to rescue flop Chamakh from Arsenal misery with loan deal for striker (Mail) West Ham are closing in on their second signing of the transfer window with the Arsenal forward Marouane Chamakh set to join the club on loan. After completing the permanent transfer of Joe Cole from Liverpool on a free, West Ham believe it is good business for Chamakh, 28. Arsenal will subsidise the transfer by paying part of his £65,000-a-week wages.
Cham man for Royals (Sun) Arsenal flop Marouane Chamakh is wanted by struggling Reading.
Sunderland await Cahill answer on loan move as Black Cats target Olsson (Mail) Sunderland hope to receive an answer from Tim Cahill in the next 24 hours over whether he will join on loan from New York Red Bulls. The 33-year-old has also attracted interest from QPR and Aston Villa.S underland are also keen on Blackburn defender Martin Olsson.
Fulham hope to beat off competition from Everton and Sunderland for defender Forren (Mail) Fulham have launched a bid for Molde defender Vegard Forren. The Norway international was due to join up with the national squad for their training camp but was pulled out after his club received a £4million bid.
Gershon arrives in Glasgow to hammer out a deal with Celtic (Mail) Rami Gershon has arrived in Glasgow and spoke of his thrill at the chance to join Celtic.
Laz be 'avin ya, Andrey (Sun) Lazio are keen to take Andrey Arshavin off Arsenal. The midfielder, 31, has talked to boss Arsene Wenger who is willing to let him go this month for around £4million.
---
GAMBLING CAN BE ADDICTIVE, PLEASE PLAY RESPONSIBLY