The Headlines: Bok of the net! (Daily Mirror), 3 Lions in Africa (Daily Mirror), Get de beers in (The Sun), Ooh-aah Africa! (The Sun), We can win it (Daily Express), Watch out world (Daily Star), World class (Daily Mail) & Job done (Independent)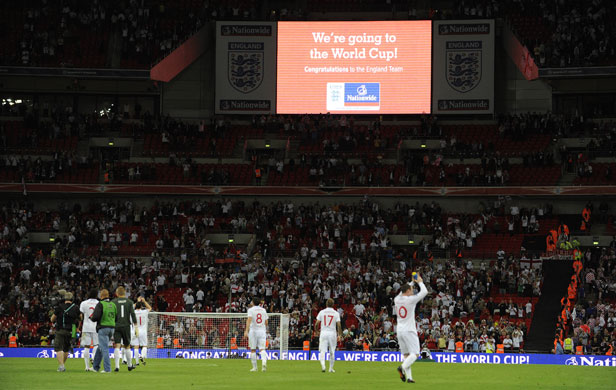 Comment & analysis round-up
Quote of the day: "Not in our worst nightmares were we expecting this. It was not a normal defeat. It was humiliation… They can definitely win the World Cup. Definitely. It's not easy to play every game like that, but they did not misplace a pass in the first half-hour. All their passes were dangerous, one-twos – perfect. If they play like that, then of course they can win it." – Slaven Bilic.
Runner-up: "As long as I have a drop of blood left, I will fight to get Argentina qualified. We're not out of the World Cup. I'm not afraid of criticism. I'm not afraid of anybody. I'm going to continue no matter who criticises me." – Diego Maradona.
Today's overview: With England qualified for South Africa, this Thursday the fourth estate has the delicate job of tip-toeing the fine line between celebrating the national team's success, building optimism ahead of the World Cup and yet attempting to stay level-headed at the same time.
Paul Hayward is the first to walk the tightrope. "Does anyone want wariness today? Probably not, after eight straight wins, 31 goals scored and five conceded, but England have cruised to the 2010 World Cup by dominating a group that contains Andorra, Kazakhstan, Belarus, Ukraine and a Croatia side unravelling so fast that a nought may have to be added to their No9 ranking in Fifa's global list." David Pleat also contextualises England's triumph taking account Croatia's disappointing performance. "In truth the opposition were anaemic. Croatia patently lacked self-belief and had no pace with which to threaten the speedy English defence."
Flipping the analysis of Croatia's poor performance on it's head was Patrick Barclay. "This, from England, was the mark of good teams; they make half-decent sides look awful."
That said, Aaron Lennon is singled out this Thursday for his brilliant performance against the Croats.
Sam Wallace commented on the Spurs winger, "Croatia might have been woefully under-strength but you got the feeling that in this kind of form, Aaron Lennon would have been unplayable against anyone." Taking a slightly more cryptic approach, Ian Herbert forecasts if "for Michael Owen, St-Etienne, v Argentina, read Aaron Lennon, Cape Town, 2010? It is not such an improbable proposition."
Stirring up controversy, so good was Lennon on England's right that Martin Samuel now considers David Beckham surplus to requirements. "Walcott and now Lennon have shown that England are best with pace on the right and Capello's call should be between that pair for a starting place, with the loser as understudy. It is not that Beckham has done anything wrong; more that his young rivals have at last emerged from his shadow." Taking a different approach though is Jason Burt, who argues that Shaun Wright-Philips may be the fall-guy for Lennon and not David Beckham.
By contrast, after taking a battering in the papers in recent weeks Glen Johnson received mixed reviews. On the positive side James Lawton wrote "there were also some other impressive performances, and not least from the previously embattled Glen Johnson, England's most obvious asset lay wider and deeper then mere individual merit." Jeremy Wilson also praises the Liverpool full-back's performance, offering Johnson an 8/10 with the comment "has been highlighted as a potential weak link but, with England dominating possession, was able to display his full attacking skills."
Yet in The Sun's player ratings Johnson only scored a 6/10 with the note "still gives cause for concern with his poor decision-making," while the Mirror's John Cross only offered a slightly better report writing "sloppy early passing but soon improved and did a much better job for the team than against Slovenia."
Injecting some caution into the euphoria, Richard Williams warns "England are not yet potential World Cup winners, as we were reminded when they met Spain in February and lost 2-0 to a side of greater skill and sophistication." Also focusing on the competition, Steven Howard doubts whether players like Heskey can win a World Cup. "We all know Heskey gives shape and balance to the team. That he holds the ball up well and is a good foil for Rooney. But, once again last night, we saw a man who is a liability in front of goal. Spain have Fernando Torres, France have Thierry Henry. The Ivory Coast have Didier Drogba and Brazil, amid a galaxy of talent, have Luis Fabiano. Can we really win the World Cup without a man to lead the line like these?"
Henry Winter goes one step further by instructing the England team how to behave from here on in. "England players must now avoid any grand predictions of winning the World Cup, merely stressing the desire to be 'competitive' and taking 'each round as it comes.'"
True to form, the red-tops can't help themselves trumpeting World Cup success for the Three Lions.
Brian Woolnough is the first to rally the masses, shouting "Mission accomplished, part one. Fabio Capello can now start planning for South Africa next summer. He believes he can win it. On this evidence, so do the players."
Yet the hype-master zero is none other than deluded Tottenham boss Harry Redknapp, who appeared unable to stop himself from geeing up the nation in The Sun. "Stage one is complete and no doubt we will all be told not to overhype England's chances at next year's World Cup finals. Why on earth shouldn't we talk up the best England squad since 1970?… We have a group of players which cannot be bettered by anyone. We hear a lot about Spain, the European champions, but they do not have any better defenders than John Terry and Rio Ferdinand."
Like every major tournament in living memory, much is now being made of the difficulties facing England fans to get tickets, travel and accommodation for the World Cup itself. Aginst that backdrop is Owen Gibson's spot-on observation. "Despite concerns over the availability of accommodation and tickets, the vast distances between host cities and warnings over security, nothing is likely to dampen the euphoric determination of England's travelling fans to watch their team in South Africa."
With Scotland's World Cup dream in tatters, focus has now shifted on the tenure of George Burley as the manager of the Tartan Army.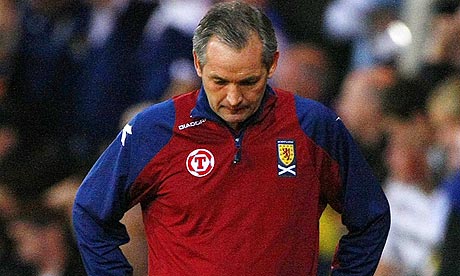 Throwing a metaphorical arm around unfortunate George, Ewan Murray empathised how "it is hardly Burley's fault, after all, that one player takes the huff because he is not considered a first choice for his country and another two indulge in madness in a hotel bar and on a substitutes' bench… Burley cannot be accused of going out without a fight." By contrast, Roddy Forsyth calls for Burley's swift exit. "His remit when he succeeded Alex McLeish as Scotland manager in January 2008 was to take the country to the World Cup finals in South Africa next summer. Having failed to fulfil his brief, Burley will be moved on swiftly as the Scottish Football Association lift their eyes towards another distant horizon, the 2012 European Championship."
How much longer can Maradona stay in charge of Argentina? The difficulties facing Diego are explained by Jacob Steinberg, noting "Maradona appears unable to cajole anything out his team at all, the most damning indictment of any manager."
The war of words between the Daily Mail and Ian Wright is heating up as, the day after Wrighty countered allegations that his South African football academy is involved in child-poaching, the psuedo-tabloid farts "Sepp Blatter has joined forces with the South African FA in condemning the controversial Cape Town football academy that boasts Ian Wright and six Premier League stars among its investors… Blatter confirmed FIFA are investigating the Africa Soccer Developments academy."
Like transfer tarrets, the tabloids cannot help but spread rumours with Alan Nixon leading off with news that "Everton's young striker James Vaughan is wanted on loan by Gareth Southgate's promotion-seeking Middlesbrough." Elsewhere, Sami Mokbel writes that "Portsmouth have completed the signing of former Manchester United striker Danny Webber on a free transfer," while the Daily Mail claim that "Stoke centre-back Leon Cort is wanted on loan by Newcastle, Middlesbrough and Nottingham Forest."
---
GAMBLING CAN BE ADDICTIVE, PLEASE PLAY RESPONSIBLY