The Glazers start tending to Manchester United's debt, Chelsea target (amongst others) Fernando Torres, Ribery & Villa & is P Diddy set to buy Crystal Palace?
Comment & analysis round-up
Quote of the day: "When you stop playing in this manner it must be something personal. If I'm doing something wrong and you are my boss and you count on me, then why not come and tell me what I need to do to play? That's what really hurts. Torres and Reina encourage me. They tell me that they know that if I play, I will do well. But a week goes by and then another and another and nothing has been achieved. There shouldn't be a lack of communication either, because I speak Spanish and my English isn't bad either. In the two years I have been here he [Benítez] has never managed a situation with a player by talking to him. He thinks he is the boss and everyone else is deaf. The dialogue with the players is practically zero." – Albert Riera.
Runner-up: "I'm not a fan of the England team. I think teams can get a result against England. They have a reason to feel confident, definitely, because in the past there were egos in their team, but they play as a team now. They have the players and they've got a manager who's finally got them to play as a team. But we have to wait and see if they can live up to the challenge. They have to do it on the field and not in the newspapers." – Steven Pienaar.
Today's overview: Are the Glazers running scared of the Red Knights? All of a sudden the hated American owners of Manchester United appear to be very concerned with the clubs debts too.
The Times' Helen Power breaks the news that "the Glazer family are considering a second round of refinancing in an effort to remove Manchester United's huge debt burden. The American owners also hope that the move would help to stave off a planned takeover by the Red Knights. Initial talks have taken place within the Glazers' inner circle about how to get rid of their payment in kind (PIK) loans that could total £588 million by the time they are due to be repaid in 2017, The Times has learnt. No
final decision has been taken and a deal could be many months away, but a second refinancing would represent an about-turn for the Glazers, who, publicly at least, have shown little concern about the PIK loans until now."
Over in the Telegraph, Mark Ogden details how "Manchester United are aiming to steal a march on their Premier League rivals by exploiting the club's rocketing popularity in India and riding the wave of the sub-continent's IPL-inspired sports advertising boom."
The news sours dramatically over in the Guardian, where Daniel Taylor claims that the Glazers are attempting to swell the coffers by hiking ticket prices – again. "Manchester United are giving strong consideration to increasing season-ticket prices to help with the club's enormous interest payments, despite being acutely aware such a move would increase the sense of animosity that has led to fans protesting against the ruling Glazer family."
The second big topic of the day concerns Chelsea and Roman Abramovich's big plans to turn the fortunes of the club around once again.
Before we get there though, did Roman Abramovich speak to the players after their defeat to Inter or not.
Highlighting how untrustworthy the backpages can be, over in the Star David Woods went out of his wat to scrawl "Roman Abramovich gave his Chelsea flops the silent treatment after they crashed out of the Champions League… Chelsea star Florent Malouda revealed Abramovich, who walked across the pitch alone to the dressing-room following the 1-0 defeat on Tuesday, had been very down. 'He didn't speak,' said the Frenchman."
Yet Simon Jones in the Daily Mail painted a picture of a gasket-blown Russian after the Inter defeat. "A furious Roman Abramovich has turned on his Chelsea players, asking them if they are at the club only to pocket his money. The billionaire, who sat stony-faced during the Champions League loss to Jose Mourinho's Inter Milan on Tuesday, challenged the players during a two-hour meeting yesterday.  He asked them: 'Are you good players or are you well-paid players?'"
Matt Hughes makes it crystal clear that the Russian owners response to his club's Champions League exit is Ancelotti stays but the playing needs a major overhaul. "His aides let it be known yesterday that Ancelotti, the Chelsea manager, retains the support of Abramovich, who is preparing for a fundamental restructuring of his squad in the summer… Of Ancelotti's usual starting XI, only the 26-year-old Branislav Ivanovic has yet to enter his late twenties, with half of them over 30. In this context, even the signing of a genuine superstar such as Fernando Torres or Franck Ribéry — highly unlikely in any case — would do little more than paper over the cracks. A complete overhaul is required."
Swimming against the tide, Jason Burt barks "Roman Abramovich is not planning wholesale changes to the Chelsea squad despite their dramatic failure in the Champions League, which has put pressure on manager Carlo Ancelotti. The Russian billionaire is understood to believe that Ancelotti is largely to blame for the team's exit… The overriding sense after Tuesday's defeat is that the owner is unhappy with the way that Mourinho tactically out-manoeuvred Ancelotti."
Taking a typical tabloid approach to the Chelsea situation, namely avoiding any analysis of tactics, Matt Lawton pulls out all the smutty stops to brand the Blues as a team divided. "The players have been divided by scandal and controversy, by the widespread sympathy for Wayne Bridge over the John Terry affair and by the fall-out that has followed the salacious revelations about Ashley Cole…  Chelsea looked like an old team against Inter, which is hard to explain when they were the younger of the sides. An average age of 28.27 compared to 29.59.  But they have not evolved since Mourinho left two and a half years ago, progress hindered by an owner who too quickly loses patience with the manager. They are the team Mourinho left behind and they have become stale."
Dominic Fifield runs his eye over the supposed Chelsea targets this summer. "Ancelotti may be able to consider moves for long-standing targets such as Fernando Torres, Franck Ribéry, Angel di María or Sergio Agüero. Torres is emerging as the club's principal target and the Spanish striker's future at Liverpool could be decided by the level of investment attracted to his club in the next few months. Real Madrid will compete for Ribéry's signature though the French forward, who plays for Bayern Munich, confirmed interest from Chelsea last month."
Appearing to invent a different list of Chelsea targets off the top of his head, Simon Jones bleated "Fernando Torres will be a target if Liverpool miss the Champions League places, while there is also continued interest in players such as Franck Ribery, David Villa and Marek Hamsik. Inter Milan's Wesley Sneijder could also soon be on Chelsea's wish-list, given how impressive the Dutchman was on Tuesday night."
Martin Lipman also gives his two cents into Chelsea's transfer targets. "Carlo Ancelotti wants to build a 'dream team"' front pair of Didier Drogba and Fernando Torres next season," while in a secondary article the hack actually doubts whether the Blues can land any of their prized-targets. "Top of the wish-list are Fernando Torres, Franck Ribery and David Villa. The odds are heavily against capturing any of them, although the Torres' hints of disquiet with Liverpool have raised hopes… Chelsea have also looked at Sampdoria striker Giampaolo Pazzini, Palermo centre half Simon Kjaer and Alkmaar's Belgian striker Moussa Dembele – will require a massive outlay, increasing the expectation that academy products Kakuta, Jeffrey Bruma, Fabio Borini and Nemanja Matic will be genuine first team options."
The Sun's Ian McGarry takes the transfer talk a stage further, writing "Roman Abramovich will give Carlo Ancelotti £100MILLION to rebuild the Chelsea team – and that will include a bid for Fernando Torres… Ancelotti already has a list of star targets, which includes Torres, Sergio Aguero, Maicon, Bastian Schweinsteiger and a new goalkeeper."
Changing angles somewhat, Harry Redknapp once again (arguably) exposes his lack of tactical nous by claiming the Inter are not as good as they looked against Chelsea. "Inter had a back-line of well-organised South Americans, who will all be World Cup starters this summer. But [Ashley] Cole would have unlocked them, because he is such a positive player. Sorry, Yuri Zhirkov is not in the same class. Missing Jose Bosingwa, another forward thinker at right-back, was a further mortal blow. Take away in addition Michael Essien from midfield and you have three key players absent."
Staying with Chelsea, there is an air of smugness across all the backpages this morning as hacks all get the opportunity to lay into John Terry after Mr. Chelsea ran over a steward after the defeat to Inter.
Looking to spin the story in the worst possible light, Ben Smith scribbled "John Terry's annus horribilis has turned even worse after he was breathalysed and questioned by police after accidentally running over a steward in his Range Rover and leaving the scene." The Mirror then reported the story as follows. "John Terry was questioned by police and breath-tested after he hit a security guard while leaving Chelsea in his Range Rover – then drove off. The 35-year-old man was left writhing in agony on the ground with an injured leg after the accident at Stamford Bridge following Chelsea's defeat by Inter Milan."
Next, Ian Herbert and Nick Harris examine the Rhone Group's interest in buying into Liverpool. "One of the mysteries of their proposed investment – the figure varies from £80m to £115 according to who you talk to – is why they would be willing to put so much money in for a 40 per cent share, only to face the prospect of Hicks and Gillett banding together to form a 60 per cent controlling influence. The details of any agreement signed off between Rhone and Liverpool would settle that. It is likely that Hicks and Gillett would have to agree to be sleeping partners and would need assurances of control. The Independent also understands that Agostinelli and Langman would not be seeking active involvement in the running of the club, as the current American incumbents have."
In a supplementary article, Ian Herbert makes it plain that the Rhone Group's offer is time-specific. "Liverpool's American owners are under more financial pressure to settle their debts than has previously been thought, with the New York-based company bidding to take control of the club imposing a three-week deadline to take or leave their offer."
Onto the transfers at large.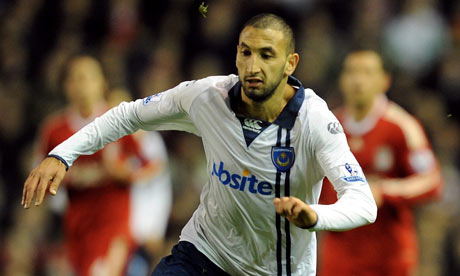 Starting north of the boarder, Ewan Murray links Celtic with a move for Nadir Belhadj while also reporting that "Mowbray is also confident of turning Diomansy Kamara's loan move from Fulham into a permanent transfer this summer." James Nursey adds "Aston Villa are favourites to land Robbie Keane this summer – as Celtic boss Tony Mowbray faces up to losing the striker."
James Callow reports that, should the MLS players strike go ahead, Landon Donovan could yet return to Everton this season, while a no-name article in the Daily Mail spews "Martin O'Neill is entering the battle to sign Wigan's £15m-rated Hugo Rodallega. Sunderland and Liverpool are also interested in the 24-year-old, who has scored eight times in the Barclays Premier League this season – including the winner against Liverpool. Villa continue to track West Bromwich star Graham Dorrans."
Doubting whether the Daily Mail have ever actually seen Simon Kjaer actually play football, the pseudo-tabloid today coughs (for the umpteenth time) "Palermo's hot property Simon Kjaer has told Liverpool and Manchester United to make him an offer he can't refuse." Elsewhere, Dave Ward reports that Roman Pavlyuchenko will now stay at Spurs for the long-term.
And we end with the maddest story of the day – rumours that Puff Daddy is set to buy Crystal Palace.
Under the brilliant headline in The Sun of "Cristal Palace," it is reported that "Rap star P Diddy plans to put the Cristal into Crystal Palace with a shock bid for the struggling London footie team.  The hip-hop mogul has decided he wants to be the next filthy rich foreign owner of an English club… Diddy's swoop for The Eagles would bring some much needed bling back to south east London. Last night his UK spokesman confirmed the multi-millionaire is in the market for Palace. He also added that the New Yorker has his eye on another big club."
---
GAMBLING CAN BE ADDICTIVE, PLEASE PLAY RESPONSIBLY