The Glazers put some of Manchester United up for sale & Cesc is willing to give up £4m in bonuses to join Barca
Comment & analysis round-up
Quote of the day: "When I was a player 15 or 20 years ago we were mentally stronger than they are now. Why are they less strong? We were hungry then, we had less money and we wanted to become top players. We were prepared to give up everything for this. We were serious. When I was young, 17 or 18, I made mistakes like all of you. But when you are 20 it is time that you change because a player's career is not long – 10 or 12 years. It is important that Mario [incidentally, aged 20] understands this. But I have more patience with players that are young. I understand Mario is homesick and I am patient with him although sometimes I am really disappointed with him but he needs experience and he understands that he needs to improve his behaviour. When I spoke to him last time he said: 'Boss, I want to be here.' I have known him since he was at Inter. Mario's a fantastic guy and I don't say that because I bought him or because I'm his manager, it's because he is a fantastic guy. He sometimes does incredible behaviour on the pitch, sometimes he doesn't think but, off the field, Mario is often very kind to people. He's fantastic. I trust him because I know him very well and off the pitch he's an incredible man. I also think Mario is one of the top players in the world." – Roberto Mancini.
Runner-up: "I think Joey Barton is a good player but he is a dangerous player because sometimes on the pitch you can play 10 v 11 because he might get sent off. That is the problem you face with him. When a player is fighting with his club it is normal to stay outside. The ­relationship between club and player is important." – Fabio Capello.
Today's overview: With so much to chew on, the Sunday papers are relatively short of major new stories this Sunday.
The Sunday Mirror claim the Glazers have put part of Manchester United up for sale and Cesc Fabregas is still trying to force his way out of Arsenal, according to the Mail on Sunday.
The Community Shield and a raft of season previews are the order of the day with plenty of pressure placed on Manchester City.
Besides Chelsea's signing of Romelu Lukaku, there is transfer gossip mainly provided by The People.
Elsewhere, the league lock-out dispute over media coverage sees fine pieces by Matt Scott and Henry Winter whilst Ian Holloway's column in the Independent on Sunday returns.
Glazers put some of Manchester United up for sale: Simon Mullock in the Sunday Mirror claims "Shares in Manchester United are again up for sale. But the plan to put a stake of the world's most famous football club back on the market will only strengthen the Glazer family's grip on power at Old Trafford. Sunday Mirror Sport understands that United's reviled American owners are preparing to sell up to a quarter of the club in a move that could raise more than £400million. That would enable them to slash the £500m debts that are currently costing United £45million-a-year to service. And the Glazers would then be able to pay themselves – and other new investors – millions in dividends every year. Investment giants UBS are advising on the sale which is called an Initial Public Offering. The Glazers are looking to cash in on between 15% and 25% of United."
The Fabregas saga shows no signs of ending: Rob Draper reports in the Mail on Sunday lead: "Cesc Fabregas is so desperate to leave Arsenal for Barcelona that he has offered to give up more than £4million worth of bonuses. Just a week before the start of the new Premier League season, the 24-year-old Spaniard has told Arsenal he will waive the payments – believed to relate to loyalty bonuses on the remaining four years of his contract – in a last-ditch bid to force through a move. Fabregas did not travel to Lisbon, where Arsenal were beaten 2-1 on Saturday night by Benfica. Arsenal manager Arsene Wenger said Fabregas had not been 'ready to play'."
Community Shield: Gary Neville previews the season through the prism of this afternoon's game: "The fact that it's a local derby between two genuine title contenders at Wembley, with 80,000 Mancunians down for the day, means that it will become a big event in the minds of the players. I always used to feel it was the pre-season friendly, the nearest you could come to a full Premier League game. That said, no one will be overly nervous. Both sides played in bigger games at Wembley just three months ago, the Champions League and FA Cup finals. And it does not always provide a good barometer – the season United won the Treble in 1999, they lost the Wembley opener 3-0 to Arsenal. But having played in several Community Shield games, and won a few and lost a few, I can assure you I always felt an awful lot happier after the victories."
Rob Draper piles on the pressure for Roberto Mancini by saying City must be winning the league this coming season. "Mancini knows, though, that, as Sunday's showpiece Community Shield encounter with Manchester United at Wembley launches the new season, this is the year he is expected to deliver the Premier League title. Sergio Aguero, the £38million arrival, starts on the bench today to complement the likes of Gael Clichy (£5m), Stefan Savic (£6m), Adam Johnson (£7m), James Milner (£26m), David Silva (£26m), Yaya Toure (£24m), Mario Balotelli (£24m) and Edin Dzeko (£27m). And those are just the signings Mancini has overseen since joining 20 months ago."
Henry Winter also concenrates on City. "If Manchester City are to locate the cutting edge to shred the recent title duopoly of Manchester United and Chelsea then they need Sergio Agüero to settle in and Mario Balotelli to settle down. Balotelli should start against Manchester United in the Community Shield while Agüero, City's gifted summer signing, appears from the bench. With Carlos Tévez tipped to leave for Inter Milan – though he is expected to report for training on Monday – and Edin Dzeko still struggling to adapt to the pace of the Premier League , the form of Agüero and Balotelli could define City's season."
Romelu Lukaku signs for Chelsea: Duncan White: "Anderlecht confirm a deal has been agreed and Romelu Lukaku arrives in London next week for a medical. Anderlecht manager Herman van Holsbeeck said: 'It's a shame we have to let go of Romelu, who was scouted and trained by Anderlecht, but the transfer is a win-win situation for the player and the club. 'Subject to the results of medical tests and the conclusion of negotiations between the player and the English club, Romelu Lukaku will therefore move into the colours of the London club.' And the 18 year-old confirmed the latest news with an announcement on his Twitter page which read: 'I have an announcement to make … next week I'm going to London for the medical tests.' Lukaku will become Chelsea manager Andre Villas-Boas's third signing since his move from Porto."
Transfer gossip: The People are the only Sunday paper to have extensive transfer rumours. A day late, they say a bidding war has developed between Manchester City and Manchester United for Wesley Sneijder. Everton are ready to swap Jack Rodwell for Peter Crouch and David Bentley has been offered a return to Blackburn Rovers. The Sunday tabloid also says Scott Parker will reject a move to Stoke and David Ngog is desperate to leave Liverpool for Bolton.
Previews for the season: Paul Wilson tips Manchester United to win the league again. "Thanks are due to Joey Barton for enlivening the dog days of summer, but though a new Premier League campaign is finally upon us it remains difficult to ignore last season's news. Manchester United are now out on their own in terms of league championships garnered, with a ridiculous 12 of the record-breaking total of 19 titles being won on the present manager's watch. That sort of statistic makes everyone else's arrangements look temporary, no matter how many years Sir Alex Ferguson sails on past his free bus pass. Nothing is ever new these days at United, just about every situation has been seen before, recognised and responded to. The history books indicate that you have to be a certified coaching genius – José Mourinho, or the early versions of Arsène Wenger – to disturb the Manchester monolith, unless you inherit a strong team and get lucky with a United collapse, as Carlo Ancelotti did at Chelsea two seasons ago. Either way, the odds are that you or your success rate will fall by the wayside before long, leaving the master of the long game to make a couple of close-season tweaks and prepare for much more of exactly the same."
Piers Morgan, arguably the most hated of all football pundits, lists what he thinks will happen in 2011/2012 in the Mail on Sunday. "Arsenal will flatter to deceive once more. We'll play brilliant, attacking football and everyone will coo and ahh about us. Robin van Persie, if he stays fit, will be the Premier League's top scorer, new signing Gervinho will dazzle and delight and Wilshere will affirm his rising status as England's No 1 midfielder. But when the business end of the season arrives, I just can't see this squad winning a major trophy unless Arsene Wenger makes some major additions very soon, especially if Cesc Fabregas leaves for Barcelona as everyone expects him to. (I've tried hating him for it but how can you blame a guy for returning to the club of his youth and dreams, and the best team in the world, when he has given us seven years of terrific service and won nothing for the last six?)"
Teddy Sheringham gives his thoughts in the Sunday Mirror. "Teddy Sheringham believes the Premier League title battle will be a three-horse race. The former Manchester United, Tottenham and ­England striker reckons that the champions will come from United, Manchester City and Chelsea – because no-one else can match the wealth of those clubs and the power it gives them in the transfer market. Sheringham said: 'It is hard to say in which order, but they will be the top three. I am confident about that. It looks to me that the rest are playing for fourth place.'"
Duncan White also adds his two penneth in the Sunday Telegraph. "The Premier League kicks off next weekend and not a day too soon for the football fan coming out of summer hibernation. Yet for some managers it is all coming too quickly. While a few look on their productive summer's work like smug boy scouts, the rest are still stuck with players they no longer want, waiting by the fax machine (surely not still?) for answers to increasingly desperate bids for players they do. How you start your season can define its entire course, and with a week to go, it is clear which clubs have put themselves in the best position to come out of the blocks quickest. The three-week lag between the beginning of the Premier League season and the close of the transfer window gives every manager a problem. Do you get on the front foot and recruit early and risk paying more for players than you might do if you had left it until the last few days of August? Or do you leave it late, until the desperation of selling clubs gives you a better deal?"
The Observer also preview six of the most high-profile new signings heading for the Premier League. And Steve Tongue in The Independent has a team-by-team guide of the Premier League.
The England squad: Andrew Warshaw: "Arsene Wenger has insisted that Jack Wilshere will not play for England against Holland on Wednesday, even though the Arsenal youngster was named in Fabio Capello's squad for the Wembley friendly. Wenger cannot stop Capello calling up Wilshere for an injury assessment but the Arsenal manager is adamant the midfielder will not play. After his team's defeat against Benfica in the Stadium of Light on Saturday night, Wenger was incredulous at Capello's decision to name the player in his 25-man squad. 'They can include him as much as they want,' he said. 'He won't play, simple as that. I wish he could.'"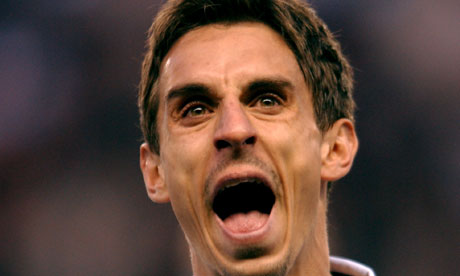 TV punditry: Scott Murray looks forward to Gary Neville's debut season on Sky. "Sky's new pundit is certainly a divisive figure, with even many Manchester United fans wondering whether their erstwhile full-back has needed to go through life instigating quite so many arguments, confrontations and Hegelian dialectics. This cavalier attitude to social mores, however, is an almost cast-iron guarantee of great television. He's certain to tell it like he sees it, and damn sure won't be shaping a single phrase to save any of your feelings. It will be interesting to see if Neville makes any attempt whatsoever to deliver calm, rational and dispassionate analysis when United tonk, or are tonked by, say, Liverpool or Manchester City. In many ways, you have to hope he won't bother with the pretence: those thunderously irritated by Neville crowing will find themselves equally pleasured by the sight of his little red‑hot face as he fails to come to terms with any last-minute winner at Anfield. Better viewing, surely, and far less disingenuous than listening to Alan Shearer hoping Sunderland arrest their annual mid-season slide towards the relegation places."
No coverage of first day of the Championship: Matt Scott reports on the ongoing dispute. "Clubs informed newspapers that the Football League had issued an edict not to approve applications. The League informed clubs not to permit entry to unlicensed media organisations and, in the absence of a new agreement, no licences had been issued. Of the League clubs contacted by the Observer and its sister newspaper, the Guardian, only Brighton and Accrington would accredit journalists. The dispute centres on differences over where news-media outlets may syndicate content, the speed of publication of pictures and the extent to which readers may engage with the content during a match. All parties agree the current accord is unworkably outdated and, although the leagues made an offer to extend the existing terms, they stress it would have been an interim measure to permit short-term coverage of matches while talks continued. News media coalition (NMC) negotiators considered that unacceptable, seeking more urgent resolution."
Henry Winter has an excellent piece on the league lock-out. "The intelligent clubs understand the mutually beneficial relationship between them and newspapers, some even passing exclusive information to relay to their supporters via the bigger audience of a print run or twitter account. Clubs often ask reporters to write columns for their programmes. Burnley once printed the Telegraph report of a momentous League Cup tie with Spurs in their programme. Clubs have their community projects which find coverage on their in-house websites but newspapers spread the word of their good deeds farther and wider. Sadly, the Leagues' myopic stance has led only to ill-will being stirred in press-box regulars. Rapprochement is required before a great sport suffers lasting damage. Other sports are available. If newspapers fall out of love with football, focusing more on cricket or rugby union, the Leagues will realize to their cost what an own goal this ban has been."
Ian Holloway returns: The Blackpool boss starts penning his column in the Independent on Sunday again. "The big question is: can we do it without Charlie Adam, David Vaughan and DJ Campbell? Have we been brilliant for the last couple of years because we had those three, or were we that good because of my coaching staff and our tactics? I like to think it is the latter but maybe that's rubbish, I'm an absolute donkey and I was just lucky to have a few exceptional players. But it is hard to be too down. I went on a cruise during the summer with my wife Kim and it made me realise what I had. I was with the most beautiful person in the world, seeing some of the most beautiful places, so how lucky am I? So I don't want sympathy. All I am saying is that it has been a nightmare few months and on the football pitch I have a hell of a job on my hands."
---