The England love-in versus pragmatism; Chelsea target Sturridge & Young while City track Franck Ribery
Comment & analysis round-up
Quote of the day: "Everybody knows that [Wayne Rooney] had a massive row with Fergie after the Liverpool game and was then left out. It's an ongoing problem." – Mark Lawrenson.
Runner-up: [On the size of Liverpool's squad] "Ridiculous. 62? You could have two full-size practice games. You can only field 11 at one time. It's an open question as to how many you actually need. Is it 20, 25?… One proposal which seems to be gaining a consensus is limiting the number of professional contracts as we already do in the Champions League. But we would need to get the backing of the major clubs, of the associations running their domestic competitions." – UEFA general secretary, David Taylor.
Today's overview: The feel-good factor is palatable all over the Sundays following England's 4-nil thrashing of Slovakia at Wembley.
Paul Hayward crows over Steven Gerrard's performance, labelling the Liverpool captain as being "so close to being England's first Total Footballer" before pointing out "in his 45 minutes on the field Gerrard appeared at left-wing, right-wing, inside-right, inside-left and withdrawn striker." Paul Wilson is quick to heap more praise on England's number 11 joking that "Gerrard is in such a run of form at the moment he could probably play in central defence and influence games."
Henry Winter tabled a different England player as his man of the match. "Gerrard was outstanding in the first half while Rooney was comfortably man of the match, playing in a range of positions and excelling in all of them."
Other England players to receive praise included Matthew Upson, Joe Lovejoy writing "the West Ham centre-half looks the part every time he plays for England these days." While on David Beckham, who surpassed Bobby Moore's 108 England caps, Jonathan Northcroft wrote "there is something admirable about his journey from Goldenballs to diamond geezer, the faithful squad player willing to help younger members and do whatever his manager asks."
Guy Hodgson injects some context into England's win. "Can Steven Gerrard play in the same team as Frank Lampard? Yes, if the opponents are as woeful as Slovakia."
There was however a downside, Duncan White penning "first Emile Heskey, then his replacement Carlton Cole and then his replacement Peter Crouch left the field in pain. Far from ideal match practice." and in a secondary article Duncan White forces himself to relive past failures in order to lower expectations. "It takes just one moment of bad luck to be eliminated in knockout international football, one looping deflection off Paul Parker, one cross eluding Paul Gascoigne's vainly stretching boot, one Sol Campbell header being ruled out for a foul. And then, of course, the 'p' word. Cheers for the nearly-men at the airport. Then what?"
Rory Smith casts his eye over England's new kit. "The new shirt is plain, without frill, just like Capello's regime. It is whiter than white, as he expects his players to be." But Daniel King picks up on the controversy over the new kit, flagging up "the 'PR stunt' in which the England players took off their tracksuit jackets to reveal the all-white strip" as well as the criticism over the release of a new kit at a time of recession.
Looking forward, Ian Hawkey highlights the threat of Andriy Voronin who is currently on fire with Hertha Berlin.

For Northern Ireland, who recorded a brilliant win over Poland, Brian Doogan was left in no doubt who was the man of the match. "[Jonny] Evans scored Northern Ireland's second goal and was magnificent at the back for the home side." It is a different story for the Tartan Army, Andy Hunter commenting "the absence of the massacre that many in tartan had feared offered little consolation. This was still an ordeal."
Taking a step backwards, James Corrigan comments on how international football still plays second fiddle to the club game. "Club football now means everything, and international football is left to live on the scraps. The World Cup is still big, sure, but it's a bonus big… It is this entrenched acceptance of the God that is the Premier League that probably best explains why an England refusenik [i.e. Paul Scholes] can be held up as the ultimate role model for the young professional."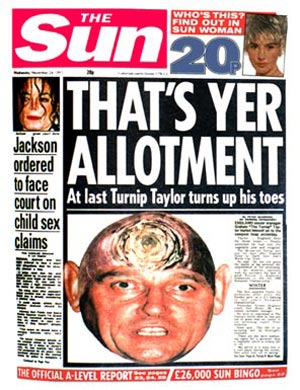 Steve Tongue sits down with Graham Taylor who relives his England managerial days. Taylor: "When the sub-editor who had the idea of Turnip Taylor retired, I was invited to present him with a mock-up newspaper at his farewell party. What? I declined."
In other news, with the credit crunch still negatively affecting the world's economy, Jonathan Northcroft delivers a rare ray of light quoting analysts who believe "that football is likely to fare better than many industries during the recession." And keeping with wider footballing matters, Gabriele Marcotti criticises the world's anti-doping police service for operating with little transparency, accountability or oversight and Michel Platini is right to want it overhauled.
Commenting on the title race in the Premier League, Paul Hayward credits Liverpool's revival arguing "the present campaign is already a triumph over boardroom instability and ego." However for Jonathan Northcroft, the title race is only back on because of "a group of key [Manchester United] players losing form at exactly the same time."
Piers Morgan makes his usual over-the-top noises in the Mail on Sunday, this week predicting the downfall of Manchester United. "Cristiano Ronaldo is a limp shadow of the goalscoring machine of last season. Wayne Rooney showed once again the petulance that has blighted his career. And as for Dimitar Berbatov, he is displaying all the commitment and fighting spirit of a diseased aardvark."
Rod Liddle is resigned however to watching United running away win the championship. "Against United and Chelsea, the Scousers play with verve, chutzpah and, most crucially, commitment. But they do not yet have the crushing ruthlessness of United now, or of Arsenal or Chelsea a few years ago. The title will always go to the team that can beat the Premier League makeweights with boring regularity home and away, and one defeat by Fulham doesn't disqualify United from being that team."
Onto the transfer rumours.
Rob Draper farts that Cesc Fabregas is top of Real Madrid's shopping list, while Joe Bernstein reports that Daniel Sturridge and Ashley Young are targets "for Chelsea as Roman Abramovich plans to buy British in the summer." Alan Nixon also reports the Chelsea-Sturridge link in The People.
Heading to Eastlands, Paul Hetherington barks "City will smash their own British record transfer to land Bayern Munich's Franck Ribery." Staying with the Citizens, Scott Piecha announces that "Manchester City are planning an audacious summer raid for Arjen Robben, whether Mark Hughes remains in charge or not." While in North London, Scott Piecha claims "Tottenham are in the race to sign Gabriel Heinze from Real Madrid for £4million."
Having witnessed his horror gaff last night, Toon fan will likely to be loath to read Iain Campbell's claim that "Newcastle are on the verge of a £4million summer swoop for Celtic keeper Artur Boruc." And there are reports of more recruits for the Magpies, Martin Hardy writing "Newcastle believe they can land Tottenham star Tom Huddlestone for £6million – if they stay in the Premier League."
And there is more.
Alan Nixon pens how "Sunderland boss Ricky Sbragia last night ran the rule over Bosnia striker Edin Dzeko." And lastly Andy Dunn bleats "Joleon Lescott is the No 1 summer target for Arsenal boss Arsene Wenger."
---
GAMBLING CAN BE ADDICTIVE, PLEASE PLAY RESPONSIBLY