The Dimvincibles & the "world of sport on television is incredibly male, pale and stale"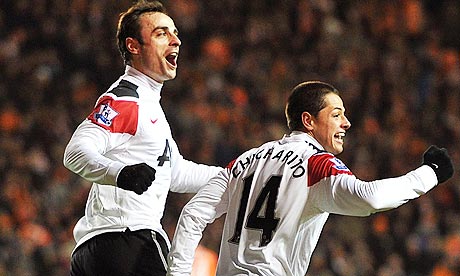 Comment & analysis round-up
Quote of the day: "In the first half we were battered and couldn't handle Charlie Adam – his corner kicks are worth £10m. We were terrible, but they just never give in. We were all over the place and maybe we were too confident. But I know the game's never done in situations like this – you know at some point we're going to do something. Ryan Giggs made a tremendous difference and we started to penetrate. I think we were deserved winners in the end… For the third goal, I was screaming for him to square it to Chicharito but, no, he has the confidence and ability to do what he did." – Sir Alex Ferguson.
Runner-up:Â "We're trying to win everything we can. If we can win this it will take the pressure off to deliver in the other competitions. It is not the only target we have this season, we have even bigger targets. But it can help us to achieve the other targets." – Arsene Wenger.
Today's overview:  Forget Manchester United's incredible comeback victory over Blackpool and Arsenal reaching their first major final since 2005 – Andy Gray and Richard Keys are almost the only story in town this morning. The amount of coverage on the Sky scandal is simply staggering.
In terms of new news, all the papers report that Keys is hanging by a thread and could well be out on his ear in the coming days whilst Andy Gray was stunned by the sacking and is ready to sue Sky. The Daily Mail rake up all the affairs and relationships of the former Everton striker in a particularly vicious piece.
There is also a huge amount of comment on the sacking of Gray, Sian Massey and the status of women in football. Richard Williams points out that it's difficult to imagine a "save Keys" protest, Martin Samuel has a fine piece on Sian Massey and Henry Winter backs the decision to sack Gray.
Matt Lawton argues "Gray and Keys got too comfortable.", Owen Gibson highlights how Sky may be ready for a revolution and Robin Scott-Elliot brings the quote in the title: "'world of sport on television is incredibly male, pale and stale," from a female former Sky Sports presenter. Finally, Jim White backs Jamie Redknapp to take over from Andy Gray.
On the actual football last night, all the pundits hail Manchester United's incredible comeback and Dimitar Berbatov's key role (the Dimvincibles). Chris Wheeler points out it was another victory for ESPN over Sky and Daniel Taylor rightly points out that it could have been a key moment in the season.
There is also minimal analysis of Arsenal reaching the Carling Cup final with plenty of predictions that this could be the start of big things for the Gunners. Finally, there is limited transfer gossip.
Andy Gray out, is Richard Keys next?
: Mark Jeffries reports "Andy Gray last night called in his lawyers and told pals he is considering suing Sky after being ousted from the job he loves. The presenter paid the price for sexist remarks aimed at assistant referee Sian Massey as well as comments he made about co-star Charlotte Jackson. But the furious 55-year-old claimed he had been stitched up by bosses who used the furore surrounding his remarks to oust him and pave the way for the ­promotion of younger presenters. And it was said he had been prevented from apologising to Massey, even though co-host Richard Keys had been allowed to say sorry for similar remarks he made during the same show."
The Daily Mail report how Andy Gray reacted to the decision. "The posting set off another wave of negative publicity for the Sky brand and was the tipping point for Sky Sports top brass. The situation was all the more sensitive with overlord Rupert Murdoch in London and baying for blood after the phone-tapping scandal which has enveloped one of his newspapers, the News of the World. Sky Sports managing director Barney Francis informed Gray that his contract was being terminated with immediate effect. A distraught Gray, 55, so upset he was rendered speechless by the decision, feels he is the victim of a conspiracy, with disgruntled colleagues leaking evidence of his serial unreconstructed behaviour. Gray, whose contract runs until after the 2012-13 season. is consulting his lawyers Schillings." The Daily Mail also rake up a history of Andy Gray's relationships.
The Sun report in their main article on the Sky scandal: A "Sky insider said: 'When Keys and Gray are around anyone is fair game. A few months ago a magazine carried sexy pictures of Charlotte, taken before she joined Sky. Andy and Richard were desperate to get hold of the mag, saying 'Who has a copy? We want to see the photos.' There's a constant nudge-nudge atmosphere around Richard and Andy. They were always leering." Other sources revealed there had been bad blood between Gray and Sky News colleagues since he mocked the channel's journalists at an awards ceremony two years ago."
Charles Sale has some insider gossip on Sky. "Sky's determination to develop a family-friendly brand, as opposed to their macho reputation in the Nineties, was behind Sky News's decision on Monday to broadcast fresh material that sealed Andy Gray's fate. Showing the clip of Gray with Andy Burton caused serious friction with Sky Sports News, who also wanted to showcase their independence at a time when Rupert Murdoch buying back 100 per cent control of the network might entail selling off the loss-making Sky News channel."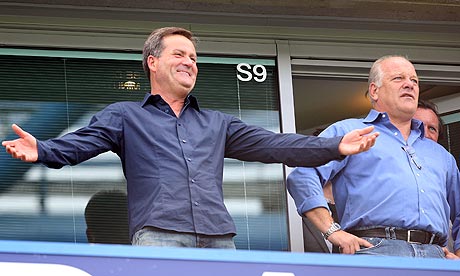 Comment on Gray/Keys & Sky: Richard Williams says it's difficult to imagine a "save Keys" protest. "Keys' observations on Massey's supposed competence rendered him every bit as guilty as Gray and to relieve him of his duties on a permanent basis would have been to send out a genuine message of social responsibility. Perhaps Barney Francis, Sky's managing director, feels that Keys is too valuable to sack. If that is what he thinks, much of the nation would disagree. Tonight the emergence of another clip seemed to provide a further illustration of his unreconstructed view of womanhood. It is hard to imagine a Save Richard Keys protest outside the channel's Isleworth headquarters. To anyone outside the close circles of the two presenters the only immediate cause for regret is the understandable decision of the referees' association to withdraw Massey from her scheduled duty at tonight's match between Crewe and Bradford. Noting the unusually high number of applications for media accreditations, particularly the requests for photographers' passes, they concluded that the 25-year-old official would not be permitted to go about her duties in the right sort of ambience."
Martin Samuel has a fine piece on the whole affair and points out "It would seem many are vilifying Gray as a way of issuing their own mea culpa, making it conceivable that all manner of wrong-headedness could follow. The worst thing to happen now would be to compound the unpleasantness with superficial hand-wringing, such as the decision to drop Massey from last night's game at Crewe. She must be free to move on and to get calls as right, and as wrong, as any man would. Put her on a pedestal? They might as well tie her to a kitchen sink."
Henry Winter backs the decision to sack Gray. "Gray often gives the impression of never having left the dressing room, as if caught in a state of arrested adolescence. There is an energy to Gray, a banter-fuelled drive that seems to be an attempt to fill the void now that the final whistle has gone on his combative playing days.He used to have this annoying habit of waking people on flights with a cheery "try and get some sleep, son". One would wake, launch some caustic retort after the guffawing Gray as he sauntered down the aisle, and try to refind the slumber. On one European trip, Gray borrowed The Daily Telegraph's hotel room to change into a suit before a Sky assignment. He never forgot the tiny size of the accommodation, often mentioning it when encountered on the football circuit. It was all harmless banter. Unlike his remarks about Massey and others. He had to go."
Matt Lawton argues "Gray and Keys got too comfortable." "Until last weekend, Keys and Gray remained very much in their comfort zone. Kings of all they surveyed. But that was the problem. They got too comfortable, too big for their boots and, in the end, exposed themselves as the men who were out of touch. As Gray discovered yesterday, what goes around comes around."
Owen Gibson highlights how Sky may be ready for a revolution. "When Barney Francis took over as managing director of Sky Sports in June 2009, he chose evolution over revolution. Replacing Vic Wakeling, the steely Geordie who built Sky Sports into an institution loved by many of its 6m subscribers but reviled by others, he could have announced his arrival by shaking up the on-air team that polarised opinions among viewers and colleagues. But he did not and may be regretting that decision now. The comparison with Jonathan Ross at the BBC is an apposite one, for all that the charges levelled at Gray and Keys are completely different. There is a similar feeling within Sky that talent had become too powerful and was calling the shots to an unhealthy degree."
Robin Scott-Elliot also tries to decipher why Sky sacked Andy Gray. "A former female Sky Sports presenter yesterday told The Independent that the 'world of sport on television is incredibly male, pale and stale'. She described the original comments made by the dated duo as: 'Typical, in my experience, of the attitudes towards women that pervade sports TV.' 'You have to play the game or get eaten alive," said another woman – again speaking on condition of anonymity – who is a regular on the Premier League television circuit. She describes being on the receiving end of at best patronising attitudes, at worst blatant sexism. 'Women aren't allowed in the tunnel,' was one greeting at a club. But during her time in the game the number of women involved has increased and attitudes have changed – and the numbers of women watching is rising steadily too, which offers greater appeal to advertisers. But as a Saturday lunchtime in Wolverhampton demonstrated, some remain firmly stuck in the past."
Jim White backs Jamie Redknapp for the top analyst position at Sky. "Where else is the hairy Keys going to find a like-minded caveman who seriously believes that women are genetically incapable of mastering a bunch of rules? He will certainly be bereft of such a sounding board should Jamie Redknapp – the bookies' favourite for the post – be promoted. His new man credentials are writ large across every holiday commercial he has ever shot. Because if anyone is obliged to get their kit off for the cameras in the Redknapp household, it is always Jamie. But then should a candidate's suitability for a job be governed solely by ability not to court controversy? Do past misdemeanours rule out contenders such as Glenn Hoddle, Graeme Souness and Paul Merson? Surely what should matter is whether his replacement is as nerdily adept at mastering the bewildering box of technological tricks as the Scotsman. Because the fact is, when it came to fiddling with his joystick, there was no one to beat Andy Gray."
Tanya Aldred brings a woman's perspective to proceedings. "Sky's sports coverage, though excellent, has always verged on the bombastic. And in a laddish clubbable atmosphere things, it seems, have been allowed to fester as part of the bonhomie. Did no one say anything after that trouser incident? Sexism eats well, though erratically, in the sporting arena because it is still a largely male preserve. I've watched a gang of otherwise lovely sports journalists walk upstairs behind a female reporter who was wearing trousers, giggling loudly and drooling wetly at the sight of her bottom. I've overheard many 'I'll have 'er' conversations over the PR woman with the nice legs, while she was clearly within earshot. And I know what a handful of journalists think about me because they let rip robustly to my then boyfriend before they knew we were together."
The Dimvincibles: Chris Wheeler sums up many of the talking points from an incredible match: "As if the sight of rivals Sky Sports going into meltdown is not sweet enough for ESPN, here it was in glorious high definition: one of the most eagerly awaited dates of the Premier League season delivering spectacularly in front of their cameras last night. Quite how it did not end with Ian Holloway's wonderful Blackpool celebrating another famous scalp they will never know. Twice already this season they have beaten Liverpool and, for 45 minutes, it looked certain that Manchester United would be next. Two goals up at half-time thanks to former Old Trafford defender Craig Cathcart and striker DJ Campbell, Blackpool deserved to be even further ahead after a quite wretched first-half display from the Barclays Premier League leaders. It could have got even worse had referee Peter Walton not looked so leniently on Rafael's clumsy challenge on Varney in the penalty box early in the second half."
Daniel Taylor highlights the importance of the win. "In every season, every title race, there is always one moment when everything falls into place and, for Manchester United, this was possibly that night. Two-nil down with not even 20 minutes of normal time to play, it had looked like being a bruising experience for Sir Alex Ferguson's team, but that would be to under-estimate the competitive strengths of this side and the enduring qualities that now see them five points clear of their nearest challengers. As feats of escapology go, it was a remarkable comeback, culminating in Dimitar Berbatov scoring the decisive goal after 88 minutes, the vast majority of which United had been penned into their own half. Berbatov, increasingly the pivotal figure in United's quest for a record 19th title, had begun the recovery, with the substitute Javier Hernández drawing United level within two minutes."
Ian Herbert also revels in the United victory. "It was an extraordinary night which began with an ordinary gesture: Ian Holloway presenting Sir Alex Ferguson with a bottle of red wine "because the stuff in my office is rubbish." All part of that pre-match talk of cheap plonk and faulty boilers which, engaging as it might be, is mock humility delivered with the very deliberate purpose of making Premier League grandees believe that Bloomfield Road is a stroll by the seaside. Humility? This was so very nearly a humiliation for United, though the legendary powers of recovery they displayed to win a game in which they trailed 2-0 with a mere 18 minutes to go sent a more decisive message of intent about their title pretensions than any rout might do. Ferguson played a huge part – introducing Ryan Giggs after the break and watching him transform the match utterly – and referee Peter Walton had a debatable part. Luke Varney might have been awarded a penalty to send Blackpool 3-0 up five minutes into the second half."
Mark Ogden adds "If they are looking for a new white-knuckle ride to tempt adrenaline junkies to Blackpool Pleasure Beach, they should call it the Manchester United Experience and warn of being left dazed and confused before an unexpected late twist. Nobody does late drama quite like Sir Alex Ferguson's league leaders. From Turin to Barcelona and now Blackpool, United have displayed a remarkable ability to pull something from the fire when it appears most unlikely. And having been outplayed for 70 minutes by Ian Holloway's Blackpool, trailing 2-0 to a determined team of under-estimated professionals punching above their weight, United somehow emerged from Bloomfield Road with a victory that extended their unbeaten Premier League run to 28 games and moved Ferguson's squad five points clear of the pack."
Arsenal reach the Carling Cup final: David Hytner backs Arsenal to end their trophy drought. "Arsenal's players are on a mission. They care not about the eroded reputation of the Carling Cup. To them, it remains a trophy, which is not something too many of them have won in the colours of their club and it is one they feel can provide not only glory next month but also serve as a catalyst. We hear seasoned professionals talk at length about the need for a winning mentality and, for all their beauty, the accusation can be levelled at Arsenal that they have not yet found a way to embrace it. This is why they have fallen short in the grandest tournaments in recent years. The players are conscious of it and the hunger to win something eats away at them. It is epitomised in Cesc Fábregas, the captain, whose frenzied celebration after his goal here would not have looked out of place in the World Cup final. The players have vowed to end the wait this season and, in the second half, the sheer force of their collective eventually wore Ipswich Town down and propelled Arsenal to their first final since 2007."
Sam Wallace adds "It may only be the Carling Cup final but for Arsène Wenger's young Arsenal team a first final at the new Wembley Stadium was greeted last night with the kind of anticipation that you might expect of a club whose recent history has been conspicuously lacking in trophies. Having finally seen off the courageous resistance of Ipswich, Wenger's team even seemed to be thinking about a lap of honour as they lingered on the pitch to take the applause of their fans. The last time the Arsenal bus drove into Wembley for a final, the stadium still had two towers. The 2005 FA Cup was Arsenal's last trophy and only two of the current squad were involved then. The wait for the next one has been long and painful. The recent successes of Chelsea and Manchester United in the Premier League have come on the back of breakthrough victories in the Carling Cup, in 2005 and 2006 respectively and many Arsenal fans hope that a win on 27 February would have a similar effect on their team."
Henry Winter concentrates on Ipswich. "Ipswich's centre-halves, Gareth McAuley and particularly Damien Delaney, summoned up the spirit of Terry Butcher in repelling Arsenal for so long. The Suffolk glee club chorused their delight, mocking Fabregas's pre-match comment in which he had belittled Ipswich as a 'rugby team'. So the Ipswich fans launched into a rousing rendition of Swing Low Sweet Chariot and "one-nil to the rugby team". The Emirates sounded alarmingly like Twickenham. But class told. The siege organised by Fabregas was too intense, the punishment for even a split-second loss of concentration too severe. Individual mistakes by Carlos Edwards and Marton Fulop allowed Nicklas Bendtner and Laurent Koscielny to score. Arsenal's third was a deserved one for Fabregas."
Liverpool-Fulham: Ian Herbert highlights the return of Stevie G. "Steven Gerrard has never made any secret of the fact that he has one of Kenny Dalglish's shirts up on a wall in the trophy room of his home in Formby. Only yesterday did Liverpool's new manager reveal that he has returned the compliment. 'Yes, I've got [one of his] up in my house. We'll have to stop this society,' Dalglish said as he contemplated his captain's return after a three-match suspension against Fulham at Anfield tonight. Gerrard, who has a huge picture of Dalglish which was presented to him as a boy by his father, has been limited to the 32 minutes before his dismissal in the FA Cup at Manchester United since the return of the manager – 'the best player who ever played for Liverpool,' his father once told him. Gerrard has already indicated that he wants Dalglish to retain the job permanently this summer and the only challenge the Scot seems to have is to maintain the proper manager-player distance between the pair."
Transfer gossip: All the papers report the news that came through last night, Emmanuel Adebayor has joined Real Madrid on loan and Ryan Babel is now a Hoffenheim player. Also from Spain, Atletico Madrid have said they have rejected a double bid from Chelsea for Sergio Aguero and Diego Godin. Also in The Sun, Aston Villa have told Spurs to name their price for Jermaine Jenas, Luis Suarez is desperate for a move to Liverpool and Manchester United face a battle to sign David De Gea.
The Daily Mirror chime in with Patrice Evra in a quit threat to Manchester United and Sunderland will swoop for Frederic Piquionne.
---
GAMBLING CAN BE ADDICTIVE, PLEASE PLAY RESPONSIBLY