The crisis at Manchester United, Carlo Ancelotti the new Tinkerman & why Benitez is responible for Liverpool's short funds
Comment & analysis round-up
Quote of the day: "It is very difficult to replace Ronaldo. I saw Alex Ferguson say that himself and I don't think he will look to replace him. He will look to make the team strong as a whole by not having him. That is the only thing they can do. Messi is probably the only player you could replace Ronaldo with. The amount of times I flicked on the telly and saw Ronaldo had scored and they had won one or two-nil… In United's case, you don't want to draw the promoted teams so early in the season. They come out of the blocks to try and get some points. It [the defeat to Burnley] wasn't completely unexpected. I thought it might be a difficult game for them. We have now got a little bit of a lead over them and Liverpool. It is nice to get your noses in front." – Frank Lampard.
Runner-up: "This is a good step in the right direction. Having in mind the best intention of the club, Sulamain al-Fahim agreed to forgo sole ownership. He is engaging in constructive talks with the new consortium [lead by Peter Storrie] with the view to securing the stability of the club as soon as possible. He is very committed to the takeover, the club and its supporters which is why he is attending all the matches during this transitional period." – Ivo Ilic Gabara, a spokesman for Sulamain al-Fahim.
Today's overview: The fallout out from Manchester United's shock defeat to Burnley continues to dominate the backpages, as the fourth estate get all hot under the collar about the champions' one-game crisis.
Happy to reach a cast-iron conclusion on the back of one performance, Tony Barrett splutters "it is clear that every time his forwards fail to fire, fresh questions will be raised over his decision-making in the aftermath of Cristiano Ronaldo's sale to Real Madrid." Also on the scare-mongering warpath is The Sun's Steven Howard. "This time it looks far more serious. They look vulnerable – especially in midfield, where there is no dominant personality to stamp his authority on a game. This time there is no Ronaldo to bail them out. Not even a Carlos Tevez to summon from the bench. This time United look exposed at the back without the injured Rio Ferdinand and Nemanja Vidic."
Convinced that Manchester United need a new striker, Sam Wallace discusses the potential targets  ahead of the close of the transfer window. "Franck Ribéry, David Villa and David Silva look to be unavailable for another year. Sergio Aguero is cup-tied for the Champions League, as is his team-mate Diego Forlan, who would be an intriguing returnee to Old Trafford… Of all those who has defied the odds to stay at his club this summer, Edin Dzeko is one of the most interesting… so too the Roma striker Mirko Vucinic."
After months of endless nonsense surrounding the takeover of Portsmouth, today Jamie Jackson reveals has a resolution could be in the immediate offing. "Following the protracted attempted takeover of Portsmouth by Sulaiman al-Fahim, the consortium headed by Peter Storrie, and which does not include the Emirates-based businessman, could be only days away from taking control at Fratton Park."
David Conn swoops in to inject a heavy dose of realism into the fresh takeover talks over Pompey. "It is, surely, obvious to everybody now that in all matters Pompey, doubt, caution and pinches of salt should be clung to tightly until a deal is done and players stop spinning out of the Fratton Park exit doors."
In contrast to the shaky shenanigans on the south coast, Stuart James announces "Carson Yeung has stepped up his interest in gaining full control at Birmingham City by placing a £3m non-refundable deposit with the Premier League club that is expected to lead to a full takeover offer being made before the end of September."
Turing to Chelsea, Jason Burt is ready to label Carlo Ancelotti the new Tinkerman. "Whisper it quietly but such bold changes smacked of another Italian at Chelsea. Claudio Ranieri, the man who Roman Abramovich inherited as manager and who was given only one season before being sacked. So is Ancelotti another Tinkerman, the nickname disparagingly attached to Ranieri who had Abramovich shaking his head in disbelief at some of his plans?"
Time for the rant of the day.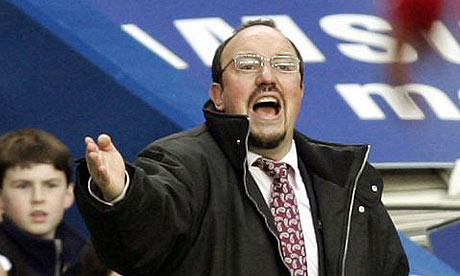 After stories leaked this week over the limited funds available at Anfield for new signings, Tony Cascarino refuses to believe it is the bank balance which will hold back Liverpool. "Rafael Benitez seems to be pleading poverty over Liverpool's transfer budget but I don't want to hear it. It's not a lack of money that might de-rail the club's hopes of winning the title, it's the way the manager has chosen to spend what funds he had at his disposal. Only £1.5 million left to buy a centre back? Then why splash out £18.5m on Glen Johnson earlier in the summer? Add in the £20m for Alberto Aquilani and Benitez has spent nearly £40m on an injured midfield player and a right back. I find it strange."
Following on, Jason Burt reports that "a  proposed move by Liverpool to sign Matthew Upson from West Ham United for up to £15 million appears to have collapsed because the Anfield club's bankers are concerned about the scale of the fee."
Onto the transfers which have a limited whiff of actually materialising.
Gary Jacob reports that the long-standing Chamakh saga may be about to end as "West Ham United are confident of agreeing a deal to sign Marouane Chamakh after raising their offer to about £7 million plus a 20 per cent sell-on clause."
Everton look set to add reinforcements at the back, John Edwards announcing that David Moyes is "closing in on £6million-rated Taylor and was also weighing up a bid for Middlesbrough's Robert Huth in a double move that should clear the way for Lescott's departure to Eastlands."
In other news, The Telegraph link Arsenal with a move for PSV Eindhoven winger Balazs Dzsudzsak, the Independent claim that "Martin O'Neill is monitoring Portsmouth's Sylvain Distin, James Collins of West Ham and the Blackburn defender Stephen Warnock," as well as announcing "Le Havre midfielder Kevin Anin is to undergo a trial with Spurs."
And then there are the long shots.
Alan Nixon's sensationlist story in the Mirror is that "Harry Redknapp is making a new £2million bid to bring his old pal David James to high-flying Tottenham – and take advantage of Portsmouth's financial headaches." And Martin Lipman follows behind to bark "Chelsea aim to sign Brazilian prodigy Alexandre Pato in a £40million deal – but not until next summer."
Best football betting tips & free bet offers
Click here for more Premier League betting tips
---